Jumping for Joy
Much-needed Pauley Track renovation completed
by Sophia Fischer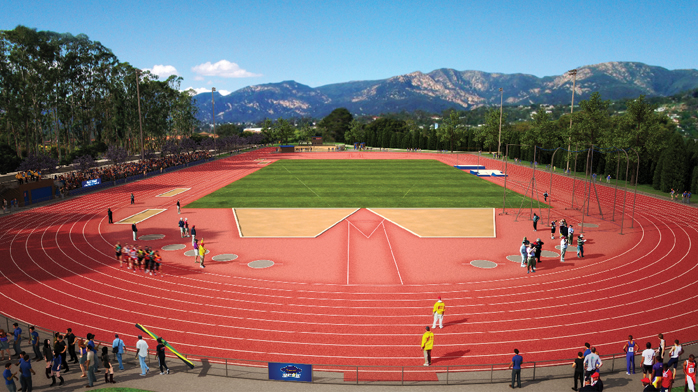 \
After years of training on an old, deteriorating and hazardous track, Gauchos have a renovated, illuminated facility on which to run, sprint, hurdle and jump. The $2 million Pauley Track Renovation Project includes a new running surface, refurbished competition areas and lighting to allow for use at night. In addition to track athletes, the facility is open for all student use, classes and special events.
"The new track is going to be super helpful for probably every single event, and having a better, faster surface will let us train in an environment that is much similar to what we see when we travel to competitions," said Hope Bender '19, a hurdler who also competes in the Heptathlon which includes 100m hurdles, 200m, 800m, high jump, long jump, shot put, and javelin.
The track is the second of a three-phase project funded by a student referendum that included renovation of Robertson Gymnasium in 2015 and finally, the construction of two all-weather turf fields with lights at Storke Field.
Built in 1975, the track was enclosed by bushes and trees to create a protective wind break. Over the years, tree roots pushed up sections of the track creating waves in the surface, and wear and tear caused cracks and worn away areas. As a result, training conditions were dangerous for athletes and the university could not hold home meets for 12 years.
"Being able to host home meets on the new track will be incredibly special and beneficial because we will finally have a chance at having a home team advantage,"
Recruiting student athletes to UCSB has been challenging due to the poor condition of the track, according to Pete Dolan, head coach for Track and Field and Cross Country.
"Distance runners will overlook it. Throwers get the job done but we don't get the number of sprint recruits and that's almost a third of our events," Dolan said. "But we're still a good team and usually in the top three in the conference for both men and women."
When it was originally built, Pauley Track was considered one of the best track and field facilities on the West Coast, said Bill Mahoney, UCSB associate Athletics director, Communications. The UCSB facility was the site of the U.S. National Decathlon Championships in 1975 and 1981, and the historic U.S.-Soviet Union Decathlon meet in 1982. American decathletes trained under former UCSB coach Sam Adams at Pauley Track prior to the 1984 Olympic Games in Los Angeles.
Over the years, the track deteriorated and having no lights made it useable only during daylight.
"There was no place to run safely at night," said Jon Spaventa, director of the Department of Exercise & Sports Studies. "We really wanted to do something positive for all students."
Spaventa worked with Justin Bargar '14, a UCSB student at the time, to bring a referendum to students in 2012 to pay for the track repair. Bargar, now in law school in San Francisco, came up with the "Flip the Switch for Student Recreation" referendum title with Spaventa.
"I cannot help but to feel proud of myself, my team, and the students who supported the referendum," Bargar remarked. "I am glad to have left a mark on UCSB, and look forward to coming back and seeing the completed track."
For track athletes like Sike Azu-Irondi '18, the improved facility will make training easier and safer.
"I never complained about it before, but it is always a bonus when I can train as hard as I do without the possibility of suffering from a chronic injury from regularly sprinting on a hard surface," Azu-Irondi said.