The UC Santa Barbara Summer Inn offers affordable accommodations for seasonal guests visiting campus. The Inn's private, residence-style rooms feature great views of the University. Guests can enjoy sun, sand and surf with friends and family at Goleta Beach, or the tide pools and bluffs along Isla Vista's shoreline.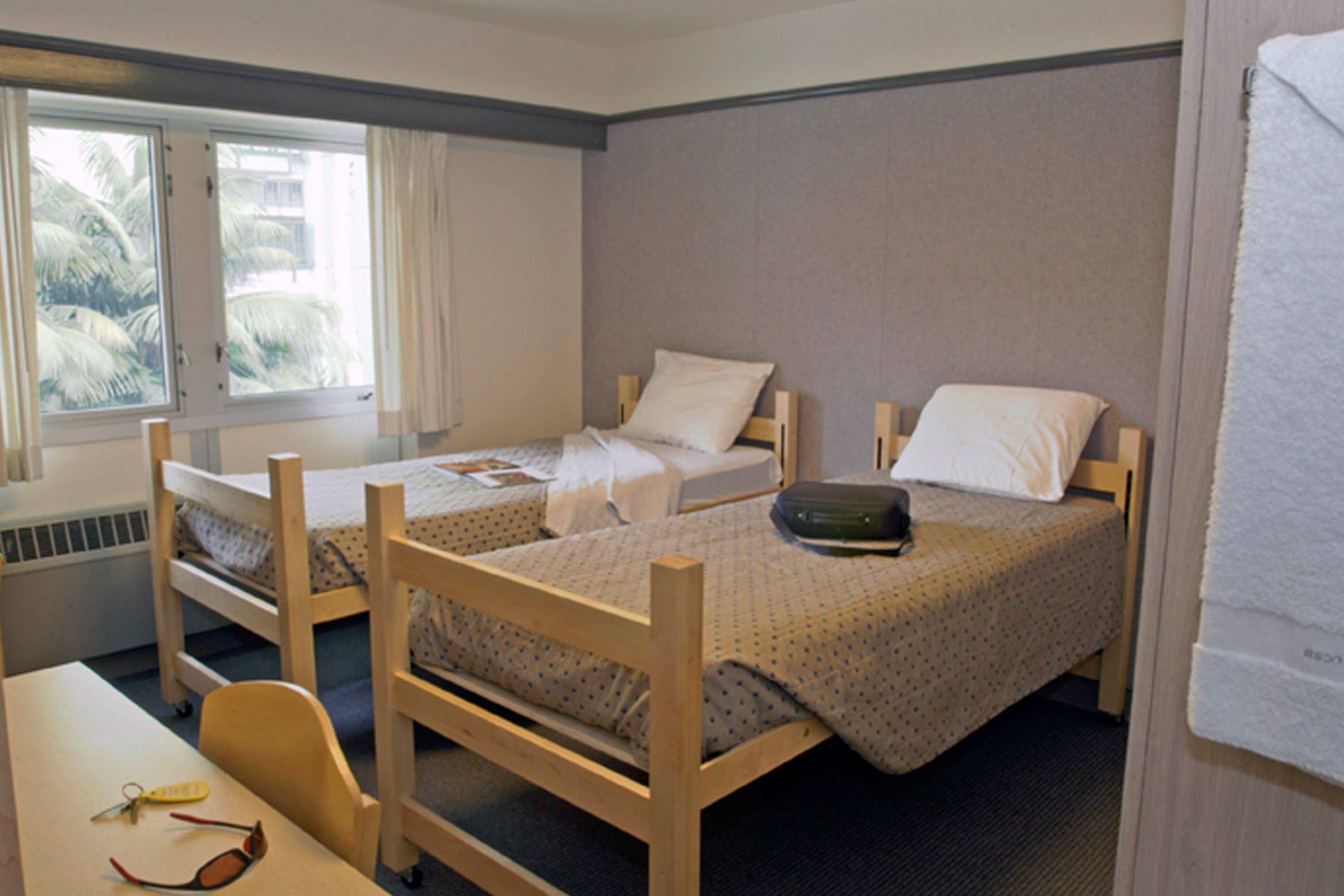 Beautiful Views, Residence-Style Rooms
Guests can book a comfortable non-smoking single or double room with twin beds, high-speed internet access with lagoon or campus views. The Summer Inn can house a maximum of 58 guests, making it an ideal venue for group retreats and reunions.
Guest Amenities
Each room features amenities like complimentary towels, linens, pillows and blankets. Make sure to bring your mobile phones, as there are no landlines installed in any of the rooms. Generous closet and drawer space is available.
Upon request, the front desk can provide cribs, and an iron and ironing board, as well as extra blankets and towels. Washers and dryers are available on the first floor, on the northwest corner of the Carrillo Dining Commons building. Payment for laundry services is by credit card only.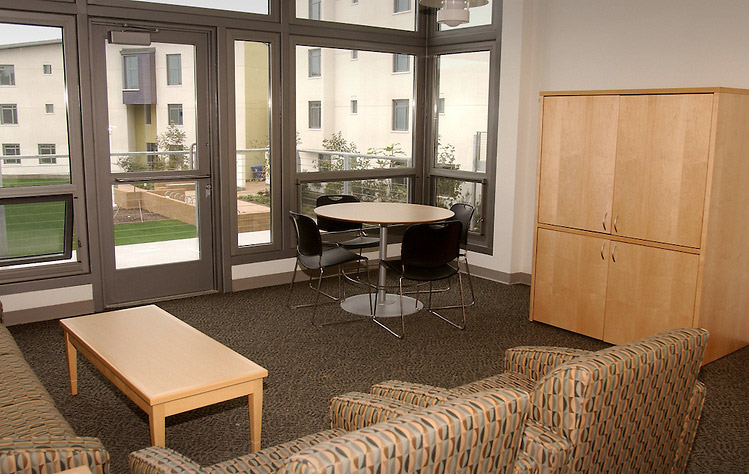 The Lounge
Relax in the loft-style lounge, featuring a large screen television and a balcony with sweeping ocean and campus views.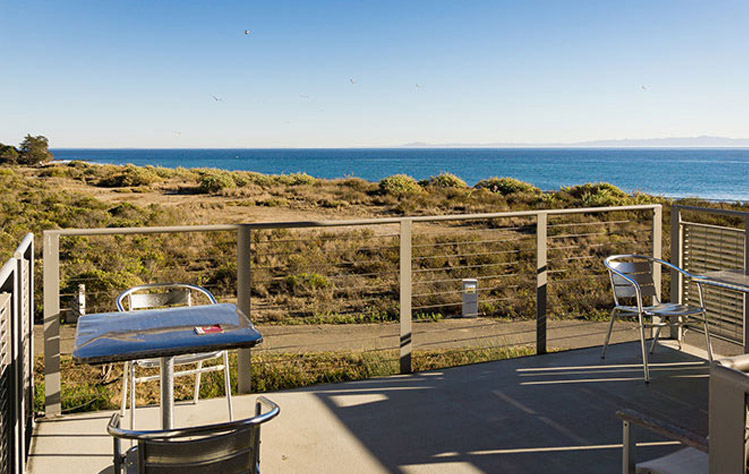 The View
Beautiful mesa setting landscaped with native plants and a stunning ocean view.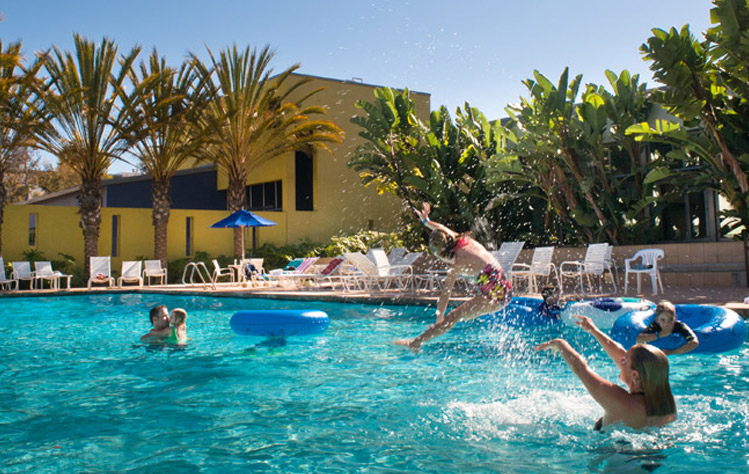 The Pool
Guests can relax and swim at the Carrillo Swimming Pool on the grounds of the Summer Inn. Lounge in the sunshine on cabana style chairs or enjoy a sunset swim with all-hours access to pool facilities arranged by the Summer Inn staff.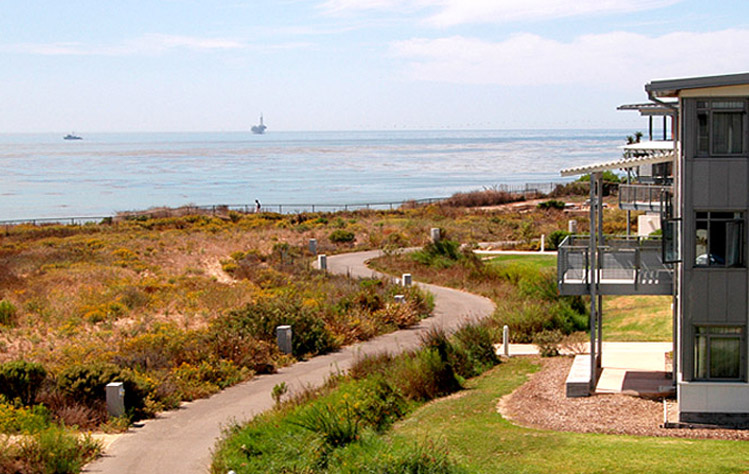 Your Balcony
Breath-taking views of the 94 acre ecologically sensitive habitat of the campus lagoon and Pacific Ocean.
Previous
Next
Bathrooms
The shared bathrooms feature a wash basin, full-sized shower and toilet. Throughout the Summer Inn, there is approximately one bathroom per two guest rooms. All bathrooms are located along the hallway and can be locked for privacy during use.
Kitchen Space
The Summer Inn offers a light service kitchen on the second floor, featuring a microwave, a sub-zero refrigerator/freezer, and sink.
Lounge Area and Study Rooms
Relax and watch your favorite shows at the Summer Inn's loft-style lounge, featuring a large-screen television and a balcony with sweeping lagoon and campus views. Those seeking a quiet space to catch up on work or school assignments can avail of the study rooms located on each floor of the Summer Inn.
Internet Access
All Summer Inn guests receive complimentary wireless internet access. You can also access the Internet through the guest computer provided on the first floor. For regulations governing Internet access and security on the UC Santa Barbara campus, visit the Residential Computer Network (ResNet) website or call (805) 893-2649.
The Carrillo Swimming Pool
Guests can relax and swim at the Carrillo Swimming Pool on the grounds of the Summer Inn. Lounge in the sunshine on cabana-style chairs or enjoy a sunset swim with all-hours access to pool facilities arranged by the Summer Inn staff.
Front Desk Service
The Summer Inn's front desk staff are available to assist guests from 8-11 a.m. and 3-9 p.m. every day. Check-in services are only available between 3 p.m. to 9 p.m. Check outs are from 8 a.m. to 11 a.m. Guests arriving outside of the available hours need make arrangements with Summer Inn staff at least 24 hours in advance.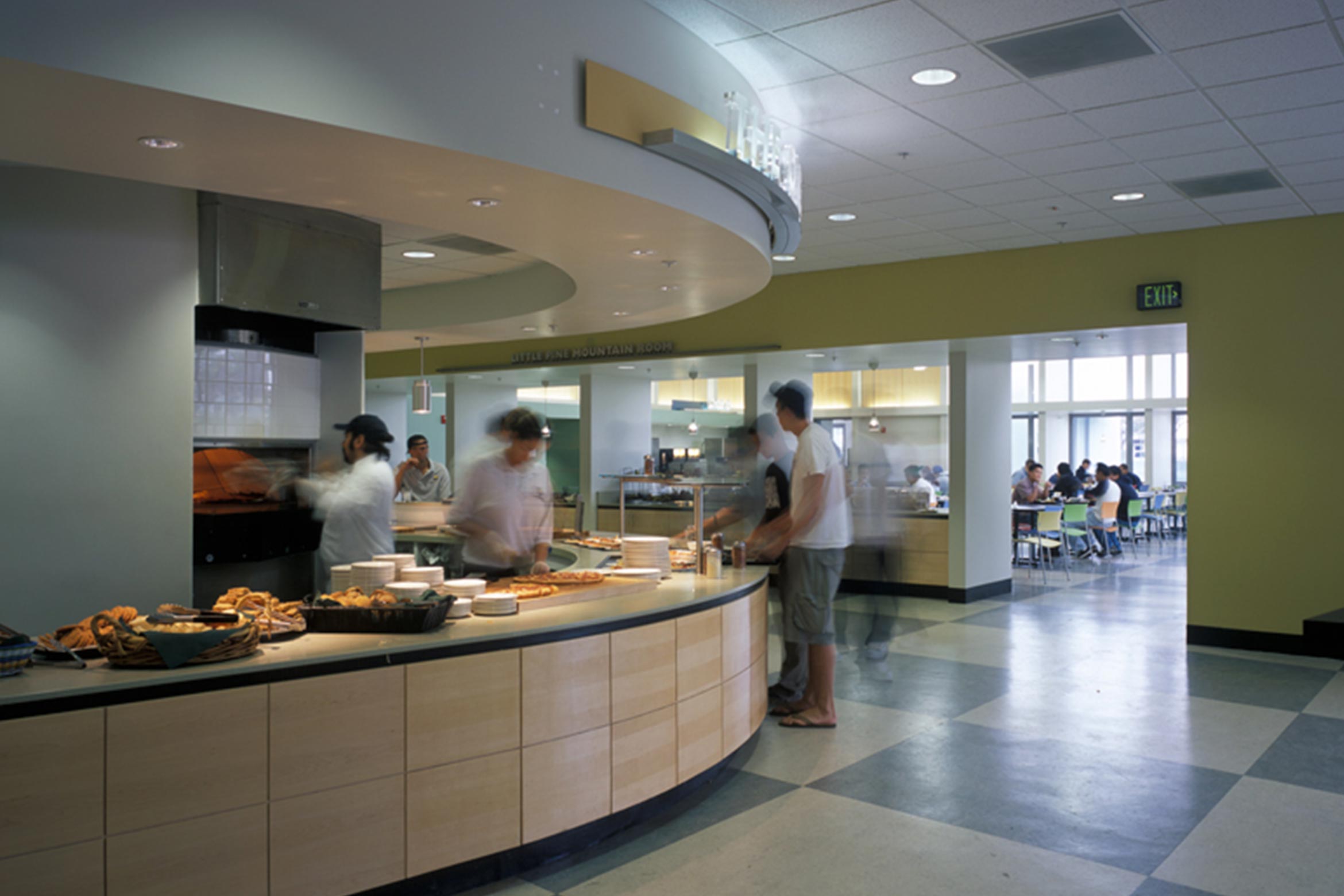 Dining
The Carrillo Dining Commons
Summer Inn guests can take advantage of the all-you-can-eat, buffet-style meals served daily at the newly-renovated Carrillo Dining Commons. The buffet stations feature fresh pizza, a Mongolian grill, a pasta bar, a hamburger grill, newly-baked breads, a wholesome salad bar, and a selection of hot entrees and desserts.
Adult Guest Meal: $14.00

Child Guest Meal (3-12):  $10.00
Other On-Campus Dining Options
Visitors can enjoy a wide variety of delicious dining opportunities right on the UC Santa Barbara campus. The University Center (UCEN) features a number of cuisines and meal options from establishments like Root 217, Romaine's, Santorini's and Panda Express. If you're walking around campus, come out and enjoy a coffee or a sandwich at the Coral Tree Café.
Isla Vista
The bordering student community of Isla Vista features affordable food and a vibrant college-town atmosphere. Check out the famous Freebirds World Burritos, a UC Santa Barbara staple, within walking distance from the main campus. Visit an IV classic Sam's to Go for amazing sandwiches. Or, pick up a pizza from Woodstock's, a student favorite.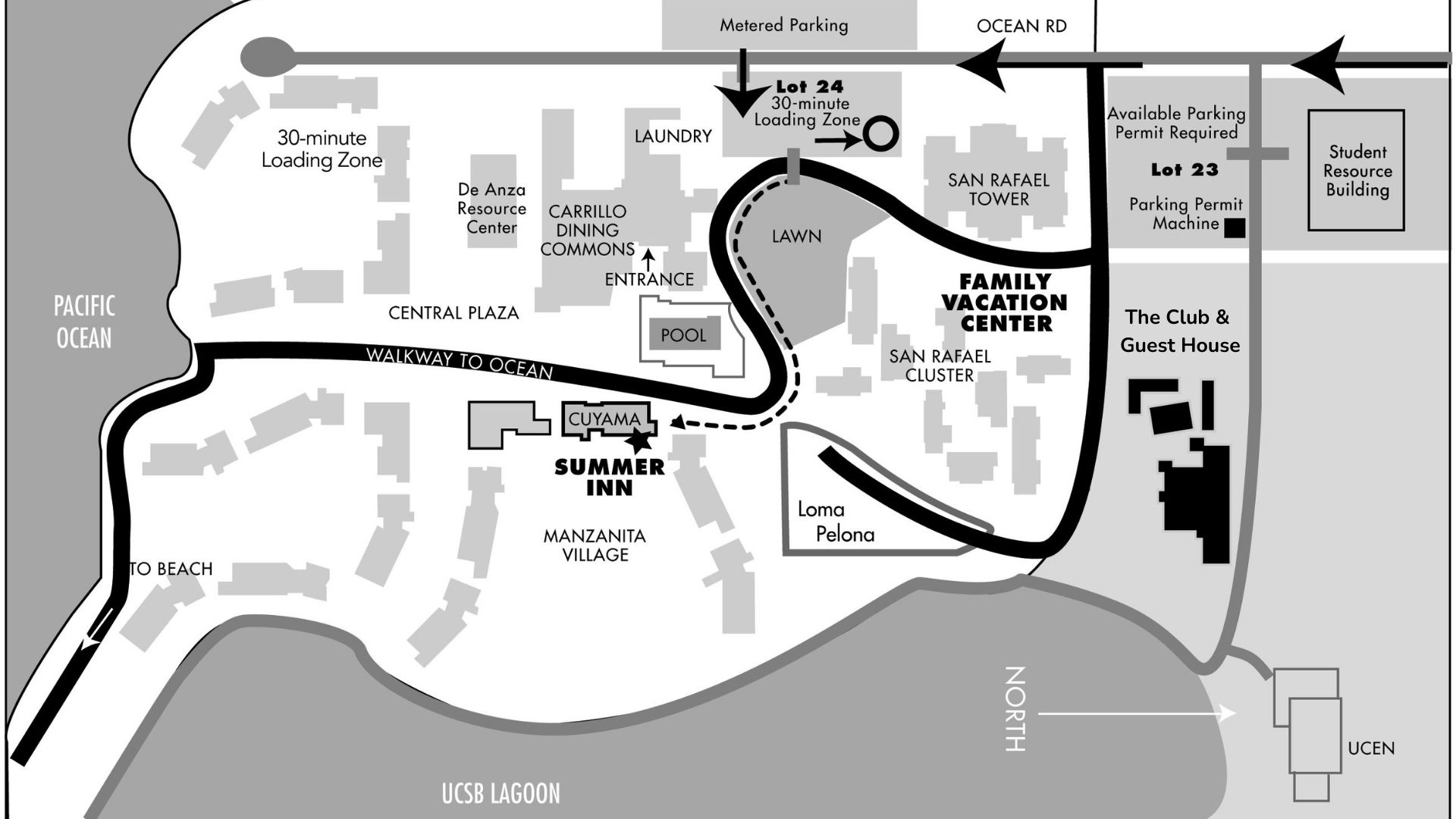 Single Rooms $160
Single rooms at the Summer Inn include one twin XL bed.
Double Rooms $180
Double rooms at the Summer Inn include two twin XL beds.
Contact
Phone: (805) 893-2649
Email: summerinn@alumni.ucsb.edu
After Hours Check-In
Guests arriving after 9 p.m. on their day of arrival must make prior arrangements with Summer Inn staff. (805) 893.2649.
Special Guest Assistance
Our Summer Inn staff will make every attempt to provide accommodations for our special needs guests. The Summer Inn fully complies with the Americans with Disabilities Act, and can arrange for help to access any of the amenities and locations on our property.
Cancellation
Cancellations within 48 hours of stay will not be eligible for a refund. Reservations may be cancelled up to 48 hours prior to check-in. A charge worth the rate of one night's stay may be incurred if cancellations are not received within 48 hours prior to check-in, unless you are booked on a group agreement. For our group cancellation policy, please refer to your group agreement.
To cancel in writing, email summerinn@alumni.ucsb.edu.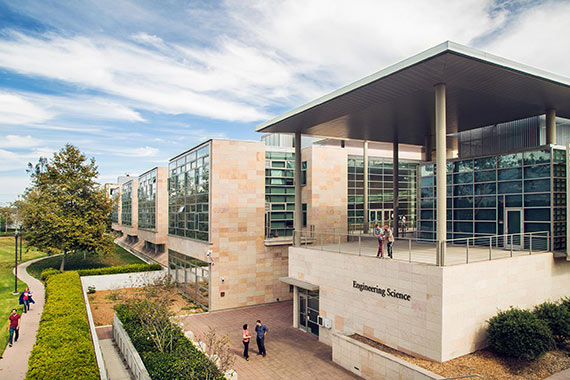 UC Santa Barbara Campus
Located on over 1,000 acres of California coast, the UCSB campus is the ideal location for learning in a beautiful natural environment. Follow the bike paths through art installations, koi ponds and shaded rest areas throughout campus. Enjoy lectures, theater and dance performances at Campbell Hall, or view the collections and exhibits at the AD&A Museum. Visitors who enjoy architecture should take note of the newly renovated UC Santa Barbara Library and the beautiful Mosher Alumni House. Summer Inn guests can also access the UCSB Recreation Center, featuring swimming pools and gym amenities.
Goleta Beach
A popular family destination for picnics on weekends, Goleta Beach features the 1,500-foot Goleta Pier and 29 acres of sunbathing beach, bike paths, picnic areas, volleyball nets and children's playgrounds.
Isla Vista
Filled with students during the regular school year, Isla Vista's shoreline areas like Del Playa Drive are popular gathering spots for residents. The small beaches around the student community are ideal places to meet and chat with friends, while enjoying the wonderful Central Coast summer.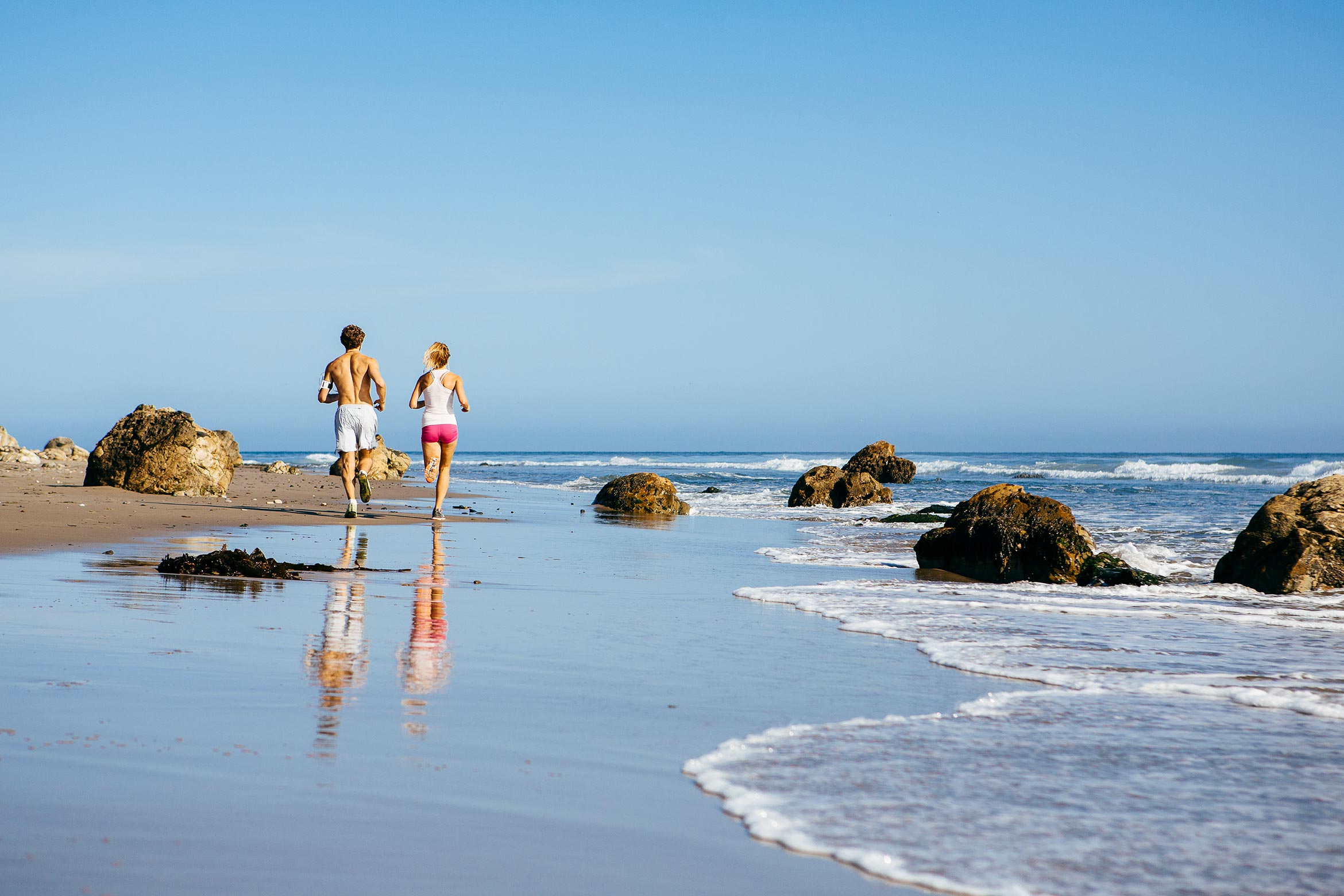 Goleta
Explore Goleta's heritage at the Rancho La Patera & Stow House, featuring a hands-on historical exhibit and gorgeous gardens. At the Pacifica Suites Hotel grounds, the Sexton House on Hollister Avenue showcases the Joseph Sexton exhibit about one of Goleta's founding families. The South Coast Railroad Museum, a children's favorite, focuses on the history and adventure of railroading in the Central Coast. Check out the Goleta Depot, a country-style railroad house where families can take a ride on the mini-train and visit an old-style caboose. If you prefer to explore the great outdoors, the Coronado Butterfly Preserve and the Goleta Butterfly Grove are popular parks for visitors during the summer season.
Downtown Santa Barbara
Just a few minutes away by car or bus from the Summer Inn, downtown Santa Barbara features shopping, dining and entertainment for the whole family. Check out a performance at the Granada and Arlington theaters, or explore the Santa Barbara Art Museum's stunning collections and exhibits. Shoppers can enjoy Paseo Nuevo's open-air retail experience and State Street's diverse array of local shops and internationally renowned brands. Foodies will enjoy the multicultural restaurants along State and opportunities to explore Central Coast vintages at Old El Paseo's wineries.
Airport Travel
Most air travelers initially land at Los Angeles International Airport (LAX), about 100 miles from Santa Barbara. From there, you have the option to travel on to Santa Barbara through a connecting flight to the Santa Barbara Airport or on the road via the Santa Barbara Airbus or rental car.
The Santa Barbara Airbus provides several daily trips between Los Angeles International Airport and Santa Barbara. Reservations are strongly recommended. United States and Canada residents can call toll-free at (800) 423-1618 (toll-free US/Canada). For those residing outside North America, call (805) 964-7759 or make your reservations online at www.sbairbus.com. Advance reservations and parties of two or more receive a discount. All Airbus passengers heading for UC Santa Barbara need to disembark at the Goleta stop and will need to make transportation arrangements to the Summer Inn.
Guests arriving at the Santa Barbara Airport, Amtrak terminals, and Airbus stops must arrange transportation to the UC Santa Barbara campus. The campus is a ten-minute drive from the airport.
Train Services and Schedules
Amtrak terminals are located in Santa Barbara, 12 to 15 miles from UC Santa Barbara, and in Goleta, 5 miles from campus. It would be best if you then took a taxi or SuperRide Shuttle from the downtown train station.
The Santa Barbara MTD Bus Service
The Santa Barbara MTD bus service is an inexpensive option for travelers connecting from the Santa Barbara Airport to UC Santa Barbara. Line 11 provides a direct commute from Santa Barbara Airport to the UCSB campus. Please call (805) 683-3702 or visit www.sbmtd.gov for information on bus fares and schedules.
Car Rental Information
You can rent a vehicle directly from the car rental services featured at the Santa Barbara Airport for the duration of your stay in Santa Barbara. You can also call ahead, to make reservations at the following car rental services:
Avis Car Rentals         1-800-831-2847 
Budget Car Rentals         1-800-221-1203                 
Hertz                 1-800-654-3131                 
National             1-800-227-7368     
Local Taxi Cab Company Information
Taxis are available at the Santa Barbara Airport. All three local taxi companies provide pick-up and drop-off services 24 hours a day.
Gold Cab Goleta         (805) 685-9797                 
Yellow Cab Goleta         (805) 964-2120                 
Orange Cab             (805) 964-2800     
Driving Directions
UC Santa Barbara can be accessed from highway US-101.
From the South
Take US-101 to the Airport/UCSB/Hwy. 217 exit approximately 8 miles north of downtown Santa Barbara. This expressway will take you directly into campus. Once you are at UC Santa Barbara, bear to the right from the entrance, and follow directional signs to the Summer Inn.
From the North
Take US-101 to the Storke/Glen Annie Rd. exit. Turn right on Storke Road and proceed 2 miles down to El Colegio Road. Turn left on El Colegio Road and proceed through the campus West Gate. Turn right at the second traffic light at Ocean Road. After entering campus, follow signs toward the Summer Inn at the end of Ocean Road.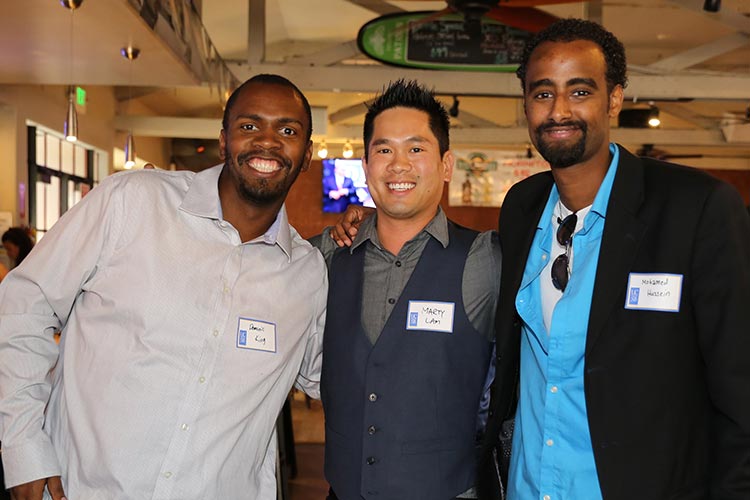 Group and Alumni Reservations
A Wonderful Space for Gatherings and Reunions
The Summer Inn is a wonderful venue to host gatherings, celebrations and reunions. The Inn has ample accommodations for weddings, bar mitzvahs and community meetings. Host a spa getaway or wine tasting in the Santa Barbara area, or set up a golf or sailing trip with friends. Groups can book the entire complex or a preferred floor for events. Custom group packages include accommodations, use of the second floor Lounge, access to Carrillo Dining Commons meals and can include other amenities upon request. UC Santa Barbara Alumni receive a discount on larger group reservations.
Call the Summer Inn staff for more information (805) 893-2649.