1950s
Tom Veblen '51, has published "Business: The Heart of the Matter: An Inquiry into Purpose and Principle." The book delves into how business people can improve business in America, individually and institutionally, as the world continues to become more digital and global.
1960s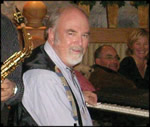 Dick Major
Dick Major '60, has published his "Dick Major String Quartet" composition on SoundCloud. Major wrote the jazz-influenced piece while a UCSB student. A bassist, pianist, singer and arranger, Major, who immigrated to Sweden in 1962, was part of the 1970's jazz/rock band, Stardust International.
Jeffrey R. Crimmel '69, published two mysteries, "The Hemp Papers" and "The Targets" in 2017. A retired teacher, Crimmel began writing to share his adventures from nine years spent traveling around the world during the 1970s. Crimmel has written four non-fiction books.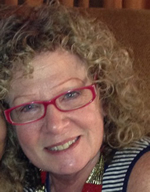 Rosemary Galanda Jenkins
Rosemary Galanda Jenkins '69 published "The Southern Phoenix," a historical fiction novel about the Black experience in America during the 20th century. The book's illustrations are by San Fernando Valley students and include related poems.
1970s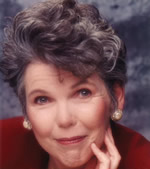 Kathryn Karrer
Kathryn Karrer '70, has published "The Last Song of Albi," a historical novel that portrays the scandalous events surrounding Saint Cecilia Cathedral which was recently recognized as a UNESCO World Heritage site. Karrer has presented at the International Conference on Medieval Studies.
Cultural and culinary icon Alice Waters, Honorary Alumna '63, has published "Coming to My Senses, The Making of a Counterculture Cook." The book chronicles her evolution to respected activist, and founder of Chez Panisse Restaurant and Café in Berkeley, and how she led a revolution in American food. Waters is known for pioneering a wholesome approach to food based on organic, seasonal and local ingredients. She created The Edible Schoolyard for public school programs across the country, teaching children how to grow and prepare food. Waters received an Honorary Alumna award from UCSB Alumni in 2013. She spent her freshman year at UCSB before transferring to UC Berkeley to join the Free Speech Movement. She has been a keynote speaker at UCSB during UCSB Alumni's All Gaucho Reunion.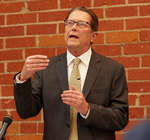 John Grant
John Grant '73, was elected president of Local 770 of the United Food & Commercial Workers Union, representing over 30,000 workers in five Southern California counties, in packinghouse, retail food and drug, Kaiser and cannabis dispensary industries. John has been a member of the Union for 41 years as a meat packer, shop steward, vice president, Union representative, in-house counsel, field director and secretary-treasurer.
Jeffrey Stine '75, M.A. '78, Ph.D. '84, has co-edited "Living in the Anthropocene: Earth in the Age of Humans." Stine is curator for Environmental History at the National Museum of American History at the Smithsonian in Washington, D.C. The book explores the causes and implications of the Anthropocene, or Age of Humans, from anthropological, scientific, social, artistic, and economic points of view.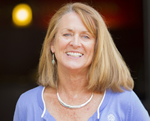 Laurie Leighty
Laurie Leighty '78, executive vice president and chief administrative officer for American Riviera Bank in Santa Barbara, was awarded the 2017 Nation Meyer Innovative Banker Award. Leighty was recognized for improving her community and the banking industry. A co-founder of American Riviera in 2006, Leighty helped the bank grow to nearly a half-billion-dollar institution with multiple branches. She has provided support to the Santa Barbara Athletic Roundtable, Franklin Elementary, The Center for Successful Aging and Women's Executive Network.
Twice a month for the past 20 years, Armando Veloz '79, has spent his lunch break as a volunteer teacher at Isla Vista School sharing the joy and wonders of science with students. In recognition of his dedication, the Santa Barbara Independent named him a Santa Barbara Local Hero of 2017 in November. Veloz is a senior electronics engineer at Moog Space and Defense Group.
1980's
Cynthia Pappas '80, has published "Homespun," a collection of stories that span 30 years of the author's transition from California Valley girl to rural life. Pappas is a former CEO of Planned Parenthood and City of Springfield, Oregon, assistant city manager. She resides in Oregon.
Former NASA astronaut Jose Hernandez '86, spoke to East Bay high school seniors in Pittsburg, California, in November. His message to students, most of whom will be the first in their families to attend college, was to never give up. He relayed his experience applying to NASA a dozen times and being rejected every time except the last.
Jim Hickman '86, has left his position as CEO at Sutter Health East Bay "to pursue my passion for social impact and innovation via a different platform." Hickman earned a bachelor's in political science and business economics at UCSB and an MBA from Santa Clara University.
Katya Armistead '88, Ed.D. '12, has been named co-president of the Family Service Agency of Santa Barbara board of directors. Armistead has been a board member since 2007. Currently dean of Student Life at UCSB, Armistead is a longtime community leader having co-founded Youth Making Change in Santa Barbara, served as a board member for the American Red Cross, a mentor for the Council on Alcoholism and Drug Abuse Fighting Back Program, advisor to UCSB's Black Student Union and past co-president of the university's Professional Women's Association.
1990s
Andrew Vonnegut '90, has written "Inside the Global Economy: A Practical Guide." Vonnegut is an instructor of economics at UCSB and owner of Delta Welding and Fabrication in Santa Barbara. Vonnegut worked as an economist for many years for a Virginia-based firm, running its Belgrade office before becoming an independent consultant and providing financial, trade and economic policy and analysis services.
The Scholarship Foundation of Santa Barbara has chosen Tim Dougherty '91, as director of marketing and communications. Dougherty began his career as a journalist then became a publicist specializing in nonprofits and classical music organizations. His former positions include editor and public information officer in UCSB's Office of Public Affairs.
Bridget Foreman '91, is the new board of trustees president of Child Abuse Listening Medication (CALM) of Santa Barbara. Foreman has served on the board for a decade. A partner in the accounting firm, Bartlett, Pringle & Wolf, LLP, Foreman is treasurer of the Lobero Theatre Foundation and volunteers for United Way and Unity Shoppe.
Andrea Gunn Eaton '93, has joined the University of California, Irvine, as chief campus counsel to advise the chancellor and all university administration and management on legal issues. Previously, Eaton served as assistant vice chancellor and chief counsel for business and finance for the California State University system and served CSU as resource attorney on the California Environmental Quality Act, construction and land use.
The vineyard and Bravium wines brand of Derek Rohlffs '93, was featured in the fall issue of Sommelier Journal. Located in the Anderson Valley and Russian River Valley, Rohlff's vineyards produce Chardonnay and Pinot Noir. The publication highlighted Rohlff's accomplishments during his first decade in winemaking.
Esther Choy '96 has published "Let the Story Do the Work: The Art of Storytelling for Business Success." Choy is founder and president of Leadership Story Lab, based in Chicago, where she coaches managers in storytelling techniques. She teaches in the executive education programs at Northwestern University's Kellogg School of Management, and the University of Zurich's Department of Quantitative Business Administration.
Stephanie Han '96, published her award-winning debut book, "Swimming in Hong Kong," The collection of short stories depicts cross-cultural experiences as the characters strive to find balance between where they've come from and where they are now. Han divides her time between Hong Kong and Hawaii.
Nate Streeper '97, has published "Murder on the Orion Express," a science fiction tale of a detective on a backwater planet working to solve a murder. Streeper is the library coordinator at the Braille Institute Santa Barbara.
2000's
Christopher Montes de Oca '03, was named to Southern California Super Lawyers 2018. A Whittier-based personal injury attorney, Montes de Oca recently obtained a $12,000,000.00 jury verdict which is considered a top jury verdict in the State of California.
John P. Hannon III '09, has joined the Santa Barbara law firm of Ambrecht & McDermott, LLP. Hannon is experienced in estate planning, probate and trust administration and serves on the board of directors of Because of Hope, a nonprofit that empowers widows and children in Uganda.
David Loy '02 has been promoted to partner at Beach Cowdrey Jenkins, LLP law firm in Oxnard. Loy's work involves personal injury, elder and dependent adult abuse, sexual abuse, and administrative appeals, with a particular focus in litigating wrongful death and catastrophic injury cases
Sara Aminzadeh '03 has been appointed to the California Coastal Commission. Aminzadeh is an attorney and advocate who serves as executive director of California Coastkeeper Alliance (CCKA), a network of organizations fighting for swimmable, fishable, and drinkable waters for California communities and ecosystems. Aminzadeh directs CCKA initiatives to protect and defend California's oceans, bays, and rivers, including the Alliance's climate change adaptation program to help communities prepare for sea-level rise and ocean acidification. Aminzadeh has been researching and writing about climate change, human rights, and sea-level rise for more than 15 years, including work at the Center for International Environmental Law and the International Criminal Tribunal for the former Yugoslavia. Aminzadeh earned her bachelor's in political science and environmental science and her law degree from UC Hastings College of the Law.
Lance Lewis '12, has been named CFO of the Year by the Sacramento Business Journal. As chief operating officer of the California Medical Association (CMA), Lewis oversees operations, finance, administration, human resources, information technology and facilities management. His accomplishments include transforming CMA's budgeting process and orchestrating the sale of a subsidiary to create a $20 million endowment.
Jenna Ryan '12, won the top $40,000 prize in the Small Business Administration's startup competition, InnovateHER Challenge held in Washington, D.C., in October. Ryan is founder and CEO of Uqora, which creates a beverage designed to prevent recurrent bladder infections in women.
Peter Fettis '14, a health coach/personal trainer and author, published "How to Eat Well and Love Yourself: The Art of Intuitive Nutrition." The book outlines how to manage stress for weight-loss, create natural remedies for pain relief, and prepare plant-based meals for building muscle.
Drew Quine '14, has founded The Avocado Tea Company, in Santa Barbara, which uses avocado leaves to make organic, locally produced tea. Quine spent several years on nutritional testing and environmental certification. The tea is sold in local stores and cafeterias.
Melissa Demarjian '17, was recognized during the recent Music Teachers National Association Performance Competition. Demarjian was chosen top clarinetist in the woodwinds category for the state. At UCSB, Demarjian was principle clarinet in the University's Wind Ensemble and Chamber Orchestra and is currently pursuing a master's of music degree at the Bob Cole Conservatory of Music at California State University, Long Beach.
In Memoriam
1930's
June Lane (Hellwegen '37) Christensen died September 5, 2017, in Santa Barbara. A lifelong dancer, Christensen studied with icons Martha Graham, Merce Cunningham and Katherine Litz. For 59 years, Christensen taught modern dance and therapeutic movement in Santa Barbara reaching thousands of students through classes at Santa Barbara High School and Youth Theater Productions summer programs. She opened a consulting practice and taught continuing education classes based on her studies of dance, therapeutic movement and sensory awareness techniques.
Renata (Maccianti '38) Nicholas died in November, 2017, in Santa Barbara. She taught at Montecito Union School and helped establish a graduate program with Stanford University for Santa Barbara County Elementary Schools. While overseas in Europe and Micronesia during her husband's Navy career, she taught in American Dependent Schools. Returning to Santa Barbara in 1958, she taught at Goleta Union School. She returned to UCSB to study Spanish and developed and taught the Spanish language program at Cold Spring School for 12 years before retiring in 1976. Active in the Santa Barbara Museum of Art, Santa Barbara Symphony Women's Association, Casa Serena, Santa Barbara County Federation of Republican Women and Eastside Republican Women's Club Federated, she attended the inauguration of two United States presidents.
1940s
Phyllis Jeanne (Lavery '45) Flett died on September 17, 2017, in Santa Barbara. Flett worked as an attendance clerk for many years at Goleta Valley Junior School. She was active in Girl Scouts and was an avid artist and craftswoman with a love for nature and the outdoors.
William Chester "Bill" Hart '47, died on September 10, 2017, in Goleta. He studied at UCSB following his service in the U.S. Marine Corps Pilot Training Program. He worked in the aerospace industry for over 40 years including with General Dynamics/ Astronautics on the Atlas Missile Program at Vandenberg Air Force Base, GE TEMPO and Mission Research before retiring in 1994. He was active in the Santa Barbara Ski club, local tennis, volleyball and the McKinsey Park Lawn bowling club.
1950s
Marjorie Frank Boyle '55 died on September 24, 2017, in Santa Barbara. A longtime community volunteer, Boyle was active in the Santa Barbara Symphony League, Scottish Society of Santa Barbara, St. Andrew's Presbyterian Church, Assistance League of Santa Barbara, Junior League of Santa Barbara, Santa Barbara Botanic Garden, Museum of Natural History, Santa Barbara Museum of Art, CAMA Women's Board, National Charity League, Pi Beta Phi, Planned Parenthood, Wildlife Care Network, Santa Barbara Foundation and The Little Town Club.
Barbara Ann (Binger '57) Rauch died on April 7, 2017, in Torrance. A member of the local city council in Palos Verdes for 12 years, Rauch served as mayor three times and was recognized as "Outstanding Woman for 2004." Rauch worked as a teacher in Santa Ana, Culver City, and Los Angeles Harbor College, and taught tennis and guitar for many years. She, and her husband, Bob Rauch, raised six children and have 10 grandchildren.
1960s
Susan (Green '67) McKnight died on November 29, 2017, in Santa Barbara. McKnight taught in Santa Barbara Junior High School's Reading Center then moved into real estate due to severe education funding cuts at the time. She worked as a realtor for several local realty companies before becoming a property manager and personal advisor to foreign dignitaries.
Jack Crane '68, died on October 4, 2017, in Long Beach. Crane earned a master's in theology from the Harvard Divinity School. Crane was dedicated to helping people get sober and find alternatives to living on the street. He founded and ran the Hotel de Riviera for Vietnam vets and street people suffering from mental illness; First Steps to keep addicted pregnant women drug-free; the Haley Street Center which offered free counseling and 12-step recovery programs to street people and the homeless; and the Santa Barbara Sobering Center.
Michael Treman '68, died on August 18, 2017, in Santa Barbara. Treman served in the United States Marine Corps and was a criminal defense attorney in Santa Barbara. A co-founder of the UCSB crew team in 1965, he became head coach of the UCSB Crew Club in 1981, and led construction of the teams' first boathouse at Cachuma Lake. UCSB Crew bought and named a racing shell in his name. In addition to his Santa Barbara law practice which specialized in construction and real estate litigation, Treman conducted federal criminal defense work in Los Angeles to provide counsel for people charged with federal offenses unable to afford an attorney.
1970s
David Hardy M.A. '77, died on April 16, 2017, in Weymouth, Massachusetts. Hardy was an elementary school teacher in Boston public schools for 37 years. After retiring, he continued to teach part-time working in programs for LGBTQ students and assisted students who dropped out of school to acquire their GED.
Jodi Ann (Denham '83) Krusemark died on July 21, 2017, in Concord. After earning a master's at Baylor University where she played on the basketball team, Krusemark worked as a sales representative for a hearing aid manufacturer in Denver, Colorado. She and her husband, Harlan, moved to California and raised two daughters.
2000s
Diana Torres Luevanos '16 died on September 22, 2017, of complications due to lupus. From Huntington Park, she majored in anthropology and art history.
In Remembrance: UC Santa Barbara Students, Faculty, Staff and Community Friends
David Glenn (Judd) Crouch died on July 31, 2017, in Santa Barbara. A master illustrator, Crouch joined the UC Santa Barbara Department of Earth Sciences in 1971, retiring in 1991 as Senior Scientific Illustrator. Previously, he was an artist and scientific illustrator at Scripps Institution of Oceanography, in La Jolla. His work was exhibited by the Smithsonian in Washington, D.C., and universities and museums including the Santa Barbara Museum of Natural History. His paintings and drawings are in private collections worldwide and in professional publications. Crouch served in the United States Army during the Korean War.
Ronald Elden Strahl died on August 29 2017, in Santa Barbara. A draftsman, designer and mechanical engineer, Strahl ran his own engineering consulting firm for 25 years then joined UCSB as deputy director of Design and Construction. Strahl managed designers, contractors and litigation for the construction of new buildings on campus. He retired in 2015 after 24 years with the university. Strahl was active in the Santa Barbara Yacht Club and served as commodore in 1983.
John Albert Sonquist died on September 20, 2017, in Goleta. Sonquist served as a UCSB Sociology Department faculty member for 21 years. He designed an array of computer use and social impact courses dubbed "Sonquist Tech," which covered introductory concepts to computer simulations and artificial intelligence. His key work in multivariate analysis is still used today. A lifelong musician, Sonquist was a pianist and arranger who played and recorded with local musicians, and served on the boards of the Piano Club of Santa Barbara and statewide chamber music societies. He was a pianist and music director for Live Oak Unitarian Congregation, in Goleta, and a board member of the local ACLU chapter.
Edwin Byron Stear died September 21, 2017, in Santa Barbara. Stear was professor of electrical engineering at UCSB and chairman of the Department of Electrical Engineering and Computer Science from 1975-1979. He then became chief scientist at the U.S. Air Force in Washington, D.C. before joining the University of Washington as associate dean and professor. Stear served on the U.S. Air Force Scientific Advisory Board, and technical committees in support of NATO, and earned two Exceptional Civilian Service Medals from the U.S. Air Force. Stear was owner and senior winemaker of Eaton Hill Winery in Granger, Washington, which produced prize-winning wines.
Virginia L. "Ginny" Smith died on October 15, 2017, in Santa Barbara. A respiratory therapist, Smith worked for UCSB's Institute for Environmental Stress which studied physiology including human exercise capacity under competitive conditions. After earning a nursing degree through Santa Barbara City College, she worked as an operating room nurse at St. Francis Hospital and then at the Cottage Outpatient Surgery Center. A hiker and backpacker, Smith completed many segments of the John Muir Trail.
Robert John "Bobby Jack" Gauthier died on November 26, 2017, in Portland, Oregon. Gauthier served in the Navy during World War II, earning the World War II Victory Medal, and served during the Korean War. He moved to Santa Barbara in 1961 and joined the State of California Police Force at UCSB, retiring in 1975. He was a member of the Elks of Santa Barbara and was a devoted Catholic parishioner and volunteer at St. Raphael's in Goleta.