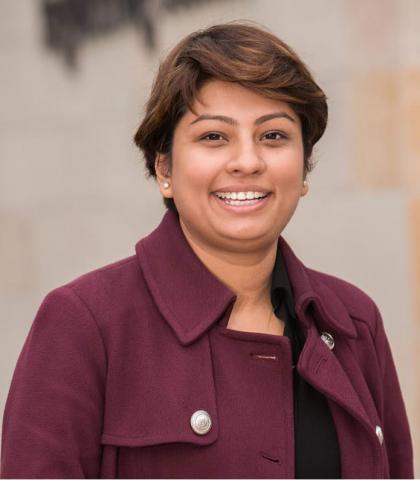 UC Santa Barbara earns industry attention for its research to change how we use light.
by Sophia Fischer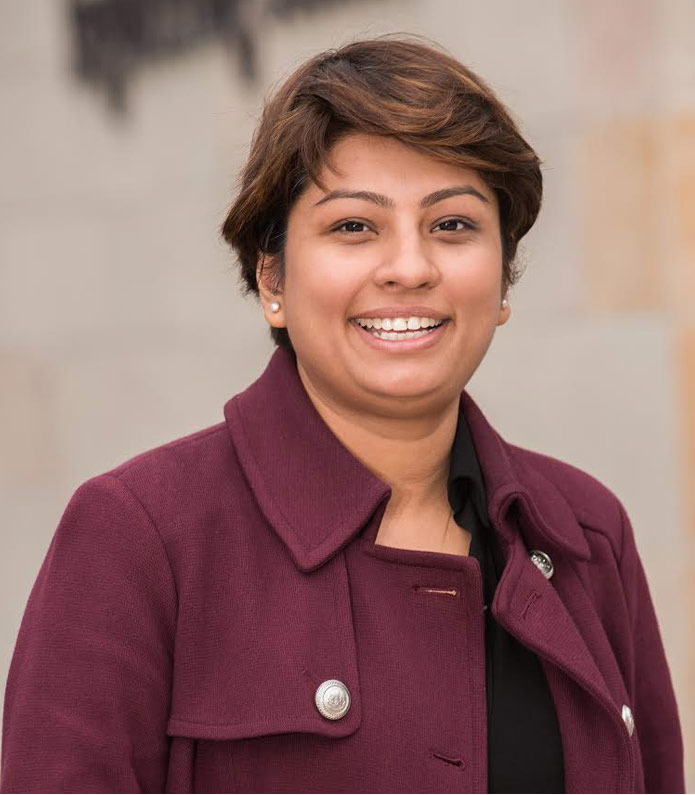 The way we light our homes, our cars and even our crops is changing thanks to the research being done by groups like UC Santa Barbara's Solid State Lighting & Energy Electronics Center (SSLEEC).
Researchers showcased their groundbreaking work to create light without heat and save significant energy during the Center's 4th Annual Review Conference held on campus in November. About 130 participants including industry investors, sponsors and visiting researchers from throughout the United States, Asia, Europe and the Middle East as well as faculty and students listened as researchers presented the latest updates on their work.
"The Department of Energy expects that there will be a 50 percent reduction in high power needs in lighting with $250 billion in savings. That's equal to 50,000 megawatts of power in the U.S. This research truly has the ability to transform the world,"
Among the conference presenters was Srabanti Chowdhury M.S. '08, Ph.D. '10. Chowdhury, associate professor in Electrical and Computer Engineering at UC Davis, is developing solutions for next generation electronics. All electronics including lighting, air-conditioning, computers and motion control devices rely on energy conversion in order to operate. Her research focuses on the use of diamond, gallium oxide and gallium nitride materials for next generation power and other emerging electronics to reduce the energy wasted as heat during conversion.
"We've had big milestones that prove that diamond is a promising candidate," Chowdhury said. "It has challenges, but we are seeing development from when I first started this work. Diamond's performance is solid."
Chowdhury has more than 23 patents (18 issued) on gallium nitride and diamond-based devices and technologies and has earned recognition for her work. Among the many awards and grants she has received are the 2015 National Science Foundation CAREER Award for early-career researchers, and the 2016 Young Scientist Award from the International Symposium on Compound Semiconductors. She has been published in more than 45 journals and presented her work at multiple conferences. 
"SSLEEC has had 154 patents since 2011 and is one of the most unique and successful collaboration models for universities and industry "
After completing her Ph.D., Chowdhury was hired by Transphorm, a global semiconductor firm in Goleta, to develop and commercialize GaN-based devices for power electronics application. In 2013, Chowdhury joined the Electrical Computer and Energy Engineering faculty at Arizona State University to continue developing wide bandgap devices in GaN and diamond. She joined UC Davis in 2015 where her work includes RF electronics for radar applications, terahertz electronics, sensors and high temperature electronics
In addition to Chowdhury, other researchers presented their latest findings on laser lighting; green and UV LED lighting; and LiFi technology, high speed networked wireless communication, among other projects.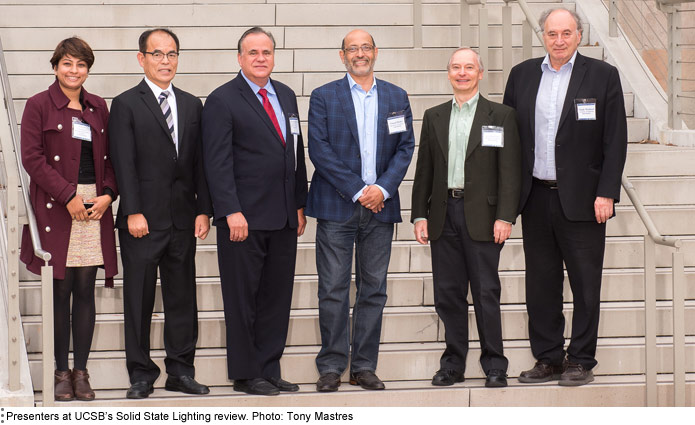 Speakers included Shuji Nakamura, UCSB professor of Materials and recipient of the Nobel Prize for Physics in 2014 for the invention of efficient blue light-emitting diodes which has enabled bright and energy-saving white light sources. Nakamura is SSLEEC co-director along with Steven DenBaars, professor of Materials and Electrical & Computer Engineering. DenBaars helped pioneer the field of solid state lighting, establishing and improving Gallium Nitride materials and devices used for lighting and displays.
"SSLEEC has had 154 patents since 2011 and is one of the most unique and successful collaboration models for universities and industry."
Established in 2013, SSLEEC's purpose is to provide a forum for key industry partners, faculty and student researchers at UCSB to work in collaboration and across scientific disciplines on new semiconductor-based technologies for energy efficient lighting, power electronics, and bulk growth of Gallium Nitride (GaN).
"We are so proud of these collaborations and immensely grateful for your participation which is crucial to our work," UCSB Chancellor Henry T. Yang told the review audience. "It speaks to the strong spirit of innovation that has guided the success of SSLEEC and we look forward to another year of breakthroughs in research and discovery."