Photo Mary Anne Andrei. By George Thurlow '73
Adolfo Murillo '79 was brought to the United States from Mexico when he was only 4.
His parents were pursuing the American Dream.
More than five decades later, it is Murillo who has lived the American dream, a dream that was empowered by his four years at UC Santa Barbara studying biology.
Not only is Murillo a successful South Coast optometrist but he helped create the organic tequila industry in Mexico and his brand, Alquimia, has won numerous awards for its quality and taste.
The story began when Murillo's parents migrated to the U.S. in 1961 from the dusty Jalisco village of Agua Negra," black water". His father ultimately became a citizen and managed a poultry operation in Ojai.
Murillo attended high school in Ojai where he was visited by student recruiters from UC Berkeley Optometry School who convinced him he could achieve his dreams of becoming a health professional. They told him his best bet was to do his undergraduate work at UC Santa Barbara.
One of the biggest pieces of advice Murillo gives to students he now recruits for optometry careers is "give yourself as many options as possible." He didn't take it. He only applied to UCSB. But he was admitted and studied hard, volunteered for the Chicano student group Los Curanderos and ignored the "party school image."
"I enjoyed my time there but classes were always first," he recalled during a conversation at a coffee shop not far from his optometry offices. He became president of Los Curanderos, a group that provides tutoring and professional school guidance to Latino students. "It laid the groundwork for the rest of my life. You must always be involved in your community. Volunteer work has been a major part of my life since then.
But it was the rigorous science courses that he continued as he obtained his optometry degree from UC Berkeley that laid the groundwork for his cutting edge agriculture.
Some 25 years ago, in the midst of a successful medical practice, Murillo's life took a dramatic turn. His grandparents, who owned a 125 acre subsistence farm plot in Agua Negra, passed away and the rest of his family, despite the nostalgia of that dusty piece of land, wanted to sell it.
"WE DID NOT GET INTO THIS TO SELL TEQUILA,
he explained. " WE GOT INTO THIS FOR SOCIETY AS A WHOLE TO UPLIFT AND TEACH ORGANIC AGRICULTURE
IN MEXICO."
Murillo convinced his family to keep it and agreed to pay for it. When he returned he found that the international boom in tequila consumption had turned much of the surrounding Jalisco hillsides into vast plantations of agave. Tequila is processed from the sugars contained in the agave roots. The plantations were the epitome of modern agriculture with heavy chemical fertilizers, even heavier pesticides and herbicides.
As for his plot of land, at that time called Los Lomas and now called Rancho Murillo, the soil was depleted and did not contain the minerals and nutrients needed to grow agave.
So Murillo reached back into his past life as a biology student and did extensive testing of the soil and then created a "secret sauce" of organic nutrients that would sustain agaves. His first crops on the land yielded huge plants with heavy concentrations of agave sugars. His neighbors took notice and the big distilleries immediately began buying his organic agave to enhance their less bountiful agaves.
Even as he was selling his crop to other distilleries, the high end tequila market took off. Major brands like Patron discovered that U.S. and Mexican tequila drinkers would pay top dollar for aged tequila.
So Murillo decided to build his own distillery down the road from his farm. The product would be called "Alquimia," the translation of the Spanish word for Alchemist which is in the title of one of Murillo's favorite books, "The Alchemist" by Pablo Coehlo.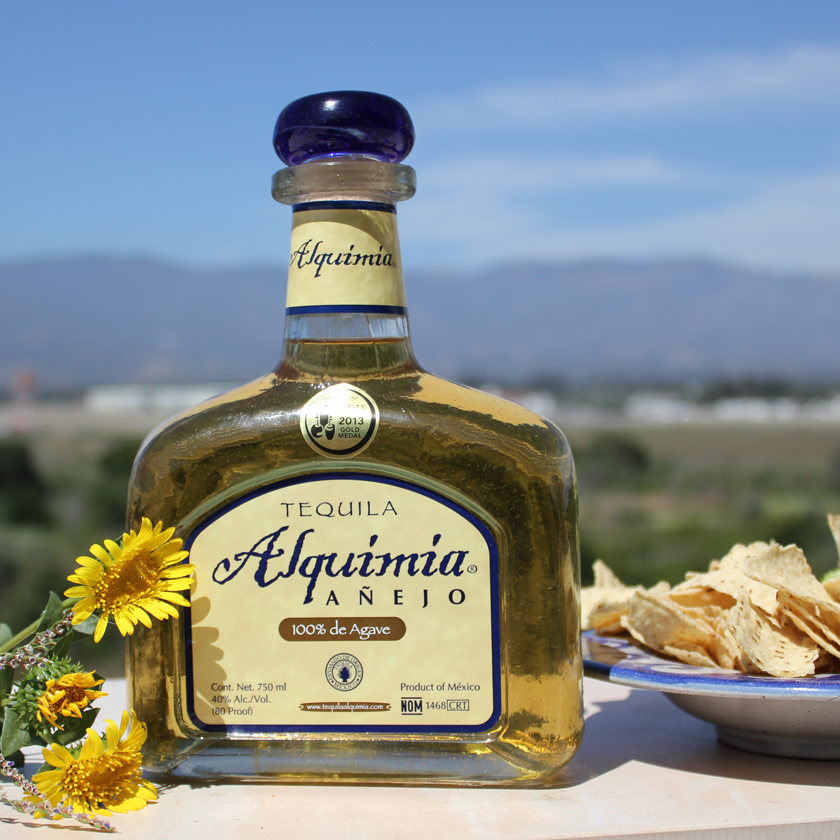 Murillo explains that the alchemists of old, who began the rudimentary science of chemistry, believed they could make gold from simple metals. What he has done is to create "liquid gold."
The market for high end tequila is booming around the world. George Clooney recently sold his boutique line of tequila for $1 billion. The Mexican government has negotiated a trade deal with China that is expected to lead to $100 million in tequila sales to that country in the next few years.
But Murillo is convinced that his organic farming is the real future of this liquid gold. In fact, it is the one other primary reasons he continues in what is only a break-even business. "We did not get into this to sell tequila, "  he explained. "We got into this for society as a whole to uplift and teach organic agriculture in Mexico. This is improving people's lives and saving the environment."
Numerous other organic agave farms have appeared in Jalisco. They have a ready-made market in China where organic products are sought because of the sense of environmental degradation occurring in China.
Murillo's distillery is producing 100,000 bottles of tequila each year and while some stays in Mexico, it is being sold in the U.S. at a handful of Whole Foods and BevMo markets. (He says with a smile that he uses Gaucho colors of blue and gold on his bottles.)
Even with a potential payoff down the road, Murillo said he is focused on his community work. He volunteers at the local hospital giving eye exams to the needy and visiting high schools to convince Latino students they can succeed in science and medicine.
He likes to joke that "I help people see twice as well during the week and to see double on the weekends."
The passion in Murillo comes out when he talks about his parents' dream and his dream of a better life in the U.S. and helping create a better life in Mexico.
"Dreams are not bound by borders," he explained. "You can dream in any language. We all deserve to be able to dream, to be able to make those dreams come true."