Our New 2018 Alumni Board Members
For 11 years Gene Lucas held the top academic position at UCSB—Executive Vice Chancellor. In that role he led the campus' strategic planning process, its long range development plan and its budget planning. He was also personally involved in all faculty recruitment, retention and promotion decisions. A 1973 graduate of the engineering program, Lucas came back to UCSB in 1978 as a member of the faculty in the nascent nuclear engineering program. He held most of the academic positions in the engineering program and was elected to the American Association for the Advancement of Science fellows program. Lucas retired from his administrative position in 2015 but currently chairs the search committee for the Vice Chancellor for Administrative Services position.
Javier Moreno is a 2005 graduate who holds advanced degrees in international studies and nursing. He recently received his RN and MS degrees in nursing. After graduation Moreno was deeply involved in Santa Barbara non-profits as a program director, including the Orfalea Foundation and the Fund for Santa Barbara. He also was part of the Teach for America program in Washington DC. He has most recently been involved in organizing reunions of his dorm mates.
Diane Dodds is a 1968 graduate who has had a very successful career in real estate and investments. She made a naming gift to the Mosher Alumni House and the current Programs Director office carries her name. She is currently one of the largest donors to the Alumni Scholarship Fund. More recently she made a $50,000 gift to fund a number of Isla Vista projects, including providing 15 bicycles to the UCSB Community Service Officer program in order for them to have more mobility in providing escort services for students. Her grant also funded arts programs and an irrigation system for one of Isla Vista parks. She is active in her church and the Opera Society of Santa Barbara.
Michael Citron graduated in 2010 and since graduation has been very active in organizing regional chapters of young alumni. He helped start the young alumni group in Washington DC and then took a leadership role in organizing young alumni Olé chapters in San Francisco and Los Angeles. He has personally organized more than 20 events for young alumni. While at UCSB he held a number of student positions in the Admissions office and upon graduation worked for the Washington DC political advocacy office in AIPAC. He recently completed his MBA at Anderson School at UCLA and works for a private company doing organizational consulting.
1970s
Phillip Spector '72, has recently retired from his Washington D.C. law firm, Milbank,Tweed, Hadley and McCloy and joined ThirdLove as General Counsel. ThirdLove is a women's intimate apparel marker, focusing on better-fitting products designed around real women
George Perry '74, a leading Alzheimer's researcher and Dean of the College of Sciences at the University of Texas, San Antonio, will become the Chief Scientist in the newly established UTSA Brain Health Consortium.
The University Press of Kentucky will be releasing a copy of John Gilderbloom's '75, M.A.'78, Ph.D.'83, book Chromatic Homes: The Joy of Color in Historic Places. It includes 182 color pictures of how residents in neighborhoods either in socialist or capitalist cities rebuild neighborhoods with personalization, color, sweat equity, and prosperity.
Ann Marie Hickambottom '76 was appointed to the Pasadena district office staff of California Assembly Member Chris Holdren. She currently serves on the board of directors for the Pasadena Community Access Corporation (PCAC). Some of the commissions Hickambottom is involved with are the city of Pasadena Planning Commission, the Rose Bowl Operating Co., and the city's Affirmative Action Commission.
Mike Sugarman '77 was inducted into the Bay Area Radio Hall of Fame. He estimates he has done 10,000 stories and he has also won 17 Northern California Emmy Awards. After 35 years of being a San Francisco radio voice, Sugarman is quitting his job to move to New York. He wants to be close to his sons and his new grandson.
Laurie Leighty '78 retired after 13 years as founding executive of American Riviera Bank in Santa Barbara. She was one of the original team members that opened American Riviera Bank in 2006 and worked in Operations, Human Resources, IT and Security. In 2017 she won the Nation Meyer Innovative Banker Award. Her banking career spanned 37 years.
1980s
Fran Mancia, '80, completed his two-year term as a UC Alumni Regent. He previously had served on the Board of Directors of the UC Santa Barbara Alumni Association. He is vice president of government relations for Muni Services, a Sacramento lobbying and consulting firm that represents a number of California cities and special districts. During his time as an alumni regent he also served as president of the Alumni Associations of the University of California.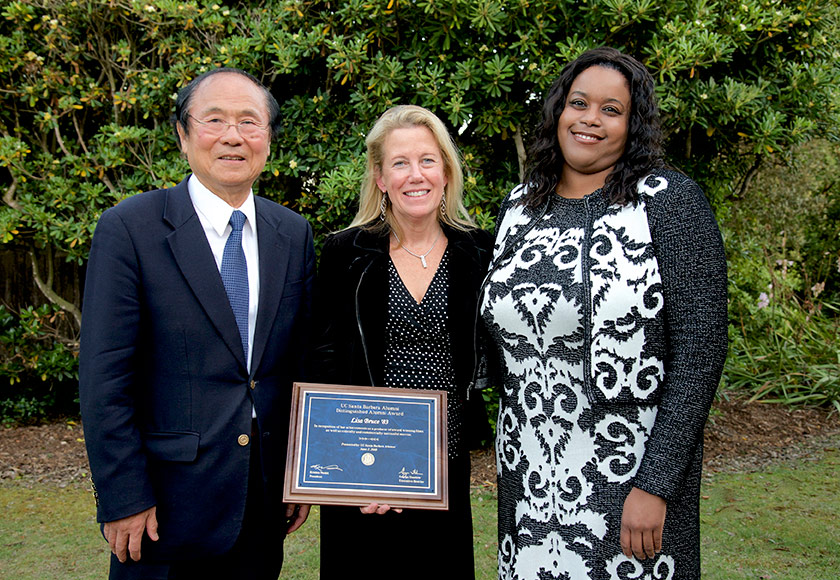 One of Hollywood's most critically acclaimed film producers was honored by the UC Santa Barbara Alumni Association June 2 in a ceremony at the campus University House.
Lisa Bruce '83, producer of the 2018 Academy Award-nominated film "Darkest Hour" received the Association's Distinguished Alumni Award.
"This is a special honor for me," said Bruce. "I can honestly say I would not have had the career in film if it wasn't for my experience at UC Santa Barbara."
She credited UCSB film and media studies professors Dana Driskell and Charles Wolfe for their contributions to her film education. "I didn't think of myself as an artist," she said. "I had the misconception that artists are born." Driskell, she added, helped her understand they are "made."
Bruce's first — and not so auspicious — effort at UCSB was a comic horror film that centered on houseplants taking over a keg party. When the film was sent to the processing studio, however, it was discovered the filmmakers had neglected to open the frame on the camera. "It was totally black," Bruce recalled.
That might have spelled the end of her career, but with encouragement from Driskell she returned to her place behind the camera, producing — with classmate Farfallah Borah '82 — the film that would earn her acceptance to the prestigious New York University School of Film. "[At UCSB] I learned everything I needed to know to make bigger features," she said.
The rest, as they say, is history. Bruce went on to a distinguished career as a producer, and now has more than 20 feature films under her belt. Among them is the 2014 award winner "The Theory of Everything," which chronicles the life of acclaimed theoretical physicist and cosmologist Stephen Hawking. In addition to more than 100 international award nominations, the film received three British Academy of Film and Television Arts Awards, two Golden Globes and an Academy Award.
"Darkest Hour," also produced by Bruce, details Winston Churchill's leadership of Britain in 1940 as Adolph Hitler was threatening the destruction of the British Isles. The 2017 film was nominated for an Academy Award for best picture. Gary Oldman won the Academy Award for Best Actor for his portrayal of Churchill.
Melanie W. Saunders '84 was named Associate Center Director at NASA. She helps manage one of NASA's largest installations and an annual budget of about $5 billion. Sauders has been an associate manager of the International Space Station Program and was deputy manager of the station's External Relations Office. She has received many awards from NASA including the NASA Exceptional Service Medal and the Meritorious Presidential Rank Award. She graduated UC Santa Barbara in 1984 with a History degree.
Jody Linick '85 is the founder of FitBooks Pro, a bookkeeping resource that works with QuickBooks®. Linick was featured in the guide sharing her accounting expertise and the steps one should take to become a certified bookkeeper. She is a CB or Certified Bookkeeper.
Fox News Anchor Harris Faulkner '87, left, was the featured speaker in mid June at the Richard Nixon Presidential Library in Yorba Linda. She was introduced by Ken Khachigian '66, right, the former adviser to Nixon and speechwriter for President Ronald Reagan. Faulkner is on a nationwide book tour promoting her book "Nine Rules of Engagement: A Military Brat's Guide to Life and Success." She currently hosts Fox News' "Outnumbered Overtime with Harris Faulkner." Khachigian is an attorney and former UC Santa Barbara Foundation trustee.
1990s
Dr. Britt Andreatta's M.A.'90, Ph.D.'98 training company has created a new change model based on brain science, The Change Quest Model™.
Tom Patton '91 was awarded the General Manager of the Year award from the California Hotel & Lodging Association, and the Hospitality Santa Barbara Star of the Year award by the Greater Santa Barbara Lodging & Restaurant Association. Under his leadership the Ramada Santa Barbara was the 2016/17 top Ramada Hotel for all of North America.
John MacFarlane M.S.'92, serial entrepreneur and founder of iconic digital audio company Sonos, will become the 17th member of the Pacific Coast Business Times Hall of Fame.
Former Blizzard Entetainment Chief Operating Officer Paul Sams '92 has joined Damage, a small esports agency, with the title of co-founder and equity-holding partner with managing partner John Ward '94.
G. Ross Trindle '99, serves as general counsel for the newly formed Isla Vista Community Services District. He wrote Measure R, a utility users tax to fund the District, which passed in June with more than 80 percent of voters approving it. He has held a number of legal positions for various Southern California government agencies. He is a member of the Aleshire & Wynder law firm in Riverside and received his law degree from Santa Clara University Law School.
2000s
Marina Gordon '02 was hired as the Chief Operating Officer for the Central California Alliance for Health. In her role she is responsible for enterprise-wide operations and executive leadership of Member Services, Claims, Project Management, Provider Services, Grievance, Process Improvement and Regional Operations.
The Associated Press has named Oskar Garcia '04 as deputy sports editors for newsgathering and storytelling, helping lead the global department's efforts to report and present the most compelling sports journalism. Garcia will supervise the four U.S. regions as deputy editor for presentation and storytelling, managing how AP's journalism is delivered to customers and on digital and social platforms.
Dr. Katherine Meizel Ph.D '07/DMA '04, wrote an article for NPR," Music And Protest, Hand In Hand: Songs Of The Student Walkouts" about the music of the student walkouts surrounding the Parkland, FL shooting.
Duncan Mellichamp H'09 a UC Santa Barbara professor  has received the Oliver Johnson Award, one of the highest awards for University service. Mellichamp is being recognized for "lifetime service to the Senate, outstanding and creative contributions to faculty governance, and exceptional abilities in working with different University constituents."
Legendary wine maker Richard Sanford H'12 was featured in Los Angeles magazine's spread on wine and winemaking in the Santa Rita Hills of Santa Barbara County. He is quoted as saying, "There is a certain snobbery that some people have more or better knowledge [of wine]. But you never learn it all. And wine is such a beautiful beverage. If you can keep it at that, wine is a great, great experience, this remarkable elixir from a natural product."
Apeel Sciences is a Gaucho Grown company started by James Rogers Ph.D.'12, and current Alumni Board member, has their first retail partnerships with Costco and Harps Food Stores for Apeel avocados, supplied by Del Rey Avocado and Eco Farms. Apeel Science has developed a post harvest solution to improve the shelf life of fruits without refrigeration or preservatives.
Dana Skeels '13 has a new position as Product and Vertical Marcomms Lead at North American Facebook.
Former UCSB Track and Cross Country runner, Dani Moreno '15, continued her recent string of fast trail races with a course record and win at the Broken Arrow Skyrace 26 kilometer race at Olympic Village in Lake Tahoe on June 16. Moreno ran 2:36, nine minutes better than the record books.
Sukhmani Bal '15 serves as Director of Community Outreach for the MGH Center for Cross Cultural Student Emotional Wellness, whose mission is to reduce stigma and promote help-seeking in diverse student populations. Suk has been able to give talks at Northeastern, at Harvard Graduate School of Education, and to the Indo-American Psychiatric Association; she has also co-authored a textbook chapter on treating depression amongst Asian American students.
Shyan Vaziri '16 became a 1500m/mile record holder. He has been training in Washington for the past two years. In the Santa Barbara Elite Miles event he clocked 4:00:90 and finished 7th overall. He set the school record about two years ago.
Daniel Connell '17 and Quincey Lee '17 have embarked on a bike trip from Isla Vista to Columbia. The grads left Isla Vista in October 2017. They are raising funds for the World Bicycle Fund, which supply bikes designed, and locally assembled, providing access to independence and mobility to students, healthcare workers and entrepreneurs in rural Africa.
Ata Sari '17 and Kevin Mahany '17 have opened Mama Luma, a girls clothing boutique in Santa Barbara. In addition to clothing, the space will offer activities such as a weekly reading hour, seminars and workshops hosted by local nonprofits, and speaking events designed to empower girls.
In Memoriam
Norma (Becchio) Cornish '41 died April 26, 2018 in Santa Barbara just weeks shy of her 103rd birthday. She graduated at the Riviera campus with a degree in history.
Candid Reno Chackel '51, died June 5, 2018 in Santa Barbara. A political science major, Chackel was a member of the Sigma Phi Epsilon fraternity. He spent more than 50 years as a real estate broker in Santa Barbara.
Sarah Elizabeth "Sally" Yeatman '58, followed by a master's degree from San Francisco State University died April 29, 2018. Yeatman was a special education teacher, working with children who were blind, deaf and both blind and deaf. She also worked with autistic children. She received a Teacher of the Year Award in San Mateo County.
Bonnie Lou Gains '68 died March 14, 2018 in Santa Barbara. She was known for her charitable spirit and her passion for genealogy and cooking. She attended UCSB where she achieved her BA in English. Her success led her to land a position as a legal secretary. She later went on to become president of the Legal Secretary Association.
David Granger Purinton died March 3, 2018. The avid outdoorsman got began his life in Downey California where he enjoyed the gorgeous scenery as a boy scout. As a you adult he served two years in Vietnam, receiving honors for his exemplary service. Following his honorable discharge, he enrolled at UCSB to pursue his degree in Chemical Engineering while simultaneously working at Applied Magnetics Corp. where he would remain employed for 28 years. He shared his life with wife Diana and their two children.
Barbara Becker Paul '68 died February 1, 2018. Her funeral accommodations were provided by the Neptune society in Sherman oaks.
Jennifer Elaine (Wright) Deppmeier '97 died May 25 in Santa Ynez. She graduated with a degree in Ecology and Evolution. She earned a teaching credential from CSU Channel Islands and began a career as a teacher. She was the garden teacher at Ballard School in Santa Ynez. She was active in the International Order of Rainbow for Girls and represented the State of California at international conferences.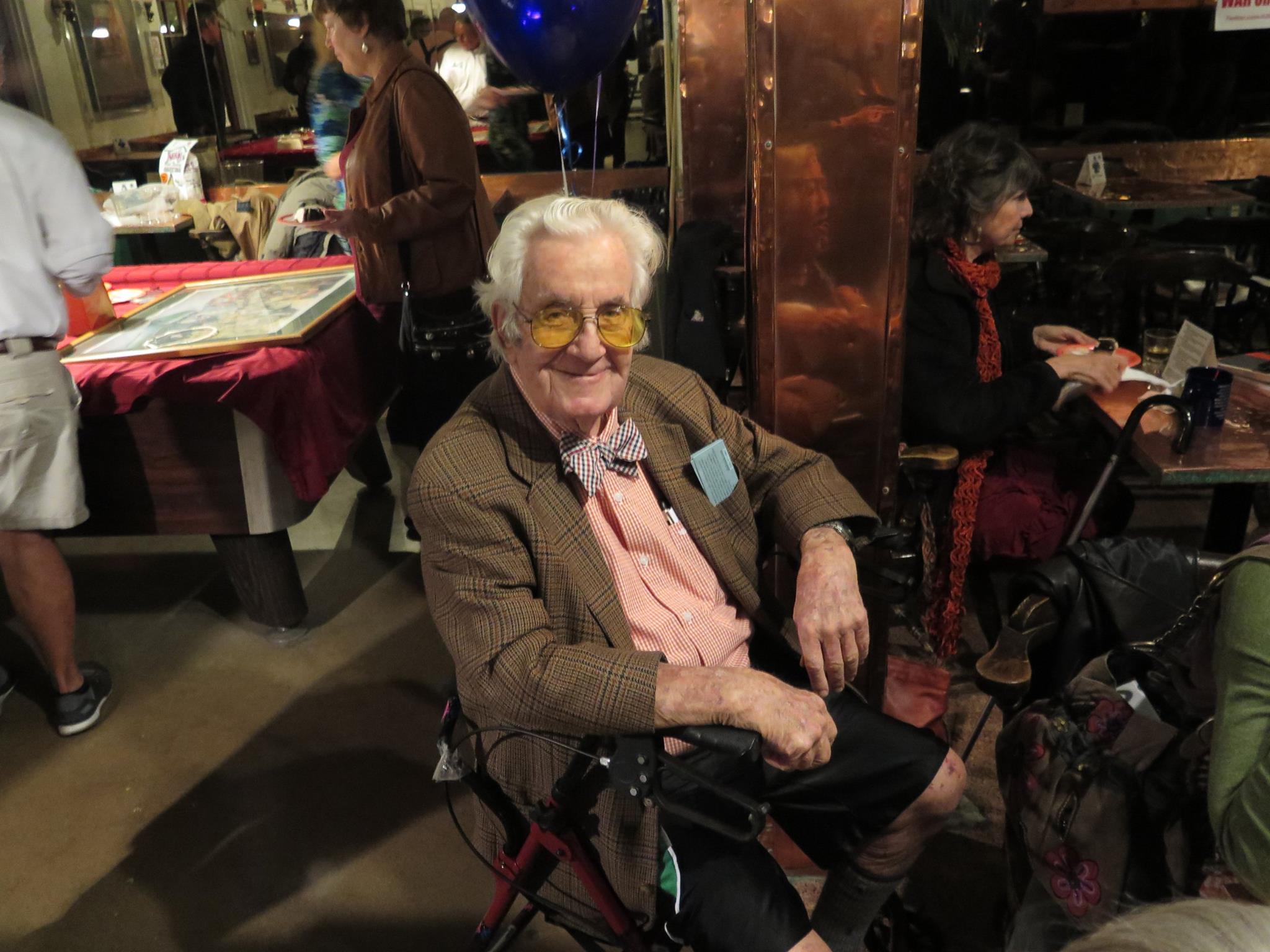 Photo: gregory McNamee
Legendary political trickster Richard "Dick" Tuck '52, died May 28 in Tucson, AZ at the age of 94. In his New York Times obituary Tuck was described as a "Democrats' prankster-at-large, who bedeviled Barry Goldwater, Richard Nixon and other Republicans with bad-news fortune cookies, a comely spy, a treacherous little old lady and other campaign-trail tomfoolery."
He began his tricks while a student at UC Santa Barbara and his target was Richard Nixon. One of his major tricks was to book Campbell Hall for a Nixon speech and then not publicize the event. Only 23 people showed up. Nixon later was quoted as saying Tuck was the "master" of trickery.
According to the New York Times, when Tuck was around campaign buses left early, trains left without their candidate passenger, and campaign placards in foreign languages often carried derogatory comments about the candidate.
During World War II he was a Marine and helped defuse unexploded bombs in the South Pacific. In the early 50s he worked on Democratic candidate campaigns and was a press aide to Adlai Stevenson in his unsuccessful bid for president in the election won by Dwight Eisenhower. He was part of the John F. Kennedy campaign in 1960. His only run for public office was in 1966 when he declared himself a candidate for state Senate—in a Glendale cemetery.
He later became Robert Kennedy's press aide and was standing near him when he was assassinated in Los Angeles in 1968.
In Remembrance: UCSB Staff, Students, and Community Friends
East Asian Languages and Cultural Studies professor Hyung Pai died May 27 in Santa Barbara. She taught courses in Korean archaeology, history, anthropology and popular culture. She received her bachelor's degree from Sogang University in Seoul, and her PhD in history from Harvard University. She was the author of 'Heritage Management in Korea and Japan: The Politics of Antiquity and Identity."
First year transfer student Garrett Reed Casey died from a head injury May 27, 2018 in Reno, NV. He was a pre communication major from Lincoln, CA.
Second year physics major Shegyu "Jin" Jin died suddenly in Santa Barbara on June 9, 2018. He was a native of Harbin, China.