The Gauchos Who Graduated Into Leading California's Craft Beer Industry
By Matt Kettmann '99
Like many an alum, beer played a central role in my days at UCSB, from the cans of Natural Ice and 40-ounce bottles of Crazy Horse that colored my Del Playa-roving years to those six-packs of Sierra Nevada and kegs of Red Nectar that we tapped in our Trigo Road garages. The selection of available ale flavors at Isla Vista liquor stores soon grew dizzying, and by my senior year, I was brewing five-gallon batches of coffee-laced Irish stout in my Pasado Road kitchen.
We didn't quite know it at the time, but the late 1990s were a very heady time for America's burgeoning craft brew movement. No wonder, then, that so many of my fellow Gauchos of that era and the decade to come eventually found careers in the craft brew industry. Today, these men and women are leaders in their field, especially throughout Southern California, where most of their breweries are located.
Here's a brief look at these sudsy superstars, and how their UCSB experience colored their careers.
Eric Rose, Class of 1999
Hollister Brewing Company, Goleta
Founded 2007
"I became a homebrewer in college when my father bought me a kit at Costco because he was sick of buying me beer while I was underage," said Rose."The thing that UCSB gave me that helped me in brewing would be a love of history. Beer is a thing that has withstood centuries of change yet still serves the same purpose in many people's lives. It brings people together over a shared experience. And I have an affinity for a lot of lost or dormant beer styles."
Jaime Dietenhofer, Class of 2002
(MA, Bren School)
Figueroa Mountain Brewing Company, Buellton (with five taprooms from Arroyo Grande to Westlake Village)
Founded 2008
"There was a good scene, and it was easy to find other people who were interested in beer and homebrewing," said the Santa Ynez Valley native who ran a successful garage remodel company before launching the brewery. "The retailers started taking risks on removing some of the domestic lagers and giving a shot to the younger demographic. I was exposed to a lot of new stuff at that time."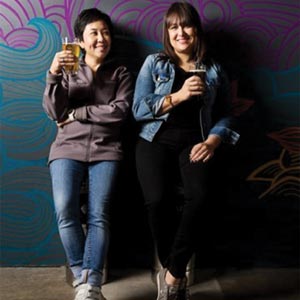 Lynne Weaver, Class of 1997
Three Weavers Brewing Company, Inglewood
Founded 2013
Weaver says she learned "multitasking" at UCSB, explaining, "It's hard to skateboard down Trigo Road with a half barrel on your deck. In all seriousness, it's the community atmosphere that Isla Vista embodies which translates very well into craft  beer. Our industry is one of the tightest even though we are competitors. We are always willing to lend a helping hand. You don't find that in other industries. Oddly enough some of my closest industry friends are UCSB alumni.  We always rely on each other."
Dennis Loyst, Class of 1986
Surf Brewery, Ventura
Founded 2011, sold in 2017
"Friends and I would go to the UCEN to study and have a pitcher, or two," said Loyst, who's been homebrewing since his senior year in 1985. "You know things are expensive when you're a student, so I was thinking there's got to be a better way. We would have weekly keggers at the beach and we would always get the same beer. So, when I started making beer, I loved that you could change things up." He co-founded Surf Brewery with two other Gauchos, Bill Reigler and Keith Taylor.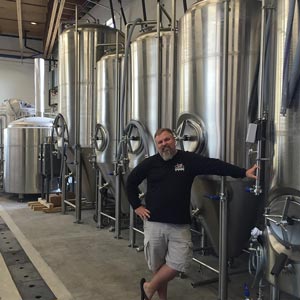 Scott Stefan, Class of 1989
Draughtsmen Aleworks, Goleta
Founded 2016
This Fort Worth, Texas native recalls many nights at Spike's, The Open Door, and the Long Bar, as well as  a "fond remembrance of having a beer with Frank McConnell at the Pub at the UCEN." That wasn't the only local celebrity he met. "I was playing pool at the former Bank of America, which was then the Isla Vista Brewing Company, and a man with an English accent handed me a Double Barrel Ale and asked if I wanted to try it," said Stefan, of his chance encounter with David Walker of Firestone-Walker. "I said yes, had at least three pints, and talked to him for a bit about the new Firestone brewery that he was starting with his partner.
I was hooked."
John Benedetti, Class of 1997
Sante Adarius Rustic Ales, Capitola & Santa Cruz
Founded 2012 (he sold his share that year)
Benedetti got into brewing because, well, he "didn't like shoulder tapping." He realized he could do it on his own, and used to buy supplies from a guy who sold out of his garage in Isla Vista. But there were more important lessons. "I learned how to navigate the real world, where adult beverages are a common part of business-related social activities," he said. "When you work in the alcohol industry, you have an excuse to drink excessively all the time. UCSB taught me how to stash drinks in houseplants and survive the evening intact."He sold his brewery interest to start his winery Sante Arcangeli, which is his focus now.
RusticAles.com (and his winery is SanteWinery.com)
Dan Carrico (Class of 1997), Dennis O'Connor (Class of 1999), & Eric O'Connor (Class of 1997)
Thorn Street Brewing, North Park-San Diego
Founded 2012
Thorn Brewing Company, Barrio Logan-San Diego
Founded 2017
These three founders — and there's no relation between the O'Connors — all went to UCSB, and started a homebrew and hydroponic store before the brewery, which they grew from a small neighborhood joint into a production facility that now distributes all the way to Santa Barbara. "The social component and neighborhood vibe that was in Isla Vista is also in our tasting rooms," said Dennis. "I still ride a skateboard to work."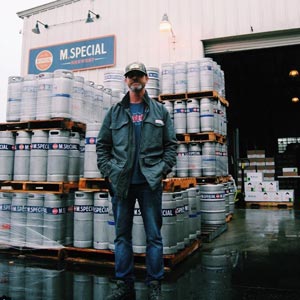 Joshua Ellis, Class of 1998
M. Special Brewing Company, Goleta
Founded 2015
Before Ellis grew his homebrewing hobby into a career, he recalls drinking at Woodstock's with I.V. surf legend Randall Stoker. The next morning, he got up to go surfing. "It was super foggy and looked to be head high at Devereaux. It was probably the coldest morning of the year. We wielded our thickest wetsuits and paddled out thinking we were going to be the first surfers in the lineup. Lo and behold, Randall surfs by us in trunks patting his belly and claiming, 'Who needs wetsuits!?! Sponsored by Woodstocks!'" Now, his brewery is a Gaucho favorite. "Our location less than a mile from campus means we have undergrads, grad students, faculty, and fully tenured professors as regulars. Many of our employees are current Gauchos or recent Gaucho grads."
Sean Laidlaw, Class of 2011
Russian River Brewing Company
Founded 1997; he started there in 2017
Laidlaw's father, a longtime homebrewer and UCSB alum '82, once poked fun at his friend, Dan Gordon, for wanting to start a brewery. Then Gordon Biersch exploded. "Who's laughing now?" said Laidlaw, who homebrewed from a young age with his dad and won a spot at Sierra Nevada Beer Camp in 2012. That led to a job at Mission Brewery and then Figueroa Mountain. "I literally started from the bottom, washing kegs, working the bottling line, warehouse work —  character-building stuff to be sure, but five years later and I'm working for one of the most highly-regarded breweries in the world," he said. He credits UCSB's "highly social atmosphere" with helping him to come out of his shell and talk to customers on a whim. "People do feel oddly comfortable interrupting brewers while they're working to ask questions," he said. "It's something we all complain about amongst each other, but understand that we have to live with it."
Eric Hansen (Class of 2010) & Mandy Barrett (Class of 2012)
Third Window Brewing Company,Santa Barbara
Founded 2016
After riding through Isla Vista with kegs of macro beer on his skateboard, Hansen got into homebrewing, aided by Valley Brewers in Solvang, before getting a job at Kristopher Parker's brewery. Barrett started by helping out in the brewery — painting walls, asking a million questions — Barrett is now the chef at the attached Brasserie Solera. "The cool thing about Third Window is how Kris is bringing the concept of terroir into beer. As a cook, I think it's awesome that we use fresh, local produce in our beer versus buying shelf-table fruit purees." Both are proud of the Walkabout Stout, which uses Santa Barbara-made 24 Blackbirds Chocolate and locally harvest backyard oranges.
Jason Kolb, Class of 2000
Scholb Premium Ales, Torrance
Founded 2015
This chemical engineering major worked for Chevron for 16 years. "Making gasoline is challenging, but not fun," he said. "Making beer and running a business is just as challenging, but people love beer." He used his project management skills to write a brewery business plan. "I actually tell customers that when I went to college, beer was for keg-stands," he said. "It wasn't until afterwards that I learned to enjoy the flavors of beer. But being around the constant party scene of Isla Vista certainly helped me learn the discipline needed to focus on school and sports."   
Matthew Zirpolo, Class of 2012
Burgeon Beer Company, San Diego
Founded 2016
Zirpolo says that UCSB taught him how to manage work and play. "I learned quickly if I wanted to go out for a beer that I needed to get all my work completed prior," he said. "Now that I own a brewery, I have to rely on these past experiences more than ever." He's also tapped the alumni market. "I am consistently surprised by the number of people I meet that went to UCSB — I have made several great business connections and instantly feel a bond when we meet," he said. "We also just had a Gaucho meet up at our brewery put on by the alumni association. Over 100 people came!"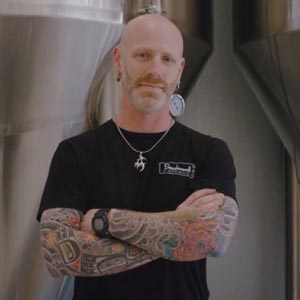 Julian Shrago, Class of 2000
Beachwood BBQ and Brewing, Seal Beach with locations in Long Beach and Huntington Beach
Founded 2006
Shrago got interested in homebrewing during his freshman year in 1996 and it became a deep passion, fueled in part by the wide selection in Isla Vista liquor stores. "While I think the beers I made in college were decent enough, my friends who enjoyed them used to joke, 'You should sell this stuff, man!'" recalled Shrago, whose partners are also Gauchos. "There are a shockingly high number of alums that have become professional brewers or work in beer. The brewing industry fosters a high degree of camaraderie and having connections to so many Gauchos in the business only strengthens those bonds."