By Gianna Ross '20
Photos: Courtesy of Santa Barbara Popcorn Company
About 15 years ago, Christopher Pollastrini and his best friend, Javin Oza, were up late studying for their biochemistry final in UC Santa Barbara's Chemistry building. Overcome by the munchies, Pollastrini decided to make some popcorn with his special vegan homemade seasoning. It might have been the exhaustion from studying or the toxic chemicals from the chem lab, but Pollastrini, "had an aha moment," and thus, Santa Barbara Popcorn Company was born.
These days, Pollastrini's popcorn can be found in more than 80 stores, hotels, and venues across California. Using organic kernels, GMO free and gluten free ingredients, Santa Barbara Popcorn Co.'s vegan popcorn has flourished in the Santa Barbara area and beyond.
On entrepreneurship: …just know That there will be a never-ending series of small failures and you just have to accept them and push through…
In 2003, he received his undergraduate microbiology degree at UCSB. He remembers, "class in the huge halls, listening to lectures, and doing a lot of organic chemistry labs from 6 to 10 at night." Pollastrini says UCSB prepared him with work ethic and of course, the science involved in the creation of his popcorn recipes.
He was able to discern which types of flavors and ingredients--whether it's acidic or salty, starched-based, oil-based-- combine well together. "I started experimenting with different recipes," he said. In the beginning, he would use his family and friends as taste testers.
Growing up in Southern California, healthy foods were something Pollastrini's family valued. Pollastrini was inspired by his mother and sisters "always making good, home cooked meals." After graduating from UCSB he took on a vegan lifestyle and found a passion for healthy foods. He says it was because of how he was raised it was natural that he would gravitate towards high quality ingredients.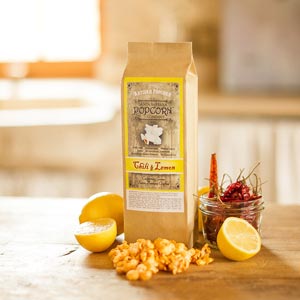 After UCSB Pollastrini stayed local and became a high school biology teacher at San Marcos High and Dos Pueblos High. Dos Pueblos High also played a big part in the kicking off of Santa Barbara Popcorn Company. The school was creating some new programs for the students and needed the funds to do it. A fundraiser was orchestrated that allowed the students to sell SB Popcorn while ultimately getting the word out about Pollastrini's up and coming business. The fundraiser was successful for both DPHS and Santa Barbara Popcorn Company.
As a business owner, Pollastrini encourages young entrepreneurs to find something they have a real interest in. "If you decide to do it," he says, " just know that there will be a never-ending series of small failures and you just have to accept them and push through and go forward anyways. Have the mindset to keep going forward."
Being a Gaucho is being a part of a community. He acknowledges Jim Cooper, his Biology professor, as a great mentor to him during his time at UCSB.
"Seeing so many people around town enjoying a small creation I started a long time ago is really satisfying. It's a great feeling that people enjoy it and like it," he adds.
As for his friend Javin that was a witness to the first creation of Santa Barbara Popcorn? He is now a professor at Cal Poly teaching molecular biology.