Creative Connection
UCSB students take their talents and interests into the community
by Sophia Fischer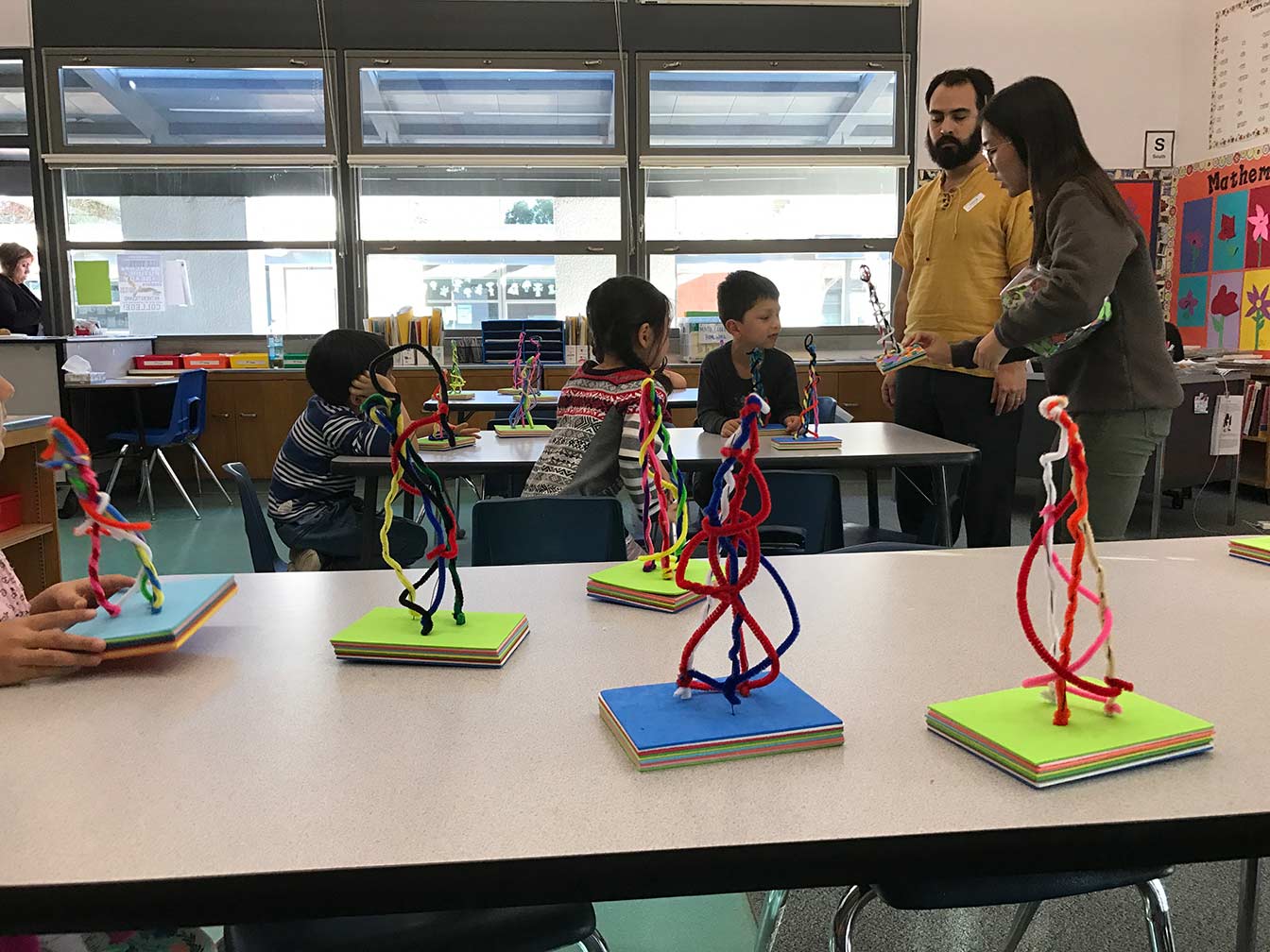 The kindergartners were excited about the art project brought into their classroom that day by UC Santa Barbara students, but there was a problem. The project required using scissors to cut out paper shapes. Some of the children in the Isla Vista Elementary School class were unsure how to use scissors and asked the UCSB students to cut the shapes for them. "I offered to hold the paper while they cut them out. Little by little, they began to take the page away from me and wanted to start cutting on their own," said Caitlin Mitry '19. "Those kinds of moments stand out to me, when you see students accomplish a task they were initially hesitant about and get to design art they're proud of."
Mitry is an intern in a program offered through the UCSB Art, Design & Architecture Museum Educational Opportunity Program (EOP) in which university students share their love for art with local children. UCSB student interns research artists and create a related hands-on art lesson to present to I.V. Elementary kindergartners. The program is in its fourth year with seven interns currently participating who work together to plan weekly 60 to 90 minute art lessons that culminate with a show-and-tell for kindergartners to share their work. Intern Catherine Lee '19, avoids mainstream artists. Lee's art curriculum has included the work of Faith Ringgold and her narrative quilts; Niki de Saint Phalle and monumental sculpture; and Simon Rodia and his sculptural structures known as Watts Towers, in Los Angeles.
"With art history being a very white-male dominated study, I wanted to show the students at this age that anyone could be an artist and even push the accepted notions of what is and isn't art," Lee explained. "I sought art forms that were interactive and hands-on while also understandable and Creative Connection UCSB students take their talents and interests into the community executable in a short class period."
Intern Rachael Grainger '18, focused on California artists like Ruth Asawa, a Japanese American sculptor known for her hanging crocheted wire sculptures. To prepare for her lesson, Grainger tested out how to make a hanging sculpture to ensure that it would be simple enough for kindergartners to understand and complete.
"The students really seemed receptive to our lessons and activities. They were always enthusiastic, yelling, 'Art history!' when we would show up. They also loved watching videos of artists making their work and then being able to create something similar," Grainger said.
The internship was established in 2013 through the UCSB museum's EOP initiative by Maggie Bell, a UCSB Ph.D. candidate, who sought to connect the Department of the History of Art and Architecture with the local community. "I saw that STEM fields had well-established programs for reaching out to young students to get them excited about pursuing science and math in college, and about going to college in general, but there was a lack of programs like these in the humanities," Bell explained.
Initially, the initiative was geared toward K-12 students but eventually became focused on younger children. "We've targeted our kindergarten class as we identified they are the age in most need for exposure to art," said Juan Pimentel, an I.V. Elementary site director. "Often in kindergarten they color, draw, paint and do craft projects but they don't really have the opportunity to learn about art concepts or famous artists and their particular styles that made them famous." For USCB students, the opportunity to teach in an actual classroom setting provides valuable real world experience.
"Lesson planning, public speaking and community outreach can be difficult, but the interns rise to these challenges. In some cases, they have made connections within the community that have led to future opportunities, or have discovered an interest in teaching that they didn't know they had," Bell said.
Mitry, a political science major, is now interested in teaching and education as a result of the program. Grainer rediscovered her joy in working with children and began to volunteer at Girls, Inc., a nonprofit that encourages and empowers girls and young women.
"Working at I.V. Elementary taught me how much I value education, and all the educators in my life, because it is not an easy job to handle every day," Grainger said.