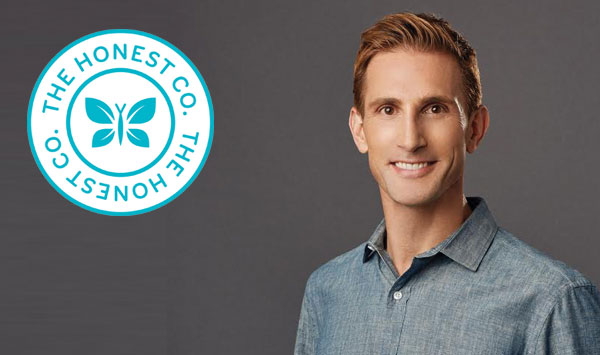 Christopher Gavigan's entire life is focused providing families with healthy resources.
Gavigan will be the keynote speaker at this year's All Gaucho Reunion Showcase on Saturday, April 28th.
Secure your free tickets for this event.
His current role as co-founder, along with actress Jessica Alba, of The Honest Company, in Playa Vista, CA, is to provide safe, natural, effective and affordable products including baby and personal care, vitamins, cleaning and beauty. A father of four, Gavigan is the author of "Healthy Child Healthy World: Creating a Cleaner Greener Safer Home."
Why did you choose to study at UC Santa Barbara?
The Environmental Studies & Sciences Department was the best in the nation, under the leadership of Roderick Nash.
Describe your job. What do you enjoy most about your work? What are some of your biggest challenges?
I'm the Co-Founder of The Honest Company. I've built and operated this business to become an iconic healthy, non-toxic lifestyle brand.
How did you get into a career of improving the lives of children and families and what attracted you to it? 
At my father's direction, he encouraged me to focus on being "in service". I always had a natural gift to help children & families (I came from a extra big Irish Catholic family), so blending my love of health, brands, and wellness, I followed my passions to contribute and positively add benefit to our planet and humanity.
How did your major help you in your career? 
My B.A. of Environmental Sciences catapulted me into my career - as the study of earth sciences (ecology, chemistry, toxicology, etc.) and humans collided into this field of "environmental health" - how the environment is entirely linked to people's personal health (or disease).
How and why do you remain involved at UCSB? 
It's captured my heart and undoubtedly defined the trajectory of my future, so I seek ways to stay close to those people and relationships and the space (I'd love to move back one day!)
What would you say is one career or personal milestone that you are most proud of achieving?
Authoring a New York Times best-seller. 
What advice do you have for current UCSB students in general or for those hoping to follow the same career path?
You need to work 10 times harder than you think you should or need to. Luck and fortune favor those with persistence, grit, tenacity and passion.
Future goals?
Forever on a journey to take advantage of this one wild, abundant life!
What are some of your student life experiences at UCSB? 
I paid for all my expenses at UCSB - tuition, books, housing, food, everything. So in order to cut costs, I purchased a 1974 VW Bus and parked it in my friend's driveway on the 6800 block of Del Playa. I used their kitchen and bathroom, but lived in that bus for 2.5 years. I had the most incredible view of the ocean, had some wild experiences, and one challenging El Nino rainy winter, but that living situation has defined me to this day.
Any hobbies?
Four children, yoga, triathlons, ultimate frisbee (I played on UCSB's Black Tide from 1993 - 1997). 
Reasons We're Proud to be Gauchos
No. 17
The school's continuous improvement of the quality of the experience and education.