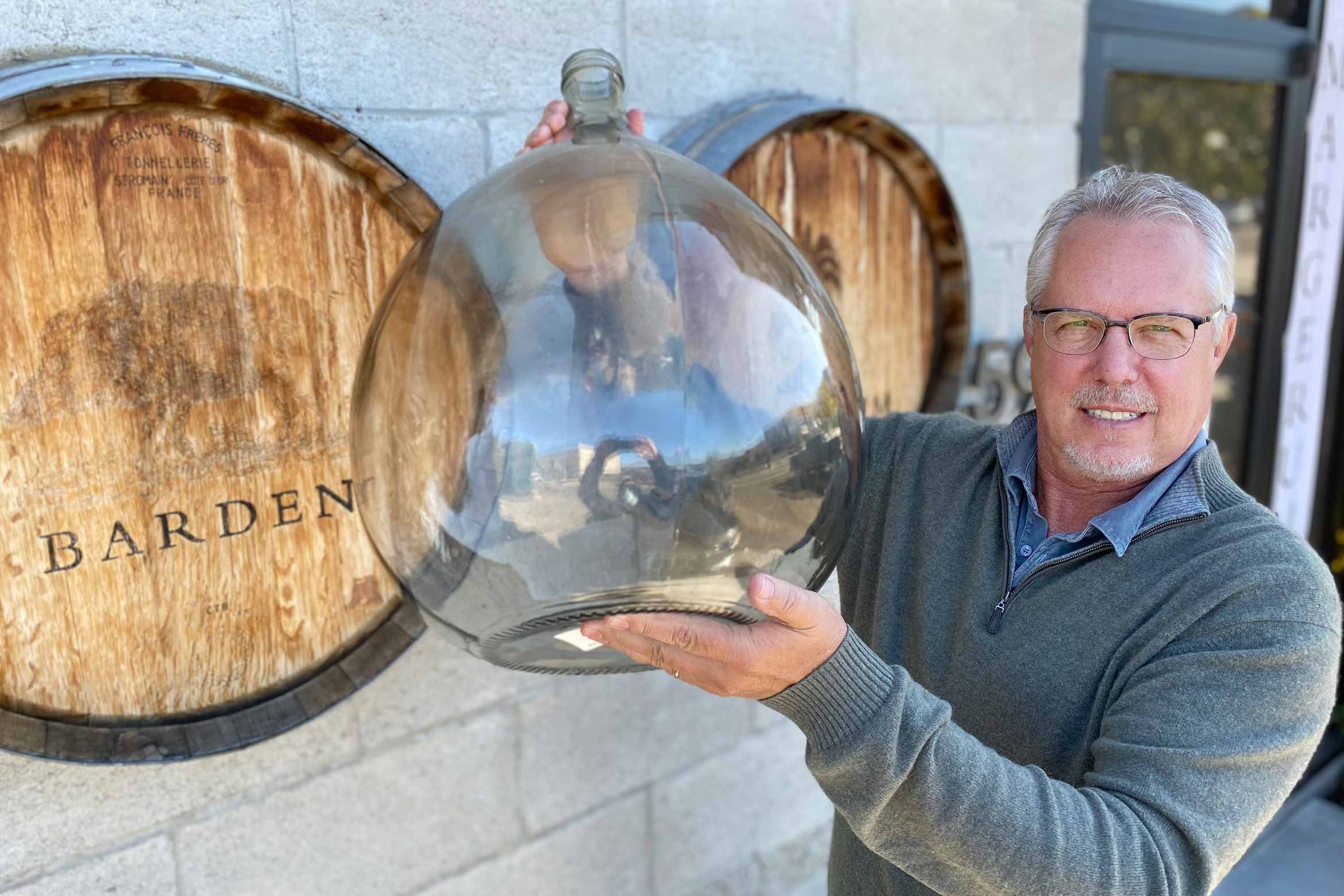 COVID Does Not Affect the Grapes 
Winemaker Doug Margerum, '81, will go to great lengths to create some of the finest wines in the world
In late November, Margerum '81 was hauling large 34-liter glass 'demi-johns' to the roof of his Buellton winery where for two years they will bake in the sun to create Mute-Age, a French inspired Vin Doux Natural. The wine is Grenache based and like most of Margerum's wines, a Rhone varietal.
Not that coming up with the name was that easy. In France there is a process for making wine that is called mutage, but American wine- makers are barred from putting that term on their labels. So Margerum came up with Mute-Age, which he translates as "quietly aging."
Despite the Corona pandemic Margerum's wines continue to attract major interest. In late November Wine Enthusiast magazine, one of the playbooks of wine making around the world, named his 2019 M5 white wine the 30th best wine in the world in a ranking of 100 wines from around the globe.
Like many of the names that end up on Margerum's labels there is whimsy and thought behind M5. The M stands for Margerum and there are five different varietals in the M5 wine.
Margerum, who started in Santa Barbara winemaking in 1986 with legends Jim Clendenen '76, and Bob Linquist, credits his UC Santa Barbara economics and accounting courses for giving him the tools to be a success in a highly competitive, highly creative industry.
Margerum has seen his distribution sales plummet during COVID, but his online and direct-to-consumer business has more than made up for the declines. He operates a tasting room in the now iconic Funk Zone of Santa Barbara and once COVID is conquered, plans to have an expansive wine tasting and events venue at his Buellton winery and Los Olivos Estate Vineyard.
He remains good friends with his economics professors and how couldn't he? He's making some of the best wine in the world.