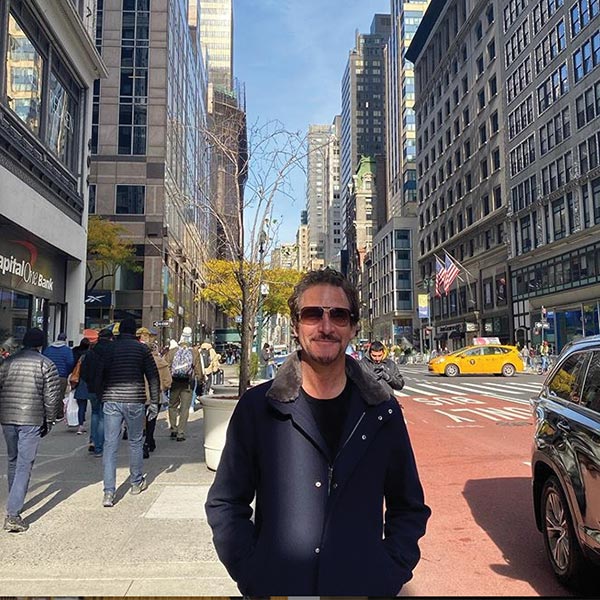 Jim Rome '87, started his career in the basement of Storke Tower at KCSB. He did not know it at the time, but it would be the beginning of what has become a meteoric rise in the world of sports broadcasting. 
In November Rome was inducted into the Radio Hall of Fame along with such radio notables as Dr. Ruth Westheimer, John Tesh and Ryan Seacrest. Rome's signature radio show "The Jim Rome Show," is known to his millions of listeners as "The Jungle." It is filled with acerbic commentary on sports issues and personalities, with a healthy dose of UCSB memories, including playing Frisbee golf all over campus. After spending one quarter as sports director at UCSB and later at KTMS in Santa Barbara, Rome moved to XTRA Sports 690 in San Diego. His show was syndicated in 1996, is carried on 200 radio stations and has an estimated audience of 2.5 million. 
Rome's current interest is in raising top class racehorses. His Mizdirections won two consecutive editions of the Breeders Cup Turf Spring in 2012 and 2013 and his Shared Belief won the 2014 Pacific Classic and the 2015 Santa Anita Handicap. 
In 2011 he received the UC Santa Barbara Alumni Association's Distinguished Alumni Award.
1970's
Mick Kronman '72 has retired from the city of Santa Barbara where he served as the city's Harbormaster for more than 20 years. Kronman was a former fisherman and journalist before taking the harbor post. While there he wrote a comprehensive history of fishing in the Santa Barbara Channel titled "From Hooks to Harpoons."  
1980's
Matt Coyle '81 has published his sixth book in the Anthony Award-winning Rick Cahill series. "Lost Tomorrow," which is set in Santa Barbara was released Dec. 3. The publicist for the book describes it as a gripping new mystery where Cahill finds his past colliding with his present and which weaves revenge, redemption and the hope of new love into a thriller.
Fumihiro Kozato '85 is the chief executive officer and president of Techpoint; and a former executive with Techwell, Sigmax and Ricoh.
Rafael Castas'86 is the retired senior vice-president in the municipal bond department of Franklin Templeton Investments. He also serves as a board member of SFJAZZ and UC Santa Barbara Economics Dept. Advisory Committee and is a member of the Lancaster Society.
1990's
Lori C. Konsker '90 is Viigii's chief executive officer, an ecommerce eGifting application, and chairman of the board of Children's Ability Center of the Jewish Adoption and Family Care Options.
Renee Fairbanks '97 has been accepted into the American Academy of Matrimonial Lawyers. The Santa Barbara attorney is a past president of the Santa Barbara County Bar Foundation and is an adjunct professor of law at Santa Barbara College of Law, where she received her law degree. 
Rachel Howard '98 wrote a debut novel, "The Risk of Us," published by Houghton Mifflin Harcourt. The Nevada City resident's first book was "The Lost Night," which was featured on NPR. She has written as a culture critic for a number of publications. Her new novel is described by critics as a painful yet funny story of adoption and its aftermath.
2000's
Huican Zhu '00 is the founder and managing partner of Amino Capital and the former chief architect and general manager of infrastructure for Tencent. Zhu held seniors positions at Google, Innogrit, Anchain and Cloudfort.
Katie Maynard '05 has been named the University of California's 2019 Sustainability Champion. The award was presented at a systemwide sustainability conference in July at UCSB. Maynard, a graduate of the College of Creative Studies in biology, has been the campus sustainability coordinator for the past 15 years.
Edward France '05 has been named executive director of the Santa Barbara leadership organization Leading From Within. Previously he had worked as the executive director of the Santa Barbara Bicycle Coalition.
Alexander W. Fang '05, '08 is co-founder and managing partner of Entrada Ventures and the co-founder of Aurrion.
2010's
Betty Elings Wells H'10 has been elected the chair of the UC Santa Barbara Foundation Board of Trustees. Wells is a successful real estate investor and property manager and has been a trustee since 2013.
Rebecca Horrigan '10 has become a contributing food writer for the Santa Barbara Independent. She also teaches 6th and 7th grade students at Marymount School in Santa Barbara. At UCSB she was a food writer for the Daily Nexus.
Luis Silva '11 became the fifth Gaucho soccer player to help win a Major League Soccer championship when the Seattle Sounders FC defeated Toronto FC Nov. 10. While Silva did not actually play in the championship game he had only been acquired by Seattle in August. He played just under 200 minutes for Seattle as a midfielder. He has professionally played in Finland and Mexico, and on the Salt Lake, Toronto and DC MLS teams during his career. He was named three times to the All-Big West First Team while playing at UCSB.
Mark Robinson '12 has been cast as Uncle Jocko/Mr. Goldstone in the Bay Area Musicals production of "Gypsy." It played  at the Alcazar Theater in San Francisco. By day Robinson is an editor at Wired magazine where he works on longform stories about the digital revolution.
The Goleta firm Apeel Sciences, founded by James Rogers MA '12 PhD '14 was named by Time Magazine as having produced one of the 100 most important inventions of 2019. Apeel has developed a edible plant coating for fruits, vegetables and grains that protects them from airborne bacteria and dramatically increases their shelf life.
Two Gauchos will face off in what promises to be a spirited Democratic Party primary campaign for state Assembly in Santa Barbara. Jonathan Abboud '14 MTM '18 who is currently a Santa Barbara City College trustee and general manager of the Isla Vista Community Service District will face Cathy Murillo '88 who is the mayor of Santa Barbara. Abboud was AS president during his time at UCSB while Murillo was a reporter for KCSB. The primary election is March 3, 2020.
Shane Bieber '19 the All Star pitcher for the Cleveland Indians, paid a visit in December to the pediatric wing of Santa Barbara's Cottage Hospital. It was the second consecutive year Bieber has signed autographs and posed with photos with the hospitalized children. Bieber was a Cy Young finalist this year and named MVP of the MLB All Star game. 
Mihnea (Mike) Stefan Andrei Ph.D. '19 was among 48 new full-time educators and researchers promoted or welcomed at Worcester Polytechnic Institute (WPI) in 2019. Andrei is a postdoctoral scholar in mathematics. A 2014 WPI alumnus, he earned his BS in actuarial mathematics and his MS in financial mathematics at WPI before receiving his PhD in statistics and applied probability from UCSB.
Michael Schaible '19 has been hired as a field organizer for Santa Barbara County Supervisor Das Williams re-election campaign. While at UCSB, Schaible worked as a field director for the Campus Democrats and on Democratic candidates re-election campaigns in Isla Vista.
In Memoriam 
1940's 
Bettie Lennon '42 died August 29, 2019 in Santa Barbara. She attended the Santa Barbara State College and after college worked as a riveter building airplanes for Lockheed. She later worked in the banking industry.
1950's 
Fred Orr '50 died September 2, 2019 in Ventura. He served in the Air Corps during World War II and was a member of the Kappa Sigma fraternity. He worked in Lake Elsinore for the school district and came to Santa Barbara in 1981 to work for the County Schools Office. He and his wife Gloria Jean Knutsen, '50, who he met at a fraternity dance, had 11 children, including twins.
Dr. Richard Goode '58 died October 30, 2019 in San Francisco. He was emeritus professor of Otolaryngology/Head and Neck Surgery at Stanford Medical Center. He was one of the longest serving professors at the Medical Center spending more than 45 years there. He received his medical degree from USC and  performed his residency at Stanford. He supported a lectureship program In biology at UCSB.
1960's 
Michael J. Dvortcsak,'61 MFA '68 died November 30, 2019 in Ojai, Ca. He was an accomplished painter who had solo exhibits all over the world. He taught art at UCSB. 
Michael Hebert '66 who was a University of Minnesota Hall of Fame volleyball coach, died October 21, 2019 in San Diego. A sociology major at UCSB, Hebert spent 35 years as a collegiate volleyball coach and spent four decades assisting the U.S. Women's National Team. He coached several teams to international awards. From 1996 to 2010 he coached the University of Minnesota's women's team and led them to 14 NCAA tournament appearances, including eight regionals, three Final Fours and a national championship appearance in 2004.
John Dean Caldwell '66 and PhD '73 died in Santa Barbara July 31, 2019. His career of five decades focused on research and consulting. He worked for the Department of Defense on counter-insurgency programs during the Vietnam War. He published a 500-page book entitled "Anatomy of Victory: Why the U.S. Triumphed in World War II, Fought to a Stalemate in Korea, Lost in Vietnam and Failed in Iraq."
Wayne Rascati '69 died November 2019 in Goleta. He was a Deacon at San Rafael Catholic Church for 40 years. Rascati was also president of APO service fraternity.
Gregory Misbach '69 died Sept. 10, 2019 in San Diego. Misbach was a cardiothoracic surgeon who received his medical degree from UCLA. He joined the faculty of the University of Washington medical school where he was Chief of Congenital Heart Surgery. He established a private practice in San Bernardino and later Anchorage, AK. He died while participating in a triathlon and doctors were able to successfully transplant one of his organs to save another person's life. He was an active member in the SAE alumni organization.
1970's 
Barry Wolfe PhD '74 died October 2, 2019 in Indonesia on a snorkeling and diving trip. Wolfe was the vice chair of the Department of Physiology and Pharmacology an d founding director of the M.S. Pharmacology graduate students program at Georgetown University. He was also the director of the Ph.D. program in Pharmacology. He spent 30 years on the faculty of Georgetown after teaching positions at the University of Colorado and University of Pennsylvania.
Elin Mary Pratt MA '75 died September 7, 2019 in Elk Grove, Ca. She helped start the Santa Barbara Chapter of the National Organization of Women and the UCSB Women's Center. She received her master's degree in Confluent Education and applied it in group counseling work.
Charles "Fred" Clayton III '76 died in Santa Barbara September 17, 2019. For many years he worked in farming in the Carpinteria area while also playing polo. He went on to become an arborist and owner of Vista Tree in Santa Barbara. He later owned Clayton Tree Service. 
1980's 
Ann Shields Koepfli MA '87, died November 11, 2019 in Santa Barbara. She received her masters in art history and worked in the UCLA Art Department. She was also involved with the Santa Barbara Museum of Art.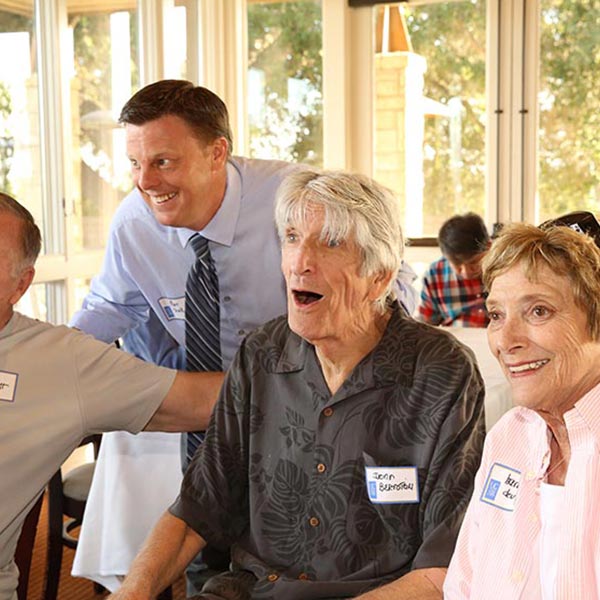 Donn Bernstein 1936-2019 came to Santa Barbara in 1964 as UCSB's first sports information director and departed in 1972 after the school dropped its football program. Bernie, as he is known to his friends, made an indelible imprint during those eight years, leading to a lifetime of coast-to-coast friendships and support for the Gauchos up to the day he died, on October 16, in New York City. He was 83.
Following newspaper gigs at the Berkeley Gazette and San Francisco Examiner, Bernie's arrival at UCSB coincided with that of football coach "Cactus Jack" Curtice. The 28-year-old SID had the buzz haircut from his Marine days and was physically large and loud. He was the biggest man on campus.
Bernie was ABC's director of NCAA football media relations for 15 years when the network exclusively televised all the big games. His name came up in memoriam on several national football telecasts the weekend after his death, including a shout-out from Al Michaels at the Sunday evening NFL game.
UCSB will host a Celebration of Life for Donn Bernstein on Saturday, April 25, 2020, during the All-Gaucho Reunion. It will take place at 9 a.m. at the Phil Womble Hall of Champions in the ICA Building.
Read John Zant's Remembrance "Gauchos Lose Their Biggest Booster"
In Remembrance
UCSB Staff, Students, and Community Friends 
Professor Emeritus Marshall Tulin died August 31, 2019 in Santa Barbara. He was a professor in the Department of Mechanical Engineering and a founder of the UCSB Ocean Engineering Lab. He is credited with being a national research leader in the area of hydrodynamics while providing valuable research in the areas of ocean pollution and submarine detection and safety earning him the U.S. Navy's Distinguished Public Service Award. 
Professor emeritus Perry Shapiro died September 8, 2019 in Santa Barbara. Shapiro was a professor in the Economics Dept. from 1969 to 2009. He was department chair from 1987-93 and was an expert in Australian economics.
Professor Emeritus Roger Millikan who taught chemistry at UCSB, died September 9, 2019 in Santa Barbara. He received his PhD in chemistry from UC Berkeley and came to UCSB after a career as a research chemist at General Electric. After retiring he was a docent at the Cachuma Lake Nature Center and published a book called "The Birds of Cachuma Lake."
Dr. Ines M. Talamantez a professor in the Department of Religious Studies, died October 31, 2019 in Santa Barbara. She came to UCSB in 1978 and held a joint placement in Chicanx Studies and Religious Studies. She was the first minority and first woman to be hired to teach in Religious Studies in the UC system.