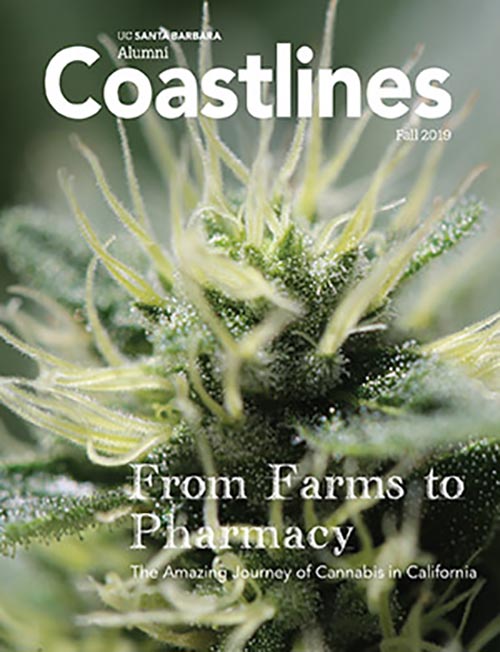 Dear Editor,
Your article in the Fall Coastlines, 2019, regarding cannabis in Carpinteria is the most one-sided article I have ever seen in the Coastlines. Are you being paid to do a marketing advertisement for the local cannabis industry?
If you are trying to give the history and current status of cannabis cultivation in Carpinteria, you really missed the boat by a long shot. Even the interview with Professor Patricia Holden that followed your article was severely limited and did not adequately cover the benefits of odor control options offered by other systems. You say the previous Dutch flower growers have switched to the more profitable cannabis. But you don't talk about the international conglomerates that are funding this switch and, in many cases, operating the cannabis farms. You don't talk about the $50,000 a month per acre that one local Dutch grower is being paid for the use of his greenhouses and property. You don't mention the destruction of the air quality that is sending the local high school students and the residents of the valley to doctors for a variety of pulmonary ailments, not to mention the workers who are afraid to report these adverse health effects for fear of losing their jobs.
You don't talk about the grass-roots efforts to unseat the County Supervisor who helped draft the Cannabis Ordinance when 99% of the Carpinteria inhabitants were on mandatory evacuation for the Thomas Fire and subsequent mudslides. You don't talk about the inordinate amount of donations to that supervisor's campaign from cannabis growers that have permits pending.  You don't talk about the detrimental effects on the other agricultural products that support the economy of the Carpinteria and Santa Ynez Valleys. You don't talk about the housing market in Carpinteria that has come to a crashing halt, or the homes that have been for sale for nearly two years because buyers won't buy a house with a constant smell of skunk pervading their homes. When you interviewed Tina Fanucci-Frontado or Autumn and Abe Shelton you only got a very one-sided view of cannabis in Carpinteria so why didn't you call it like it was, a marketing advertisement for the products that they are selling? True, Ms  Fanucci-Frontado doesn't sell cannabis, but her website and "educational" seminars offer an array of cannabis-related products. It is obvious from the advertisers on her website where the funding for her company is coming from. 
It would be a welcome follow-up for Coastlines to publish the truth about the local industry and County Supervisor converting bucolic Carpinteria Valley to the "Cannabis Capital of California" and the subsequent destruction to what was once a pleasant, rural way of life. 
Bobbie Offen, MA '78
Former Instructor, School of Education