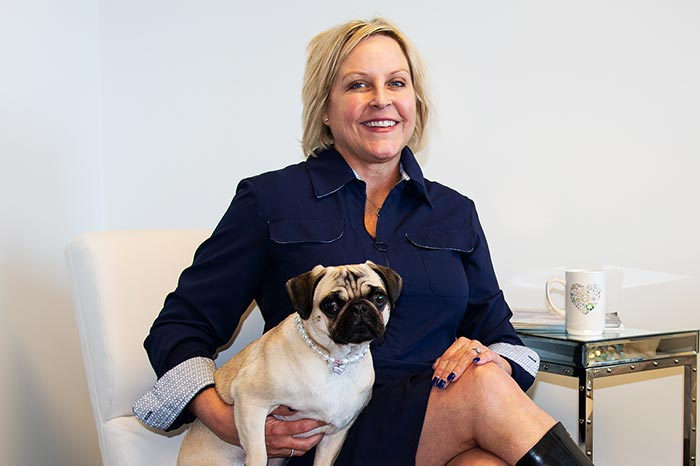 If necessity is the mother of invention, tragedy can be the foundation for inspiration.
Providing her expertise in brand development and public relations to small businesses, Christie Covarrubias wasn't really focused on starting one of her own until she experienced the loss of her cousin to skin cancer. SUN 50, the apparel company she recently launched, is a bold fashion and personal statement for this Minnesota mom.
Let's get the obvious question out of the way. You're a native Southern Californian and you chose Minneapolis to launch a company associated with sun worshippers. Explain.
Excellent question.  Life took me to Minnesota…for the weather of course!  Would you believe Minnesota has the 3rd highest incidence of skin cancer diagnosis in the United States according to the CDC.  While Minnesota does seem like an unlikely place for a sun protection company, the statistics prove no one is exempt from the perils of skin cancer.  The fact is 1 in 5 Americans will develop skin cancer by the age of 70 and 90% of all non-melanoma skin cancers are associated with exposure to (UV) Ultraviolet radiation from the sun.  Reflective surfaces like sand, water, snow, pavement and grass/AstroTurf can reflect the most damaging rays, increasing our UV exposure. The good news we can minimize our UV exposure by adhering to sun safe practices, even on cloudy days.
And skin cancer is highly curable when detected early and treated properly.
You refer to the tragic loss of your cousin Renee from skin cancer as a catalyst for launching Sun50. Did the experience literally give you the idea for the company and change your career path--or did you always know you wanted to wanted to be in retail/own some type of apparel business?
When Renee passed away from melanoma it was shocking. It took her life 10 months after she was diagnosed.  I could not understand how this could happen to someone so young and healthy. It could have been me. Her passing definitely had an immediate impact on the way I raised my daughters, who were raised on the Santa Monica beaches wearing hats, swim shirts, and sunscreen always! Losing Renee never left my heart and she is the reason why I became so diligent about skin protection for myself and everyone around me.  
As my career evolved, I found myself surrounded by individuals directly impacted by skin cancer or organizations dedicated to fighting it.  After watching skin cancer statistics rise year after year, I felt compelled to do something. Thinking about Renee's life ending abruptly led me to wonder if she might be here today had she known about the importance of skin checks and sun protection?  Skin cancer prevention and awareness became my passion.  
I love meeting and working with people.  I have always wanted to open my own business, but I never imagined it would be an e-commerce business. Co-founding Sun50 with my husband, Jim Lockhart, is my dream job because I feel gratified when I can help others or bring people together to accomplish goals.  If Sun50 can empower people to change their behavior while enjoying the outdoors, and ultimately save lives, this is our true measure of success!
And now, the Shark Tank question: how much of what you do is proprietary--or, to put it another way, what's unique here? There are certainly clothing companies that manufacture apparel with sun protection. Is there something unique about the product, is the difference in the company, or do you simply feel it is an underserved niche which you hope to help fill?
For those handful of companies whose main focus is sun protective clothing, we are definitely unique.  At Sun50 we take a slow fashion approach to the sourcing, manufacturing and the sustainability. The fashion industry is one of the most polluting industries in the world. This is the reason for our apparel production and most of our sourcing being done in California, where we know stringent environmental restrictions are being adhered to and waste is at a minimum.  We use luxury and eco-friendly fabrics like Tencel, organic cotton or fabrics which are bluesign® certified to reduce our carbon footprint as much as possible.  In addition, we third-party test our fabrics before we sell them to ensure they deliver the highest levels of UV protection.  I am very proud to state our fabrics have received the Skin Cancer Foundation Seal of Recommendation and Sun50 is a member of the Skin Cancer Foundation Corporate Council.  
Inherent in our company mission is our commitment to reducing the incidence of skin cancer, which we have done with our luxe sun protective fabrics and our collaborations. Sun50 recently partnered with the American Academy of Dermatology (AAD) to elevate skin cancer awareness with the SPOT Skin Cancer, Take a Hike Campaign.  Our team, The Sun50 Rays, designed and donated a special UPF 45+ bandana to the AAD which was distributed to hikers around the country and we participated in and sponsored the Los Angeles hike in November.  
In general, there is a large demographic of people who must wear sunblock clothing, or UPF clothing because they either have or had skin cancer, or they have a medical condition which makes their skin UV sensitive.   Trends indicate UPF clothing is growing in demand by consumers educated on the risks of developing skin cancer due to sun exposure and those looking to prevent it for themselves and/or their family.  This is why you are seeing a number of companies making sun protective clothing, but for many of them, it is not their primary focus.  They offer a relative few pieces for those consumers who are loyal to their brand and looking for sun protective clothing. And for those companies that do offer "sun protective clothing", the level of protection they do provide is quite often an inadequate level of UV protection as recommended by the Skin Cancer Foundation and the American Academy of Dermatology, both of which recommend a minimum of UPF 30.
Even with the distinction of products that have SPF protection, was it difficult to persuade investors--and how did you navigate that process?
There is a demand for sun protective clothing that is on-trend, fits well, and is soft to the touch.  We did not see any other company providing this level of quality UPF apparel. So, we decided to fill the void ourselves.  We do not have any outside investors.
How do you straddle the line between a profit-making business and a public service/cause marketing endeavor? For example, do you foresee a product line that is accessible to consumers who are concerned about protection from skin cancer but are on a Target budget?
Well-made sun protective clothing is more expensive than clothing without those UPF properties. There are lesser expensive brands of sun protective clothing which are within reach of most budgets.  Unfortunately, the sun protection qualities of those garments just do not last that long because of how they are made, as discussed earlier.
You graduated in 1991. Can you describe your career prior to the recent launch of your business?
Like any Gaucho, I scrambled to find a way to stay in Santa Barbara post-graduation.  This led me to a 5+ year career in Ventura working for Kinko's Corporate Headquarters.  My Kinko's years really felt like an MBA program due to their rapid entrepreneurial growth and my opportunity for advancement. It was a most fortunate time and place to have started my career.  After Kinko's, I worked for a number of companies in southern California always in a business development or marketing role.  After the birth of my first daughter, I took a career sabbatical for many years, but I remained active on school boards and with volunteer work in the Los Angeles area.  
In 2010, I founded my consulting company, Sandy Winters, to help small businesses with brand development and public relations.  One of my clients provided an opportunity in Minneapolis which suited my circumstances at the time.  Ultimately this move to Minnesota led to co-founding my own company, so it was an excellent decision. 
What are your parents' vocations? Did they have an impact on your career choice? 
Neither of my parents went to college so I am proud to say I was the first college graduate in my family.  My father is a Mexican immigrant and a true example of the American Dream.  He pushed me to get my college education and would say, "get your education because no one can ever take it away from you."  When it comes to my work ethic and determination, my father has been the biggest influence in my life.  He went from the Airforce, to washing cars, to owning car dealerships. He instilled in me that as an American, I was lucky to "live in the land of opportunity where anyone can make their dreams come true."
What made you choose UCSB?
Why wouldn't I?  I fell in love with the campus and Isla Vista the moment I saw it, which was by postcard by the way!  During my campus tour I saw students wearing flip flops and shorts while riding their bikes to class and knew this was the lifestyle for me. I can still remember the smell of the Eucalyptus trees along the bike path, the ocean breeze and the lagoon on a hot day.  There are very few campuses or cultures like the one at UCSB. 
Can you describe what type of student you were as an undergraduate? Were you very much focused on academics? Athletics? Campus activities? 
I loved my years at UCSB, and I made the most of them.  I was in a sorority, went to all of the basketball games (a very big deal during my Gaucho years), lived on and off campus and volunteered at Devereux.  I definitely studied, but I managed to have a great time while I was there.
Is there anything you learned--either from a particular professor/class or an experience in your college years--that is applicable to your work/life today?
Taking the Vietnam class by Walter Capps was my most memorable class.  Hearing the veterans tell their stories of feeling blamed for the war and being rejected by society after coming home from fighting for our country was heartbreaking.  There were no dry eyes when these stories were told.  To this day, whenever I see a soldier, I thank them for their service.