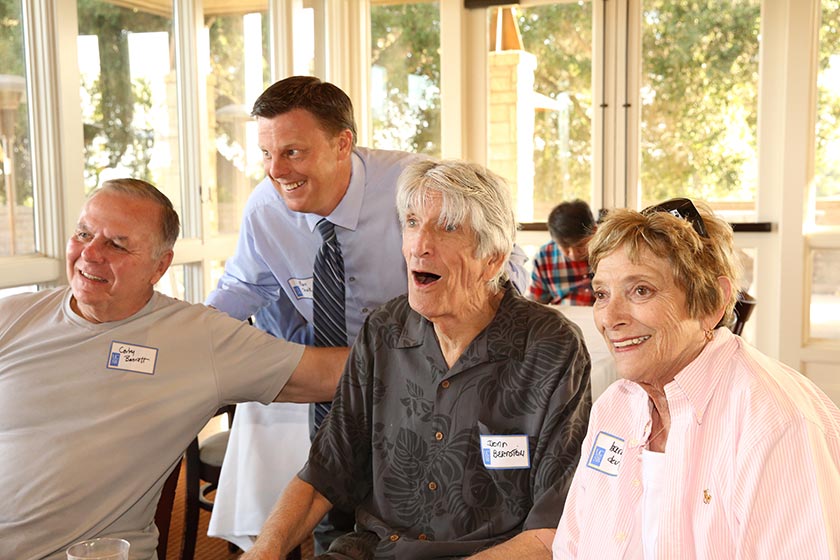 Donn Bernstein 1936-2019 
Story//John Zant '68
Donn Bernstein came to Santa Barbara in 1964 as UCSB's first sports information director and departed in 1972 after the school dropped its football program. Bernie, as he is known to his friends, made an indelible imprint during those eight years, leading to a lifetime of coast-to-coast friendships and support for the Gauchos up to the day he died, on October 16, in New York City. He was 83.
UCSB made him an honorary alumnus in 1979, and there is no doubt Bernie died a Gaucho, even though he had later connections with the Washington Huskies and ABC Sports, and the Big Apple was his home for the past 45 years. 
One of the last visitors to his hospital bed was Kathryn Everest, daughter of Andy Everest, the Gauchos' head football coach in 1970-71. She said Bernstein could not talk but only listen when she recalled "days in Isla Vista, on the UCSB campus, and, of course, the great Gaucho reunions of the last years." She hummed "Lonely Bull," which the band played when the UCSB gridders took the field, and recited the poem "Touching Shoulders," which Bernie once called "our Gaucho anthem of hope, bravery and courage."
Following newspaper gigs at the Berkeley Gazette and San Francisco Examiner, Bernie's arrival at UCSB coincided with that of football coach "Cactus Jack" Curtice. The 28-year-old SID had the buzz haircut from his Marine days and was physically large and loud. He was the biggest man on campus.
In a colorful speech when he was inducted into the Gaucho Athletic Hall of Fame, Bernie recalled "my first-ever private office: a dark, dank and dusty concession stand carved into the front wall of Robertson Gymnasium. I was told I'd have to share my phone with a grumpy old golf coach. . . . I humbly stood among two desks, one typewriter, a mimeograph machine and half-a-phone."
Soon the typewriter was churning out press releases, and Bernie commandeered the phone. He communicated vigorously with media covering the Gauchos. He wrote a column for El Gaucho, the student newspaper, under the byline John R. Pettmann. He made personal contact with athletes in all sports. He was the first representative of UCSB to befriend Phil Womble, who became the Gauchos' most inspirational fan for the next half century.
Bernie had a strong bond with the footballers, especially the 1965 team that played in the Camellia Bowl for the small-college championship. Bernie's Hall of Fame induction in 2002 brought many players back to UCSB. Among them was lineman Jim Barber, who became a board member of the Alumni Association and was responsible for starting up the All-Gaucho Reunion in 2007. Attending the AGR became an annual tradition for Bernie and his wide circle of Gaucho devotees.
He had a relationship with the SAE fraternity and was a proud citizen of Isla Vista upon purchasing his "cabin," a ramshackle dwelling at 6583 Del Playa Drive. He retained ownership for years. It was the site of the historic Bicentennial Bash that he hosted in 1976.
The door at Bernie's three-tiered New York apartment at 78th Street and Columbus was open to all Gauchos – even those he met for the first time. After he became UCSB chancellor in 1994, Henry Yang learned that Bernie was a man to see. "We are forever grateful for his friendship, his passion for sports, and for supporting our students," Yang said.
"He was our leader in love and laughter," said Corky Barrett, an All-American linebacker on the 1965 football team, paying homage to Bernie's habit of sprinkling alliteration throughout his writings.
Bernie was ABC's director of NCAA football media relations for 15 years when the network exclusively televised all the big games. His name came up in memoriam on several national football telecasts the weekend after his death, including a shout-out from Al Michaels at the Sunday evening NFL game.
Brad Nessler, announcing the LSU-Mississippi State game on CBS, had this to say: 
"The college football media community lost one of our beloved members this week. Donn Bernstein was sports information director at UCSB and Washington, then a television executive at ABC Sports when college football became a staple across the viewing landscape. Bernie, as he was affectionately called, was known for his infectious personality, megawatt smile and passion for this game that we all love so much. He will be missed."
UCSB will host a Celebration of Life for Donn Bernstein on Saturday, April 25, 2020, during the All-Gaucho Reunion. It will take place at 9 a.m. at the Phil Womble Hall of Champions in the ICA Building.  

CHANCELLOR HENRY T. YANG'S STATEMENT
Our campus and Gaucho Athletics are very saddened by Donn's passing. He not only served as our first full-time sports information director in the 1960s and early '70s, but remained a beloved part of our Gaucho family throughout his life. Over the years, whenever Dilling and I were in New York City for student recruitment receptions, fundraising, and alumni events, we always looked forward to a chance to visit with him. 
While at UC Santa Barbara, he inspired our students as well as friends in the community to forge lasting relationships with our programs. Even after going on to a highly successful national career with ABC Sports, he continued to be an ardent fan and supporter of our Gauchos, attending games when he visited Santa Barbara, and writing and editing for El Gaucho, which featured articles on outstanding student athletes and alumni. His tremendous legacy to our campus extends to his generosity as a philanthropist providing scholarship support through his estate. 
For his exemplary contributions to UC Santa Barbara, Donn was named an Honorary Alumnus in 1979, and was also a celebrated member of our Gaucho Hall of Fame. We are forever grateful for his friendship, his passion for sports, and for supporting our students. He will be deeply missed.