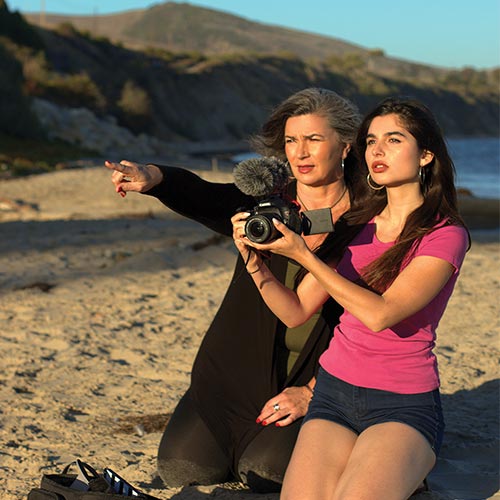 A RARE VISION
During the pandemic, UCSB Theater alum Gabrielle Korte and Sian Ayres-Harden discovered their "Dream" project.
"Then how can it be said I am alone When all the world is here to look on me?"–from Midsummers Night's DreamSocial distancing notwithstanding, Gabrielle Korte BFA '16 and Sian Ayres-Harden BA '16 came up with a way to bring the world a little closer together during the
COVID crisis. They have created a unique production of "A Midsummer Night's Dream," the very Shakespeare play that first brought them together as actress and director at UCSB. Ayres-Harden directed Korte in the Naked Shake's production of this and four other productions as students. But in the downtime of the pandemic, they decided to pursue their goal of establishing a production company together and Firelight Entertainment was born. For their inaugural project, they chose a reunion—of sorts.
"I have had a most rare vision" –from Midsummers Night's Dream
The Firelight version of the Bard's comedy is an 80-minute production filmed on the cameras and phones of 20 actors in six states including fellow Gauchos Lexi Scanlan, '17; Solmyra Araiza '16; Tonea Lolin, '16; Cameron Gray, '16; and Olivia Rose Nathan '19.  "We got the idea that maybe we could do a hybrid between theater, film, a Zoom production and just kind of like an art piece," Korte told KEYT's Blake DeVine. In just six weeks, the duo assembled a final production with a soundtrack and even animation. Their crazy-quilt of a Dream can be viewed on YouTube. With their production company now established, Korte and Ayres-Harden plan to create film, television, theater and mixed-media projects that "push the boundaries of what they think story telling can be."
 
---
1950's
Elmer "Bob" Gregory, '51, celebrated his 100th birthday in Santa Rosa, Ca. For many years he was a regular at the Riviera Campus Reunion and was the proud holder of the first membership card ever issued by the UCSB Alumni Association.
1960's
Timothy D. Naegele, '62, has published an authoritative piece on the current Covid-19 pandemic in The Banking Law Journal's June 2020 edition. The piece is entitled, "The Coronavirus and Similar Global Issues: How to Address Them." He concludes by writing, "This is a bizarre new Orwellian world in which we are living—as if in a dream (or nightmare), or straight out of a horror movie—surreal. But it is real and each of us is living in it."
1970's
Hank Pitcher '71 has published a retrospective of his paintings that includes essays by a number of writers describing his more than 50 years of art. Pitcher currently teaches art in the College of Creative Studies at UCSB.
Bonnie Burdett Walker '75 was honored by the Los Altos Rotary Club as the outgoing president. She was the recipient of the Los Altos Community Foundation John Gardner Award for her community service work in health care and education. She served as Vice President of Investor Relations at Alza. Upon her retirement from Alza in 1997 she founded a strategic consulting business with clients in the biotech and medical technology fields. In 2005 she co-founded Prime Fiduciary Services, a trust administration management firm.
Dr. John La Puma '78 will be teaching "Practical Media Skills 101 for Clinicians" at the Lifestyle Medical  Conference in October. He is the founder of A Green Rx and received his medical degree from Baylor College of Medicine.
1980's
Doug Margerum '81 owner of Margerum Wine Co. was featured in the May 20 New York Times Food section. He was interviewed on the impacts of the Covid-related recession on wine production and sales. He was forced to close his newly opened tasting room in Santa Barbara because of the impacts of stay at home orders. He and his son are working on a direct to consumer sales operation.
Carol Greider, '83, winner of the Nobel Prize in Medicine has joined the faculty at UC Santa Cruz. Previously Greider was a professor in the School of Medicine at Johns Hopkins. She will hold the position of distinguished professor in the Department of Molecular, Cell and Developmental Biology. Her Nobel Prize was awarded for her pioneering work on chromosomes.

Harris Faulkner, '87, an anchor on Fox News has "schooled" President Trump on the meaning of "once the looting starts, the shooting starts," according to the Washington Post. Faulkner did a one-on-one interview with Trump and called his tweet about shooting "incendiary." The Post said she was the first TV personality to question Trump on the Tweet. She said that though she was a TV anchor she was also a "black woman" and a "Mom" and pressed Trump on why he had not offered more consolation to the black community. Faulkner has been a supporter of Trump in the past. She received the Distinguished Alumni Award in 2017.
Dawn Schroeder '88 who was a star swimmer at UCSB, helped organize a benefit for Santa Barbara's Cottage Hospital fight against Covid-19. She organized a benefit that raised more than  $12,000 by having current UCSB swimming star Daniel Marella swim the 10 miles of ocean between Isla Vista and Ledbetter Beach. The money will help purchase kits for those infected with Covid but not sick enough to be hospitalized.
Paula Lopez '88 has joined the Coldwell Banker Realty firm in Santa Barbara. She is a ninth generation Santa Barbaran and an award-winning TV journalist.
Susie Willet '88 has been named Director of Development at the Dream Foundation in Santa Barbara. She previously was the Director of Donor Relations and Senior Director of Corporation and Foundation Relations at Westmont College. She also has worked at Visit Santa Barbara.
Jill Rode, '89, has been named Director of Legacy Giving at the Music Academy of the West in Santa Barbara. She previously was chief development officer at the Channel Islands YMCA, a position she held for six years. She has been a non-profit fundraiser for the past 30 years working for the Santa Barbara Zoo, Red Cross and Santa Barbara Symphony. She is past president of the Junior League.
1990's
Naomi Kovacs '90 has been named the interim district representative for Santa Barbara County Supervisor Joan Hartmann. Kovacs will fill in for Gina Fischer '07 who is on maternity leave. Kovacs is a board member of the Environmental Defense Center and president of the Santa Barbara Peace Corps Assoc. She founded an independent consulting service in Santa Barbara.
Scott Reed '96 the CEO and president of the Music Academy of the West in Santa Barbara has announced that the nationally known music school will be transformed into the Music Academy Remote Learning Institute. The world class Academy normally has student, faculty and alumni recitals during its season. This year it will begin with virtual performances.  
Tom Fruin '96 has installed his "Camouflage House" at the entrance to Arroyo Burro Beach. Fruin, who was featured in a cover piece in Coastlines last year, is known for his reclaimed plexiglass structures, including ones that are placed on roofs in New York City. Before being installed in Santa Barbara County Camouflage House was at the Laguna Beach City Hall. It next will be installed at Elings Park in Santa Barbara. The plexiglass was recycled from a closed Chinese restaurant in Brooklyn.  
Archie L. Holmes Jr. PhD '97 has been named the Executive Vice President of Academic Affairs at the University of Texas 14-campus system. He is the former Vice Provost for Academic Affairs at the University of Virginia. He received his doctorate in Electrical Engineering from UCSB and taught at the University of Texas and later the University of Virginia. He has received a number of teaching and advising awards. Holmes grew up in Texas and received his undergraduate degree from UT. The University of Texas has 14 campuses, more than 250,000 students and an annual budget of $21 billion. It has more than 85,000 researchers and support staff.
Britt Andreatta PhD '98 has released a new video on LinkedIn Learning entitled "20 Questions to Improve Learning at Your Organization." Andreatta is the CEO of 7th Mind Inc.
Renee Fairbanks '99 has been elected president of the Santa Barbara County Courthouse Legacy Foundation. The Foundation raises funds to preserve and enhance the Santa Barbara County Courthouse. 
2000's
Peter Jordano H'03 has stepped down from the board of directors of Santa Barbara Bank & Trust after 37 years of service. Jordano is a UC Santa Barbara Foundation trustee and holder of an honorary alumni distinction. A longtime supporter of UCSB athletics, Jordano is the CEO and chairman of Jordano's Inc, the tricounties larger supplier of food, beverages and restaurant equipment.
Vicki Chen Ben-Yaacov PhD '03 has announced her candidacy for the Goleta Union School Board of Education. Ben-Yaacov spent 16 years in the Goleta tech industry after receiving her doctorate and her master's in electrical and computer engineering. She spent 12 years at Sonos, a home audio corporation based in Santa Barbara. In 2019 she founded Youth Innovation Club to assist K-12 students.  
Duncan Mellichamp H'09 has been inducted into the Control Process Automation Hall of Fame. Mellichamp is one of the six founding faculty members of UCSB's Department of Chemical Engineering where he started the process control program. U.S. News & World Report ranks the Department of Chemical Engineering as the No. 5 best graduate program among public universities.  2010's  
Cory Calderon '11 has been named vice president for sales at Valin Corp in San Jose, Calif. He has been with the company for eight years. He received his masters in engineering from Texas A&M and was co-chair of the senior class gift at UCSB.
Julia Lara '14 has been named Holistic Defense Advocate for the Family Service Association of Santa Barbara. She has previously worked at the Food Bank and Isla Vista Youth Project. She has a masters in social welfare from CSU Northridge.
James Rogers PhD '14 has new investors in his innovative company: Katy Perry and Oprah Winfrey. Apeel, which Rogers helped develop while studying at UCSB, manufactures a product used to coat fresh fruit and vegetables to dramatically prolong their shelf life. Apeel announced May 26, 2020 that it had completed a $250 million funding round in which both Perry and Winfrey participated. Both Perry and Winfrey cited the environmental benefits of a product that reduces food waste and has the potential to boost food security in the Third World. Rogers is a member of the UCSB Alumni Association Board of Directors.  
Nick Masuda '16 has left his position as editor in chief of the Santa Barbara News Press after he added a disclaimer to the front page editorial written by News Press owner Wendy McCaw. The McCaw editorial stated, "Our liberties are being stripped for what, a virus. Think about this. If this country can be put into this situation by a virus, what would it take to completely turn us into the Soviet Union or Nazi Germany?" Masuda wrote that the opinions did not reflect those of the staff of the paper. He parted ways with the paper shortly after, ending an 18-month tenure.  
Savannah Green '17 has been asked to join the BalletX dance company in Philadelphia, PA. BalletX is Philadelphia's premier contemporary ballet company that has produced 87 world premier ballets by more than 45 choreographers in its 14 year history. At UCSB Green was a member of the Student Dance Company and performed all over the world. She previously has performed at the Vail Dance Festival and was a Dancer Fellow for BalletX.  
Ian Burkhard '18 has been promoted to Senior Associate, Audit at the accounting firm of KPMG in San Francisco. He has worked at KPMG since 2018 and while at UCSB held the position of finance intern in the UCSB Alumni office.
Alexandra Silverstein '19 has teamed up with Brendan Shusterman to publish a unique collection of poems focusing on the landscape of mental health. The collection is entitled "31 Poems for an Orphic October."  Silverstein, who received a degree in sociology, published her first series of poems with the title, "Across the Chess Board."
Melody Pezeshkian,'19 has been working as a writing intern at the Santa Barbara Independent.
Natalie Rahimzadeh '19 has been appointed business development representative at AppFolio.
Shane Bieber '19 has been named by Men's Journal as one of the 10 hottest players in Major League Baseball in 2020. Bieber is a pitcher with the Cleveland Indians and was named the MVP of the 2019 All Star Game. The Journal wrote that "this 24-year-old made Beliebers out of the Cleveland fan base" in 2019. . To underscore that recognition, on opening day July 24 Bieber set an Indians record by striking out 14 Kansas City Royals in six scoreless innings. When asked about being a team leader, Bieber responded, "I've kind of been in that role and that spot a few times back in college, back in high school and moving up the ranks with the Indians."
Allison Adam '20 has been appointed a project assistant at Davies Communication in Santa Barbara. She was the Greeks Program intern at the UCSB Alumni Association and served as an Associated Students Senator.
Sophia Stenhorn '20 has taken the position of campaign coordinator at London-based Diffusion PR. Saehee Jong '20, has been hired as a web content manager at the Santa Barbara Independent. She will oversee the newspaper's website and its social media platforms.  
Saehee Jong '20 has been hired as a web content manager at the Santa Barbara Independent. She will oversee the newspaper's website and its social media platforms
In Memoriam
Delmer William Beisell '48 died February 23, 2013. Beisel worked as a lifeguard at the Corral Casino in Montecito, CA. through high school and college. He went to UCSB when the campus was on the Riviera.  He met Janet Sheela, his senior year and they were married in 1948. They moved to Los Angeles where he taught high school drafting at Gardena High School. Beisel later became a principal in the Adult Education program with Los Angeles Unified School District, retiring around 1995.  
Albert Alexander Martin '50 died May 9, 2020 in Santa Barbara. With his degree in botany Martin helped contribute to the post-war reforestation of Germany, focusing on bringing Sequoia seeds from California and planting them in Kaldenkirchen, Germany where the Arboretum is considered a major German environmental treasure. He spent 33 years in the title insurance industry and later with his son founded the Albert Martin & Sons Winery in Santa Ynez.  
Robert "Bob" Magruder '55, died May 21, 2020 in Hood River, Ore. Magruder worked in UCSB Athletics upon graduation and spent the rest of his career in the insurance business. He was in the Naval Reserves serving as an airman from 1949-53. He attended many UCSB sporting events and was a very visible fan of the Gauchos.  
George Chelini '56 died June 17, 2020 in Santa Barbara. Chelini was the executive director of the Goleta Boys Club from 1958-75. During that time he helped build a new clubhouse and launched dozens of new programs. He served on the Goleta School Board for a number of years. In 1975 he co-founded the United Boys Club of Santa Barbara bringing together all the clubs in the region and served as its executive director from 1975-93. During his tenure the Club purchased Camp Whittier.  
Alyce Gullattee '56 a noted professor of psychiatry at Howard University, died April 30 in Washington, DC. She was a pioneering researcher in the area of substance abuse and civil rights. She died after testing positive for the Covid-19 virus. She was appointed to several White House committees during the presidencies of Richard Nixon, Gerald Ford and Jimmy Carter. She served as the administrator of the Washington DC Alcohol and Drug Abuse Administration. She was among only a handful of black students at UCSB and it was at a bus stop near the campus that she met her husband of 41 years, fellow Gaucho Latinee Gullattee. While attending UCSB she picketed stores in Santa Barbara that refused to hire black employees for non-menial jobs. She graduated from Howard University Medical School and contributed what Howard University President Wayne Frederick called "unparalleled" service. He added, "She played a significant role in the education and training of literally thousands of physicians, including a significant percentage of the African American physicians practicing in this country."  
Michael "Gerry" Mullin '60 died May 27, 2020 in Green Valley, AZ. He received his MA in history from UCSB and his PhD in history from UC Berkeley. He taught for 39 years at many colleges, including City College of San Francisco, Smith, and CSU Sacramento. He wrote several books on the history of slavery, including "Africa in America: Slave Acculturation and Resistance in the American South and British Caribbean."
John Harwood Harding '61 died June 13, 2020 in Santa Barbara. He spent his career in Santa Barbara in the real estate industry working as a broker, appraiser and investor. He was a member of Sigma Alpha Epsilon.  
Margaret 'Margi' (Sowers '62) Fager died June 28, 2019. She received her major in junior high education with an emphasis in Spanish and Physical Education, Margi was a Pi Beta Phi. She taught middle school and adult fitness in east San Diego County for 40 years.
Dianne Jane Grant '65 died February. 18, 2020 in Santa Barbara. She received her master's degree in special education from Cal Lutheran University and spent her career in education. She taught in the Goleta School District and later was librarian at San Roque School. After receiving her master's she taught in special education in the Fillmore School District for 17 years. She served on the Community Arts Music Assn. Women's Board.  
William Bill Gielow '69 died March 15, 2020 in Soquel, Ca. He worked for 14 years as a lab technician at UCSB. Later in his career he worked in plant cultivation and collection, professional gardening and landscape design.  
Sylvia Brickley Weller '71 died in Santa Barbara. She worked at Brown University and after returning to UCSB she graduated with honors in English. She worked at Arthur Bromfield's real estate office and was active in Junior League and the Lobero Foundation.
Jeffrey Lipscomb '76 died February 28, 2020 in University City, Ca. After graduating, Lipscomb played post-collegiate basketball in Paris. In 1992, Lipscomb completed the Ironman World Championship in Kailua-Kona, Hawaii. He was an SEC-registered investment advisor for The Equitable, an outside director of the Imperial Capital Bank and a member of the E.W. Scripps Associates of the Scripps Institute of Oceanography.  
Bryant Shoemaker '78 died March 6, 2020 in Santa Barbara. He received his degree in film and went on to work more than 30 years for Yardi Systems in Santa Barbara. He met his future wife, Peggy (Jones '80), while attending UCSB.  
Joshua Stewart Odell '80 died May 19, 2020 in Santa Barbara. After receiving his degree in English he began his career in the publicity office of New York-based Alfred Knopf publishing. He went on to serve as publicity director for Grove Press and as sales and marketing manager for publishing firm George Braziller. Upon returning to Santa Barbara he founded Joshua Odell Editions which for 22 years was a small press publishing force.
Susan Elizabeth Bower '81 died July 25 in Santa Barbara. After raising a family and working in the insurance industry she returned to UCSB to obtain a degree in studio arts. She produced a number of unique art pieces and was deeply involved in social justice causes in Santa Barbara. She was a donor to many art, political and cultural organizations, including UCSB Arts & Lectures.
Gregory Allan Franks '91 died June 26 in Santa Barbara. He received his degree in political science and after graduation worked in a number of retail jobs. He ultimately ended up at Radon Boat Works where he helped build commercial and fire suppression boats. His work is now in use in Santa Barbara, the Port of San Luis Obispo, and Kauai.
Fourth year PhD student Alex "Thomas" Johnson died July 21, 2020 in Santa Barbara. He was studying in the Department of Earth Science. He had received the Fiona and Michael Goodchild Mentoring Award for his work supervising undergraduate research projects. He travelled the world studying the process involved in the evolution of the Earth's mountain belts.
In Remembrance
Daniel Higgins, who worked as a researcher at National Center for Ecological Analysis and Synthesis for seven years, died June 22 in Santa Barbara. He worked as a research scientist, first for the U.S. Air Force, and later at several Santa Barbara labs.

Michael Arntz, who spent 39 years on the faculty at UCSB, died June 2 in Santa Barbara. He taught and produced unique ceramic pottery and art. He is considered one of the pioneers of Southern California's 20th Century Modern craftspeople and designers and his work is exhibited in a number of public galleries. From 1981-87 he chaired the UCSB Art Department.