Marc Grossman '73, has co-authored a spy novel, "Believers: Love and Death in Tehran," set in Iran, a country he has intimate knowledge of from his time in the U.S. Foreign Service. Grossman was a special envoy to Afghanistan at the time that Osama bin Laden was located there and killed by U.S. troops.
His novel, co-written by fellow foreign service veteran John Limbert, tells the story of an Iranian woman who is recruited to be an American spy. Upon leaving Iran she vows to never again become entangled in U.S. intelligence work. But she agrees to return to Tehran on a spy mission intended to help prevent a war between the U.S. and Iran.
Former U.S. Defense Secretary William Cohen calls it a "tale of intense excitement and labyrinthian intrigue." He goes on to say, "Grossman and Limbert (who was a hostage in the U.S. Embassy in Tehran in 1979) weave a story that is dazzling in detail and literary grace."
Grossman graduated from UCSB with a degree in political science and obtained a graduate degree from the London School of Economics and Politics. He rose through the ranks of the foreign service eventually achieving the highest rank, a Career Ambassador. He received the Secretary of State's Distinguished Service Award in 2005.
He currently is the vice chair of the Cohen Group in Washington, DC and is a trustee of the UCSB Foundation. He received the Alumni Association's Distinguished Alumni Award in 2001.
A longtime Santa Barbara wine writer and enthusiast has just produced what may be the definitive book on Santa Barbara wine making.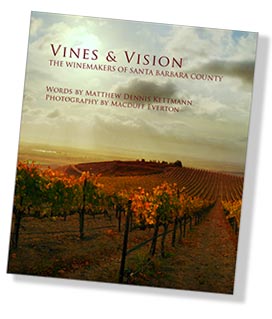 Matt Kettmann '99, has written a mammoth opus to his love of wine. Titled "Vines and Vision: The Winemakers of Santa Barbara County," the book spans 600 pages with more than 120 chapters. "Every wine industry person who's seen early drafts believes that it will be the definitive book on the region for years to come," Kettmann told Coastlines.
Kettmann is a senior editor at the Santa Barbara Independent and has been a contributing editor for Wine Enthusiast. His work on wine has appeared in numerous magazines and newspapers, including the New York Times.
In a recent interview he noted, "Unlike Northern California regions like Sonoma and Napa, where countless pages have waxed on about their people and places, Santa Barbara wine country is decidedly lacking in books about the region, with just a handful published over its entire modern history. This felt like an opportunity to do my part in showing many others what makes our region so honestly special."