UC Santa Barbara Alumni Association Seats New Directors at their June Board meeting.
Four UCSB alumni have taken seats on the UC Santa Barbara Alumni Association Board of Directors.
They include: Timothy Malone, '75, from Reston, Va. who is an ophthalmologist who performs plastic surgery on eyes. He also is on the faculty of the Georgetown University Hospital; Scott Carper, '98, who is a media and real estate consultant in Orange County. He recently was the executive producer on his ninth film, and serves on the UCSB Communication Dept. Alumni Council; Cameron Brown, '83, is a Pacific Palisades marketing and tech consultant. She received her MBA from Monterey Institute of International Studies and spent four years as a Peace Corps volunteer in Morocco; Patricia Nguyen '04 is on the staff of the UCLA Alumni Affairs office as senior director of Diversity Programs. She received her masters in education from the University of Vermont and is currently working on her PhD in Higher Education at UCLA.
1970s 
Jan Timbrook '70, PhD '08 is stepping down as the Curator of Ethnography at the Santa Barbara Museum of Natural History. She held the position for 45 years and during that time expanded the Museum's collection of Chumash artifacts. Her doctoral dissertation, "Chumash Ethnobotany: Plant Knowledge Among the Chumash People of Southern California" was published as a book and is now in its fourth printing.
Wenonah Valentine '77 MBA, founder and executive director for iDREAM for Racial Health Equity, was selected as a 2019 Californian Nonprofit of the Year, by 30th District State Senator Holly J. Mitchell. Since 2017, iDREAM has served as a key stakeholder in perinatal equity initiatives with the California and Los Angeles Departments of Public Health.
Carol Folt '76, MA '78 has been named the 12th president of the University of Southern California. 
1980s 
Wells Fargo appoints Al Kenrick '80 Head of Middle-Market Banking in Silicon Valley and Central Coast.
Jon Clark '82 is the recipient of the first annual Leap Award presented by the Isla Vista Youth Projects. The Award is being presented to Clark to honor his efforts to build collaborations to solve community problems. Clark is the president of the James S. Bower Foundation.
Michael Williams '86 has been named chief financial officer of the Scholastic Foundation of Santa Barbara. The Foundation is a major source of college scholarships for Santa Barbara County college-bound students. Williams has held finance and marketing positions at Allergan, Verizon and Superconductor Technologies. He was the CAO of the Santa Barbara Museum of Natural History and left to found Digifit, a personal health technology company. He earned his MBA from UC Irvine.
Governor Doug Ducey appointed Judge James P. Beene '88 to the Arizona Supreme Court. Judge Beene is the governor's fourth appointment to the Court. Judge Beene graduated from the University of California at Santa Barbara in 1988 with a Bachelor of Arts in Political Science. He received his law degree from the University of Arizona College of Law in 1991.
Dr. Michael Perri '88, MA '93 received The Texas A&M University-Texarkana Professor of History 2018 Distinguished Faculty Award. He has twice received the Chancellor's Teaching Excellence Award (2010 and 2011) as well as the Chancellor's Academy of Teacher Educators Award in 2017.
Kirker Wright '89 has expanded her Santa Barbara law practice to include mediation services. Her law firm, the Kirker Wright Law Group, handles divorce, legal separation, and high conflict custody disputes. She is the past chair of the Santa Barbara County Bar Assn. Family Law Section.
Christie Glanville '89 has been elected Board Chair for the Scholarship Foundation of Santa Barbara. Glanville completed her undergraduate studies at Loyola Marymount University before earning a master's degree and teaching credential at UC Santa Barbara. She was a kindergarten teacher for more than two decades and currently serves on the board of directors for Santa Barbara Middle School.
1990s 
Tina Fanucchi-Frontado '90 has started a business in Carpinteria known as KopSun which puts on educational programs about the merits of cannabis. The company offers forums known as Leaf Learning throughout the South Coast and recently was featured in the Santa Barbara News Press. She has served on  a number of non-profit boards.
Congressman Salud Carbajal '90 takes a break warming up for the annual Congressional Baseball game. He wore an official Gaucho baseball jersey for the charity game. Also playing were fellow Congressional Gaucho alums Tony Cardenas '86 and Jared Huffman '86.

FVC Staff alumni have been busy... publishing books! Reza Garajedaghi '93 penned "Want to be a Commercial Pilot, Your Guide to Finding the Right Flight School and Fulfilling Your Dreams" and Howie Southworth '94 (along with longtime former FVC staffer and vacationer Greg Matza): "Chinese Street Food, Small Bites, Classic Recipes, and Harrowing Tales Across the Middle Kingdom." They have also released "One Pan to  Rule Them All" and "Kiss My Casserole". 
Thomas K. Frazer '95 PhD has been appointed by Florida Gov. Ron DeSantis as the Chief Science Officer for the state of Florida. Frazer is the first person to hold the position after serving as the Director of the University of Florida's School of Natural Resources and Environment. He has held a number of academic positions at UF. The position of Chief Science Officer was created through an executive order by the governor that directs Frazer to help coordinate the collection of scientific data, analysis and research in order to improve water quality in Florida.
Todd Rogers '96 coached the Cal Poly women's beach volleyball team to their first NCAA playoff birth. The team was also the first in Cal Poly history to win the Big West conference championship. They went 25-12 and had their second consecutive 25 win season. Rogers was hired as the head women's coach in 2016. In his first three seasons Rogers' teams went 50-42. Rogers was an All American men's volleyball standout at UCSB and went on to compete in three different Olympic games. He won the gold medal in Beijing in 2008.
Renee Fairbanks '97 has opened a second family law office in Los Olivos. Her main office is in Santa Barbara. Fairbanks is a certified Family Law Specialist and a graduate of the National Family Law Trial Advocacy Institute in Houston.  She is a member of the board of the Courthouse Legacy Foundation.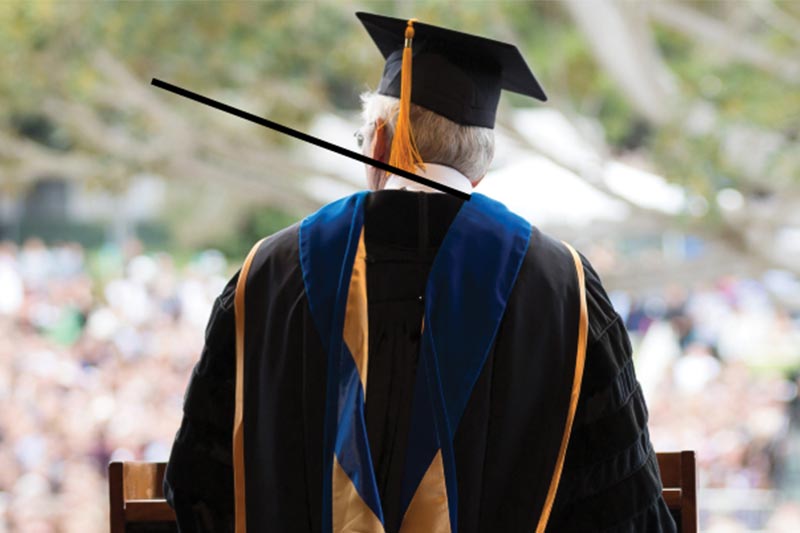 The Class of 2019 Commencement Ceremony featured a number of successful alumni who came back to inspire the next generation of Gauchos. The commencement speakers were Rick Rosen '75, Head of Television, Broadcast & Sports, WME Talent Agency; Deb Callahan '81, Founder and President, North Star Strategy; Kenny Broad '89, Professor, University of Miami and National Geographic Explorer; Puoy Premsrirut '96, Attorney and Partner, Brown Brown & Premsrirut; Ali Bauerlein '03, Founder, CFO, and Executive Vice President of Finance, Inogen, Inc.; Brenton Taylor '03, Founder and Executive Vice President, Inogen, Inc.; and Dr. Nicolasa Sandoval Ph.D. '07, Education Director, Santa Ynez Band of Chumash Indians and Member of the California State Board of Education.
2000s 
After more than seventeen years with Alumni Affairs at UC Santa Barbara, John Lofthus '00, '10 has accepted the position of Assistant Dean of Development for the UCSB Graduate Division.
Sara Miller McCune H '05 received the 2019 Novim Science Courage Award. Novim is a non-profit scientific research group based at UC Santa Barbara. McCune is the founder and executive chairwoman of Sage Publishing, which publishes more than 1,000 journals and 900 books each year. The Awards honor those whose work helps communicate complex scientific knowledge to the greater population.
Scott DiLorenzo '06 plays Edna Turnblad in the Bay Area Musical's production of "Hairspray." DiLorenzo has appeared on Wheel of Fortune and after "Hairspray" is cast in BAM's "Wedding Singer." He has held numerous roles in productions at the New Conservatory Theater and Tri Valley Rep.
The Trade Association representing California's life sciences sector announced the appointment of Molly Fishman '10 as Director of Federal Government Relations based in CLSA's Washington, D.C. Office.
Jay Mah '11 has completed his last training in Officer Candidate School. He is a commissioned second lieutenant in the U.S. Army.
Marjan Riazi's '12 new film "High Hopes" played at both UCSB and UCLA during April 2019. The film depicts the conflicts between the rising cannabis industry and the criminal justice system. Riazi recently received her masters in News and Documentary Film Production from New York University. She previously worked in the Alcohol and Drug Program at UCSB.
Shane Bieber '16 had career highs in strikeouts and his first complete game pitching for the Cleveland Indians May 19 against the Baltimore Orioles. Bieber was a standout pitcher for the Gauchos from 2013-16 and was selected in the fourth round of the professional baseball draft. "I thought he had the best breaking ball we've seen yet," said Indians manager Terry Francona after the game. It was Bieber's first complete game and he had 15 strikeouts. It dropped his ERA to 3.22.
Mitch Brewe '16 played in the 2019 USA Basketball 3x3 National Championship in Las Vegas on May 3-4, 2019. Leland King '18 was a participant in the 3x3 National Team Trials.
Lauren Cain '17 former Programs Coordinator for Alumni Affairs at UCSB will be attending graduate school at the University of Maryland pursuing her masters in American History.
Daniel Connell '17, Quincy Lee '17, and Byron Roos-Collins '17 will be biking across Africa. The trio will be flying out together from Los Angeles to Cairo, Egypt biking from Cairo all the way down to Cape Town, South Africa in order to raise money for their nonprofit organization, Locos Ciclos.
Carolyn Ruffino '18 has been named a graduate assistant for the women's basketball team at Regis University. Ruffino spent two years as a student manager for the basketball program at UCSB.
Kristen Armellini '19 has an internship in the office of Congressman Salud Carbajal '90. She is currently enrolled in the UCDC program.
Paulina Arango '19 has an internship at the Labor Council for Latin American Advancement (LCLAA). She is enrolled in the UCDC program.
Tony Morales '19 has been appointed advertising representative at the Santa Barbara Independent. At UCSB he wrote for the Daily Nexus covering art and events.
Sophie Xu '19 is planning to open a new Korean fried chicken restaurant in Isla Vista called Vons Chicken. The San Jose based franchise serves 10 different variations of Korean fried chicken. The restaurant will be located in the former Sweet Alley at 955, Embarcadero del Mar.
In Memoriam

Clifden G. Purcell '59 died June 21, 2019. He grew up in San Gabriel, CA, served as a U.S. Marine Reservist, and enjoyed a brief stint as a semi-pro football player for the Orange County Rhinos. Purcell was a varsity football assistant coach at Carpinteria High School. . 
Purcell was selected as Channel League Coach of the Year twice and in 1999 chosen as the California State High School Golf Coach of the Year. In 2008, he was inducted into the Santa Barbara Athletic Round Table Hall of Fame and in 2013 received the first Lifetime Achievement Award from the San Marcos High School golf team.
In addition to his service in education, Purcell was a member of the Carpinteria City Council, a founding member of the UCSB Foundation Board of Trustees, UCSB Alumni Association Board Member and a past president of the American Heart Association.
1940s 
Arlene L. Doty '45 died in Goleta, March 24, 2019. She was a part of the graduating class receiving the first UC Santa Barbara diplomas after transitioning from a State College to a UC. She lived most of her life on the Doty family ranch in Ellwood. She was a member of the Daughters of the American Revolution, Daughters of the Union Veterans of the Civil War and First Families of Virginia.  
Sharon (Smith) Bowman '47 died September 14, 2018. At UC Santa Barbara where she was elected President of the Associated Women Students twice, served as editor for the college newspaper, successfully lobbied the legislature in Sacramento as a student representative, held leadership positions in the Alpha Theta Chi Sorority, and was awarded "Outstanding Woman Student" on campus in her senior year. International Society for Women Educators.  In 1974, she received a "Special Award for Meritorious Service" from the SDCTA. Bowman moved to Sacramento in 1975 to join the CTA's Governmental Relations staff as a legislative advocate and carried numerous influential bills, including the proclamation of a statewide holiday in honor of Martin Luther King, Jr., the development of professional standards for bilingual competency, and reduction of class size in K-12. 
Mike Hartunian '48 died December 11, 2018 in Newport Beach. Hartunian enlisted in the Air Force at the start of World War II, half way through his Santa Barbara State College tenure. He became a second lieutenant bombardier in the 484 Bomb Group in the then new B-24s. He flew 15 missions before being shot down by German anti-aircraft guns over Austria. He parachuted out of the plane at 17,000 feet and was captured. He spent six months in a POW camp at Luckenwalde, Germany. The camp was liberated by Russian troops but many of the U.S. POWs were not released until after the war ended. After the war he turned his woodworking skills into a major furniture company, General Wood Corporation. Hartunian was a frequent attendee of the Riviera Reunion, at the Riviera campus above Santa Barbara.  
1950s 
Bernard Wallace Paulson '50 died February 17, 2019 in Santa Barbara. In 1946 Paulson was offered a scholarship to play football at UCSB. He lettered for all four years of his college career. He served in the U.S. Navy from 1943-46 and upon graduation from UCSB was drafted by the Indianapolis Colts. Instead he married the woman he met at UCSB, Jean La Velle. For 36 years he worked for the Southern California Gas Co.
Marcia Johnson '53 died April 21, 2019. She was a 60 year resident of Mercer Island and active in the Women's University Club, PEO, Mercer Island Presbyterian Church, several bridge groups, AAUW and many other volunteer efforts.
Mylouine Ellis Williams '54 died May 26, 2019 in Salem, Oregon. Mylouine was a special education teacher for Del Norte County Unified School District. She traveled the world with her husband and taught English in China for two years after they retired.
1960s 
Dennis L. Thomson PhD '69 died October 6th, 2018, surrounded by family, in Pleasant Grove, Utah. At Brigham Young University, where he spent the last 25 years of his career, Dennis served as the Chairman of the Political Science Department, Associate Academic Vice President, and Associate Dean of the College of Family, Home, and Social Sciences.
1970s 
Margaret Singer '70, MA '73 died in May 2019 in Santa Barbara. She grew up in Frankfurt and was sent by her father to the U.S. in the middle of the Holocaust. After receiving a degree in art and a master's in education, she taught at Santa Barbara City College for more than 20 years. 
Margaret "Maggie" Carracino '71 died May 9, 2019 in Santa Barbara. She worked at Princeton University and then at MIT as a secretary for activist and writer Noam Chomsky. She was an activist in the Harvard University Union of Clerical and Technical workers. She was an accomplished amateur pianist.
Ann Lee Haslund '75 died March 3, 2019 in Placerville, Calif. After attending UCSB for a year she attended Los Angeles City College and earned her AA in nursing in 1962. She later moved back to Santa Barbara and received her BA in archaeology in 1975. As a RN she worked at Cottage Hospital in Santa Barbara. In 1985 she received her MA in psychotherapy from Antioch College. For the next 22 years she had her own counseling practice as well as working for a number of social service organizations.
Leonard Potter '77 died February 13, 2019 in Sacramento. He spent most of his career in the theater and film stage design business, including a long stint at Walt Disney Imagineering. Later in his career he worked in fine furniture and high-end home furnishings. He joined the Air Force in 1969 and worked in their air traffic control school.
Murdock Campbell "Cam" Munn III '78 died May 19, 2019 in Los Olivos, CA. He graduated as an Education-Physical Kinesiology major. Munn was an avid surfer, cyclist, skier, golfer, and tennis player. He enjoyed woodworking, music and traveling with family and friends.
1980s 
Donald Arthur Rose, '80 died February 8, 2019 in Santa Barbara. After graduating with a degree in Physics, Rose had a long career as a freelance technical writer. He worked for many of the Santa Barbara area technology and space companies. He coached girls softball in Santa Barbara for more than 20 years. He was also a trumpet player with the Jazz Combo Workshop for many years.
Shane Gabriel Hernandez '85 died November 27, 2018. Shane practiced criminal and family law in Washington State, was a real estate broker, and entrepreneur in California.
1990s 
Robert McFadden '90 died March 2, 2019 in Santa Barbara. He founded UCSB's first contemporary art club, Sfumato. His writing career took him from Washington DC to Los Angeles and he worked on media as diverse as Buzz magazine and Voyager Co.  He served on the board of the Contemporary Arts Museum in Santa Barbara and the Lois and Walter Capps Project. He also served on the Committee to Rebuild the Public Courtyard at the Santa Barbara Library.
Marcie Kjoller '91 died suddenly March 31, 2019 while swimming off East Beach in Santa Barbara. Kjoller was a UCSB Hall of Fame swimmer who helped lead the Gauchos to four consecutive Big West titles in swimming. She was named a freestyle All American in 1987, 1988 and 1990. After graduation she continued her swimming and participated in swim relays that crossed the Santa Barbara Channel from Santa Cruz Island to Santa Barbara. She taught at Vieja Valley Elementary School and most recently at Santa Barbara Charter School.
Ellin Jo (Trent) Bausler '96 died May 30 in La Quinta, California. She was a member of the Delta Gamma sorority. She earned a masters degree in education from La Verne University and spent most of her career as a teacher and administrator. She later worked as a realtor and an entrepreneur.
In Remembrance
UCSB Staff, Students, and Community Friends
Jon R. Ramsey, an assistant professor of English at UCSB, died March 9, 2019 in Goleta. He first taught English at UCSB from 1969-76. He then taught at Skidmore College, later taking on a number of administrative positions including Associate Dean of Students and Dean of Studies. He came back to UCSB in 2005 where he held the post of Director of Policy, Publications and Analysis in the Graduate Division. From 2006-2014 he was a lecturer in the Writing Program at UCSB. He received his PHD in English from UC Riverside.
Mike Buck who spent 22 years in the UCSB physical facilities department, died March 22, 2019 in Santa Barbara.
Jean Kellogg Schuyler, H'13, died April 17, 2019 in Santa Barbara. Schuyler was a noted philanthropist and UCSB supporter for many decades. She received honors for her work with Planned Parenthood and Domestic Violence Solutions and was a vigorous advocate and financial supporter of efforts to preserve open space on the South Coast. She was a 1949 graduate of Stanford and was a trustee of the UC Santa Barbara Foundation for the past 18 years. She was named Woman of the Year by the Santa Barbara Foundation in 2000.
Professor Emeritus Gerald James Larson died on April 27, 2019 in Mission Viejo. He taught for more than 25 years in the Department of Religious Studies and served as both the assistant and associate Vice Chancellor for Academic Affairs. His area of expertise was Indian studies and was a foremost authority on the Yoga systems of religious thought. He was the founding director of the Indian Studies Program at Indiana University.
Professor Emeritus John Cotton died April 29, 2019 in Santa Barbara. Cotton came to UCSB in 1960 and was a professor of psychology and education. He served as a department chair and an associate dean. His volunteer work for social justice causes earned him the Santa Barbara Volunteer of the Year Award
Patrick J. McCarthy, emeritus professor of English, died May 20, 2019 in Santa Barbara. He taught English at UCSB for 25 years. He was a lieutenant in the Army during World War II. He found his life work while teaching English literature to U.S. troops stationed in Japan at the end of the war. He received his doctorate from Columbia University and published a number of articles focused on Romantic and Victorian literature.
Do you have an update you would like to share in Milestones?
Email us at milestones@ucsbalum.com.