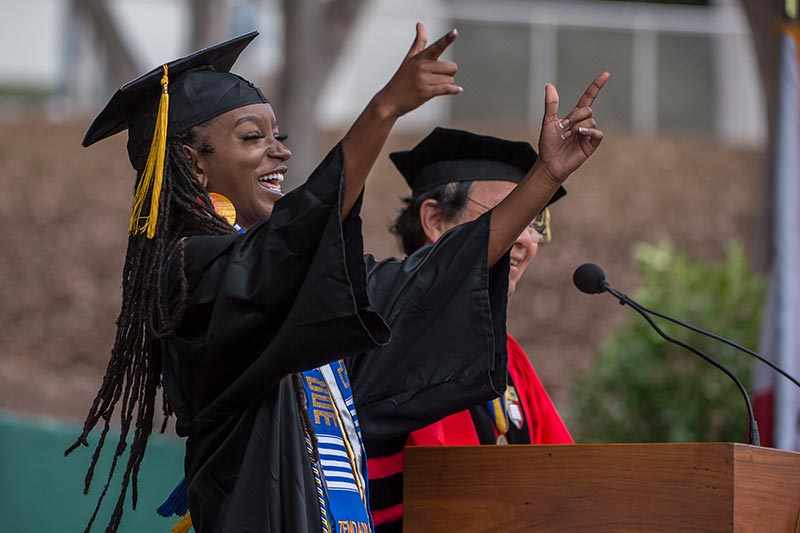 2019 Commencement
The UC Santa Barbara alumni rolls swelled by 6,867 graduates during nine different ceremonies on campus from June 9-16, 2019.
It was the largest graduating class in UCSB history, with six different graduation ceremonies being held on Commencement Green adjacent to the Lagoon. Among the more than 6,000 graduates were 10 members of UCSB's Surfrider Battalion who received their commissions as second lieutenants.
Top graduates Theo Vance and Michelle Dobler were named ROTC Distinguished Military Graduates in recognition for being in the top 20 percent of the 5,000 ROTC cadets graduating in 2019.
The top student award, The Thomas More Storke Award, went to Zenzile Reddick who was recognized for her scholarship and service to the University. Reddick was active in the Black Student Union and helped lead a legislative lobbying campaign to increase student financial aid for students who take summer school courses.
Professor Wins Two of Nation's Highest Book Awards
Black Studies Professor Jeffrey Stewart has received two of the most prestigious writing awards in the U.S. for his biography of Harlem art and culture figure Alain Locke.
Earlier this year Stewart's "The New Negro: The Life of Alain Locke" was named the winner of the National Book Award for non fiction. Then, on April 15, Columbia Graduate School named Stewart the winner of this year's Pulitzer Prize in biography.
No other UCSB professor has ever been awarded both prizes for a single work and only a handful over many decades have received a Pulitzer Prize.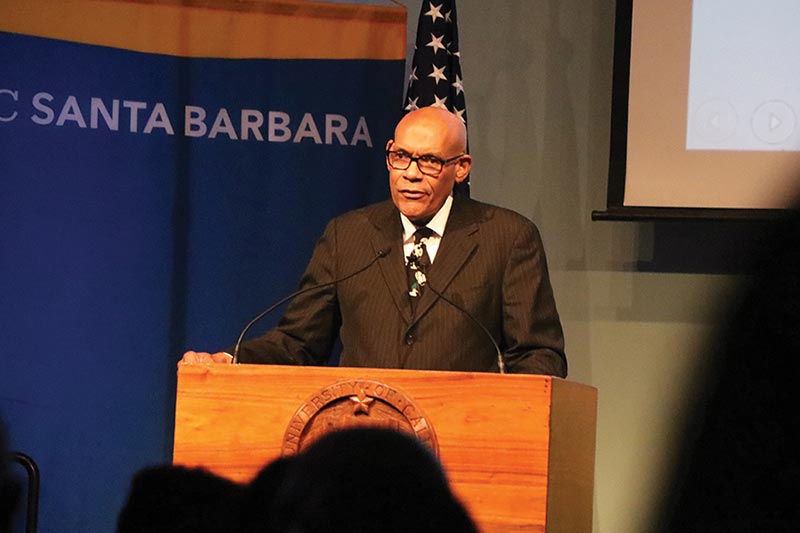 Locke was a transformational figure in 1920s Harlem at a time
in which the music, art and literature scene in Harlem would be later described as a Renaissance. He was the first African-American selected for a Rhodes Scholarship, was educated at Oxford University and taught philosophy at Howard University for more than 40 years.
"He's under-appreciated and kind of an invisible man," Stewart told UCSB's Current magazine.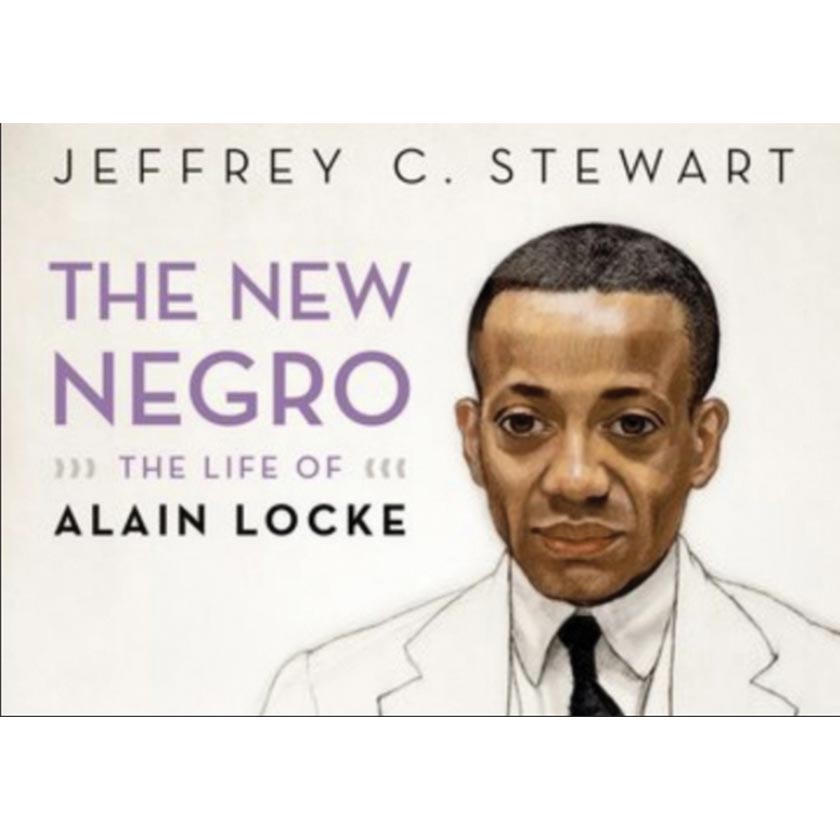 "As a gay man who lived a closeted life, he had many struggles and one of them was with tremendous crushing aloneness," Stewart said. "So when I stand here I think about his achievement, and what that was to create a family among writers and artists and dancers and dramatists, and call them The New Negro. A new Negro for a new America."
A native of Chicago, Stewart earned his PhD in American Studies from Yale University. He taught at Tufts University, UCLA, Scripps College and George Mason University. He came to UCSB in 2008 as chair of the Black Studies Department, a position he held until 2016.
He has told audiences that he worked almost his entire academic life on the book, starting with his doctoral dissertation.
IV Cliff Falls
IV Residents Continue to Fall Off DP Cliffs But the Rate Has Slowed
A new study released by the county of Santa Barbara shows that the number of Isla Vista residents falling off Del Playa cliffs has decreased from a high point in 2014 of 10 falls.
The study was conducted by Third District Supervisor Joan Hartmann's office and it noted that of the four cliff fall deaths since 2010, three involved UCSB students. The fourth victim was from Cal Poly, SLO.
In all there have been 38 falls since 2010 that have been reported by the Santa Barbara County Sheriff's Office.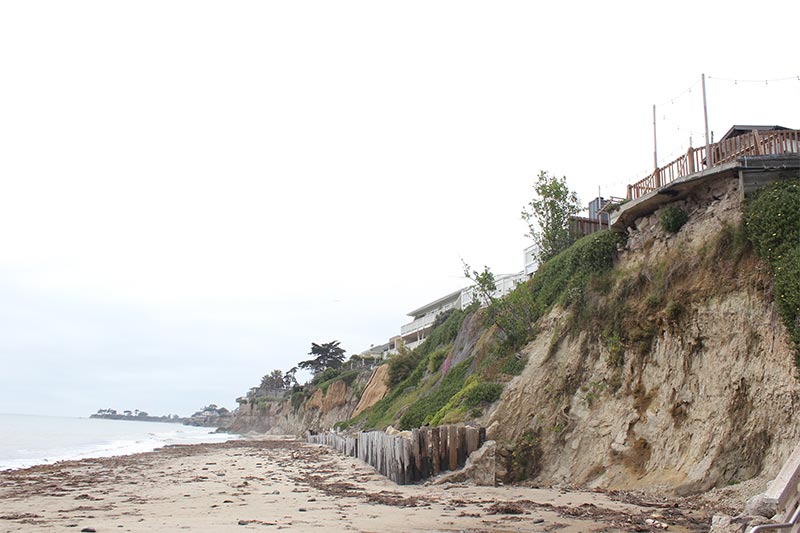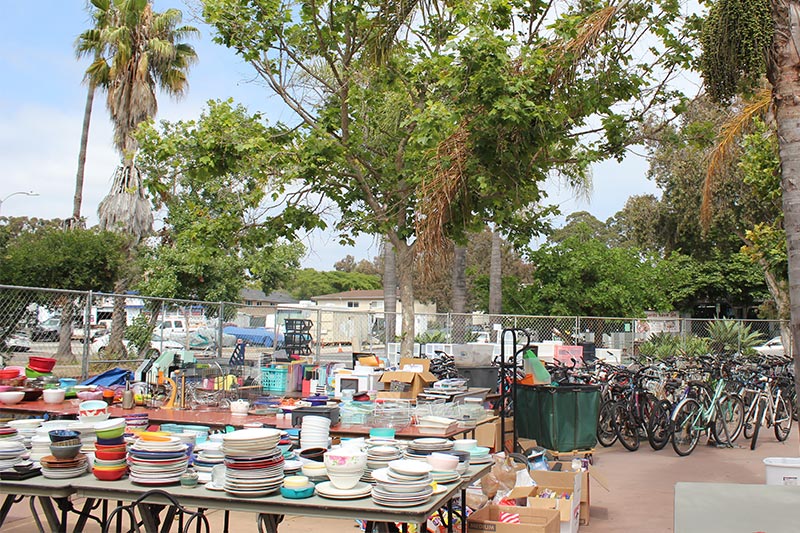 Give IV: Sustainable and Obtainable
The beginning of Summer in Isla Vista marks many things- graduation, summer classes, and also that inconvenient 2 week period of people moving in and out of their 12 month leases. Couches, dressers, and garbage litter the streets of Isla Vista as many students are not able to find homes for their household items. Luckily, GIVE Isla Vista was created to help with this issue and also give back to the community. Since 1990, this organization has reduced, reused, and recycled everything from clothes, to desk lamps, to household goods. Viviana Marsano, Isla Vista Liaison and Senior Advisor to Campus Organizations, runs the operation at Embarcadero Hall along with 14 staff members and over 150 volunteers. 
They collect clothing, books, furniture, household furnishings, kitchenware, canned and packaged foods, and miscellaneous items. After everything is tested, cleaned, and priced, a giant sale is put on that weekend. This year, the sale was June 22 and 23. GIVE IV raised and distributed $36,821.33 and about 31.075 tons (62,150 pounds) of donated items. That is, over 62,000 pounds of items that would have otherwise ended up in the landfill. About 1,755 (500 more than in 2018) volunteer hours were worked over the span of 1 week. All proceeds from the sale went to 12 different Isla Vista non-profits and human services agencies in IV. These organizations included Isla Vista Teen Student Athletes Fund, Associated Students Food Bank, and Santa Barbara Student Housing Coop. Whatever did not get sold during the sale went straight to Goodwill. In an effort to help the environment as well as the community, GIVE IV is taking big strides to ensure both.