A First For Any University Baseball Team
It can be argued that the most singular award in Major League Baseball is to be recognized as the Most Valuable Player in the All-Star Game. 
It honors the man who had the most impressive performance in the only game of the year that includes the best players from both the American and National Leagues. Not surprisingly, such luminaries as Willie Mays, Frank Robinson, Cal Ripken Jr., Derek Jeter and Mike Trout are among the All-Star MVPs.
 Joining that company with special distinction are Michael Young and Shane Bieber. They were both three-year UCSB players (Young, 1995-97; Bieber, 2014-16), and no other college has produced two individual All-Star MVPs (Steve Garvey of Michigan State won the award twice).
YOUNG'S MOMENT: In the 2006 All-Star Game at Pittsburgh, he came up in the ninth inning with two runners on, two outs, and the AL Stars trailing the NL, 2-1. Down 0-2 in the count, Young came through with a two-run triple off Hall of Fame pitcher Trevor Hoffman, boosting the AL to a 3-2 win.
"It was an incredible night.," Young recalled. "I was a shortstop at the time, and Derek Jeter was the starter ahead of me. The All-Stars usually play tight games, and if you come in late, you have a chance to put an imprint on the game. When Troy Glaus hit a shot to left, and it bounced over the wall for a ground-rule double [putting men on second and third], I was locked in. After I fouled off two pitches, [Hoffman] came with a fastball that got too much of the plate. We had Mariano Rivera pitching in the bottom of the ninth, so I knew the lead would hold up."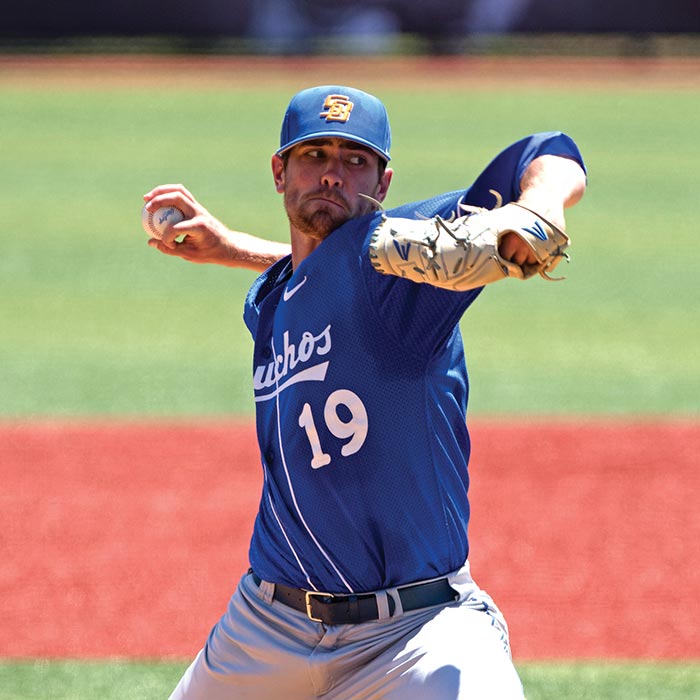 Bob Brontsema, who coached Young at UCSB, said, "It was nothing new. He always came through for us. I remember watching that game and thinking, 'This is the right guy in the right spot.' He always swung the bat well."
Young was the AL batting champion in 2005 (.331 average) and a seven-time All-Star for the Texas Rangers. He also had the game-winning RBI in the 2008 All-Star Game, hitting a sacrifice fly in the 15th inning for a 4-3 AL victory.
The former Gaucho retired after the 2013 season with a 14-year batting average of .301. He made the Hall of Fame ballot this year but did not accumulate enough total hits (2,375) to sway voters. "I had an opportunity to re-sign with the Dodgers [the last team he played for], but I really wanted to come home to my family," said Young, who now works in the Rangers front office. Brontsema said, "Michael is a Hall of Fame player in Texas's eyes," an observation borne out by the Rangers holding a ceremony on August 31 to retire Young's number 10 jersey.
BIEBER'S MOMENT: A late addition to the AL pitching staff, Bieber took the mound in the fifth inning of the 2019 All-Star Game before hometown fans at Cleveland's Progressive Field. The right-hander proceeded to strike out the side – Wilson Contreras (Chicago Cubs) caught looking at a 95-mph fastball, Ketel Marte (Arizona) swinging at a knuckle-curve, and Ronald Acuna Jr. (Atlanta) watching a 3-2 slider go past him. It was the most electrifying sequence in a game the AL went on to win, 4-3.
"I really didn't know what to think," Bieber said after winning the MVP award. "Kinda lost all feeling in my body."
Bieber was UCSB's ace pitcher in 2016 when the Gauchos reached the College World Series. He was among the nation's leaders in strikeout-walk ratio. "You could blindfold him and spin him around," Gaucho coach Andrew Checketts liked to say, "and he'd still throw a strike."
Michael Young said that if he had to face Bieber, "I'd come up swinging. He doesn't walk anybody. Sit back, and the count's 0-2."
The evidence is mounting that Bieber, just a sophomore major leaguer, is the real deal. In late July, he tossed a complete-game, one-hitter at Toronto. In mid-August, he improved his record to 12-4 and struck out 11 in a 6-2 victory that pulled the Indians into a tie with Minnesota for the AL Central lead.
A long and successful career could separate Shane Bieber from his namesake, pop star Justin Bieber. It's a work in progress. A Topps card mistakenly called him Justin, and Bieber reportedly has filed for the trademark to "Not Justin," a nickname that he put on the back of his jersey at a game last year. 
Let There Be Light
After decades of postponed games due to darkness, or humiliating home team playoffs in distant cities, the home of UC Santa Barbara baseball now has lights. Lots of lights.
The $1.3 million project at Cesar Uyesaka Stadium has been beset with both fundraising issues and construction setbacks.
But with major gifts from the Gretler Foundation and the Santa Ynez Band of Chumash the project has been completed in time for the upcoming season.
Just a few years ago the baseball team was forced to play its home NCAA playoff games in Southern California because of a lack of lights. Many times in recent years games have been postponed because of darkness.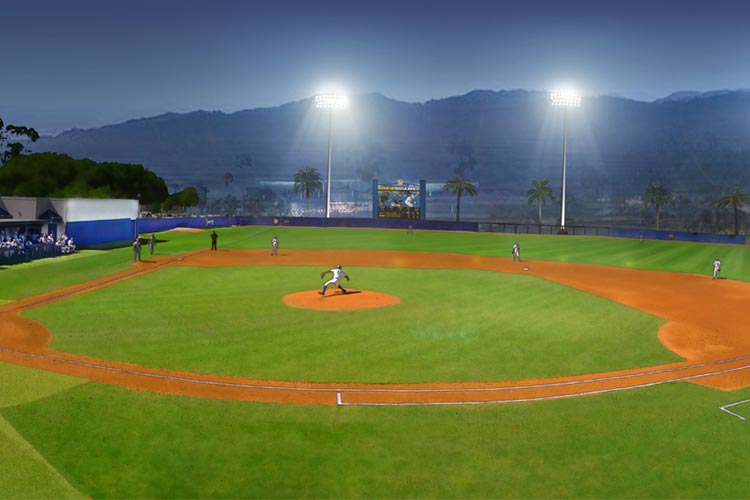 Coach Andrew Checketts gave the major credit for the project to Athletics Director John McCutcheon, who made the baseball lights a top priority for his fundraising. The campus hopes that with night games attendance from locals, including budding high school baseball players, will increase.