UCSB has gone without a national championship contender since the 2016 baseball team. Why so long?
By Victor Bryant '11. Photos by Eric Issacs, UCSB Photographic Service
 
It's been more than two years since Sam Cohen launched an improbable walk off grand slam that lifted the UCSB baseball team to a 4-3 victory over No. 2 ranked Louisville and earned the Gauchos a spot in the 2016 College World Series.
That storybook run, capped off by a sports moment for the ages, was the culmination of years of preparation by the UCSB baseball program and was a triumph for the UCSB athletics department.
"We had some built-in advantages based on our location and the proximity to players," said UCSB baseball coach Andrew Checketts. "We can still drive to find players and we've got a lot to offer from a campus perspective and an academics perspective so it makes recruiting at a high level something that's possible even though we may be behind some of those other schools that are in the national rankings from a facilities standpoint."
With the 2018 Men's Soccer College Cup coming to Harder Stadium, a national champion will be crowned on Gaucho soil this year. However, UCSB has gone without a true national championship contender since the 2016 baseball team, which raises the question:
Can the UCSB Athletic Department produce programs that consistently compete at an elite level in Division 1?
The baseball, men's volleyball and men's soccer programs have all broken into the national spotlight over the last decade and, according to UCSB athletic director John McCuthcheon, the key is first and foremost attracting student athletes who can compete at an elite level and pairing that talent with quality coaching.
"It's really a combination of things," McCutcheon said when asked for a common thread between the athletic programs that have found national success in recent years. "Certainly those sports and probably some others as well are positioned because of the school, which is our number one selling point, is attractive to that type of student athlete."
The academic component for UCSB athletics is paramount. U.S News and World Report has ranked UCSB No. 5 among the "Top 30 Public National Universities" when factoring in public and private universities UCSB ranked No. 30.
These high academic standards cut both ways for the UCSB athletic department in terms of recruiting elite high school athletes. In many cases the rigorous academic demands that UCSB offers relative to many other Universities in the division 1 landscape is what makes UCSB a viable option for student athletes. In other cases it's a disqualifier.
"To a large number of prospective student athletes they are looking for an education piece and a school like UCSB can pretty much compete with anybody in terms of the quality of the education," said UCSB men's soccer coach Tim Vom Steeg. "At the same time we also know that quite a few other schools have a little different philosophy about athletics at their campus. They have access to more players. The restrictions we have on kids being accepted into UCSB are not there for some other programs."
For any Division 1 program the key to recruiting is making the most of built-in advantages. At UCSB those advantages are most evident in men's soccer.
Vom Steeg's program fills the void that football occupies at most Division 1 universities. The energy and passion of the student body is palpable at home soccer matches, which continue to be the highlight of fall quarter for UCSB athletics.
Harder Stadium provides the perfect venue for division 1 men's soccer as quite possibly the only 17,000 seat capacity stadium in the country. That number allows the Gauchos to compete in a frenzied packed environment that would not be possible at a 50,000-seat football stadium.
"It's a facility that is not shared with football," said Vom Steeg of Harder Stadium. "Many universities have moved out of their football stadiums into some smaller fields and complexes, which in some cases are nice, but it's not a stadium."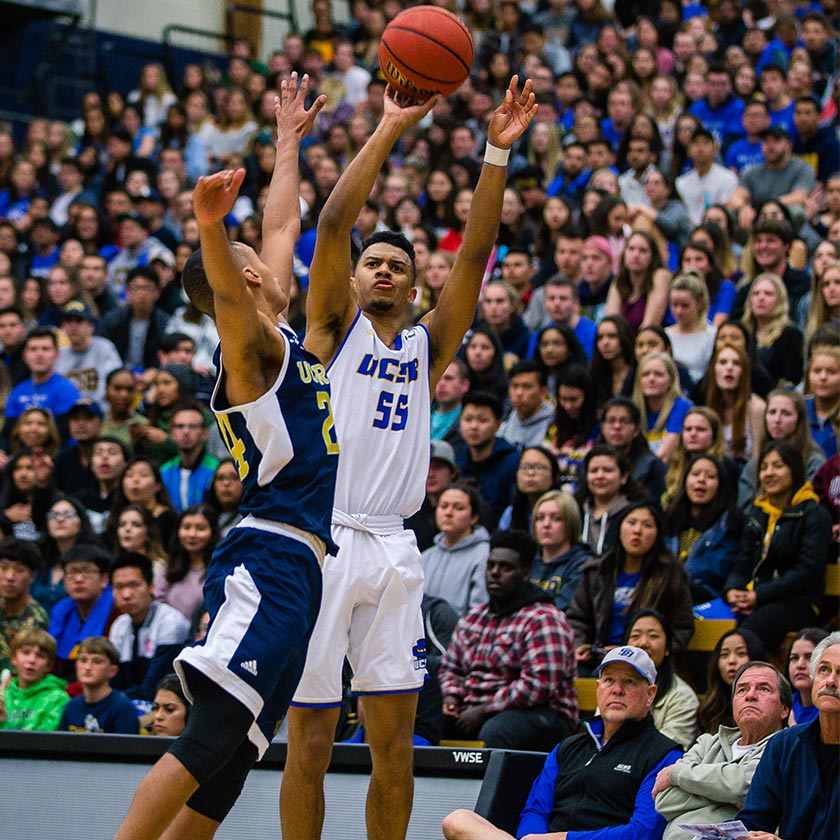 In addition, Southern California is considered to be an extremely fertile recruiting ground for men's and women's soccer.
The city of Santa Barbara and the central coast in general are also a tremendous draw to potential international student athletes. The UCSB soccer program has had consistent success recruiting in Europe and Africa.
"In the sport of soccer, which is different than I would say most of the other sports (at UCSB), in order for us to have a national schedule and compete for the national championship we have the resources necessary to do that," Vom Steeg said. "We know that particularly in a sport like basketball it is really difficult to compete with schools that literally have everything provided and facilities that we can't match in some of these other sports, whether that be a pool or a gym."
Among UCSB's athletics programs men's soccer is an outlier in terms of its built in advantages. As a result, men's soccer claimed the last national championship for UCSB in 2006. The only other UCSB sport to win an NCAA national championship in the university's history is men's water polo in 1979.
UCSB swimming has churned out numerous All-Americans and several Olympic Gold Medalist, including Richard Schroeder and Jason Lezak. In addition, the men's swimming team won 23 Big West championships in a row from 1979-2001. However, this success is in spite of an inadequate pool and an overall lack of resources.
Aquatics is an area where Southern California produces an abundance of elite talent and UCSB's coastal location is undoubtedly an attractive option for potential swimming and water polo recruits, but UCSB lags far behind the elite swimming and water polo programs on the west coast when it comes to facilities.
Campus Pool for instance was built in the 1960's and has not had any major renovations since it opened six decades ago.
"Most of our facilities are not at a level that certainly a lot of the power five conference schools would have," McCuthcheon said. "You try to take advantage of what you do have. A lot of them don't have the environment that we have. It doesn't matter how much they have in terms of resources you can't reinvent Santa Barbara in any way, shape or form."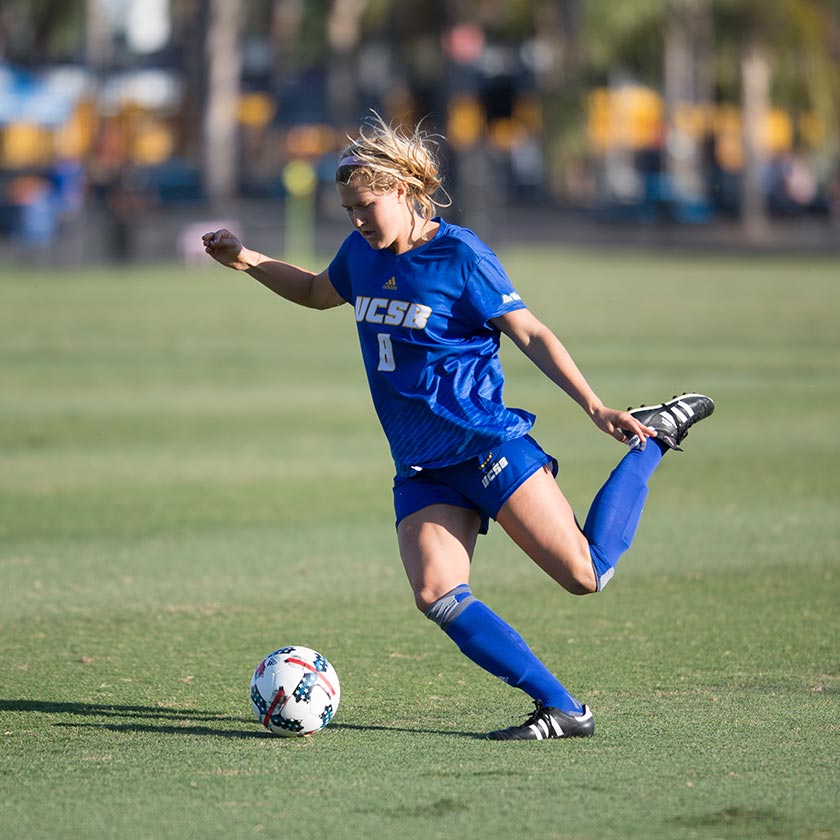 UCSB's approach to facilities upgrades has been incremental and focused on the student athlete experience. Baseball, softball, men's soccer and men's basketball have either recently undergone renovations to facilities or have them scheduled for the near future.
The Thunderdome had a new floor installed and will be receiving a new video scoreboard this year, which is a major coup for a basketball program that experienced a much-needed shot in the arm with the hiring of Joe Pasternack a former University of Arizona assistant prior to last season.
Basketball is considered a revenue sport for many Division 1 programs and in order to compete in the facilities arms race athletic departments must put forth a considerable investment of resources.
The soccer programs have received an overhaul to the Harder Stadium playing surface ahead of the upcoming College Cup. Baseball has finally accumulated the funding necessary to complete its lighting project, which removes one major obstacle in the journey to one day hosting an NCAA regional.
Softball has also benefited from an upgraded playing surface.
"We make advances where we can. Are we going to build 15,000 seat arenas and things like that? That's probably not practical for us and probably not needed for us," McCutcheon said. "What we want to do is have venues that really support the student athletes, that provide as much as we can in the way of spectator support and amenities and that's an area that we still have a long way to go."
In essence an athletic department is a reflection of the passion and support of the student body and alumni. The majority of donations come from this population as well as other individuals and institutions in the community.
According to McCutcheon, one universal truth of athletic donors and corporate sponsors is that they like to see the impact of their contributions. It is even more attractive to donate if that impact translates to the playing field.
"It starts with having a compelling story to tell to donors of how they can make a difference and how their gifts can be transformational for not only the athletic department, but for the university as well," said McCutcheon, who had tremendous success fundraising as athletic director at UMass culminating in a $29.9 million, 55,000 sq. ft. Champions Center for men's and women's basketball. "It's one of those things that doesn't happen overnight. You're not going to get that huge gift with one meeting. You have to build relationships and gain the confidence of donors so they can see and believe in the vision you have."
Most students don't come to UCSB primarily to take in the athletics experience.
Incoming UCSB freshmen have an average GPA that exceeds a 4.0 and the University's acceptance rate is a tick below 33 percent. This means that UCSB students typically have a number of options when it comes to pursing higher education.
"…we've got a lot to offer from a campus perspective and an academics perspective so it makes recruiting at a high level something that's possible…"

— UCSB baseball coach Andrew Checketts.
If the thrill of intercollegiate athletic competition is a determining factor in a prospective students college choice chances are they are ending up at a college with football and basketball programs that compete in a power-five conference?
However, student body participation is not a challenge that is unique to UCSB. Attendance numbers fluctuate across the country, especially with the advent of social media. It also doesn't seem to discourage the UCSB coaches.
"I've been at different places. I was at UC Riverside and I was at Oregon and they had their set of challenges as well," said UCSB baseball coach Andrew Checketts. "With Oregon it was the weather, the out of state tuition being expensive and not really having the (in state) recruiting base. Riverside had its challenges in that the location is not quite as desirable as maybe some of the other UC schools in general to recruit. Everywhere you are at you have to overcome obstacles and I think you overcome them by focusing on what you do have."
What UCSB does have is a top flight academic institution and one of the most ideal locations on the planet. If national championships are the goal those advantages have not yet translated to sustained success.