Story//Andy Levinsky. Photos//Courtesy, Office of Delaine Eastin.
Delaine Eastin MA '71 feared the educational system that gave her a wonderful life was crumbling. Her fix was a campaign for governor.
Among the most talked-about ads of the 2018 California gubernatorial primary season was a spot interspersing clips from debates in which the opponents of Democratic candidate Delaine Eastin MA '71 heap praise on her. "We do need more revenue for schools," observed former Los Angeles Mayor Antonio Villaraigosa. "I agree with Delaine." Lt. Governor Gavin Newsom (now the Democratic nominee) said, "Delaine is right—it's about accountability." After a string of endorsements for her positions (if not her candidacy), the commercial concludes with the tag line, "It's time to cut out the middle man." Politico dubbed the ad "one of the best of California's gubernatorial season," yet it's far less likely you've seen it than those of the other candidates and you can probably guess why. Where Villaraigosa's campaign raised around $9.5 million, former state controller and treasurer John Chiang, another Democrat, received roughly $10.5 million and Newsom garnered over $28 million, Eastin managed just over $1.1 million. The vote totals roughly reflect each candidate's war chest, ranging from 9.2% for Chiang to 33.8% for Newsom. Eastin received just 3.1%.

Eastin claims that "I was in it seriously to win," but, "having said that, I did think half a loaf for me would be to get the other candidates to commit to pre-school, K-12 including mandatory kindergarten, and a bigger investment in higher education, and I feel like I accomplished that."
Another television ad begins with a typical, proudly ordinary biographical introduction--born in San Diego to a machinist dad and store clerk mom, middle class upbringing in San Carlos, college, marriage—before swerving off into unchartered territory. There's Eastin's political career as a city councilor, state assembly member, and the first and only woman to be elected state superintendent of public instruction. Then there is this revelation: "My husband and I desperately wanted children and we tried for years but we were never blessed. When I was elected superintendent, he said, 'Well, now you have 6.1 million children,' and so I did." When is the last time a candidate made such a deeply personal revelation in a political ad? Here, we see a photo of the candidate and a group of school children gathered around a sign that reads "Delaine Eastin Elementary School." Dedicated in 2001, the School, where the Eastins bought their first home in Union City, is perhaps her greatest point of pride. "I am running for governor because this country runs on other people's children" Eastin concludes, "and someone needs to put them first again."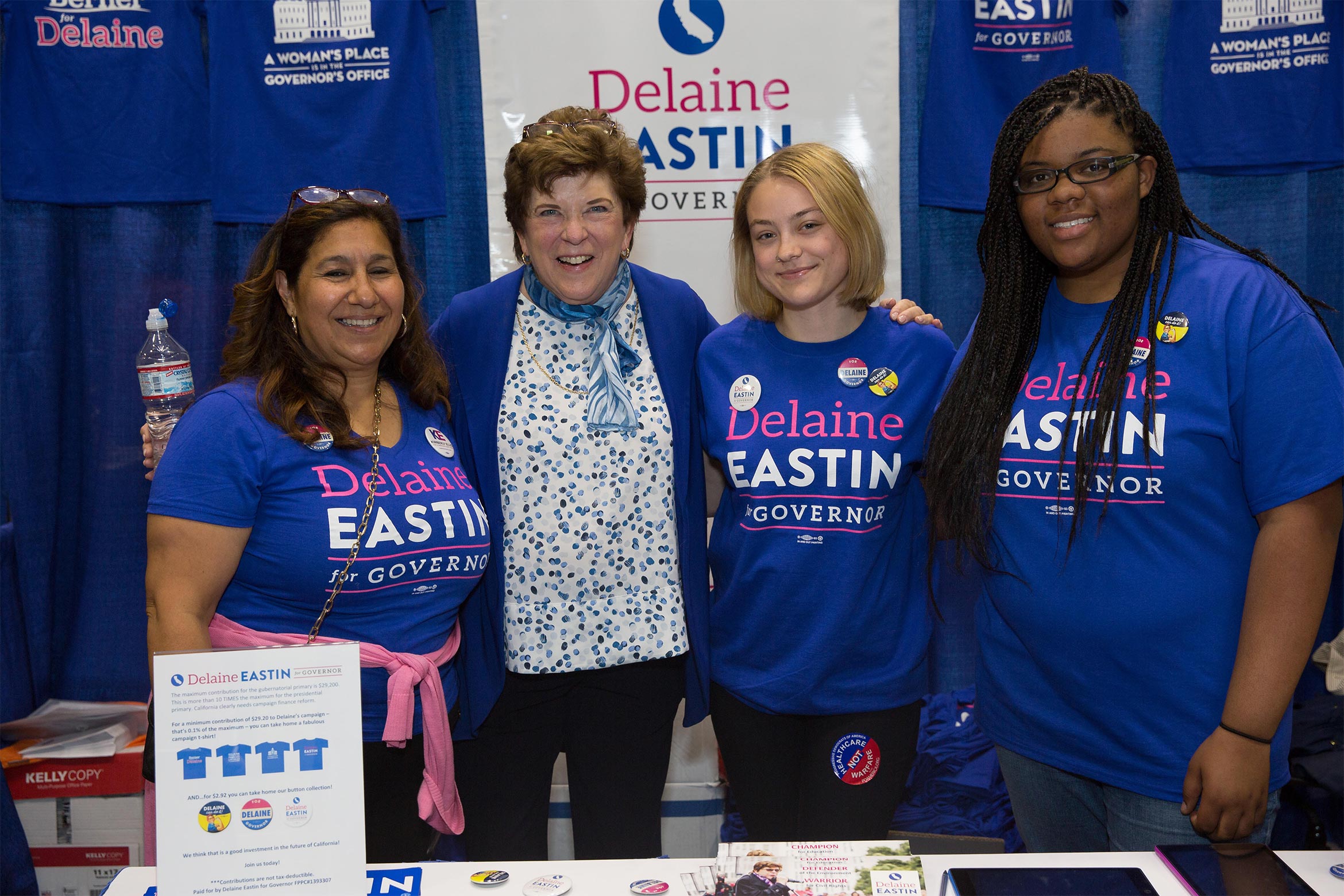 "New York now spends almost twice as much as California spends and if budgets are statements of values, to have the most Cadillac prison system in the nation and jalopy schools is not acceptable."
It may seem surprising that a candidate who is not a parent would make education her signature issue, but as Eastin explains it, "I had a wonderful life because I had a wonderful education." As an undergraduate at UC Davis, she overcame shyness and "found my voice." At UC Santa Barbara, where she earned an M.A. in political science and received "probably the best grades I ever got" while working three jobs, Eastin remembers "really wonderful professors" like Alan P. L. Liu who she calls a "rock star." Now professor emeritus of political science, Liu recalls, "I was so impressed by her that I told her that I fully expected to one day see her name in the paper as someone of high achievement. How true that turned out to be!"
When she received the University's Distinguished Alumni Award in 1997, Eastin wrote an essay in the pages of this magazine that asked this question: "Why can't we demonstrate to the taxpayers of California the high return they get on their investment in university students—so that we can fully fund UC on a broader base, as we once did, and could do again?"
It's a question she returned to in broader terms throughout this race. Referring to the ten campuses of UC, Eastin recalls, "When I left to go to Davis in 1965, 9 of them were built and open. Since 1965, we built one UC. Since '85, we built three CSUs out of 23 and nine of the 114 community colleges. That's disgraceful." Eastin believes the state has failed to invest in education all around. "New York," she notes, "now spends almost twice as much as California spends and if budgets are statements of values, to have the most Cadillac prison system in the nation and jalopy schools is not acceptable."
To call Delaine Eastin a "one-issue candidate" would downplay her history of activism on a range of issues from transportation to immigration to the environment.  Yet Eastin, who would go on to serve for four terms between 1986 and 1992, acknowledges that "Education has always been my centerpiece." In the governor's race, she says, "My goal was always to force the other candidates to talk about education."
There's little doubt that Eastin has put education first in this race. Just how effective that strategy has been is debatable. "Delaine had virtually no impact on the race," says John Wildermuth, political reporter for the San Francisco Chronicle. Wildermuth attributes her showing to being "dramatically outspent" and "politically invisible" since she completed her final term as superintendent of public instruction in 2002.
"If Delaine Eastin could have gotten in front of enough people, she could have taken the whole thing."
"Eastin entered the race saying she wanted California's 2018 campaign for governor to focus on education and she continually hammered on the state's low per pupil funding and high tuition costs at public colleges and universities," says Phil Willon, who covers the governor's race for The Los Angeles Times. "Her devotion to those issues, as well as early childhood education, I believe shifted the conversation during some of the biggest and most consequential candidate debates and forums…Eastin came across as the most down-to-earth, authentic person on the stage."
Now that she is no longer in the race, Eastin must find the most effective way to maintain an impact on the issues she cares about, particularly education. At 70, she is probably at the end of her political career but Eastin, who has taught women's studies and political science at community colleges, has inspired a new generation of progressive female candidates. Tracie Stafford first heard her speak in 2016 and "was absolutely blown away with her authenticity and her knowledge…hearing Delaine, I thought, 'That's who I want to be. That's how I want to enter politics." This fall, Stafford is running for Mayor of Elk Grove with Eastin's support. "She was the first person to take a chance on me," Stafford says.
Thinking back on the gubernatorial primary, Stafford believes "If Delaine Eastin could have gotten in front of enough people, she could have taken the whole thing."
For her part, Eastin sounds convincingly positive about the experience. "I'm not sorry I did it because I did change the conversation. I am proud to say that a lot of people of all ages, especially a lot of young people, said I was inspiration to them and that they were going to stay engaged politically. I think that's a victory."