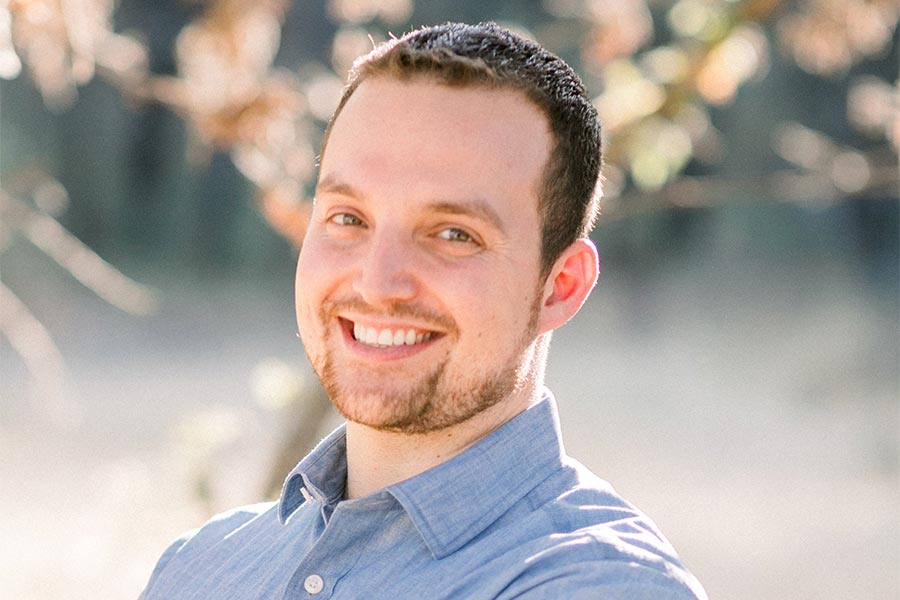 This July Michael Citron '10 begins his two-year presidential term for the UCSB Alumni Board. Read about his work with the UCSB Alumni Association Board of Directors and what inspires him to volunteer.
Michael Citron '10 has been surrounded by the Gaucho spirit since graduation day. He ended his time on campus with degrees in Political Science and Business Economics, and has consistently used the leadership experience that he gained while at UCSB to give back to the alumni community. While living in San Francisco and Los Angeles, Citron helped launch Olé San Francisco (now known as Olé in the Bay) and Olé Los Angeles, UCSB's first regional young alumni groups. These groups aim to help graduates connect and network with fellow Gauchos, introduce them to job opportunities and offer activities meant to continue the alumni connection to UCSB.
The last time we talked to Citron, he explained the Board's plans to build the future of alumni engagement and shared details of his own UCSB story. This past month, Citron was elected President of the UCSB Alumni Board of Directors after two years serving as the organization's Vice President. His mission now is to lead the Board as it pursues its long-term goal of having our alumni network and culture be a core reason why people choose to come to UCSB. Achieving this goal will involve engaging alumni who are eager to connect with the University, as well as engaging students who would love to connect with alumni...ultimately creating a robust culture of "Gauchos helping Gauchos."
How did you find out about the UCSB Alumni Board of Directors? What sparked your interest to join the Alumni Board?
Having moved in the last 10 years from Washington DC to San Francisco and now Los Angeles, my connections with other Gauchos have always been a foundation of my social life and professional network. So, I was fortunate to connect with the Alumni Affairs department and engage in alumni activities soon after graduating UCSB. From 2012-2018, I worked with a remarkable group of young alumni volunteers (with amazing support from the Alumni Affairs staff) to launch Olé SF and Olé LA - organizations that have now engaged thousands of UCSB young alumni through social, professional, and community service-oriented events.
Through these involvements, I had the opportunity to meet Alumni Board members and I became passionate about the Board's mission of engaging alumni in mutually beneficial lifelong relationships for the purpose of promoting philanthropy, mobilizing for advocacy and providing opportunities for service to UC Santa Barbara.
I also quickly realized that our Alumni Board members are some of the most knowledgeable, talented, and kind people I had ever met. When I was nominated to the Board, it was an easy decision to join: who wouldn't want to work on issues they care about for a University they love with a team of passionate and intelligent leaders they admire?!
Tell us about your alumni journey since graduating UCSB in 2010.
My "alumni journey" really started as a student, when I explored leadership opportunities as a tour guide, Gaucho Tour Association President, Orientation staffer and coordinator, and member of political advocacy organizations. I met countless other UCSB student leaders, so many of whom are still close friends to this day.
Two days after graduating, I traded flip flops for suits and ties and moved to Washington DC to work for AIPAC, a bipartisan lobbying organization. Luckily, I ended up living with two of my aforementioned student leader friends: Ian Blue '10 and Charlie Arreola '10. Our apartment was a UCSB oasis on the East Coast. During the 13 months we lived together, we almost always hosted Gauchos who were in town and needed a place to stay. We realized how important the UCSB alumni connection was and sought to meet other Gauchos in DC. So, in the Spring of 2012, we and some other young alumni planned a UCSB happy hour. We were thrilled that 70 Gauchos attended; and considering this was across the country, the enthusiasm was incredible!
I later moved to San Francisco and then Los Angeles, where I got my MBA at UCLA Anderson. In my professional life, I help companies attract, retain, and motivate the type of talent they need as a human capital consultant for Mercer. Last year, I married my wife Carly (Rosenblit '12) Citron - also a Gaucho. We didn't know each other as students, but our mutual connection to campus was a foundation of our relationship. We both have sisters who are UCSB alumnae, Talia Citron '16 and Sara Rosenblit '08...and we even got engaged at Campus Point! Clearly, UCSB has been an essential part of my identity and it was my absolute honor to join the Alumni Board of Directors in 2018.
What are your plans as President?
I think it is an incredibly exciting time for UCSB alumni. Our Board has just completed an extensive strategic planning process and we have a very strong relationship with the University and our amazing Alumni Affairs staff. Over the course of the next 10 years, our goal is to have alumni to be a core reason why people chose UCSB. We are lucky to have a strong and passionate alumni base, but currently, we don't have the same reputation as some other universities when it comes to the power of our alumni network. I believe that in the next 10 years, we can boost this tremendously and become a leader in alumni engagement.
To achieve this, the Board and Alumni Affairs staff will be working on spreading awareness among students and alumni and building relationships with our campus partners to encourage cohesion in our engagement efforts. We have a great technological platform in Gaucho Network and will look to leverage it to facilitate career connections. We will continue to find exciting ways to connect alumni to opportunities for philanthropy, advocacy, and service to further build UCSB. And we will do so while fostering a culture of inclusion to ensure that Gauchos of all identities and affinities feel that they are truly welcome in our alumni network.
I believe we have the right Board, the right Alumni Affairs staff, and the right momentum in place to move the needle and ultimately have alumni be a reason students chose to come to UCSB. I'm truly excited for what's to come!
Who helped you prepare for your role as President of the Alumni Board?
I have so many mentors on the Board that I am fortunate to call my colleagues. Our Vice President, Diane (Streeter '66) Doodha, has been a particularly influential mentor to me, sharing her insights and experience to help me and other Board members become even stronger leaders. Gene Lucas '73, our Secretary/Treasurer is also amazing and brings a wealth of experience and campus connections from his time as UCSB's Executive Vice Chancellor. We - along with all of our other Board members - are truly a team. No one of us could do this work on our own! Every Board member has so much to offer and brings their own experiences and wisdom to our efforts. That is one of the coolest things that comes with being on the Board: getting to learn from folks from so many different walks of life.
And I'd be remiss if I didn't mention and give a great deal of credit to the Alumni Affairs staff - led by Samantha Putnam - for their guidance, mentorship, and leadership in what they do. Day in and day out they do the important work of alumni engagement and we are so glad to partner with them.