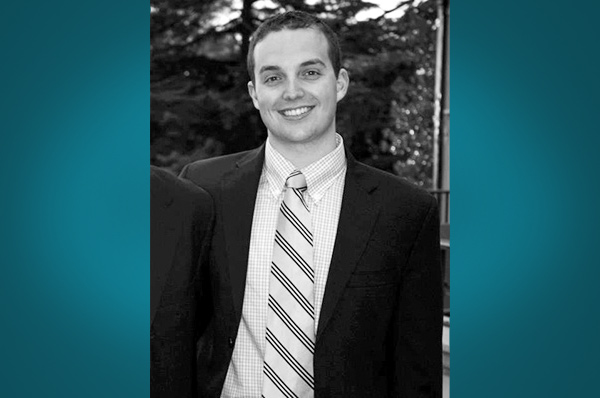 College friendships were the foundation of UC Santa Barbara's three largest young alumni groups. 
Michael Citron, Ian Blue and Charlie Arreola – all 2010 graduates – served as student leaders during their time at UC Santa Barbara. They met and bonded during their senior year and ended up sharing an apartment in Washington, D.C. after graduation.
While living in DC, the trio planned a happy hour event for recent UCSB graduates and young professionals. As Citron, Blue, and Arreola each moved back to their respective cities, these gatherings grew into the Olé SF, Olé LA and Olé SAC young alumni groups that provide community support and networking opportunities for hundreds of Gauchos in California. Citron now serves as president of Olé LA, while Blue leads the original Olé SF chapter.
A double major in political science and business economics, Citron's early dedication to politics at UC Santa Barbara drew him to work for The American Israel Public Affairs Committee (AIPAC) as the Senior National Field Organizer and later the San Francisco Associate Area Director. Staying true to his double major, he is now pursuing his MBA at the UCLA Anderson School of Management and is planning for a career in human capital consulting.
In this Alumni Q&A, Citron talks about what inspired him to found the Olé young alumni network, his ambitions for the future of Olé LA and what he hopes to accomplish in his chosen career.
What drew you to study at UCSB?
To be honest, I grew up a huge Cal (UC Berkeley) fan...I still watch every football game.
I wanted to go to Cal since my parents, grandpa, great grandpa, and other relatives all went there and I was such a die-hard football fan. UCSB wasn't even high on my radar. When I didn't get into Cal, I started doing more research and recognized that UCSB was the perfect balance between strong academics and an active extracurricular lifestyle. The students were smart, high-achieving, and fun...and were exactly the type of people I wanted to be around.
UCSB was such a natural choice with that in mind -- and I felt like not getting into Cal was truly a blessing in disguise. Even though we didn't have a football team, we won the national championship in fútbol my freshman year! :-)
What was your student experience like?
My experience on campus was rewarding, enriching, and fulfilling.
I double majored in political science and business economics - so I was always studying hard. But I also found time to work as a tour guide and an orientation staffer. I got involved with student groups and built a fantastic social life -- certainly the best four years of my life!
How did you meet your fellow Olé Young Alumni group leaders at UCSB?
Charlie Arreola `10, Ian Blue `10, and I were all student leaders in respective organizations while at UCSB. Charlie was AS President, Ian was a leader in College Democrats, and I led the Gaucho Tour Association and American Students for Israel. 
Through our campus leadership positions and interest in politics, we became close friends during our senior year. We all ended up getting jobs in Washington, DC after graduating in 2010 and moved into a three-bedroom apartment in DC together!
Fortunately, after a few years, we all made it back to the greatest state in the country. Charlie now leads Olé SAC, Ian is the president of Olé SF, and I am the president of Olé LA.
What inspired you to create the Young Alumni networks?
While living on the East Coast -- thousands of miles away from Santa Barbara -- Ian, Charlie, and I gravitated towards other Gauchos and soon realized that there were many young UCSB alumni in DC. We worked with a few other Gauchos to plan a happy hour in 2012 -- and over 70 young alumni attended!
Soon after, I moved to San Francisco and wanted to strengthen my social and professional network by connecting and reconnecting with fellow UCSB young alumni. While many splinter groups arose over time, there was no "central address" for UCSB young alumni activity in San Francisco, nor were there groups that focused on giving back to the school. As a fundraiser in the non profit world, I understood the importance of giving back and was appalled and embarrassed to hear that only 6 percent of alumni had ever donated to UCSB. I wanted to help increase those numbers as well.
After connecting with Rocio Torres `05, John Lofthus `00, and George Thurlow `73 at the UCSB Alumni Association, I recruited a committee of leaders and we established Olé SF. At our first event, we had nearly 400 young alumni in attendance and ended up raising tens of thousands of dollars for the university over our first year - all of course while having a great time and connecting with other Gauchos.
Last year I moved to LA to start business school and worked with Rocio and other local alumni to create Olé LA, which I lead today.
What are some of the challenges for you as an alumni leader to establish your group in Los Angeles?
As a Northern California boy, I am still learning the ins and outs of LA - and man, is it a different beast! The biggest challenge we face is how spread out the city is. Although there are thousands of young alumni in the LA area, the city's geography makes it difficult to plan events that can attract hundreds of attendees. People downtown don't want to go to the west side for events and vice versa.
In addition, building any organization from scratch is tough. Recruiting committee members and inspiring others with a vision is challenging, but my previous experience in doing so with Olé SF has made this go-around a bit easier.
If there's one word to describe LA Gauchos, it's "diverse." Not only diverse in race, background, and beliefs; but also diverse in their careers and desire for different types of alumni activities. Building an organization that caters to as many young alumni as possible is a challenge, but certainly rewarding.
Why is it important for Gauchos to maintain close ties - especially among young professionals?
I truly believe that UCSB alumni -- more so than alumni from other schools -- have an unspoken connection and unique desire to spend time with each other. For example, in my current summer internship, the first people I befriended in the office were other Gauchos. I am so proud that the Olé groups have helped foster these connections amongst young alumni.
More importantly, however, I'm proud that through our groups, young alumni are remaining connected to the university and are starting to give back. We all want UCSB to continue to rise in the rankings and provide future students with the same amazing opportunities that we had. By establishing a culture of giving through the Olé groups, we can make that vision a reality.
What were your ambitions during college? What are you doing now to build on your career goals?
While at UCSB, I worked three jobs in the student affairs department: admissions counselor intern, ambassador tour guide, and orientation programs coordinator. I initially thought that after school, I would want to join the Admissions team and travel the state, encouraging high school students to pursue a college education at UCSB.
During college I double majored in political science and business economics and was also involved with The American Israel Public Affairs Committee (AIPAC), a lobbying organization that works to strengthen the U.S.-Israel relationship. I ended up following my passion and accepting a position as an AIPAC National Field Organizer based in DC, where I traveled the country mobilizing college students to get involved with pro-Israel politics.
After two years in DC, I wanted to get more sales experience, so I moved to AIPAC's San Francisco office where I built relationships with community members, raised money for the organization, and trained lay leaders in effective political advocacy techniques. I loved my job, but after three years of development work, I decided to pursue my MBA at UCLA Anderson.
I am now a summer intern at Mercer - a human capital consulting firm - and look forward to pursuing a career helping clients improve their people strategies...perhaps with a return to the political sphere one day. :-)
What inspires you?
On a professional level, I am passionate about the people side of business. I have countless friends and business school colleagues who have felt unmotivated and discouraged by antiquated human capital policies their organizations maintained. I want to help companies succeed and employees to thrive by working to improve these human capital issues.
When it comes to my involvement with Olé LA, I am motivated by the opportunity to make a difference on the future of UCSB. By doing a small part to help engage alumni and help build the university, I hope to inspire others to do the same so we can be proud Gauchos for years and years to come. On a personal note, my sister Talia just graduated from UCSB and moved to LA, so I'm I am also motivated by the fact that she is here!
What's next for Ole LA?
We're still getting Olé LA off the ground and building our brand. Looking forward to hosting a happy hour on August 23rd, attending the Incoming Student Welcome Receptions, and planning a Welcome to the City event for recent grads.
Further down the road, I'd like for thousands of young alumni to look forward to frequent, diverse Olé LA events where they can connect with other Gauchos and help build the future of the university.