High Velocity
Shane Bieber's Speedy Ascent Began at Uyesaka Stadium
When Shane Bieber was throwing hard fastballs for his Laguna Hills High School baseball team, the scouts in the crowd were pointing radar guns at the baseball coming out of his hand like cops on a speed trap.
They weren't that impressed. His velocity was in the low to mid80s, nice for a kid, but not fast enough for college or the pros. His lanky 6'2" frame was not nearly filled out at 175 pounds.
But he had two things going for him: He wanted to go to UC Santa Barbara no matter whether he played baseball or not, and there were Gaucho coaches in the stands who saw something in him.
Today, Shane Bieber is one of the brightest young stars of professional baseball. He has won some of the most coveted awards in baseball: an All Star MVP, the Triple Crown of pitching, and in late November, the highest honor a professional pitcher can receive, the American League Cy Young Award.
His fastball is now clocked at well into the 90s. He has a nasty curveball that batters swing and miss at 60 percent of the time. He has filled out to a muscled 200 pound frame and a confidence rarely seen in a 25-year-old starting pitcher who only spent two years in the minor leagues.
He credits UC Santa Barbara and his family for the humble, hard working star he has become. But the kid with a famous last name (he's no relation to the other Bieber) has accomplished it with a determination nobody quite expected.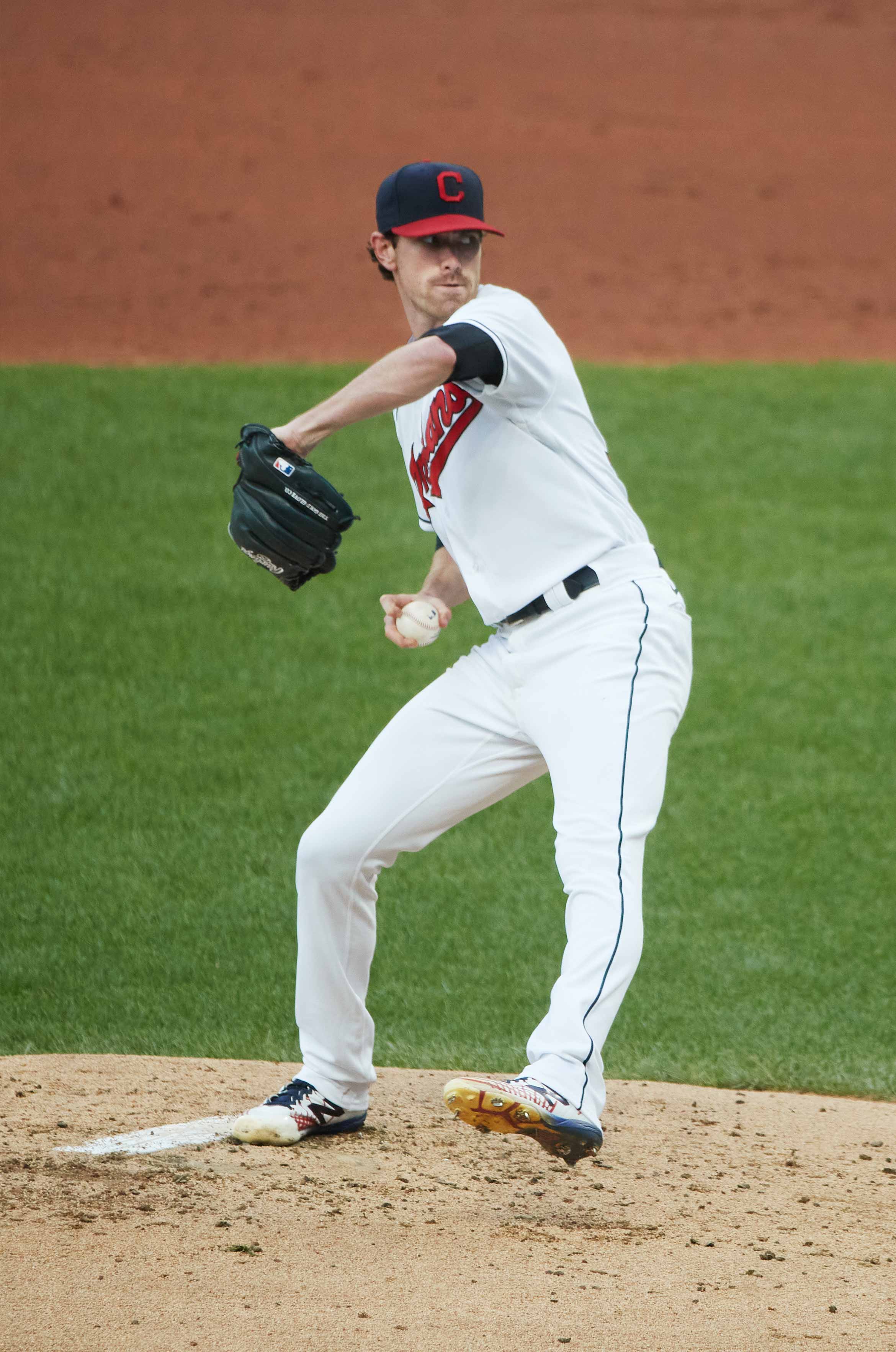 Velocity, Velocity, Velocity
In major league baseball, one measure of a pitcher's success is how fast the ball leaves a pitcher's hand and crosses the plate. It has become common now for relief pitchers to routinely throw the ball at 100 miles per hour. It is just as common for starting pitchers to throw the ball in the high 90s.
When college recruiters were watching Bieber in high school he was throwing in the low to mid 80s. But UC Santa Barbara scouts and coaches saw something in his pitching. He struck out six batters for every one he walked. He was tight when it came to giving up hits and runs with a 2.06 ERA. In his senior year he verbally committed to UCSB as a recruited walk-on opportunity with the promise of a scholarship his second year if he performed well.
In local and national newspapers, as well as some of the top online sports news sites, Bieber is described as a "walk on," that athlete who asks for a chance to prove himself on the field even though he received no scholarship offer to play.
UCSB Coach Andrew Checketts wants to clarify that particular urban legend because it overlooks the appeal of getting an education at UCSB and it discounts the role coaches played in getting him to Caesar Uyesaka Stadium.
"When Shane threw a baseball in high school the guys in the stands with the radar guns read low to mid 80s," Checketts recalled. "That's ok in high school, but not in college. " "So while Shane was being lightly tracked by college coaches, his future in college baseball was a bit uncertain due to the lack of velocity," Checketts said. "But the one thing Shane did know then was that he wanted to go to school at UCSB, even if it was as a non-scholarship recruit."
Former UCSB assistant coach Jason Hawkins, who is now the head baseball coach at San Jose State, told Checketts, "We've got to get this kid. He knew the velocity was not there but we all felt he was somebody we wanted."
So Checketts told Bieber to come out his freshman year and if he performed well, there would be a scholarship his second year. "We had already committed all our scholarships but knew we would have one for him his second year." The unofficial college term is "a preferred walk-on."
The Rest is Legend.
In his first year at UCSB he quickly became the No. 3 starter. By his junior year he was the ace of the staff and carried UCSB to its first College World Series. He opened the regional playoffs by defeating Washington, beating a Louisville team that had only lost one home game that season, and holding Oklahoma State to one run in an opening game loss at the College World Series. UCSB beat Miami but was eliminated from the tournament after a second loss against Arizona.
In the baseball draft held during the Super Regionals, the day before Shane pitched against Louisville, the Cleveland Indians picked Bieber in the fourth round. He left UCSB before completing his senior year and played just two years in minor league baseball starting with the Mahoning Valley Scrappers, posting an incredible 0.38 ERA in 24 innings. The next year he played for three other minor league teams.
He was called up to the majors on May 31, 2018, his 23rd birthday. That night he was the starting pitcher against the Minnesota Twins.
His rookie season he posted a 11-5 record and a 4.55 ERA. All the time, the velocity on his fastball was increasing and by the time he was pitching for the Indians it was gunned at 95 miles per hour.
 
But it was his second season with the Indians that was his breakout. After an exceptional first half of the year he was named to the All Star team. Bieber struck out the side in the fifth inning of a game the AL won. He was named the All Star MVP at the age of 24.
But in this Covid-shortened season with the Indians, Bieber took it to the rarified superstar level. He was the opening day pitcher for Cleveland and promptly set a team record by striking out 14 batters on opening day. In his next outing he tied a major league record of most strikeouts in a pitchers first two outings by striking out 13 Minnesota Twins.
By the end of the year he had achieved the triple crown of pitching, leading the majors in Earned Run Average (ERA), strikeouts and wins. He set yet another record by posting the most strikeouts in his first two starts since legendary pitcher Karl Spooner.
But the real crown was the Cy Young award, named for one of the greatest pitchers in baseball history. Bieber received a unanimous vote from the awards committee, becoming the first to receive all first place votes since 2011.
Not that it is all confetti and crowns. Cleveland made it into the American League wildcard playoffs and the Indians threw their ace at the New York Yankees. As Bieber would later explain, it was not his best outing. He gave up 7 runs in just under five innings and took the loss in a series that the Yankees would ultimately win. 

Gaucho Forever
In his first off seasons from major league baseball Bieber called Santa Barbara home.
In a phone interview in mid-November Bieber explained that he had just bought a house in Arizona near the Indians spring training facilities. Leaving Santa Barbara was bittersweet but it is part of his progression to year-round intensive training to take his pitching to the next level.
As for UCSB's impact on him, he responded, "There's too much to answer. I only spent three years there but it was an extremely special three years. I learned a lot about being a good human being. I owe that place a lot, UCSB, the campus, Isla Vista, Santa Barbara."
He admits he was a "late bloomer" in high school pitching. He credits Checketts and the other coaches at UCSB for having faith in his abilities "and that maybe that velocity would come." He added, "He had a lot to do with my development as a pitcher."
In a nationally televised appearance after receiving the Cy Young award Bieber joined his family and his significant other, Kara Kavajacz (also a Gaucho who met Bieber in Isla Vista in his first pro offseason.)
Bieber credits his family for putting him where he is today. Because he did not get a scholarship his first year, his parents had to scramble, including refinancing their house. As for Kavajacz, he calls her his rock through all his fame, and his falls. "She has the brains and the degree," he says with a chuckle.
After his first year in the pros Bieber did come back to UCSB to take classes. Now his off season is filled with workouts, weights and "arm care," as he puts it.
He remains, according to those who are close to him, ever humble and downright easygoing. It is a baseball norm that even spectacular players in their first major league years earn the minimum salary: around $560,000. That makes Bieber among the lowest paid players on the Indians roster, while Carlos Carrasco, one of the Indians starting pitchers, made $12 million and had a 3-4 season.
Baseball observers say Bieber, who is several years away from being eligible for arbitration and even further from free agency, could probably earn a long term contract worth over $200 million if he were on the free agent market this year. At minimum, some predict the Indians will try to avoid arbitration and give him a big contract before next season, something in the $15 million range.
Bieber is not paying much attention. "It doesn't really matter," he explained. "At the end of the day my job is to go out and put numbers up. I'm going to enjoy this while it lasts."
It is Checketts who seems to have the best view of this phenomenal trajectory for such a young man.

"He represents a lot of what is good about UCSB," he explained. "He is a hard worker. He is self made and loyal. He's a good human being and easy to root for."