The Lorin '68 & Karen Letendre Art Scholarship
The Lorin '68 and Karen Letendre Art Scholarship, aims to award one undergraduate and one graduate student per year for their exceptional artistic talent. Lorin and Karen are longtime patrons and lovers of the arts and have generously supported artists at UC Santa Barbara for years. The scholarship search is conducted yearly during the Fall quarter at UCSB. Submissions for the 2020 scholarship are closed, but look out for opportunities in 2021.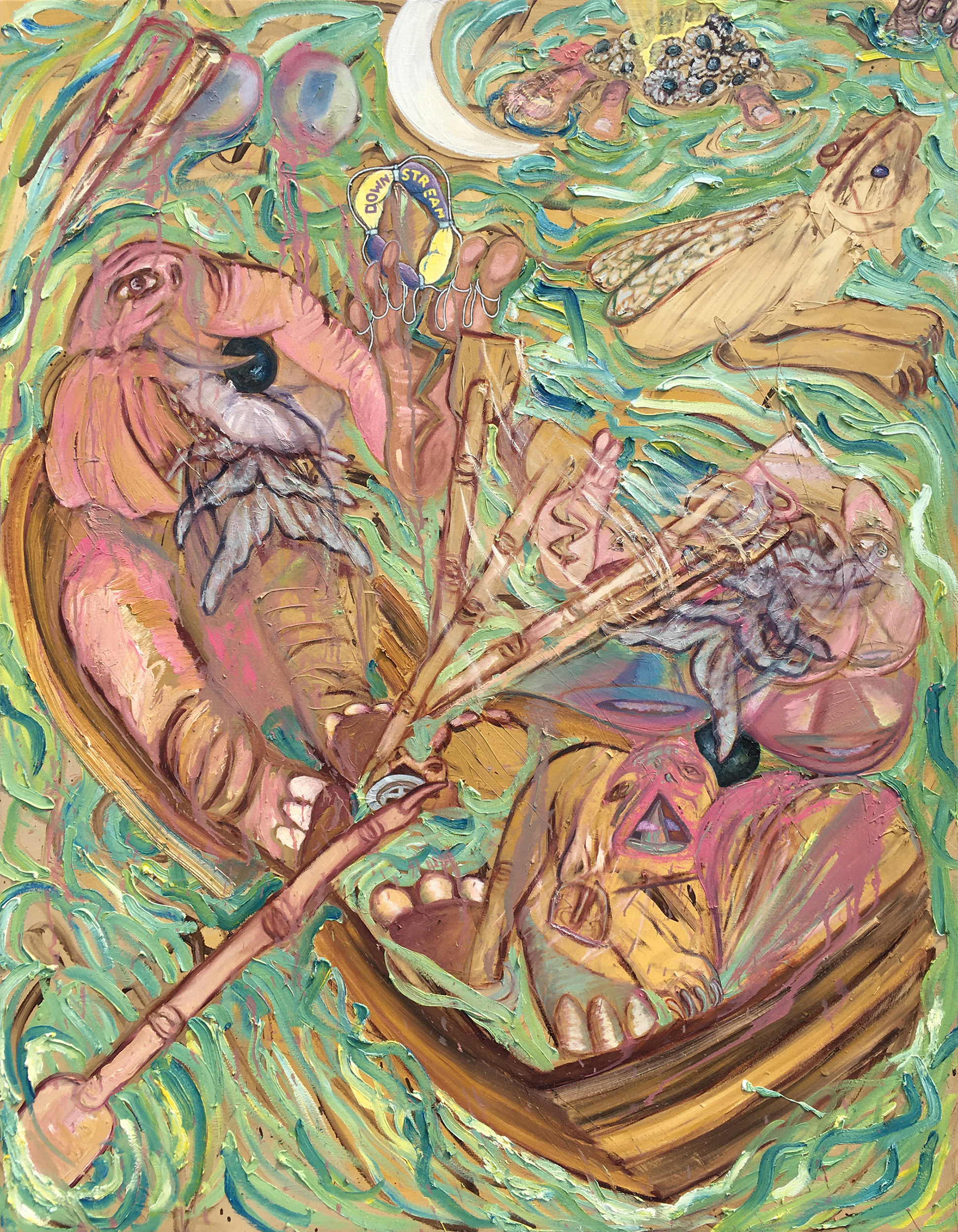 Tom Dunn '21
Floating Downstream: Drain Circle
MFA Graduate Student
I predominantly make expressionistic, semiabstract, figurative paintings.  My paintings are improvised;
the imagery derives from the subconscious.  The works begin by pushing and pulling paint around the
canvas until figures and ideas emerge.  As the painting progresses, these forms develop characteristics
and evolve with the environments from which they spawn.  The early stages of my painting are like a
primordial soup; a petri dish for things to ferment, mutate and proliferate.  The figures frequently have
carnivalesque attributes such as hybridity, metamorphosis and the grotesque.  The ongoing series
Floating Downstream, borrows its name from John Lennon lyrics describing the beginning of an acid
trip.
Turn off your mind, relax and float downstream. 
It is not dying, it is not dying.
Lay down all thoughts, surrender to the void,
It is shining, it is shining.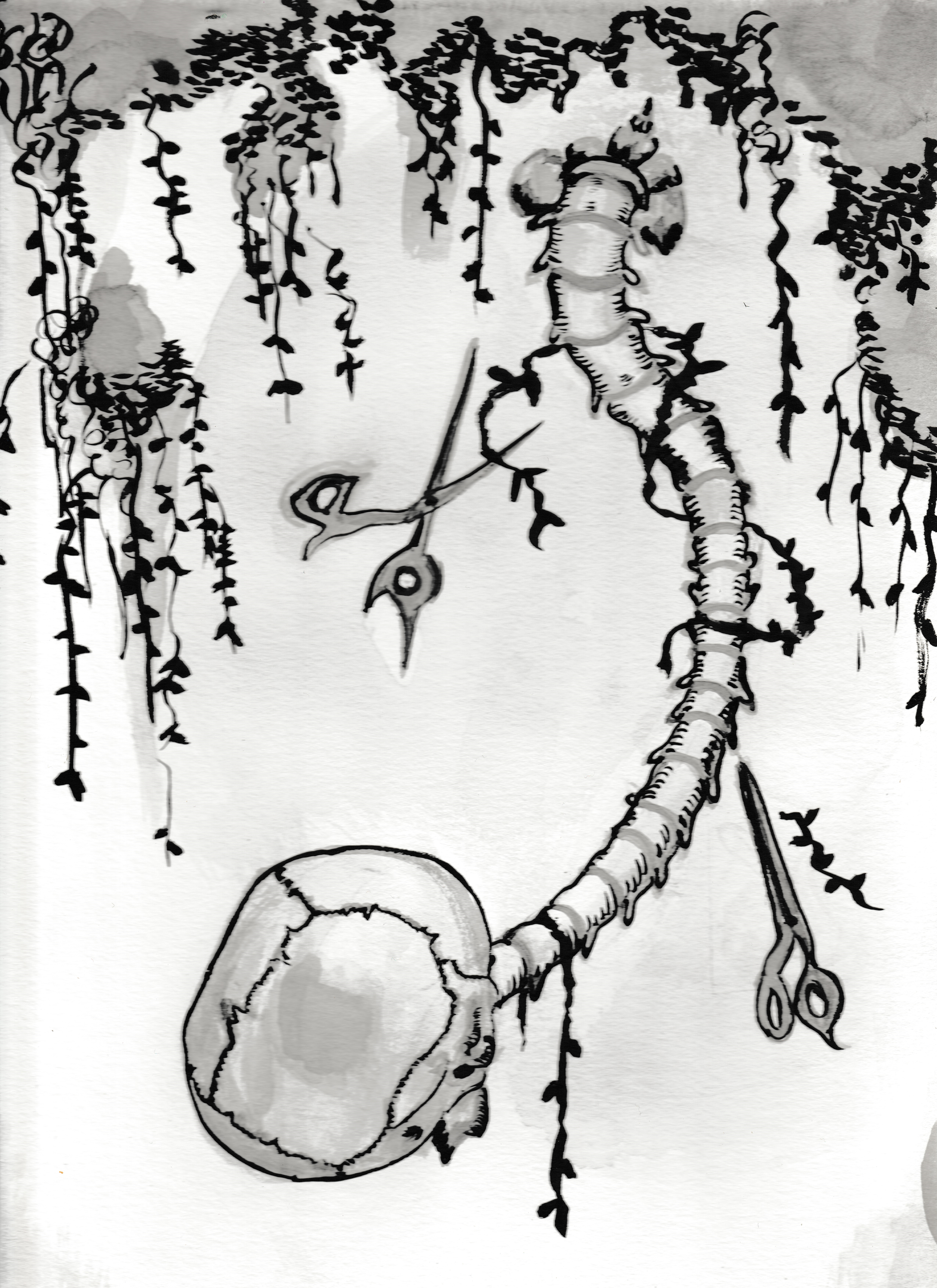 Rodrigo Calderon '22
Sever the Wicked
Undergraduate Film and Media Studies Student
I am interested in pursuing a career in independent experimental and narrative animation. This piece is entitled "Sever the Wicked" and it is inspired by Matthew 13:49 in the King James Bible. While not all my art is religious in nature, I have recently taken an interest in what my family's religion means to me and how I may express that meaning through art. The piece also functions as an exercise in ink wash technique and anatomy. I have begun trying my hand at various methods of inking and ink wash is by far the most satisfying. I deeply enjoy the process of layering and diluting ink in order to achieve certain effects.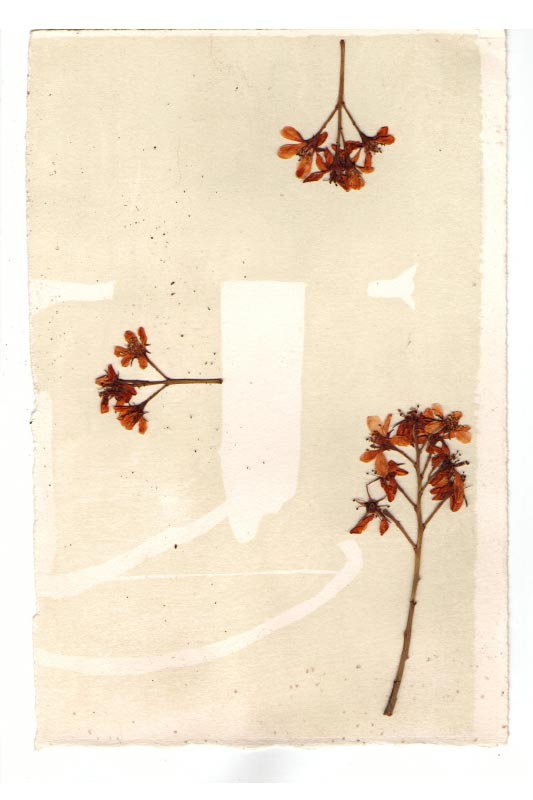 Play-Ground Places
8" x 11"
Print-Making, Collage, and Pressed Flowers 
Kolaya J. Wilson '21
MFA Student
Department of Art
Pronouns: She/Her/Hers
"I believe that we are living in an unprecedented season of being alive. Our routines have become a blend of both self-isolation and specialized-enmeshment. My current work speaks to this state of fragility, impermanence, and temporality. Interdisciplinary materials become the means of discussing relationships to dynamics appearing in ever shifting and emotionally upsetting environments. Earthen matter has bloomed and thrived, despite our absence. We experience the rise of spring through two-dimensional screens. We must construct artwork of our individual realities to help others better process theirs. Whether through words, images, or music, artistic innovators possess powerful keys to helping others access the bridges necessary to overcome the stagnation imposed by creative blocks. The landscape of art becomes a means to richly embellish our current circumstances with hope and self-actualization."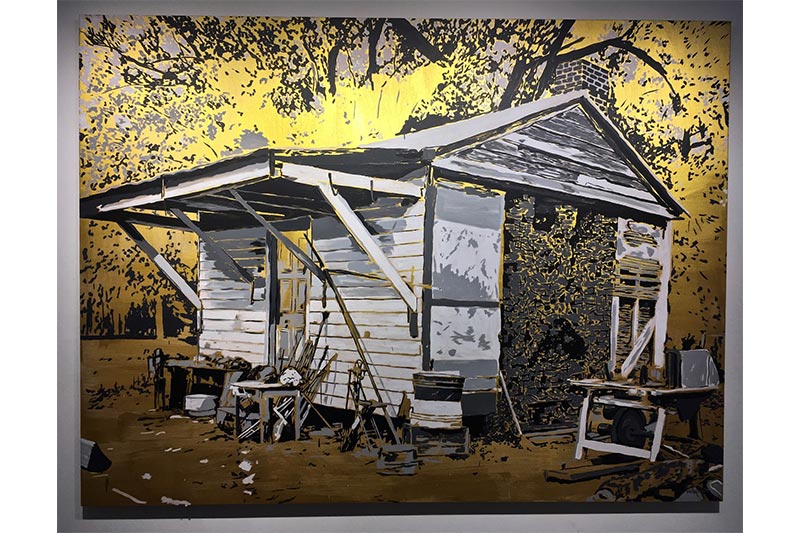 Marshall Sharpe '20
This Is Not A Toolshed; Slave Cabin on My 5th Great-Grandfather's Plantation
MFA Graduate Student

Painting is a silent language that allows the artist to speak about forbidden topics.  Because my family avoided dialogue about race, I began to process this silence through my artistic practice.  Beginning with my own life and moving backwards through time, my research traces my family's privilege to its true source—vast cotton plantations and over 120 slaves.  With each generation of ancestors, I create paintings
that turn a critical eye to the ways my family has informed and been shaped by race.  Using an archive of forgotten family photographs, the work unravels the process by which my family transformed from persecuted French Huguenots to some of the wealthiest enslavers in the American South.  By manipulating, painting over, and adding to the archive, I use my practice to ask my ancestors difficult questions.  Can I atone for the sins of the past?  Can a debt that was never acknowledged be repaid?  These are questions I never allowed myself to ask.  Consequently, the creation of this work slices through the tradition of silence in my family.  It represents a visual struggle to reconcile with my family's past.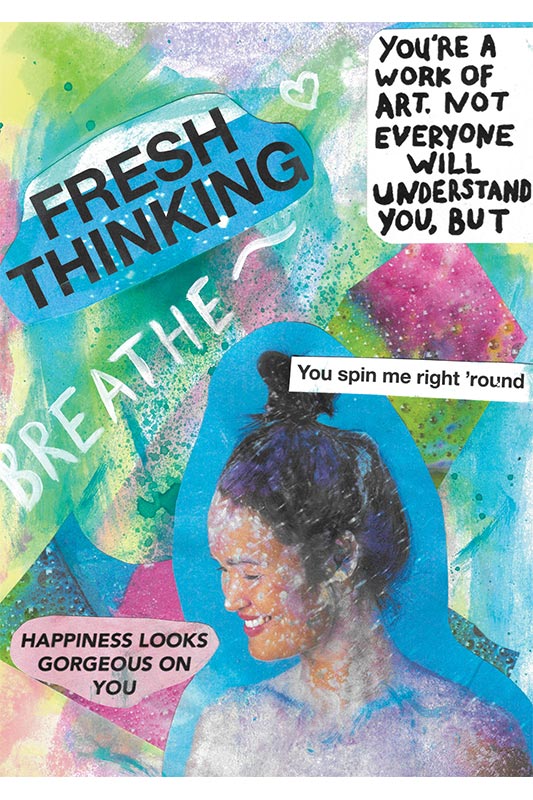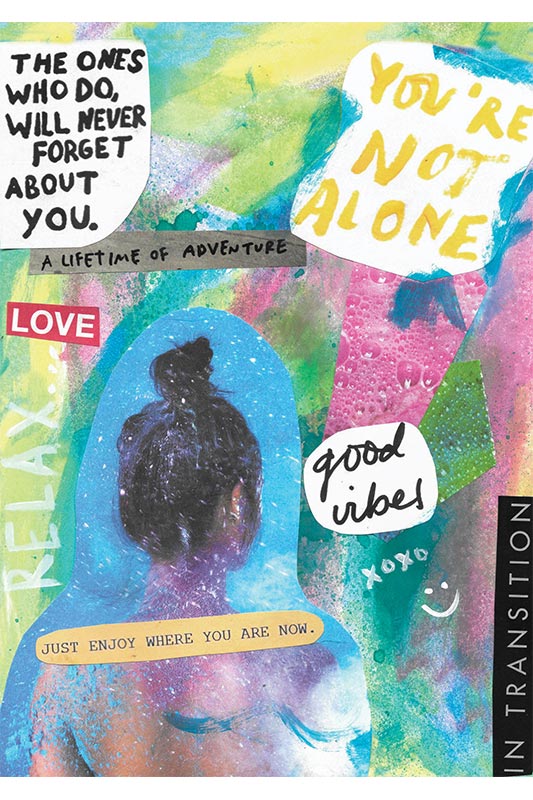 Alaska Yokota '20
Breathe of Fresh Air
Mixed Media Collage of Photos, Watercolor, Painting, Digital Illustration, and Adobe InDesign.
Created to encourage positive self-esteem, remind students they are not alone and that they are worth more than they think.
Undergraduate Psychology and Art Student
Alaska is a 5th year UCSB undergraduate studying psychology and art. Her passion for photography has grown immensely throughout her college career but only recently, she began using her work in other
mediums such as design, photoshop, and illustration. She was also the art director for WORD Magazine for the 2018 – 2019 school year. Yokota has been shooting professionally for over 7 years. She grew up in Orange County, CA, where she picked up a digital camera in middle school and began an interest in landscape photography.
At the start of high school, she was asked by many friends and family to shoot photos of them. From this point on, she realized her passion for photography gravitated towards portraits. She loves working with people and capturing their best sides. Yokota turned this hobby into a profession when Instagram began to grow and businesses required more product shots. To the present day, she continues to capture products, people, and events. Alaska hopes to become a traveling portrait photographer someday, with goals of capturing an "island lifestyle."
 
Alaska is also a house DJ, tattoo artist, dancer, singer, and fashion enthusiast. On top of her art practices, she is also the founder of an all-girl skate group in Santa Barbara known as Coast Carvers, as well as being a psychology researcher in the spatial thinking lab. She also served as the UCSB Cheerleading captain. Although she is a woman of many interests, she always finds the time to capture photos in every spare moment she has!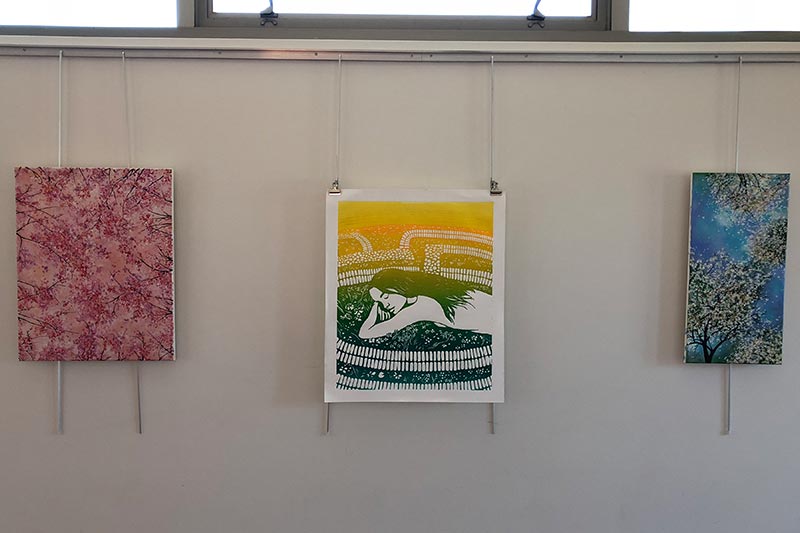 Sabrina Lim '19
Undergraduate Art Student 
My artwork is about creating ideal landscapes and portraying beauty in everyday life in a way that is surreal and dreamlike. My artwork is inspired by beauty found in nature, dreams, and everyday life. My work also revolves around the idealization of loneliness and getting lost. I find myself looking at nature quite a lot so I end up painting those subjects. I paint flowers, especially, because they can really be present anywhere: in gardens, markets, apartments, sidewalks, funerals, celebrations, etc. I enjoy experimenting with light, patterns, and reflections and using colors that are soft but also vibrant. I hope that when people see my artwork they feel serene and take notice of what is around them.
In contrast to my art upbringing, which heavily consisted of classes emphasized on technique and replicating, I tend to begin without always knowing what I will end up with. I take a spontaneous approach to my artwork, similarly to how I do with life. Many of my landscapes, or as I like to refer to as "dreamscapes", are made up of sporadic brushstrokes that are reminiscent of flower petals. I use a variety of mediums that include acrylic, ink, watercolor, and oil paint. I choose to use acrylic for landscapes because it dries fast and is more two dimensional and opaque than oil. My landscapes are not supposed to be extremely realistic, but more like dreamy sceneries or mazes of color. Acrylic allows me to work in multiple layers. For portraits I prefer to use oil paint because it blends easily and gives off a lustrous, lifelike quality to skin and hair.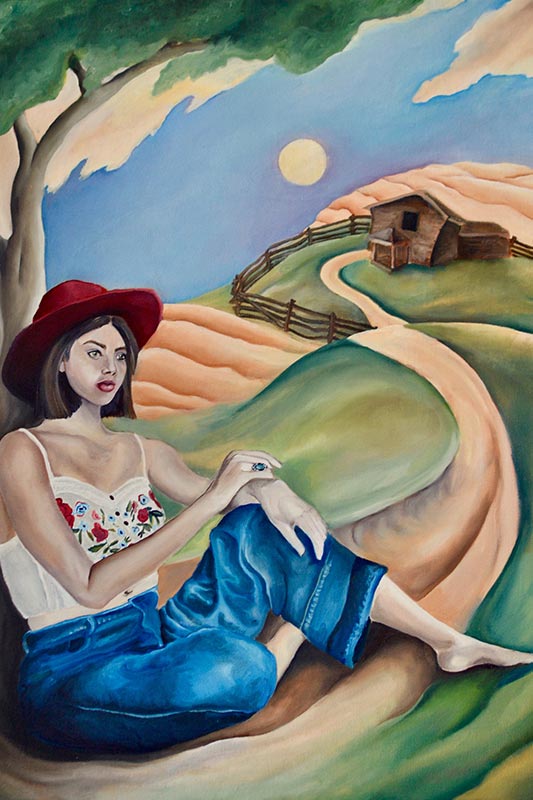 Francesca Towers '19
Undergraduate Art Student
Throughout my high-school years, my passion for art blossomed as I was learning about the place of art in the world and questioning how I might fit in it. Throughout my artistic career, I have often employed bold colors, expressive lines, and symbolic imagery. I use art as a means of exploring my personal struggles with health and family; I also use it to explore detail and appreciate life and beauty despite these struggles. As of lately, I have been interested in stepping away from realism and venturing into more playful whimsical, and sometimes surreal aesthetics. I have learned time and time again that I love a collaborative environment. In addition, my relationship with my art teachers have become some of my closest; having a friend, mentor, and artist by my side has helped me break out of comfort zones and push my art further. With this in mind, it is my ambition to someday return the gift to future generations.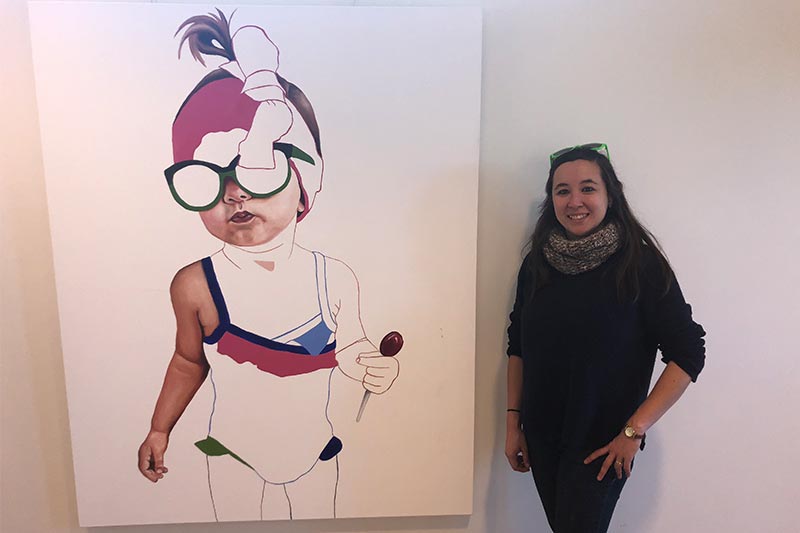 Jennifer Lugris '18
MFA Student 
Jennifer Lugris was born in North Bergen, New Jersey. She earned her MFA from the University of California, Santa Barbara in 2018. Her paintings have been exhibited and published internationally, and have won several awards. She currently lives in Sacramento, CA with her family, dogs, cats, and chickens.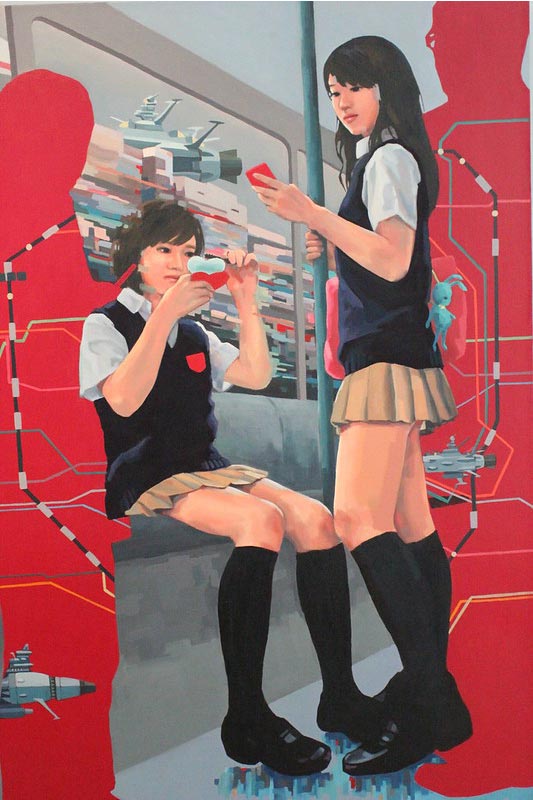 Yumiko Glover '17
Moe Elements of the Floating World IV
MFA Student
"My artwork draws inspiration from real-life, experiences ·that I witnessed while growing up in japan and through my observations of its culture after Iiving in the U.S. My work captures the Complicated issues of sexual politics that have been carried through several hundred years of partriarchal society into contemporary Japan,. as viewed through the aesthetic and social phenomenon of the Japanese term moe.
In the popular Japanese subculture surrounding anime, manga, video games, and idols,. the term moe, describes something precious such as idealized visions ,of youth and innocent femininity. Characters in these popular media that inspire feelings of affection are, referred to as moe. Moe is well known and often studied in Japan alongside theories of cuteness (kawaii) However, within American subcultures, drawn to Japanese  contemporary pop media, moe is viewed uncritically. Living away from my home country allowed me to be able to examine the phenomenon that reflects its sexual politics more objectively when it is linked with social norms including the strong effects of hyperreality.
Rather than introducing the strange or nuanced side of Japanese contemporary society, through this exploration of moe. I am hoping to reveal how the dehumanizing effects of mass media, advertising, and interpersonal communications in the internet age have the potential to affect both romantic and platonic relationships. At the same time, through the process of artmaking, I am reaching back to the memories of myself with all of the question I had growing up as a woman in Japan.