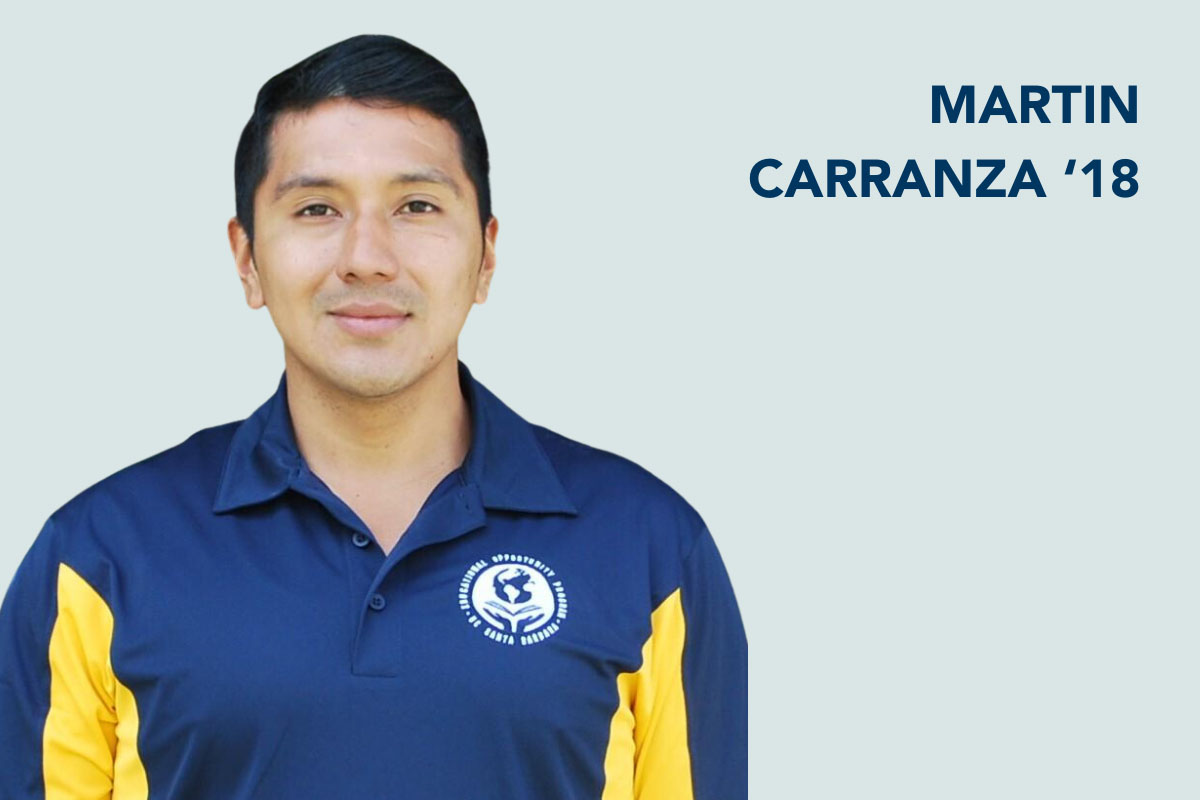 When Martin Carranza '18 enlisted in the Marines at 17 years old, he expected to retire in the military. After four years, however, Martin realized he wanted to continue his education and pivoted to take community college classes. Soon enough, the veteran found himself on the UCSB campus, joining campus organizations and frequenting the Veteran Resource Center. 
After graduating in 2018, Martin became a staff member at UCSB as a financial aid advisor. His most recent move was to the EOP department, where he now counsels students regarding their finances, resources, and academic progress.
 
Q: Tell me about your service experience in the Marines. How did your time in the Marines shape your young adult life?
In high school, I got lost in what I wanted to do. I graduated on time, but I realized that college wasn't affordable for my family, nor did I know anything about it. When I heard about the Marines, I was told that I could be placed in California within a year, which hooked me. I joined at 17 and did four years. I did one year in Afghanistan, which is what shaped my plan to get out of the military. Before that deployment, I had every intention of retiring from the military. But when I returned from Afghanistan, I realized that I wanted to continue my education. 
Q: Upon realizing that you wanted to continue your education, what motivated you to choose UCSB?
I started by taking classes at Cerritos Community College, where I had a bunch of great teachers. I had originally settled on transferring to CSU Long Beach, but one of my teachers prompted me to think about the UC schools. I figured that I might as well take a shot, so I applied! 
One aspect of UCSB that really stood out to me was the Veteran Resource Center. At orientation, I met so many welcoming people at the resource center and I left with all of the information I needed. That was when I knew I made the right choice.
Q: What was the biggest challenge and greatest reward of your studies as an English major?
My first two quarters at UCSB were challenging. I felt a culture shock from having grown up on the East Coast, and I was 24 turning 25 so I felt like I was older than most other students too. I couldn't really find my community until I started going regularly to the Veteran Center. It became the place where I would hang out, do homework, or listen to music. There would always be other vets, and that was how I got to know more people. It took some time, but thanks to the center I found that community. 
One of the most rewarding experiences I had during my time as an undergrad was participating in an outreach program for students from underperforming schools in L.A. Our team spent months planning a weekend-long camp, where students could experience a glimpse of college life. That's really what my passion for what I am doing now stemmed from. I actually ran into one of the students from the program in the library a while back, who was now attending UCSB!
Q: As a former transfer student yourself, how would you describe your approach to counseling with transfer students in need of support as an EOP counselor?
All of our services are catered towards first-generation students, meaning that they are the first in their immediate family to go to a four-year university. I'm very transparent about my own experiences, and my approach follows that of an open book. I also maintain a financial literacy perspective, which means I help them better understand their financial aid award letters and any other logistics. At the end of the day, my goal for all of my students is to graduate in whatever time period they want. 
Q: What is your favorite aspect of working at EOP? Why do you feel passionate about your work?
Now that I've been on campus as a staff member for five years, I've gotten to work with freshmen and see them graduate four years later. It's really rewarding to receive handwritten thank-you notes from students. Knowing that whatever we shared at the moment was impactful enough for them to apply it to their lives is special. I keep all of those letters in my office cabinet. At the end of the day, I really enjoy my job. I think I am privileged to say that.
Q: How did experiences in your undergraduate years influence your work as an EOP counselor?
As an English major, I signed up for four English courses for my first quarter. I remember going up to Jami Chavez, my counselor at the time, and asking, "Is this normal? It's the second week of school and I already have to read like five books!". She was a big help in rearranging my schedule so I could better acclimate to the quarter system. Again, finding that community to help you out is important.
Q: What is one piece of advice you pass on to new transfer students at UCSB?
 As a former transfer student, I always make an effort to share my own experiences so that they can learn from the mistakes I already made. I let them know that there is no direct path and that everyone is on their own journey.