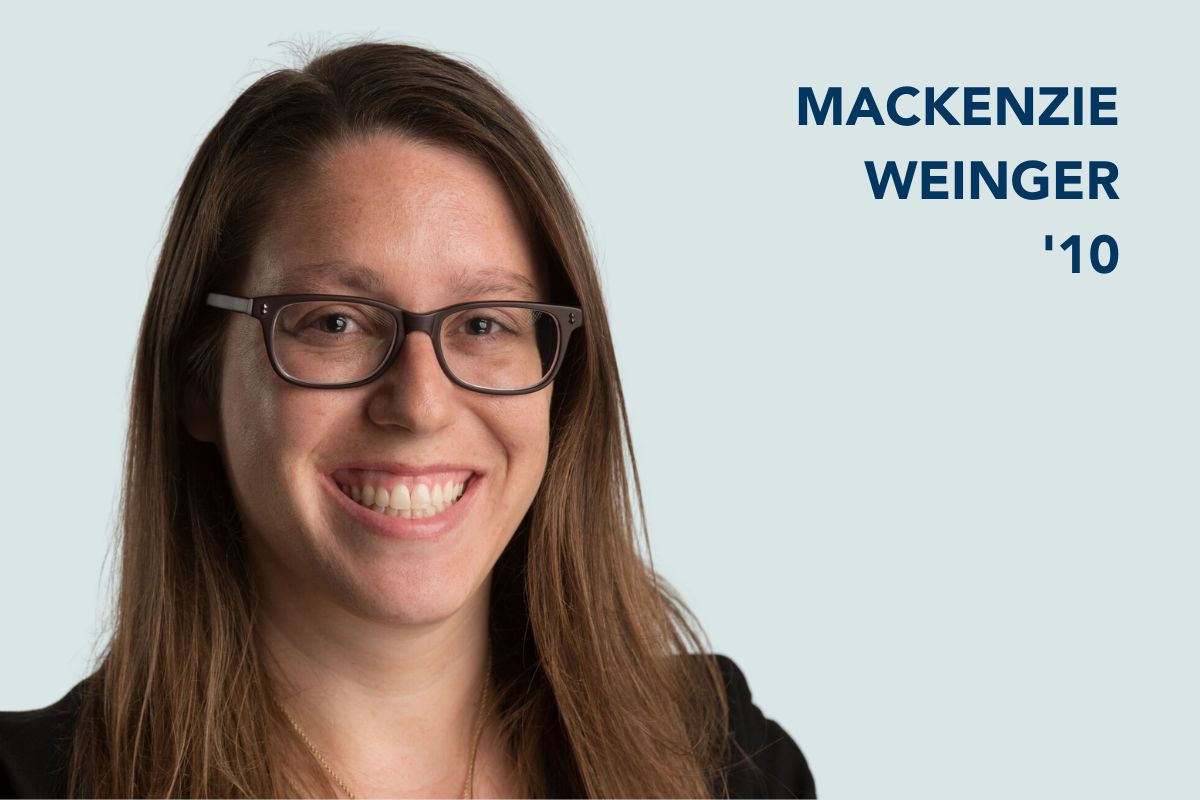 Mackenzie Weinger '10 dedicates her current success as the Managing Editor at National Journal to her roles at the Daily Nexus, one of UC Santa Barbara's student-run newspapers. Her journalistic achievements can also be attributed to the History Department, specifically, Professor Hal Drake, who sparked Weinger's lifelong interest in Roman history and Late Antiquity.
Weinger enrolled in Professor Drake's class, Western Civilization, on a whim and it proved to be a life-changing decision. Weinger first learned how to write analytical essays based on primary documents and historical evidence from Drake, noting, "[he] said we would not be learning answers, but instead a comprehensive method to make sense of material quickly—and then be able to tell others what was important about it. Journalism, in a nutshell."
Weinger encourages students interested in journalism to pursue a degree in History, saying "Primary research teaches you how to interview and understand how people present themselves. I couldn't think of a better preparation than the History department."
Weinger graduated from UCSB with a B.A in History and a double minor in Art History and English, and, in 2015, she pursued a Master's in War Studies at King's College in London. Similar to her dissertation on 19th century journalism at UCSB, Weinger dedicated her graduate studies to 19th century history, terrorism, and journalism.
Weinger spent her four years as a proud Nexite at UCSB, eventually establishing herself as Editor in Chief. During her term, she broke the story about an Associated Students (AS) retreat in which thousands of dollars worth of Los Osos property was damaged. According to Weinger, a source tipped her off to investigate and confirm the news with the rental company. Through her reporting, she became the first student journalist to hold AS accountable for its actions.
"That's one of my proudest moments, including my professional career," said Weinger.
She also advocated for the Daily Nexus by spearheading the campaign to raise student lock-in fees in her junior year. Due to financial difficulties, the Daily Nexus was forced to cut their Friday papers. After almost 40 years without raising quarterly student fees to support the Daily Nexus, Weinger succeeded in her campaign to increase fees by 85 cents, effectively bringing back the Friday papers for her senior year while proving that print media still mattered.
After graduating from UCSB, she moved to Washington D.C and interned with National Journal in its political section, The Hotline. In 2011, she transitioned her internship working with Roll Call to conduct research for political news desks. She then took on the role of Reporter at Politico for three years before returning to National Journal in 2017 where she honed her managerial and writing skills to become Managing Editor in 2019.
Weinger's major responsibilities at National Journal include connecting with administration officials and tracking policy development, including issues related to foreign policy and national security. "My role is to shape our coverage, decide what matters, and [determine] how we will angle the stories of the day," said Weinger. She mentioned that she loves managing and editing in the journalism sphere and has been able to replicate her Daily Nexus experience into her professional career.
From a series on California's wildfires to a look at Afghan refugees in Texas, Weinger's work covers a vast array of topics. As an editor, she aims to provide readers with thoughtful, clear, and incisive journalism. As the leader of National Journal's Congress team and of policy reporting, she is proud of the analytical approach she has brought to the newsroom to represent and translate complex issues to readers across the nation.
Reminisced Weinger, "All the skills I've used to become a journalist, I learned underneath Storke Tower."