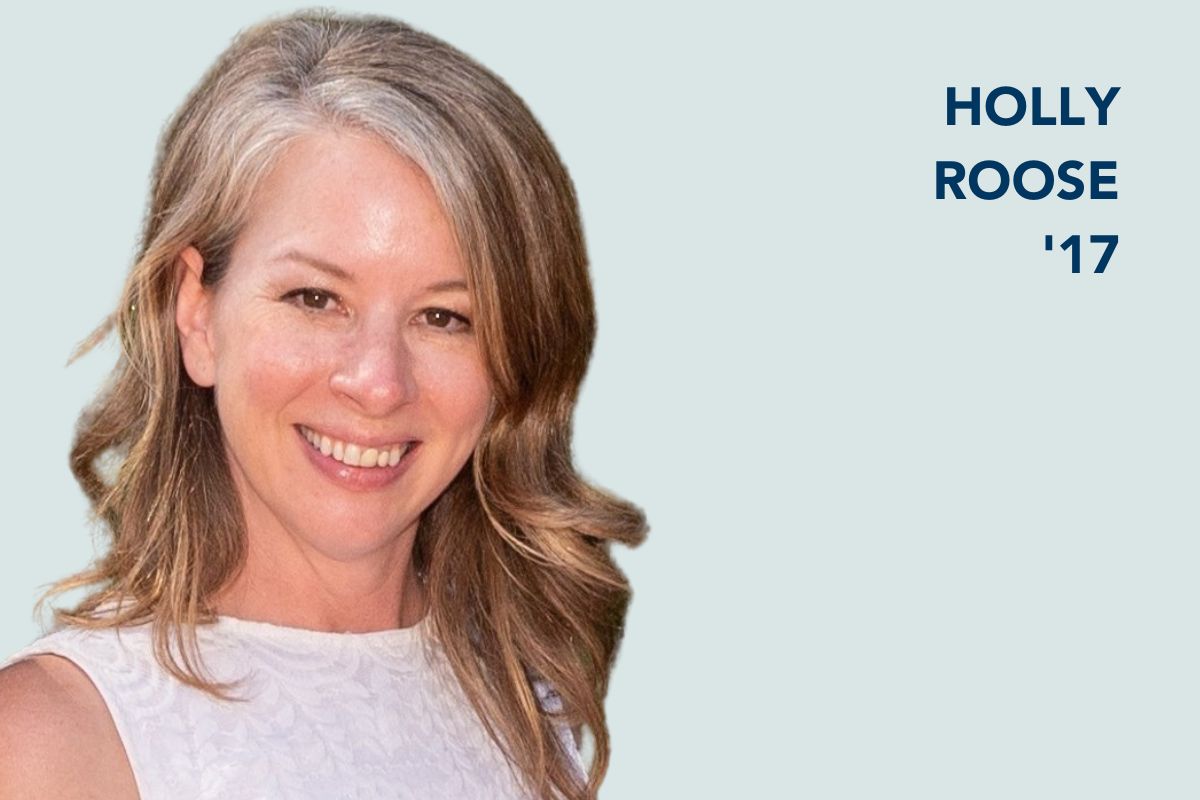 Holly Roose '17 serves as the Director of UC Santa Barbara's Promise Scholars program, a post she had held since 2016. She helped build the innovative program, which provides high-achieving, first-generation students from low-income households with a promise of $30,000 a year for the duration of their studies at UCSB. Holly received her BA in English and Black Studies from Portland State and an MA in African American History from Columbia University before enrolling in UCSB's History Ph.D. program.
Your academic journey has been anything but typical. Can you share how you went from struggling in High School to receiving a Ph.D., and finally to your current role as Director of UC Santa Barbara's Promise Scholars program?
I graduated high school with a 1.9GPA, so I just barely graduated. When I was in the fourth grade, I was a disruptive student and a teacher pulled me out of class and said something to the effect of… "I hope you grow up pretty because you're never going to college." And I knew she was right. I made my first "F" in the fourth grade, I started skipping school, and never learned study habits. At eighteen, I became a hairstylist and that sustained me for the next ten years. But I eventually became bored with it, as there was no intellectual stimulation for me after doing it for so long. I decided to take one community college class; algebra. I got an A in it. I couldn't believe that and so I tried an English class, and I got an A in that too. I realized that my teacher had lied to me… I wasn't stupid after all. I decided to take the plunge and try college, but I was not going to be stuck in Alabama (my home state) for another four years. At 26 years old, I just randomly chose the cheapest metropolitan city on the West Coast, which happened to be Portland, Oregon at the time. A hairstylist can work anywhere, so I relocated and started working while I gained residency. I applied for Portland State. Because I had no AP, ACT, etc. scores, and only two college classes, I had to write an essay on why I deserved to go to college. But I got in. I eventually majored in Black Studies and English. From there, I attended Columbia University for my master's degree in African American Studies and ultimately ended up at UCSB for my Ph.D. in History with a focus on Black Studies.
Mentoring is something that seems to be a part of your DNA. Not only is it a critical part of your current role, but you also received the Graduate Dean's Mentoring Award while pursuing your Ph.D. at UCSB. Why is mentorship so important and are there particular mentors that have helped you along your path?
I'm a successful mentor because I had a successful mentor. When I began attending Portland State, I initially started as a bio major, thinking I was going to be an entomologist and study the chemicals insects produced and how they could be used in medicine. As someone completely unaware of college, it didn't once occur to me that I had never had a chemistry course and never passed a math class beyond Algebra 1. I quickly bombed my first Chemistry class. But it was my Pre-Calculus class, on the very first day, that I left that room in tears, realizing that I was not going to be able to understand any of it. Simultaneously, I was in an amazing Black Studies class, with a fantastic teacher, Dr. Darrell Millner. I started going to his office weekly. He taught me how to take proper notes, that I need to start essays early, and how to navigate higher education. He is my inspiration- we've been best friends for twenty years now.
You did your undergraduate degree in English and Black Studies at Portland State before completing a Master's in African American Studies at Columbia University in New York City. What drew you to choose UCSB and the History department for your Ph.D.?
I wanted to teach Black History but I knew I'd never get a job in a Black Studies department. In addition, Black Studies departments are disappearing across the country and my faculty position choices would have been extremely limited, so I chose History because Black history is history and every university has a History Dept.
You turned down multiple tenure track faculty positions to direct the Promise Scholars Program, a job that you have described as being "24/7." What motivated you to turn down what many graduate students would describe as the goal of getting a Ph.D. for such a demanding job?
Turning down those jobs was incredibly difficult. One was at an HBCU, one was in Oregon near where my mentor lives… I struggled to make this decision. I spoke at length with Mike Miller, my current employer, and Darrell. Darrell offered a sound perspective. He asked, "what is your ultimate goal with your career?" I told him I want to help as many students as possible. He said, "ok, you can be a professor, you may have a class of 30 or 300, you may teach in a quarter system or a semester system, but you will never really know if you had an impact on any of them. Some may take your classes more than once, occasionally, one or two may stop by your office and tell you how much they enjoy your class, but ultimately, you'll never know. As the Promise Scholar program director, you can help hundreds of students and you get to be there with them every week for two to four straight years. You get to have a relationship with them that extends beyond what grade they get in your class." This logic made sense to me and I committed to staying.
The Graduate Division has recently partnered with your office to create the Promise Fellowship program. Why is it important to provide fellowship support for these high-achieving students and what do you hope this program will accomplish?
I'm very excited about this partnership with the Graduate Division! Many of our Promise Scholars apply to graduate school directly after college, primarily master's programs, which offer little to no funding. I see this as not only an excellent opportunity to keep our students debt-free as they navigate graduate school but also as an opportunity to diversify our graduate student body. It's a win-win for everyone.
There are so many worthwhile causes that require private support. Why should alumni consider supporting students in the midst of war, famine, pandemics, and global warming?
There is no better feeling in the world than giving back after we've found success. None of us get here on our own and those coming behind us also cannot get there on their own. Supporting those that come behind us is not only beneficial to us, but to the state of California, where many of our students end up living, working, and raising the next generation. Whether we choose to give back through our time or monetary support- giving back is the most important quality we can have. Mike Miller and I state the three expectations we have of Promise Scholars at our yearly fall orientation: one, take advantage of all your opportunities, two, graduate, and three, give back in any way you can to those who come behind you. We take this last point very seriously.