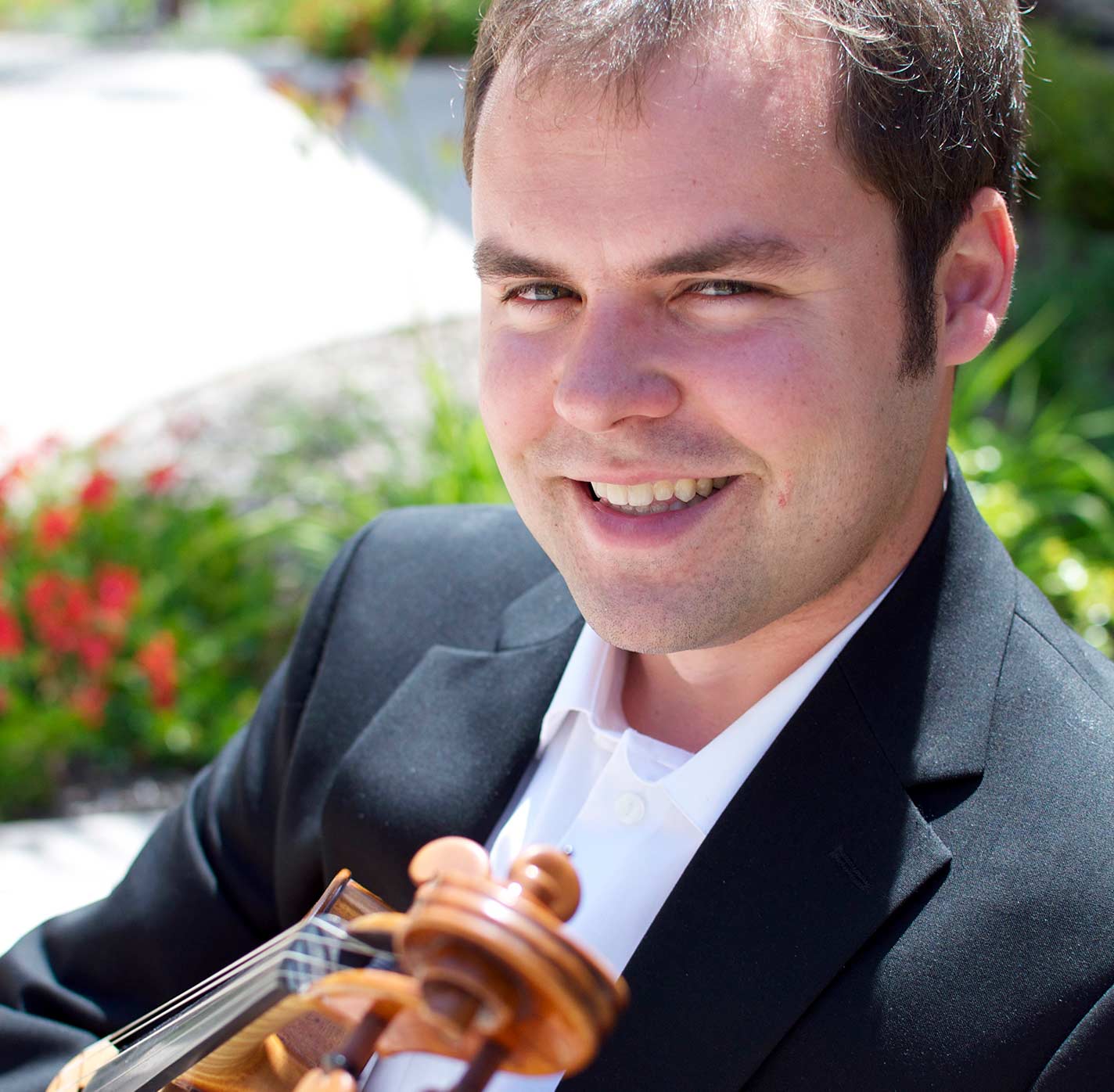 An Interview with Classical Violist and Educator Jacob Adams, MA `13, PhD `14
Raised in a musical household, Jacob Adams, MA `12, PhD `14, learned how to play on the piano and the violin, before settling on his chosen instrument – the viola – in middle school. At 17 years old, he made his solo debut with the Cincinnati Symphony Orchestra and has gone on to appear on stage with artists like the Kronos Quartet, Yo-Yo Ma, Diana Krall and Herbie Hancock. He continues to perform with ensembles and orchestras around the country.
After graduating with a doctorate in music from UC Santa Barbara last year, Adams accepted the position of assistant professor of viola at the University of Alabama School of Music in Tuscaloosa. His album Czech Portraits will be released on May 13, 2016.
What drew you to music -- and to the viola -- as your chosen art form?
My father just retired from being a professor of voice for over 30 years, so music was prominent in our house from an early age. I had piano lessons at 3 years old, and violin lessons at age 7. At first, I did it out of obligation because my parents wanted me to have a musical education as part of my overall education. In 8th grade, my school orchestra had plenty of violinists but not enough viola players, so I volunteered to switch. I took to it very quickly and never really looked back - it just felt like a more natural fit for my personality and my style than the violin ever did.
I had many wonderful music teachers and got to do some incredible things -- like tour with orchestras through Europe and Asia in high school -- but I think it was ultimately my parents' unconditional support and understanding of the value of pursuing music that helped allow me to succeed. I realize how rare and special that dedication from parents for their child's musical instruction is now.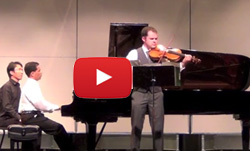 Why did you choose to study at UC Santa Barbara?
I was 27 years old and had already gotten a master's degree and done some exciting things professionally. But I always knew that, ultimately, I wanted to get a doctorate and seek a faculty position of my own.
I was living on the East Coast at the time, mostly freelancing as an orchestral and chamber musician, and doing teaching where I could. I was feeling sort of stuck, like my career was at a crossroads. I was eager for a change of scenery and for new challenges. I had always loved the West Coast, and knew that if I did not make a concerted effort to move out there at that point in my life, I probably never would.

Helen Callus is a highly regarded teacher and performer in the viola world, so I contacted her and it went from there. UCSB was able to offer me a very generous fellowship - without that, it likely would not have worked out. But between the fellowship, the geographical setting, and the excellent teacher as a mentor -- it was an easy decision!
How would you describe your student experience with the music program?
Because I was at UCSB as an older student (I was there from age 27 to 32), I think I had a very different experience than the average graduate student. I already had a master's degree, and had been on a number of campuses before I arrived at UCSB. I had spent several years out of school as well, which helped me know going into my degree program at UCSB what my expectations were of the program and what was at stake for me.

I strove to make every experience something that would contribute to my career, my portfolio and my CV. I tried to approach every situation with gratitude - at how lucky I was to be in this position, and with a determination to make it a beneficial experience. It is very easy to get distracted or cynical while pursuing graduate work, and I'm not going to pretend like it was all smooth-sailing and pleasant. There were plenty of late nights, plenty of hard conversations, and plenty of serious questioning. 
But ultimately, the experience was exactly what I hoped it would be: I was challenged, I got to do things I would not have otherwise done, I was nurtured, I was supported, and I was advocated for by my professors. I am more than happy to turn around now and be an advocate for the UCSB Music Department.
Tell us about the process in putting together your upcoming album - what inspired this project?
I am very proud of my upcoming debut album Czech Portraits. It is a testament to what is possible with utilizing the resources around you -- I actually completed this recording as I was finishing my DMA document in Santa Barbara. The works on the album are all by Czech composers of the early 20th century. Some of the pieces are original transcriptions I made from works originally for violin, and some are viola pieces that have rarely been heard outside the Czech Republic. I have some Czech heritage, and my academic advisor Professor Derek Katz at UCSB is a specialist in Czech music. Between his expertise in Czech music and my viola professor Helen Callus' tremendous success as a recording artist, I saw a natural opportunity to combine their skill sets into an original project that would help launch my career beyond UCSB. 

I recorded the album in Santa Barbara at the Music Academy of the West with fellow UCSB graduate student Pascal Salomon on piano. I am proud of the fact that it was a collaboration with many wonderful people across Santa Barbara -- and it would not have been possible had I not been at UCSB.
What is it like being an arts educator?
I have found that the biggest challenge is in students' expectations. I think a lot of younger players get frustrated quickly and move on to the next activity if they are not seeing immediate results. 

String playing can be tedious at first. Mastering an instrument is incredibly difficult and requires so much patience, discipline and tenacity. At its highest levels, it is not for the faint of heart. Even if you are extremely talented and hard working, making it work as a professional is very challenging and requires a lot of grit and creativity. Yet dedicating yourself to the craft and the daily work is also extremely gratifying. I never let students lose sight of the inherent joy in making music - the joy of collaboration and teamwork, and the joy of sharing your performance with others. I try to never lose sight of these things in my own career, and I impart them to my students as well.
What is your advice for young classical musicians - if there is one thing they should do for their art, what would it be?
My advice would be to never lose sight of what made you fall in love with the art form in the first place. There are many times where you might question whether it is "worth it" to pursue this life. But if you are able to accept constructive criticism, be curious, keep an open mind, and find joy in the daily work and small victories …you will find your own profound satisfaction in the field. Also, do not take any opportunity for granted, because you never know who you might meet that might lead to another opportunity down the line. Never back out of a commitment even if you got a better gig opportunity. You will not last long with contractors and employers if you develop a reputation of being unreliable. 

Follow your passions and inspirations, and find creative ways to share those qualities with audiences of all shapes and sizes. Do not impose limits or restrictions on what this looks like - it might mean playing in a major symphony orchestra, it might mean performing in bars or coffee shops, it might mean playing for five people in a senior center, it might mean teaching low-income students. There are more possibilities for what your career in music can look like than you realize…it just requires a commitment and a creativity to see opportunities where others see limitations or restrictions.