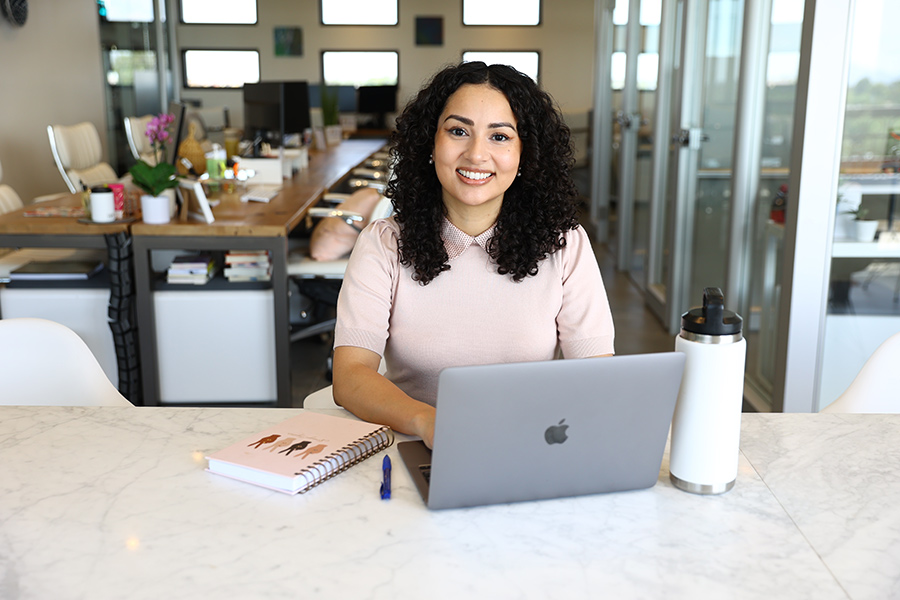 As a first-generation transfer student from Southern California, Giovanna Gonzalez '11 navigated her university and professional career with few resources.
Giovanna was determined to create a life for herself, on her own terms, and without the help everyone told her was necessary to be successful. In 2011, Giovanna graduated with a Business Economics Degree and dedicated her life to helping those experiencing the same first-gen struggles she overcame.
Since 2019, Giovanna has hosted financial literacy workshops at colleges, universities, and nonprofits including Upwards Bound, McNair Scholars Program, and Veterans Upward Bound. After an encounter with a discouraging social media post (more on that later), Giovanna decided to take her workshops to the digital screen where her Gen Z audience helped expand her platform. With this Gen Z following and multiple posts going viral, her influence spread worldwide. Today she is a well-known Tik-Tok influencer, sharing her tips on how to live a financially healthy life as a first-generation wealth builder.
With 160,000 Tik-Tok followers and almost 3 million likes, Giovanna has participated in marketing campaigns for brands like MoneyGram, The American Cancer Society, and the Hispanic Alliance for Career Enhancement. Because of her success on the social media, she's had the opportunity to speak at large events like the Women Who Create Make Moves Summit and Fincon21.
Learn more about Giovanna's rise to Tik-Tok fame and her positive impact on first-generation students who are eager to be the next corporate world leaders.
What were you involved in while studying at UC Santa Barbara?
I was a very active member of the Latinx Business Association. I met some of my best friends in that organization and it shaped me as a young professional, especially because I was a first-generation student and didn't have anyone who could guide me at home. They taught me the basics-- how to write an elevator pitch, how to conduct a proper handshake, and how to dress business professional.
I also participated in the UC Washington Program for my last quarter at UCSB. I interned at the U.S. Department of Commerce and this really enriched my college experience.
I also had a great time participating in the Family Literacy Program. I read to young children in the Isla Vista community and helped them with their studies.
What did your first couple of years after graduation look like? What are some things you wish you knew coming into the real world?
I was very active with career fairs at UCSB and got a job offer from Progressive Insurance, a company I connected with at one of these fairs. Although the job did not use my degree to the fullest potential, I saw this offer as a great opportunity to enjoy my last quarter as an intern rather than multitasking with resumes, interviews, and cover letters. I worked for Progressive for a couple of years until I decided to pivot to Finance and put my degree to use. The first couple years after graduation are unpredictable but I am very happy I took this initial job to completely absorb my last quarter as a college student.
I realized fairly quickly that I had to take ownership of my career path. Unless you work with an amazing company that has a structure to develop its employees, the majority of companies will need you to take ownership and drive your career. You must self-advocate, drive monthly check-ins with your boss, and let higher-ups know what position you're gunning for. Most managers are too busy with their own job so you must step up to the plate.
Tell us about the financial literacy workshops you host at colleges, universities, and nonprofits.
In my late 20s, I started gaining interest in personal finance since, personally, I felt like I was not maximizing the money I was earning. Once I immersed myself in learning everything there is to learn about personal finance I realized that everyone needs this information.
I started doing my workshops pro-bono with organizations like the YWCA. But, with all of the attraction my social media received, I realized I could pivot to a career as a financial educator as a full- time job. I'm forever grateful I get to pursue my passion as my career!
When speaking at universities and non-profits, I discuss topics such as credit building, budgeting, paying off debt, and investing. I've even had an opportunity to give back and do a workshop at UCSB- I spoke at the Latinx Business Association's Leadership Conference in January 2021.
How did you gain your large Tik-Tok following?
I joined Tik-Tok in March of 2020, during the big surge in pandemic-driven downloads. In March of 2021, I came across a video of a young white woman bragging about how law school was easy for her because both her parents were practicing attorneys. If she ever got stuck on a topic, her parents would simply walk it through with her. It was very tone-deaf, so I made a response video.
Instead of being negative, I directed my message to first generation students- I didn't want them to feel discouraged in their path to success. I let my viewers know everyone's path is a little different and with the resilience you gain from being a first-generation college student, you will figure it out. College-educated parents will never be mandatory to independently flourish.
The comments to my video were eye-opening. Many people told me they started doubting themselves after watching the initial video and that I helped them realize that there are so many others in the same shoes.
Instead of mindlessly scrolling on Tik-Tok, I could contribute to society in a positive way. This was a natural fit because I was already dedicating my free time mentoring college students. I knew I was a voice that needed to be heard when my numbers started growing on Tik-Tok.
Tell us about the upcoming book you are working on.
The idea came about through my own finance journey. People learn about personal finance through a multitude of ways: YouTube, podcasts, classroom setting, etc. I learned through reading more than fifty personal finance books, but they all had a cultural aspect missing. For example, finding a sustainable used vehicle is a go-to tip in the majority of these books. But, coming from a Mexican family, many will taunt and tease if you don't have the newest car in town. So, my book will be written through the lens of a first-generation wealth builder. I dedicate two days out of the week strictly to my book so I hope to self-publish soon.
Why did you decide to take the path towards giving back, specifically mentoring first-generation students?
It all stems from my own hardships. I had a hard time moving up the corporate ladder, paying off my student loans, and building general wealth. I wanted to create a sense of guidance for first-generation students; something that I truly lacked and caused these personal hardships.
For anyone hoping to give back, no matter the magnitude, realize how much of an impact you can have on the world. Social media can have a bad reputation at times, but you can always find a way to positively contribute. I started by mentoring two students in real life, and now with my platform I get to make an impact in the lives of 160,000+ students. I encourage anyone who is looking to get involved to look through social media and use your interests and education to inspire you.
Connect with The First Gen Mentor here: