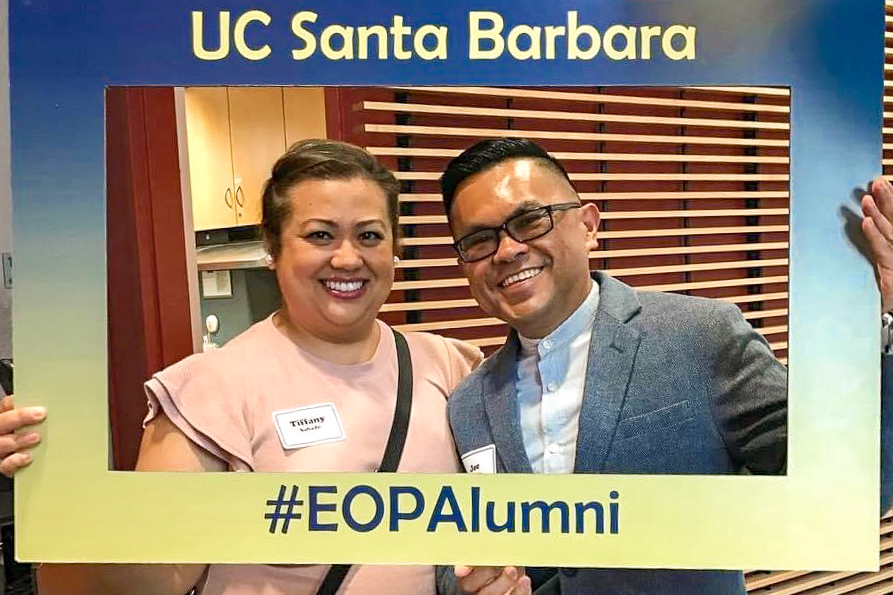 Married alumni staff members, Joe Sabado '97 and Tiffany (Asuncion '01) Sabado have been spreading light and positivity across campus for nearly two decades. They continue to empower students and community members to step up, give back, and experience the joy of serving others. This Gaucho dream team even created their own personalized mission statement. Read about how the Sabado's find a fulfilling sense of purpose through volunteer work and leadership.
Tiffany, a Business Officer for the Asian American Studies Department, earned a B.A. in Sociology from UCSB and currently co-chairs the Staff Assembly. She is a delegate for the Council of University of California Staff Assemblies (CUCSA), a member of Administrative Management Professionals (AMP) and Asian Pacific Islander Alliance (APIA), and was awarded the Staff Citation of Excellence Award for meritorious service in 2013.
Joe, who is Interim Deputy Chief Information Officer for the Office of the CIO and the Associate CIO for Student Affairs, graduated with a B.A. in Political Science and a minor in Asian American Studies. He went on to earn his MBA from Capella University in 2016 and has been a part of numerous organizations including Educational Opportunity Program (EOP), EOP's Summer Transitional Enrichment Program (STEP), NASPA Undergraduate Fellowship Program (NUFP) and more. He was a recipient of the Margaret T. Getman Service to Students Award (2010) and his department (SIS&T) received the Bill Villa Departmental Service to Students Award (2021)
With our annual Day of Service just around the corner, we wanted to highlight a few staff members on campus who truly embody the spirit of being a 'Gaucho for Life.' This inspiring conversation with the Sabado's explores what it means to use your talents, your time, and your voice to benefit others. Pro tip: "Start small at a place that brings you joy!"
From students to staff, mentors and volunteers, you've both been part of the UCSB campus community for nearly two decades now. How has living out our favorite saying 'Gaucho for Life' impacted you?
The Sabado's: Being a Gaucho for Life has enabled us to perform and fulfill our life mission statement:
"To make positive impacts globally through acts of compassion, inspiration, and education. In pursuit of this goal, practice an attitude of gratitude and an abundance mindset"
It's provided us opportunities to serve other students and staff as mentors, advisors, educators, and through philanthropy. We have developed life-long friendships that go as far back as 30 years. We have fulfilling careers with a purpose.
What does being Gaucho mean to you?
Joe: Member of a community that comes together in times of need. I saw this during the May 23rd shooting when the community supported each other. I saw this spirit of collaboration during disasters like the Thomas Fire, Montecito mudslides, and power outages.
Lots of pride in having graduated from one of the most prestigious universities in the world located in one amazing place on earth. When I mention UCSB and Santa Barbara when we travel in other parts of the country or abroad, people know the place and they often tell me they want to visit here.
Tiffany: Being a Gaucho means having lots of pride in having graduated from a top university.
What does 'service' mean to you?
Joe: Making a difference in other people's lives however we can. We've come to realize that even small acts can make a difference. I was reminded that you don't have to donate millions or hundreds of thousands of dollars to impact donations. Those couple of hundreds of dollars may determine if a student is able to stay at UCSB or forced to drop out.
Tiffany: For me, 'service' means being able to give back in any capacity you are able to. For example, it can be through donations, mentorship or being involved in a campus staff organization.
Gauchos are encouraged to volunteer through our annual UCSB Alumni Day of Service. What advice would you give to students and alumni who don't know where or how to start living a life of service?
The Sabado's: Start at the level you are comfortable with.
Give a person fish and you feed them for a day.
Teach a person how to fish and you feed them for a lifetime.
Teach a person to teach other people to fish and you feed a community for a lifetime.
Everyone has a unique talent, skill, perspective to contribute to the world to make it a better place. Society often puts value and adoration to those who give a lot of money, etc. But, in my experience at the university, it's the folks who often go unnoticed that have big impacts on students' lives. These are the custodians, the groundskeepers, the dining staff. Especially for folks like me who and other students who came from minority and low income communities, these are folks students and other staff can relate with. They don't ever get the service recognition they deserve but they sure do have an impact on others.
Start small at a place that brings you joy!
Who or what inspires you to help others?
Joe: My parents, grandparents –sacrificed a lot for us, working in the fields and as janitors, stockroom workers, to have a good life. We have been blessed with resources, education, and networks that allow us to pay forward the sacrifices of those who came before us to those who may not be as fortunate as us.
What do you enjoy most about your work?
Joe: Purpose – I have the opportunity to make a difference in peoples' lives every day. For students, we enhance their experience and promote student success however they define them to be. We are changing generations after them. For our staff, create an environment where they have a sense of purpose, mastery, and autonomy. For our staff, professors and researchers, we get to contribute to the jobs they do – teach, serve students, and research.
People – I work with people who are kind, hard working, and they believe in the mission of the university. I also get to be a part of students' lives as a mentor/advisor.
Tiffany: I enjoy learning about faculty and their research; I enjoy seeing our students evolve from the time they enter UCSB in their first year and see them at commencement; I enjoy spending time with my fellow staff and create a community of professional network and friendships.
What would you say is one career or personal milestone that you are most proud of achieving?
Joe: Being asked to keynote the first generation virtual graduation this year.
Why? Students chose me to be the speaker because of the relationships we've built through the years, they find value in what I have to say, and they can relate to my lived experience.
Tiffany: Looking at my career at the university, collectively, I had worked at two colleges (Letters and Sciences and the College of Engineering) and five departments (East Asian Languages, Mathematics, Computer Science, College of Engineering and Asian American Studies). It's been a rewarding experience as each position has given me the opportunity to work with faculty, staff and students in different aspects and stages of their lives at the university.
Having held many leadership roles throughout your careers, what would you say makes a great leader?
Joe: An Ethical Servant Leader: Reflects the desire to serve the needs and interests of individuals they serve. Adjust their styles relative to those they are dealing with. They meet others where they are.
Respect for others
Service to others
Practice fairness and justice
Honest
Builds community in practice.
Tiffany: A great leader is empathetic; honest; is fair and respectful for others; provides and creates opportunities for others.
Day of Service is on August 21st, but you can volunteer anytime between August 16th - 22nd. Together, we can make a difference. This year we are offering virtual initiatives as well as in-person events that follow respective county, state, and/or country health guidelines. Where ever you are, give back to your community… the Gaucho way.
Register by August 9th to receive a t-shirt while supplies last. Rock your t-shirt and post a picture to the official photo album or email it to programs@alumni.ucsb.edu.