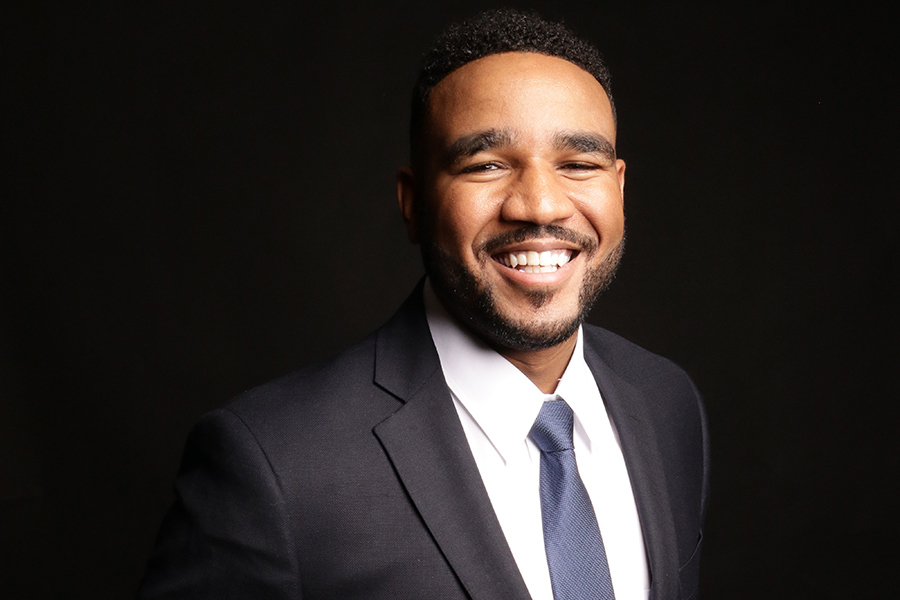 Coming from a financial and economic background, David Posley Jr. '09 realized finance wasn't just about numbers. As a sociology major, Posley Jr. quickly gained a social and economic perspective on the inequities of the world He also noticed that terms like bonds, monetary budgeting, and lucrative investment hold meaning for some, but are incomprehensible terms for others. Economical expressions can be complicated and confusing to the majority of the public. Posley Jr. strives to create an equal playing field for everyone and imagines a world of financial freedom, capital expertise, and intergenerational equity.
In 2020, Posley Jr. founded Innergy, a 501-C4 organization providing resources to educate communities that are underserved when it comes to financial resources and information. In efforts to promote equity in the financial world, Posley Jr. has created a vast body of work to restore generational wealth and economic competency. Growing up in the world of basketball, Posley Jr. doesn't see game day statistics as the priority, he places a bigger emphasis on building and maintaining the reputation of the name on the back of your jersey.
Continuing his desire to provide for the Gaucho community, he discusses his profound love for UCSB and his upcoming panel at the Black Student and Alumni Connect Weekend.
What's your fondest memory of UCSB?
It was my first time on a small plane going from Phoenix to Santa Barbara for my first visit to UCSB. It was windy, stormy and the perfect welcome. The turbulence was a sign that it was all about to be worth it. The Santa Barbara environment was amazing from getting late-night In-n-out, standing on the beach, and enjoying the genuine people that introduced me to the place. My official visit was so exciting because I had to wait to come back for my official move in. So I had to internalize all of that excitement for so long.
You were a college athlete - how did you manage playing on the UCSB Men's Basketball team and staying on top of your studies? Did the time management skills you developed at UCSB carry over to your career today?
It was a huge shift. Coming in as a junior college transfer student, I had developed certain habits on a semester system. Transferring from semester to quarter, my junior year hit some bumps and bruises. Fortunately, I changed the way I operate my senior year, even though it took me a year to get a handle on it.
The way I adapted my time management was simple when putting it into words, but it could be easier said than done at times. My academic schedule, basketball schedule, and lifestyle schedule all had their own segments throughout my day. I knew when practice was, when my games were, and when my classes were.
As a student-athlete, it has helped me manage in a way that others may not understand. Time management allows me to connect and engage in multiple areas that can cross pollinate and support other areas of my life. It helps that I've always been someone who understood the importance of a work-life balance but managing time in college at such a high level helped me manage multiple things at once whether work-related or a night out on State Street.
Having a routine with your academics, athletics, and social life is the best way to control your time. You know when midterms are, you know when your finals are. Having that allocated time helps you work around your month, week, and day.
During your time at UCSB, you participated in campus organizations like Black Pioneer Renaissance and Black Student Union. In what ways did your involvement in these student organizations impact your college experience?
I was told that very few student-athletes participated in other extracurriculars and if they did, they didn't get much gametime. However, I made sure to manage my athletics and extracurriculars to consistently play and advocate.
My desire to join these organizations comes from my background. It was very important to me to have a culturally diverse college experience. I'm from Chicago and my neighborhood is not as diverse and somewhat segregated-- resulting in my gravitation to the African American community. Black Pioneer Renaissance and BSU definitely provided a level of familiarity, a sense of love, and a cultural perspective while I transitioned from communities of completely different demographics.
It also helped form my student life, choice in electives, and an engagement with a different perspective during my time in Santa Barbara. Studying at UCSB for two years didn't allow me much time, but the leadership and infrastructure of these organizations grants me many chances to come back and engage with these groups as an alumni.
What's your reaction to the opening of the new Office of Black Student Development?
It is major! The organizations I mentioned above allowed people with the same passions to work as a team to help create major events or projects such as the opening of the new Office of Black Student Development. I am very excited to see the next steps and the resources soon available to many people across campus. I am in contact with many organizations, but to help on a personal level in addition to providing philanthropy and company donations is more than exciting.
How did you transition from city life in Chicago to beach-town Isla Vista?
Isla Vista completely changed my perspective on seasons. For someone like me, Isla Vista was perfect as I could walk a mile and enjoy the sun during winter quarter. It is different as opposed to if I want to walk a mile in Chicago, I have to walk around an icy block and possibly catch a bus to make it from one street to another because of the intense weather. In Chicago we have access to public transportation to get from place to place but it takes longer traveling across the entire chicagoland compared to Isla Vista where everything is nearby and there is no sense of rush. Isla Vista is a step slower than the natural chaotic state of Chicago.
When it gets cold in Chicago, your body gets tense, your mind gets tense, therefore your communication and relationships get tense. Every time you walk outside, the air aggravates your mind and body. You sometimes question if you value a certain meeting or your comfortability more than the other. In Isla Vista, it's a much different movement and environment.
The question should be: "How did I transfer back from Isla Vista to Chicago?" And the answer is: I'm still trying!
What first sparked your interest working in the Economic Security sector?
I started off as a financial/investment advisor and my family owned an insurance business so I understood financial services in different ways with this job. From this, I realized no matter what product, fund, or resource, if someone can not afford and/or understand it, there was nothing I could do about it. Soon after, I shifted into my goal to better prepare my clients to be knowledgeable customers in the wealth management system.
Economic security is a quest of mine. I believe I'm one of the developing creators for this security sector because I desire to advise people on their money, digital footprint and value in different ways than most by creating an intersection of government and private finance that's consumer centric. I hope for our advisors to be held to a client-advisor privilege where they have a level of guarantee in privacy and resources, especially because the government perspective targets the businesses' competency and not the individual clients' well being. Making sure the consumer has that level of soundness and interaction with an advisor is important for their security because consumers may not be prepared with enough knowledge for specific financial decisions. As a consumer, you must learn how a product can be sound but not the one for you. All the titles, fees, bells, and whistles can get complex and everyone deserves an advisor to help clarify the language. This has been a long journey since I've mixed my mission with advocacy engagement as well.
Tell us more about your company Innergy and why you've made it your mission to expose everyone to the value of "Capital Insurance?"
Innergy is a 501-C4 social welfare organization focused in the finance space. Innergy is a membership focused ecosystem consisting of multiple offerings and portfolio companies that help to deliver on our mission. I witnessed the inequality that was growing at a pace that needed more macro-level improvements. The question was how to position myself to engage with community public leaders to benchmark and engage them with innovative topics and ideas. I had to put myself in the best position to influence legislation and position their resources to the broadest population of need.
Posley Jr. breaks down Capital Insurance:
Capital insurance is analyzed through many subtopics: advocacy, broker, consultancy, and development. "Advocacy" progresses educational advantages and guarantees for our clients as it pertains to investing capital. We help our clients understand insurance, the stock market, and different methods of generating return. The term "broker" refers to brokering the procurement of businesses and property that facilitates return to public finances. This applies to grants and business loans that come when you reach a certain level of capacity. People don't talk about the 'elite' small businesses that reach the capstone to receive government grants and reach a capstone to receive this. They are not the everyday small businesses.
"Consultancy" looks into how businesses engage with their systems and community programs as well as the Chamber of Commerce and different entities that have access to contract opportunities to scale the client's business or personal value. And lastly, "Development" builds to underwrite clients' dreams to utilize innovation, real estate, and technology.
I put these all together and will launch our portfolio company to release in June of this year. We have created our own digital wallet with the help of legacy advisors to best support our future clients, specifically, providing a path to engage athletes. It's a unique purpose but I am grateful that I can integrate my community, my passions, and my career. I can fight for legislation and advocacy in impactful spaces this way. I like to call it "citizen's equity" where the community can be involved in regional planning or have access to investment raises as opposed to the bond. Creating a level of community to provide access and tools to leverage others in the finance world is the ultimate goal.
What is one piece of entrepreneurial advice you could give to Gauchos going into this field?
Find a way to make some money doing it! Pioneering the corporate structure and creating a compliant business to make politicians accountable to provide innovative revenue and education is a tricky space. To pull all of this together takes a lot of time and investment without much return with the exception of relationship building. However, when you start understanding the liquidity of relationships with institutions, it provides the opportunity to finance slowly and effectively.
To a Gaucho with a strong interest in something: find that idea and have faith in it. It's cheesy but never give up. Go further, find an idea and make the plan big enough that it outlives you. That way you have no other option but to execute until the day you die. Your benchmark should always feel incomplete so you never stop executing.
You're participating in the Inaugural Black Alumni & Student Weekend, tell us a bit about your panel on Financial Security and Investment - what do you hope participants will gain from joining the session?
I am very excited about this opportunity to speak with my fellow Gauchos! My panel breaks down the wealth cycle into three categories. First, wealth creation is the development, growth, and increase in personal wealth. Second, wealth management is looking into your next generation and brainstorming ways to maintain the wealth. But they must learn how to be wealth creators because without one or the other, the objective is lost. Lastly, wealth distribution is completing the connection with that next generation. What is the best way for them to receive this wealth? What is the burn rate? How can I position my family name in a manner to start this wealth cycle over and over?
My goal is to provide you with the generational perspective of wealth and how to keep it in the family as 90% of wealth is lost from the first generation to the 3rd generation. If I give you every tool to create $10 million today, but don't prepare you to distribute it properly, we both wasted our time and hopefully you enjoyed the temporary wealth. That causes a spiral in lifestyle and other health factors that negatively impacts one's legacy. Whether it's $500 million or $500,000, you must help the people that are operating with you (family, heirs, beneficiaries) because at the end of the day, it's about the name on your birth certificate or like how I say, on the back of your jersey.