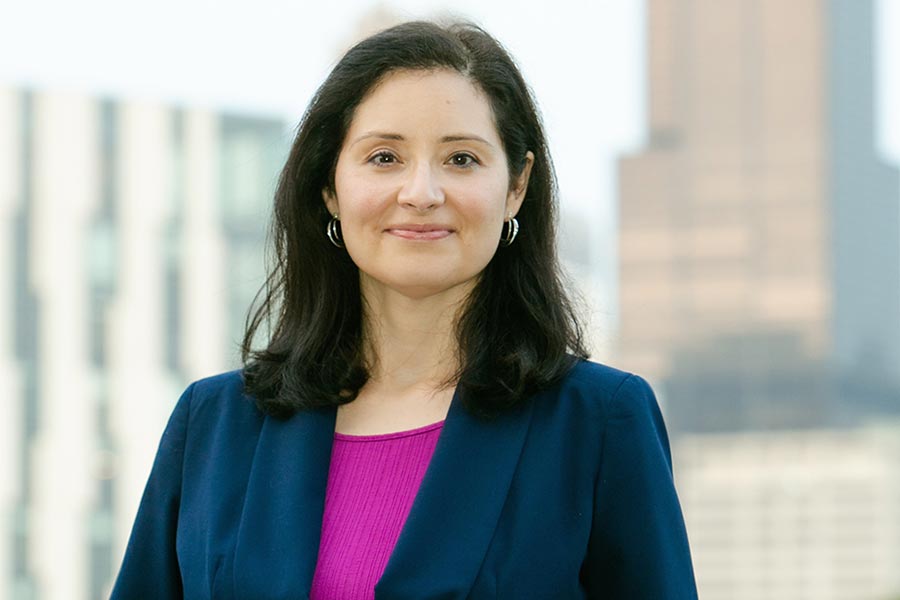 Lorena Garcia is an Associate Professor of Sociology and Latin American and Latino Studies at the University of Illinois at Chicago. She is the author of Respect Yourself, Protect Yourself: Latina Girls and Sexual Identity (New York University Press, 2012), which received the 2013 Distinguished Contribution to Scholarship Book Award from the ASA Section on Race, Gender, and Class.
Her work has also been published in Gender & Society, Social Problems, Latino Studies, and Identities: Global Studies in Power & Culture. She has also co-edited a special issue of the National Women's Studies Association Journal (NWSA) [now Feminist Formations] on Latina sexualities and is a co-editor of the NYU Press book series, Critical Perspectives on Youth. Her research interests include gender, sexuality, race and ethnicity, intersectionality, Latina/x/o studies, and youth studies. She is currently working on her second book project exploring newly middle-class Latinx parents' perspectives and approaches to parenting.
We sat down with Dr. Garcia to discuss her teaching, research, and writing. 
What initially drew you to choose UCSB for your graduate studies?
I was fortunate to have the guidance of a few faculty members at the University of Illinois at Urbana-Champaign, where I obtained a bachelor's degree in sociology. These were faculty mentors I came to know through some courses I took in and outside of sociology, as well as through my participation in the Summer Research Opportunities Program (SROP) and the McNair Program. Both of these programs aim to increase the number of underrepresented students who pursue and obtain doctoral degrees and were critical to introducing me to the possibility of graduate studies.
Given my interests in studying Latina/o/xs' experiences at the intersections of gender, sexuality, and race, my undergraduate faculty mentors suggested that I consider pursuing graduate studies in the Sociology Department at UCSB to have the opportunity to be trained by faculty such as Prof. Denise Segura and Prof. Beth Schneider. And as I learned more about UCSB, I also became excited at the possibility of taking graduate courses in the Feminist Studies department (it was called the Women's Studies back then) and meeting and learning from faculty in the department of Chicana and Chicano Studies. This was important to me because though I knew I wanted to be trained as a sociologist, I also wanted to have the space and support to explore and integrate interdisciplinary approaches in my research. And of course, it also didn't hurt to pursue graduate studies at UCSB given its location near the beauty of the ocean and mountains.
You have written that we need to rethink sex education at our nation's schools. Can you elaborate on what those reforms look like?
I think that we can challenge ourselves to be more expansive in how we approach school-based sexuality education, we do not just have to limit ourselves to whether it should be comprehensive or abstinence-only sexuality education. Studies have demonstrated that comprehensive sexuality education is more effective, but my research along with that of other feminist scholars who study sexuality education, shows that there is room for developing sexuality education in ways that are more responsive to inequality and integrate social justice ideas and practices. For instance, school-based sexuality education can also be incorporated into or paired with other subjects, like history, social studies, and science to teach about various forms of inequality, privilege, and social activism in an intersectional way. School-based sexuality education could also benefit from a concerted effort to be more inclusive of young people in creating and implementing this type of programming.
What was the most important thing you learned at UCSB?
It's difficult to narrow it down to just one thing. But if I had to identify only one, I believe it would have to be the importance of being willing to take risks with the kinds of questions we ask and set out to explore. This isn't so easy to do and I learned that the production of knowledge needs to entail more than just describing the patterns of inequity in our society. It is critically important that we also seek to understand the social processes at work in generating inequality if we are going to envision and advance a more just world.
What do you do for fun when you aren't teaching, writing or working on your research?
I like to spend time outdoors with my family when the weather permits here in Chicago, such as going for walks in my neighborhood or other parts of the city, as well as going for hikes in forest preserves in the Chicago area or surrounding states. I also love to explore new Chicago restaurants, check out productions at various theaters throughout the city, and listen to live music. That is all on pause right now because of the COVID-19 pandemic, but I hope to be able to do that again once it is safe to do so. In the meantime, I'm enjoying listening to podcasts and reading fiction.
Why should graduate alumni give back to UCSB?
Giving back to UCSB is a meaningful way to play a part in helping to ensure that UCSB can offer positive and rewarding experiences to all of its students. There are various ways in which one can give back, such as through monetary donations, sharing knowledge and skills to mentor current UCSB students, and creating and providing opportunities for UCSB students to learn outside the formal classroom, such as through internships and service-learning. The practice of giving back also serves to keep UCSB alumni connected and updated on what is happening on campus. I experienced profound academic and personal growth as a Latina graduate student at UCSB who was the first in my family to go to college and then pursue a PhD. I give back to help to ensure that other students have access to the opportunities that UCSB has to offer.