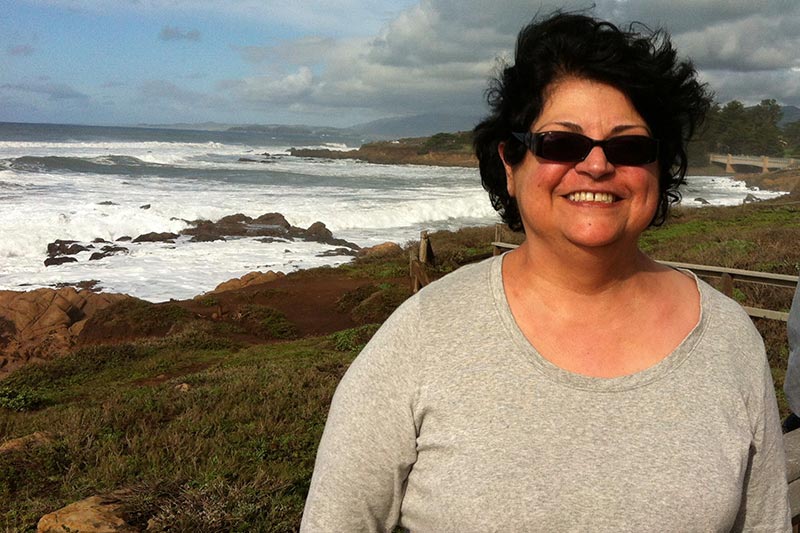 Historian and archivist Monica Orozco earned her doctorate in history from UC Santa Barbara in 1999. Born and raised in Santa Barbara, Orozco went on to teach Latin American history at UCSB, Westmont, and Santa Barbara City College. She worked as an editor at ABC-CLIO, and as the second lay director and professional archivist at the Santa Barbara Mission Archive-Library. She now serves as the Director of the Santa Barbara Mission-Archive Library and is the first non-Friar to serve as the Executive Director of the Santa Barbara Mission. 
In our June Alumni Spotlight, Orozco shares her graduate school research experience, what drew her to her leadership role at the Santa Barbara Mission, and what it's like to be a historian in this time of global pandemic.
Watch Monica Orozco give a tour of the archives of the Old Mission Santa Barbara on C-SPAN.
What drew you to choose UC Santa Barbara for your graduate studies? 
 
I attended UCSB as an undergraduate with the plan that I would get my teaching credential as a bilingual K-6 instructor. But in my senior year two professors (Denise Segura, Sociology and Sara Durán, Educational Psychology, now at Santa Clara University) made a point of encouraging me to apply to graduate school. As the first person in my family to attend college, graduate school wasn't even in my frame of thought. I decided I'd apply but wasn't sure what field or department. I was quite naïve about the whole process. I had emphasized history and education in my course work as a Chicano Studies major. The classes I had taken with Professor Sarah Cline in the Department of History focusing on religion in Latin American in the colonial period and the impact on indigenous peoples and society in general, really spoke to me. I decided to apply to the Department of History at UCSB to continue to explore this field of history. I asked Prof. Cline asking for a letter of reference and she agreed, thus agreeing to be my advisor when I was admitted. I had always loved history but didn't imagine making a living with it other than teaching. I had a very practical approach to my education—I needed to earn a living after investing so much to get a degree. But applying to graduate school for the first time I thought about higher education as something I would do for myself and to challenge myself. Although earning a living was still important!
 
What was your research focus? 
 
My research focus was on evangelization in Mexico. Initially I focused on the first Franciscan Friars to arrive in New Spain in the 16th century. Then I switched to a more borderlands approach, looking at how the Mescalero Apache negotiated retaining some of their religious ceremonies under Spanish, Mexican, and US governments. But this approach that was "transnational" was still new and not fully accepted as it now is, and so I was encouraged to shift my focus to a region fully within Latin America. My dissertation focused on US Protestant Missionaries who worked in Mexico in the last 20 years of the 19th century. My focus was evangelization and the impact on indigenous peoples and Mexican society, in this case during a period when the Mexican nation was facing threats to its sovereignty in the form of an annexation movement in the United States. US Protestant evangelization added another element of concern as it was perceived as a cultural threat by many within intellectual and political circles.
 
What was it like working with your mentors and colleagues at your department?
 
My experience working with mentors and colleagues in the History Department at UCSB was tremendous and for the most part, nurturing. I was fortunate to have been a teaching assistant for faculty members who are amazing teachers and mentors. They modeled a way of interacting with student and colleague that served me well during the many years I taught as adjunct at UCSB and Westmont College. Many of my fellow graduate students from that period are still my best friends. And my faculty mentors and advisor still provide me with support and a level of collegiality that is heartwarming. 
 
When did you first realize your fascination for your chosen discipline? 
 
My love for history began as a child. I loved the stories my grandparents and parents told of their childhood. I had tremendous history teachers throughout my K-12 education. I'm still in touch with my La Colina Junior High teacher Bill O'Neill. But my love for colonial Mexican history really grew in the class I took with Sarah Cline as an undergraduate. I loved the subject matter. But just as importantly, I learned how to "do history" in that class. I learned how to use sources, discern what was important, and to write an essay that was supported by evidence. I became a detective, piecing together evidence to figure out or understand what happened, or why a group of people responded to a situation the way they did. In history you can be a time traveler, and that can help you understand others as well as yourself better. These are invaluable skills and what makes history such an amazing field of study.
 
What did you enjoy most as a student at UCSB?
 
It's hard to communicate how the environment at UCSB and especially within the Department of History is special. While it may appear as though everyone is casual, there is a level of professionalism and intellectual rigor that is still very much a part of the environment. As an untraditional student I could still find a home there and be encouraged to develop my intellect, while not losing my identity or compassion. I found a circle of friends that are still helping me through life even though we are scattered across the world.
 
Tell us about your work at the Santa Barbara Mission? What drew you to take on this role in our community?

I am the Executive Director of Old Mission Santa Barbara. I am the first non-Friar to hold this position. It is a role I hadn't envisioned taking years ago, but it has provided me with extremely rewarding and often challenging work. I am the administrative head for this non-profit entity which is a central historical, cultural, education, and spiritual institution in Santa Barbara and which is in many ways the heart of the Franciscan presence in the Western US. As a center of Franciscan evangelism, we focus on practicing radical hospitality, welcoming everyone, respecting all creation which includes people and the environment. We also focus on reconciliation and social justice which is why we are thankful to be able to work with the Band of Barbareño Chumash Indians in support of their cultural education and other programs. 
 
Another responsibility is stewardship of the Mission. This includes taking care of the historical buildings, art, artifacts, and documents. But it isn't just a museum, it is the home of about 20 Franciscan Friars and includes the Novitiate or first year educational program for new Friars from across the United States. It is also the home base for other non-profits such as the Santa Barbara Mission Archive-Library and St. Barbara Parish. This is a huge responsibility to maintain and ensure long-term financial sustainability, made even more challenging by our dependence on tourism for income. Approximately 85% of our income comes from museum tours and gift shop sales. 
 
We usually have hundreds of thousands of people come to the Mission for a variety of reasons, such as community celebrations such as I Madonnari and Fiesta Pequeña, and several thousands of students come every year to experience the site firsthand. We value our role as a gathering place for the many communities of Santa Barbara.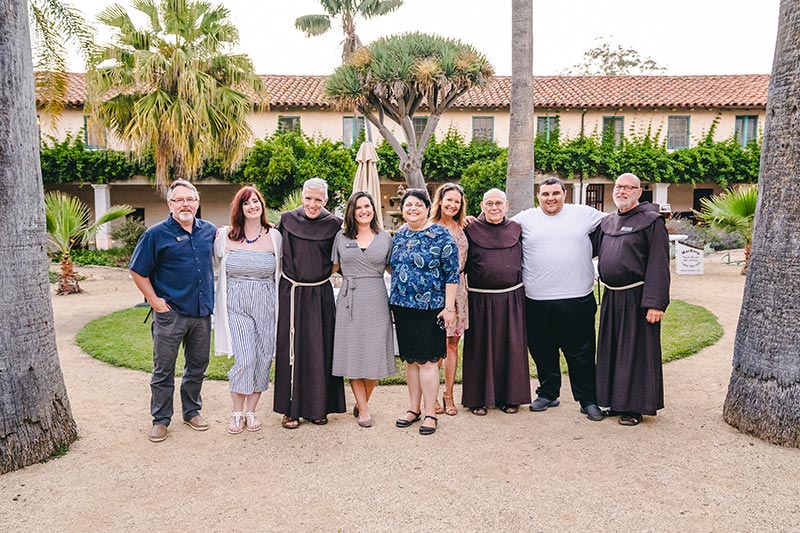 We are going through a historical moment in global history. As a historian, what is your reaction to this world crisis? 
 
The current situation is a bit surreal for me as an historian. My colleagues and I are encouraging everyone to record their life and thoughts at this time, whether in a notebook or digitally. There are public history projects that have been set up to archive these journals. We are in the midst of several threads of history and it gives me some insight into whether people in the past understood the significance of their time, or if circumstances just snuck up on them. As an historian I have no doubt that we will see the other side of this, but I also know that "normal" will be defined differently. I know that this experience has altered how I see life, in both the large arc and in my everyday life.
 
As a historian, did the Mission have documents regarding the 1918 pandemic and the aftermath?  
 
No, not that I have come across. This is actually interesting because in 1819 the resurgence of Franciscan presence in California had reached such a level after a serious decline in the late mid to late 19th century, that a new administrative entity was needed, and the St. Barbara Province was formed.
 
What inspires you to do what you do each day?
 
I am fortunate to be able to do work in which I find great meaning. I was inspired by Franciscans when I studied them in graduate school, and I continue to be inspired by them and the Franciscan tradition which is rooted in respect and love of all creation. Creation is a reflection of God's love for us. As a lay person, I can demonstrate these values in how I interact with my co-workers and with our visitors. I can work to ensure that Old Mission Santa Barbara can continue to be a place of radical hospitality, in which all are welcome and treated with respect and dignity. Taking care of this historical place and the patrimony of the Friars' work in the Western US helps us all to continue to learn from the past so that we can work toward a future based on reconciliation and justice.