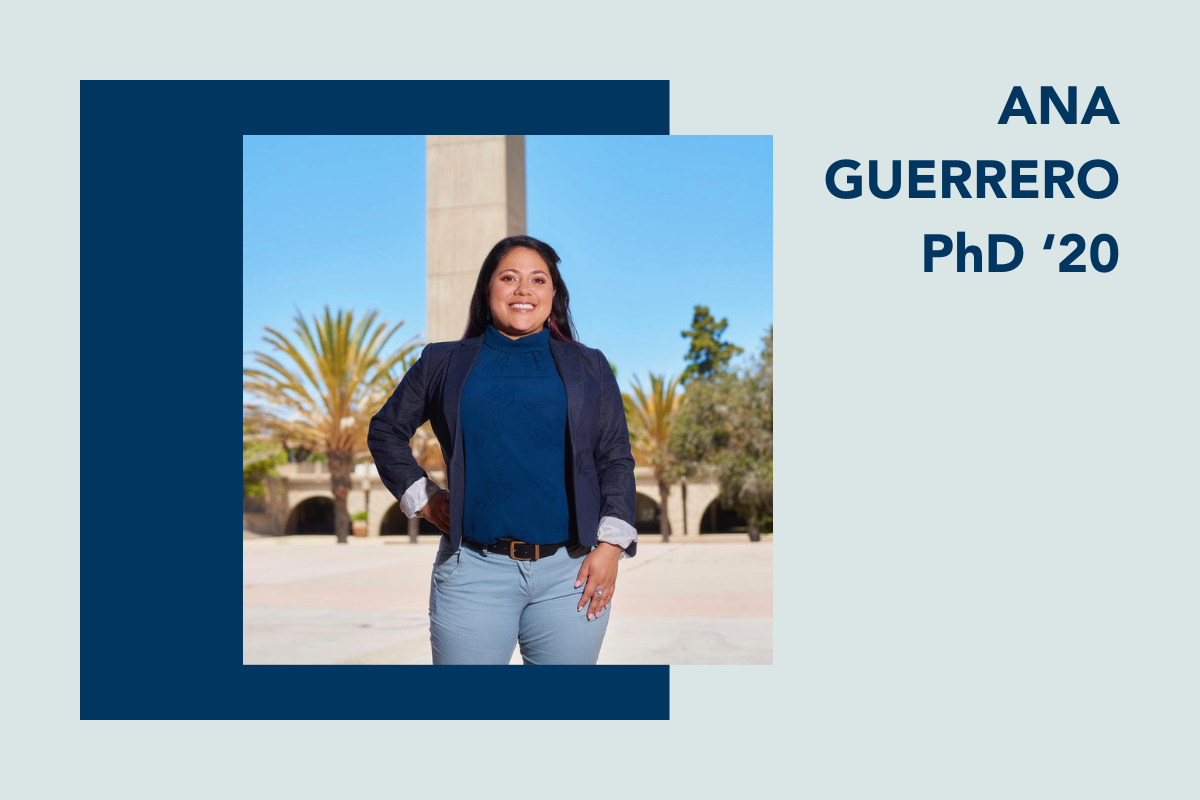 By Ellah Foster '24
As a Goleta local, Ana Guerrero '20 felt her worlds colliding as she began working towards her PhD in Education at UCSB. Throughout her educational pursuit, Ana lived the unique and challenging experience of being a first generation college student. She reflects fondly on seeing her father, who worked as a groundskeeper on campus, calling it a physical reminder of her progress.
Seeking to help others in similar situations, she created First-Gen Resilience, an organization dedicated to students navigating higher education and post-grad life. Upon graduating with her advanced degree, Ana remains steadfast in empowering future generations to achieve their educational goals. Now, working as a Program Administrator and Student Affairs Coordinator for a private counseling psychology doctoral program, Ana enjoys learning more about the counseling field and the private school system.
You have an impressive educational path, with your most recent degree being a PhD in Education. Can you share a bit about your journey through higher education?
I had a long and windy journey through higher education. I enrolled in Santa Barbara City College immediately after high school, then transferred to UC Berkeley and majored in Sociology. After taking two gap years, I enrolled in the Education PhD program at UCSB, graduating in December 2020. My path through higher education had no road map and it was not easy although I remained an eager and determined student with numerous aspirations. However, as an immigrant and first-generation college student, I encountered a lack of both academic guidance and resources. It required a great amount of inner drive, a community behind me, many sacrifices on behalf of my parents and me, and a purpose larger than myself to succeed.
What is the most valuable lesson you learned while earning your degrees?
The importance of connecting with people. Your network truly makes a difference in your journey through higher education and beyond, as those connections provide opportunities, knowledge, and resources now and in the future. As an introvert and an independent person, networking does not come easily to me, but I learned that I cannot accomplish everything alone; I needed to reach out and connect with faculty, staff, and peers. I cannot emphasize enough the importance of making an effort to show up to events, talk to classmates, reach out to those who you admire, and take the initiative to be in spaces that are uncomfortable for the sake of connecting with others.
You are the founder of First Gen Resilience, an organization dedicated to supporting first generation college students navigate higher education. Tell me about your work there.
The challenges I endured throughout my academic journey were not unique, but representative of a recurring pattern among first-generation students. In graduate school, via my professional work and PhD research, I studied more closely the experiences of Latinx, first-generation college students and their academic and professional aspirations. From my expertise and passion, I founded First-Gen Resilience, which is dedicated to empowering first-generation students to reach their full potential by providing information, guidance, and motivation through specialized coaching. I especially love giving presentations and workshops to high school and college students.
How would you describe your experience in the PhD Education program at UCSB?
Two aspects contributed to my unconventional yet rewarding experience in the PhD Education program here: I am a Goleta local and my father worked at UCSB as a groundskeeper. In this way, it felt like two of my worlds had collided. Seeing my father around campus when I was a student was motivating as he was a physical reminder of my educational goals. Being local and getting the opportunity to work and do research in the community was also meaningful to me. As a first-gen college student, I went into this PhD program not knowing what to expect yet, day by day, I learned the ropes of grad school.
Tell me about your work life post-grad, as a Counseling Psychology Program Administrator.
As a Program Administrator and Student Affairs Coordinator for a private counseling psychology doctoral program, I've learned a lot about the counseling field and the private school system. I love the hybrid model where I can work on campus or from home, and I have wonderful co-workers.
What piece of advice would you give to college students navigating higher education for the first time?
Keep a growth mindset. There are challenging moments in college but with persistence, dedication, time, and support, it will get easier and you will develop more skills along the way.
It's important to believe that you are capable of becoming who you want to become – just take it one day at a time and trust yourself. Also, apply to as many financial opportunities as possible! There are many ways to get "free money" but it won't come to you, you have to go get it.
Do you have a top memorable moment from your time at UCSB?
I will never forget working for the college outreach program at the local high school that I once attended. I found myself standing alongside the staff who first introduced me to the idea of going to university. Everything came full circle: I saw myself in the students I was working with and I hope they could see themselves in me and know that becoming a PhD student is an option for them, too. It was truly fulfilling and time well spent during my time at UCSB. I also remember my evening walks to Campus Point at sunset; it always grounded me and helped me clear my mind during high stress moments throughout my grad school journey.