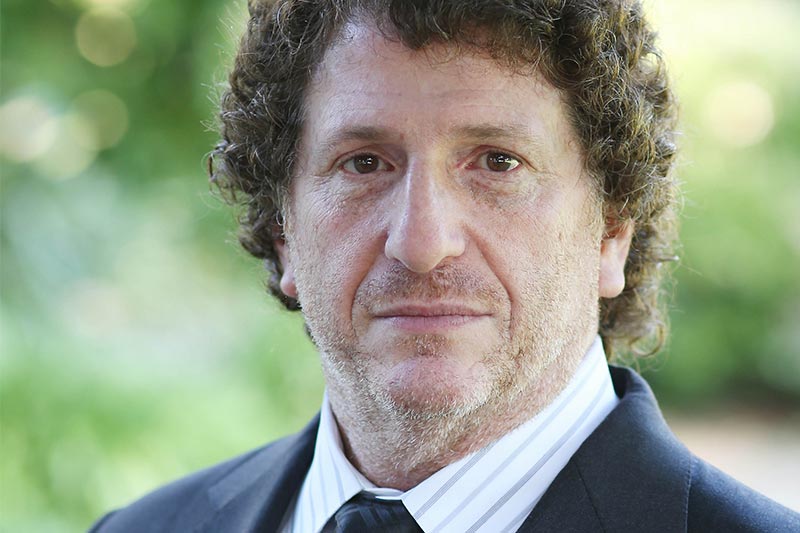 Dr. Ron A. Dolin received his Ph.D. in Computer Science from UC Santa Barbara  in 1998. Prior to his time at UCSB, Dolin received his B.A. in Math and Physics from UC Berkeley before he headed to Geneva to work at Conseil Européen pour la Recherche Nucléaire (CERN), the world-renowned high-energy physics lab. After serving as one of the first 100 employees at Google, he also went on to earn his law degree at UC Hastings in 2009.
 
He is currently a Lecturer on Law at Harvard Law School and a Senior Research Fellow at Harvard Law's Center on the Legal Profession. An author, angel investor, and multi-awarded educator and innovator, Dolin co-founded the Program for Legal Technology and Design with his ex-student and Stanford alum Margaret Hagan and worked on legal innovation at Stanford Law's Center on the Legal Profession. He has been featured at talks and panels at Stanford, COLPM, ILTA, ACC, and CLOC on issues related to legal technology and innovation. In 2014, he was selected as one of the Fastcase 50, and also received the 2014 ALM Recorder's Innovator Award.
 
In this special Alumni Spotlight Q&A, Dr. Dolin shares his experiences working at CERN and Google, what led him to pursue a law degree, and how he continues to follow his heart in all that he does.
 
What was it like working  at CERN?  
 
I was getting close to graduation at UC Berkeley when I started thinking about my options.  After some thought, I realized that I could go anywhere in California, the United States and/or world.  From that perspective, where did I want to go in the entire world?  The easy answer was CERN (The European Organization for Nuclear Research)!  I spoke to a professor and the stroke of luck was that I had expertise in a similar computer system that I was using for while I was working part time at the Geo-Chemistry department.  
 
While at CERN I ran the online experiment control and data acquisition computers.  It was here that I found that while my first love was theoretical physics, I had a new love and it was computer science. I kept taking operating system classes while there and began to realize that I had a future here.
 
What drew you to choose UCSB for your graduate studies? 
 
I was of course drawn to the natural beauty of Santa Barbara and the campus.  I also knew that it met my high standard of education in its College of Engineering. Plus I would be close to home.
 
What was your graduate school research focus? 
 
I was originally focused on visual programming languages.  Visual languages are fascinating because they are written in two dimensions, which means that parsing is more complicated in the abstract. I later worked on digital libraries and general non-text search and, in particular search evaluation.  This ultimately led me to Google after I graduated.
 
What was it like working at Google when it was still a small start up and what motivated you to pursue a law degree?
 
Google was the funnest place in the world to work on search.  No one went to Google in those days thinking they would get rich.  You went there for the mission not the money.  After several wonderful, amazing years, and many lessons learned, it was time to move on.  While working on some security matters at Google, the issue came up with selective enforcement, and I realized that I had strong feelings about it.  In fact, I realized that I cared deeply about the ways in which society deals with the enforcement of norms.
 
This led me to pursue a law degree and of course I chose the University of California (UC Hastings), my third UC campus.  It was odd to go back to school in my forties to take on a law degree.  I was an unusual student.  I didn't care about my grades.  However, I finished and passed the California Bar.
 
What have you been up to since law school?
 
I had started doing unusual academic investigations during law school. I played around with damages formulas in contract class. I noticed that the formula for down-round VC financing of startups had some interesting properties and I decided to look at it in 3D.  After law school, I sat in on privacy and e-discovery classes and started seeing how technology impacted both the practice and nature of law.  I had discovered that there was this thing called Legal Informatics and Legal Technology, which I hadn't been (directly) exposed to in law school.  Now I teach "Law 2.0" at Harvard and I'm (finally) going to publish a textbook on Legal Informatics in which I'm a co-editor and author of 5 chapters.
 
What or who inspire you to do what you do each day?
 
Four names come to mind: Gandhi, Nelson Mandela, the Dalai Lama and Steve Jobs. I picked Steve Jobs not because of his technical work.  Rather, they demonstrate the importance of following your heart.  
 
Each of my prior careers have informed my next career.  I will be continuing to teach and do research in legal infomatics.  But my personal work increasingly involves the dynamic arts - interactive light, music and sound and video. 
 
Gandhi said, "be the change that you wish to see in the world."  I have lived my life mainly as a noun.  A body, an object, a particle. I think it's interesting to think of myself as a verb, as an action, a wave.  As many of my prior efforts are finally coming to fruition over the next year, I hope to shift my balance -- less particle and more wave.