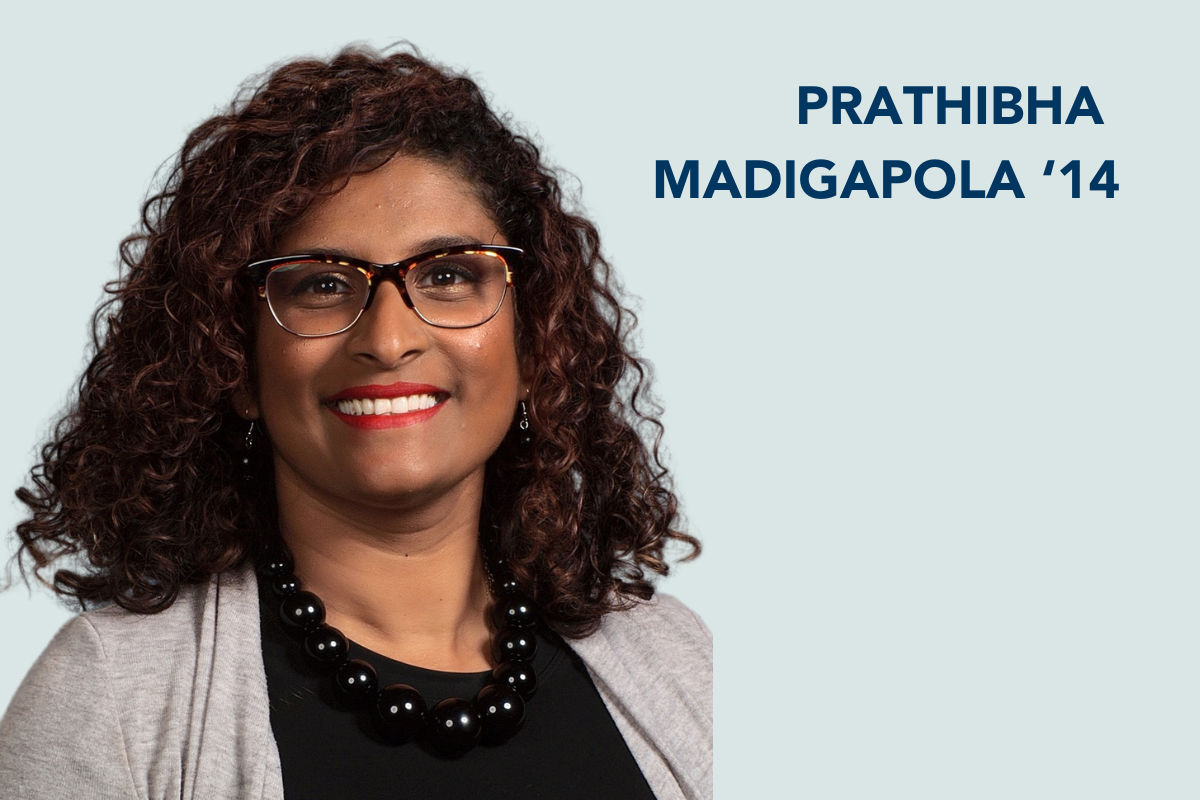 Prathibha Madigapola '14 remained steadfast in her academic journey upon completing her undergraduate degree, enrolling in UCSB's Education master program just a month later. The educator went on to teach in the classroom for a total of eight years, before making the decision to pivot full-time to launch her educational company, Learn with Ms. M.
Now, Prathibha enjoys working hands-on with students to not only tutor, but develop Individual Education Plans (IEPs) and a passion for learning that sets her clients up for success. She utilizes the skills she learned while teaching to communicate with educators and administrators in an effort to achieve better outcomes for her students. Prathibha appreciates the time and flexibility she has outside of her current work to spend with her loved ones.
Tell me how you started Learn with Ms. M, your personalized academic support service for students.
When I was working for a tutoring company, I realized that a lot of parents were asking for help supporting their students in comprehending particular subjects. Many clients were looking for someone with the expertise to build Individual Education Plans (IEPs) and work with students to explore their interests. With close to 15 years of tutoring under my belt, I decided that this would be the year I launched this personalized support service.
I have merged my special education services with tutoring to make it all that more powerful. I am an expert on my students' academics because I am working with them one-on-one. Whether it be making study guides, reviewing material, or completing a worksheet, I help these students learn about the ways that they learn. This includes a social-emotional component that was missing during the pandemic. Learning how to advocate for yourself, explore your interests, and connect with others is all incorporated into my sessions. 
What has been the most rewarding aspect of building this business?
Finding support for young girls in the special education system is a topic that I really care about. Learning disabilities often show up differently in young boys and girls, and the latter often go undiagnosed. In my position, I am able to utilize my expertise in IEPs and educational jargon to communicate with administrators. It is rewarding because my work leads to better outcomes for the student and their educational journey. 
Having taught in the classroom for eight years prior, I also appreciate that I have time for myself. I was always passionate about teaching, but the focus on building a work-life balance was difficult as I got older. When I was fresh out of grad school, I didn't have the husband, home, or dogs that I do now. So while I still miss the classroom, I appreciate that I have the time and flexibility for my own life. I am able to be there for the people in my life in different ways now. I didn't want my work-life balance to be balanced equal because I didn't want my job to equal my life. I want my life to take priority!
I noticed that you began your journey as an undergraduate majoring in Zoology. How did your path and goals evolve throughout your higher education experience?
I majored in zoology with the mindset that I'd become one of those scientists in nature documentaries talking about a specific animal's migration patterns or diets. I started the research track during my freshman year, working in a lab. I loved it but once I got to my junior year, I looked into a science education minor. That was the first time I thought about teaching, even though I had been tutoring friends. I took a class called 'Kids in Nature' where we taught environmental science in classrooms across Santa Barbara. I had this great moment where I realized that I really love science and sharing that passion with others.  
What do you do as a trainer and facilitator for ProSolve?
I work part-time for ProSolve, which is a game-based learning program that simulates real world scenarios for teachers and schools. My job is going to different schools and showing faculty how the game works and the impact that playing the game can have on students and teachers' learning. There is a strong community aspect, as the game is meant to be played by entire classrooms and schools. I appreciate the position as I get to meet educators in the classroom and continue that passion of mine.
I see you recently joined Olé LA. What has been your experience as part of that alumni community?
My main motivation in participating in alumni activities and events is because I really want to foster that community, especially since the pandemic. The more that UCSB pours into its alumni community, the more graduates will show up and give back. The reason why I am a legacy donor is because of the impact that this university had on me. I think there is so much potential in our alumni network because if we can touch more students in that same way, the alumni support will grow.
I understand that you entered graduate school directly after completing your undergraduate degree. What advice would you give to undergraduates considering continuing their education?
Firstly, I have to recognize the privilege that I had in being able to make that decision because I entered a full-time graduate program that isn't necessarily intended to be balanced with another job. Taking a whole year off to study is not something that everyone can afford to do. Looking back, that chapter of my life was probably the only time in which I could have planned it that way. I graduated in June and started the grad program in July, which was hectic. For example, I've recently been looking at other masters' and PhD programs but I'm in a different phase of life now. As much as I would love to be a full-time student, I have new responsibilities that don't allow for that. So, I would advise that a quick transition between undergraduate and graduate school can be a wonderful opportunity to take advantage of because it can be hard finding another chapter in your life where you can dedicate your time in the same way.
What is on the horizon for you in your career and life?
Right now, I am running Learn With Ms. M all on my own, but I am already seeing a lot of demand for my services. Looking forward, I see myself focused on expanding this business by training and hiring more people. One aspect that is important to me is thinking about how I can do this in an equitable way. If I am looking for a candidate with teaching experience, credentials, and a masters' in education, I want them to feel as though they are valued within my company. That was an issue I ran into when I tutored for other companies, where the teacher was only making half of what was charged per session.