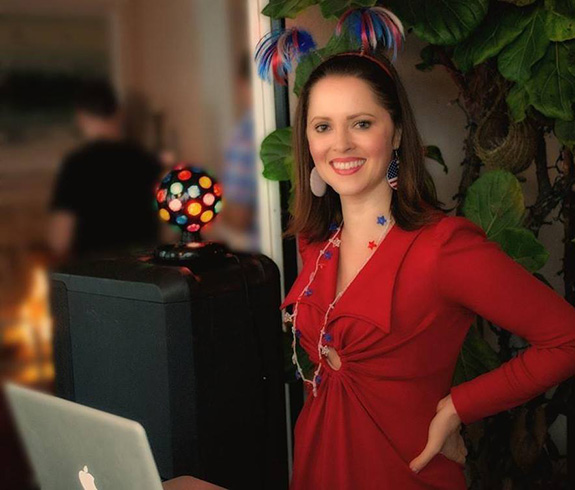 On the air and at the dance floor, DJ Darla Bea `03 revs up the party with a mix of high-energy beats and rare tracks.
The Santa Barbara native -- and self-confessed music geek-- has become the go-to name in events around town. If you've been out and about over the last eight years, you probably danced to a DJ Darla Bea mix at least once at a corporate party, non-profit fundraiser or community party.
Darla has served as the resident DJ at venues like The Goodland Hotel, Canary Rooftop, Four Seasons Biltmore Ty Loung, Blush Restaurant & Lounge, M8RX Nightclub, The Mercury Lounge & Reds Bin 211 in the Funk Zone plus other popular nightspots.
She is the host of the popular two-hour KCSB-FM 91.9 radio show "Rock It Properly" ("Santa Barbara's School of Rock"), featuring a high-energy mix of nostalgic songs and rare tracks from a wide range of artists and genre themes from Afrobeat to Zydeco music.
Last year, Santa Barbara residents voted Darla as finalist for the "Best Event DJ" in the Santa Barbara Independent's Annual Readers' Poll – a happy honor for someone who loves her hometown and the many celebrations that populate its busy calendar.
In this Alumni Q&A, Darla Bea shares how she earned her place in the DJ booth on the air and at the hottest gatherings in town – and why Gauchos of all ages and musical generations rock her world.
Were you always into music?
I was born and raised in Santa Barbara and went to all local schools like La Cumbre Junior High and Santa Barbara High School, where I was a cheerleading captain. As a child I loved arts and crafts, dress-up, and recorded myself on my tape recorder since age 3. We had no TV so there was a lot of make believe - I am an only child so I also had an imaginary friend. I've met a lot of only children at the KCSB-FM radio station surprisingly. Making up jingles, songs, advertisements and telling stories into my tape recorder was my favorite pastime.
In high school, I was primarily known for being a cheerleader but I hung out with all crowds - music nerds, drama club, foreign exchange students, jocks and surfers. Attending all-ages concerts, driving around listening to CD's, tuning in to KCSB-FM and tape recording my favorite radio shows were all part of my burgeoning music obsession. I made a lot of mixed tapes for friends. People made them for me too or always knew to send me songs or bands that they discovered while traveling or away from college - giving me an edge on international tunes. I remember leaving my date at prom to rush up to the DJ booth and ask the DJ what a certain song was - it ended up being Daft Punk's first release. The prom was held at UCSB's UCen.
Yes, I've always been into music. My mom told me she played plenty of classical music while I was in the womb. Discovering Swedish neoclassical metal guitar virtuoso Yngwie Malmsteen at age 6 was a distinct breakthrough as well as falling in love with Queen's eclectic classic rock stylings in junior high. My memory of events is made up of songs - I tend to remember a song first, then the memory of what was happening while that music was playing even if it was in the background. If that makes sense. Some people can remember the past through a smell – for me, it's a song. I've gone to great lengths to crate, dig, research and seek out certain discontinued, selective releases and rare tracks from music stores/libraries. In recent times the Internet and Shazam have made these quests for music a lot easier.
You majored in art history here at UCSB - why did you choose to pursue this major? What were your ambitions when you were a college student?
I started my college education at Santa Barbara City College in hopes to transfer to UCSB. When I was at SBCC I took multimedia arts classes, graphic design, visual communication, art studio and plenty of art history. When it was time to transfer I was torn between Communications and the History of Art & Architecture for majors and went with Art History as I excelled in this field previously and the content came easily to me. Later on it would serve as a platform for the creative direction work I would go on to do with website design even the poster layout/logo for my DJ business. I was proud to be a local attending my local University. The department was excellent and I still can relay art and historical trivia when visiting museums/galleries. I have DJ'ed exhibitions in Los Angeles at private art galleries, for the SB Arts Commission and have a regular stint with the Museum of Contemporary Art.
How did you get involved in the club/DJ scene? What do you love most about this profession?
I got involved in DJ'ing through my Sunday night radio program on KCSB-FM. I decided years after being a long time listener and huge radio fan in general -- I'm inspired by old time radio programming like Dr. Demento, KLOS the 7th Day, Disco Saturday Nights -- that I would apply to be a radio host at UCSB's community radio station.
I established a classroom through radio - Santa Barbara's School of Rock "Rock It Properly" where I teach a lesson each week on a genre, theme, artist or topic. There's even a weekly Darlapedia musical definition. After honing my radio voice and personality, I was asked to DJ a night a month at the Mercury Lounge in Goleta by the owner who was a fan of my program. I came up with "L'Eighties Night" an all 80's party for ladies and dudes too. Marketed the night, got it into local press, built a following and some of my first wedding reception gigs came from attendees. From the Merc as it is fondly known - to the Funk Zone's Seven Bar where I did a regular "What the Funk" Motown and soul night to the Marquee, Blush, Blind Tiger, Tonic, SOhO etc. And then a monthly stint at the Biltmore's Ty Lounge through local DJ agency - Gavin Roy Presents helped my name and musical reputation started to gain speed. I was then picked up by an L.A. DJ agency and two more SB-based entertainment groups. I work for myself as well.
What I love most about this profession is seeing people happy, free and dancing or enjoying the music that I play. I love hearing people scream for joy when they hear their favorite song or someone high-fiving me for a good set. Recently a group of little girls at a wedding reception danced and sang to my music and were my groupies for the evening - I put my headphones on them and encouraged them to keep up their interest in music. Watching Spinderella of Salt n Pepa perform at the bowl was inspiring - as the all-female hip hop group sang "Spinderella's not a fella but a Girl DJ" - total girl power moment. Music brings so much happiness and brings an element or vibe to what could be a basic event or party. Themes are where I started in music but now I go for an authenticity to mixes, evoking a feeling/mood and don't go for a literal translation of songs and song lyrics. Sometimes a time period for a retro feel. It's a very gratifying position to be in when you're at the helm of spinning the beats!
You were voted "Best Event DJ in Santa Barbara" by the Santa Barbara Independent Reader's Poll - how did you feel about this recognition? How would you describe the scene in Santa Barbara?
I was bowled over with happiness! To be voted finalist for "Best Event DJ in Santa Barbara" by the Independent Readers' Poll in 2015 was such a great milestone for me. I'm still fresh on the scene having started about 8 years ago - many DJ's have been working in this city for 15-20 years so I was really honored to be on people's radar. The Independent newspaper itself has been really good to me writing pieces about my events, including my name whenever possible and or a photo of me in action. They now refer to me as the ubiquitous DJ Darla Bea! I was the DJ for their 30th Anniversary Party in the Spring and the subject of an interview and photo shoot with SBIFF Executive Director Roger Durling called the SB Questionnaire shortly after the honor was bestowed.
The scene has changed quite a bit of the past couple of years. When I first started throwing 80's and disco parties at venues I would pack the place at capacity and sometimes shut it down due to a missing dance license - this town is kind of like the movie - Footloose! There wasn't an overload of options and social media clutter as there seems to be lately. Also the bands vs. DJ's entertainment has changed where more people are going to see DJ's perform even the New Noise Block party featured more DJ based entertainment. So that has helped my reputation and workload because I can play any theme, any party any assignment based on my well-rounded knowledge of genres. Places like Muddy Waters and Red's Wine Bar existed as a starting ground for me to play music and play for locals who like great throwback tunes. Both venues have now since closed.
My favorite local events are Notes for Notes concerts, the New Noise Festival, Pacific Pride Monthly Mixers at the Canary Hotel, the Summer Solstice Parade and concerts at the SB Bowl. (some of these I'm partial to because I am involved on a music level but I also attend them as well).
With the DJ now being held in the same regard to a lead singer or band I have DJ'ed twice up State Street while being push on a float in the Summer Solstice Parade after being hand picked by the La Boheme Professional Dance Group's director Teresa Nowak from seeing me DJ a New Wave night at Blush Lounge. This honor has taken my wig and costume wearing to the next level plus a ton of media attention. The dance group and I have collaborated at just about every holiday and local event we can. From Solstice to Fiesta to the Holiday Parade.
How did you get started in radio?
I listened to the Dr. Demento show every night since I can remember under the covers with my walk-man headphones in. I also studied Saturday and Sunday night programming from various Los Angeles radio stations. KCSB-FM's programming during the mid-90's was a template on how I organize my current show. While I was a UCSB Student I was too busy to spend time starting a program. I finally hit the station up for more info years later as a community member not a student and put in my middle of the night time, A.M. training and volunteer hours to get a perfect Sunday night timeslot of 8:00-10pm. Doing my show comes naturally and I really get into character behind the microphone. I love receiving Facebook messages and phones calls to the station during my show which I give shout outs and extra credit to my students of the School of Rock for participating in class that evening. I've got a wide range of fans spanning the coast from Oxnard to Solvang - mostly male but recently some women have joined class! The show is a creative outlet for me and adds credibility to my in person DJ'ing and persona. Also lending a female voice to the male dominated radio industry also drives me to continue programming each week. I've been able to meet Jack Black, Nardwuar, Jeff Bridges, The B-52's, The English Beat, Foxygen etc. from my connection to the radio station and receive radio ID's. Roman Baratiak of UCSB Arts & Lectures has been a long time listener of my show and asked me to be the sole music curator for A&L's Summer Movie Series. I'm always honored to put together a music mix for each theme. He trusts my taste in tunes and that feels great!
What's on your personal playlist? What are your favorite genres?
For personal listening - I usually go back to songs, bands or genres that I've always liked but throw in a new song here or there like Beck's latest trap rap single "WOW." AIR (The French Band), Queen, Ska/Rocksteady music from Jamaica and Coventry England, Early Hip Hop from 1979-1983, anything by Blondie, Jazz Fusion i.e. Roy Ayers, Fela Kuti (Afrobeat), Quantic/Thievery Corporation/Tosca, Ariel Pink's Haunted Graffiti (lo-fi from Beverly Hills), Nortec (Norteno + Techno from Tijuana Mexico), Miles Davis "Kind of Blue" album, Vivaldi's "Four Seasons" Classical Music, French YéYé, Chic/Giorgio Moroder/Daft Punk (Disco), George Benson, Herb Alpert and plenty of funk music from the late 60's/70's and 80's.
I like music from every genre - I study music from all countries, groups, cultures - but what I play has to be listenable and groovy!
It was fun to hear you spin at the 2016 Zero Year Reunion. What do you enjoy about alumni events?
I had a blast DJ'ing at my alma mater for the Zero Year Reunion. It was a super fun event with all ages in attendance. I enjoy seeing smiling faces, the Gaucho mascot boogieing to the music, plenty of blue and gold and being involved with UCSB on a creative front. The age groups that have the most song requests are 18-25 year olds and 45-65 year olds. At this past Zero Year Reunion I had requests for Will Smith's Gettin' Jiggy With It and The Crusader's Street Life.
Beyond working in radio and at events, you also work as a stylist and marketing professional. How do all these professional skills complement each other?
All of these professional skills have to do with personal branding and presentation in the public eye. From marketing a service, company or product to dressing a professional or notable figure to playing music that evokes a mood or gets people to do something (mingle, dance, remember a time period, play a game.) I love to promote and it has helped my business take off and get great visibility as well. Building a brand is key to longevity and my brand is known for fun, wigs/costumes, great music and a rocking good time!
What do you do on your days off?
Healthy activities and surrounding myself with good people balances me. I spend time with my parents, my best friend and my boyfriend. My terrier named Freddie Mercury (after the mustached lead singer of Queen) gets me out for a walk to the beach or a hike. Sometimes going off the grid into nature and unplugging from technology (especially Social Media) is the best thing for me - being in total silence or listening to music without words works too. Bookstores, museums and galleries are my go-to. A staycation at home after a long weekend in the public can be recuperating!
What makes you proud to be a Gaucho?
Attending UCSB was a great time in my life. My curiosity to learn, live in the libraries, find inspiration from professors and study groups, go on field trips and make long-lasting friendships even as a local at the University is something that has giving me the confidence to go forth in life and ROCK IT PROPERLY! Go go Gauchos!