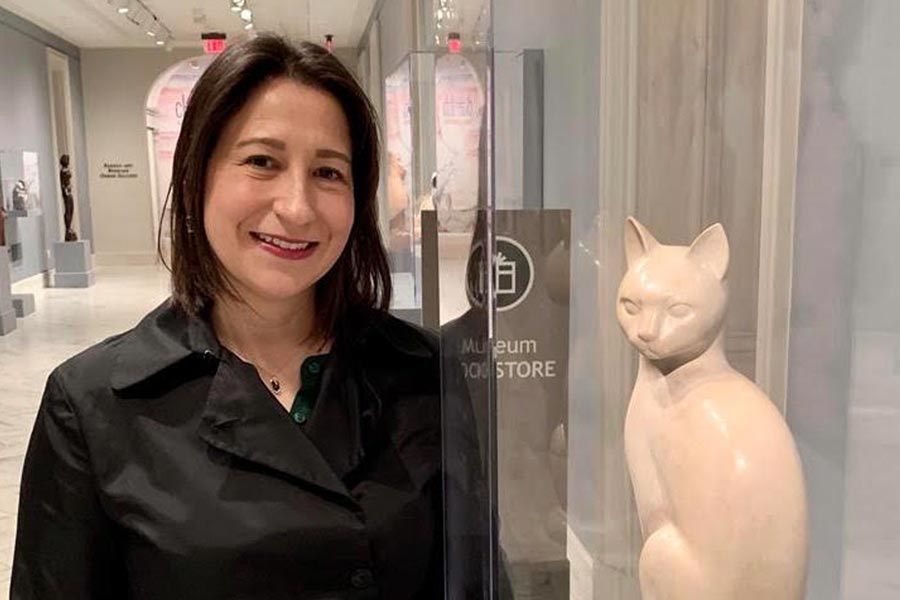 Dr. Sarah Kriz is a lead cognitive psychologist at The MITRE Corporation, where she specializes in program evaluation, large-scale study design, survey research, and project management.
Currently, she co-leads a nationwide project that evaluates the replication of pregnancy prevention programs that have been proven effective through rigorous evaluation. Before joining MITRE in 2015, Dr. Kriz worked in higher education, spending three years as an Assistant Professor of Human Centered Design & Engineering at the University of Washington, Seattle and several years as an administrator at other universities across the country. Dr. Kriz earned her Ph.D. in Psychology, with emphasis in Cognitive and Perceptual Sciences, from the University of California, Santa Barbara in 2006.
Recently, she was a featured panelist at the "Pivoting Away from the Academy" breakout session of the 2020 Gaucho Professionals Virtual Expo organized by UCSB Alumni Affairs.
 
What drew you to choose UCSB for your graduate studies?
The reputation of the Linguistics department is why I applied to UCSB for graduate school. In fact, after applying and getting accepted to several Linguistics PhD programs around the U.S., I realized none of them were a good fit for me. After I got my Bachelor's degree, I worked as a researcher at UCSD. I really thought about what I wanted to do with my life. The following year, I applied to UCSB and nowhere else. It was risky, but luckily I got accepted!
What was the most important thing you learned at UCSB?
I learned what it means to be a good mentor. My advisor, Mary Hegarty, was a wonderful role model and showed me what it looks like to be kind and generous but also firm and rigorous. Because my husband, Ricardo Vivancos-Pérez, was a grad student in Spanish and Portuguese, I got to benefit from his mentors as well. After all these years, we are still in touch with so many of our UCSB professors: Mary, Carol Genetti, Víctor Fuentes, Francisco Lomelí, Sara Poot-Herrera. Our mentors have continued to be lifelong influences.
How would you describe your career path since you received your Ph.D.?
I would say that my career path has been a winding adventure. After graduating, I moved to Washington, D.C. and did a postdoc in the Naval Research Laboratory's Artificial Intelligence Center. From there I took a tenure-track faculty position at University of Washington, Seattle in the Department of Human Centered Design and Engineering. I left my faculty position to take a very unique opportunity to stand up an Office of Undergraduate Research at University of San Diego. From there I crossed the country again and returned to the DC area. I was a university administrator for a while at George Mason University, where my husband is a professor. Then in 2015 I decided to leave academia. For the past five years I've been at The MITRE Corporation, where I work on social science and public health projects that address the well-being of our nation.
One of your current projects at MITRE is a program evaluation that looks at the effectiveness of teen pregnancy prevention programs. Can you tell us a little about that work?
Yes, I am the Deputy Project Leader of a nationwide project evaluating replication of pregnancy prevention programs that have been proven effective through rigorous evaluation. The Office of the Assistant Secretary of Health, U.S. Department of Health and Human Services, engaged MITRE, the operator of the Centers for Medicare and Medicaid Services (CMS) Alliance to Modernize Healthcare (the Health FFRDC) to objectively evaluate replication of these programs. Priority populations that are part of the evaluation include high-risk, vulnerable, and culturally under-represented youth populations and populations that are underserved by other pregnancy prevention programs.
We did not expect a pandemic to happen during the evaluation, but the team has been resilient!
Do you have any hobbies that you would like to share?
Ricardo and I are big wine connoisseurs. I learned a lot about wine while I was in Santa Barbara. When I was a grad student, I was an officer in the Graduate Students Association and I organized several local wine tasting events for grad students. I learned quite a bit about wine that way! We have also traveled to the main wine regions in Spain, and now during the pandemic we have been supporting our local wineries here in Virginia.
Why do you give back to UCSB?
When I was a grad student, I was lucky enough to be a Towbes Fellow. Michael Towbes would have lunch with us every year, and I was so impressed that he was interested in our lives and our progress in our degrees. It was an example of giving that I had never seen before. I knew then that I wanted to support graduate students in the same way that Michael supported the Towbes fellows—taking a personal interest in helping students succeed. Ricardo and I have made it a priority to give to UCSB. We consult with our former professors and Graduate Division staff to determine the fund that we feel needs our donation each year. We want graduate education to be as excellent as it was when we were students.