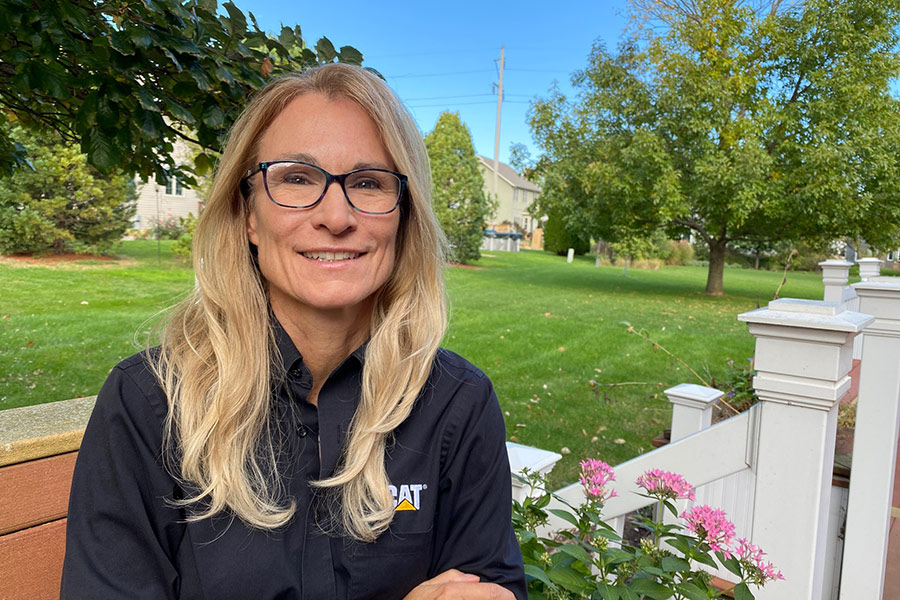 Lou Balmer-Millar Ph.D. '93, will become a vice president of Caterpillar Inc. with responsibility for the Large Power Systems Division effective January 1, 2022, leading the design and manufacture of large diesel and natural gas engines under the Cat, Perkins and MWM brands, as well as advanced power products and powertrain.
She is currently the General Manager of high-speed engines and components responsible for three diesel high speed large engine platforms. Lou earned her Ph.D. in Materials Science from the UCSB in 1993.
In this Alumni Spotlight Q&A, Lou Balmer-Millar, Ph.D. '93, discusses her new role at Caterpillar as well as how she was able to successfully transition from research to industry.
How would you describe your new role as Vice President of Caterpillar?
As Vice President of Caterpillar Inc. with responsibility for the Large Power Systems Division (LPSD), I will lead the design and manufacture of diesel and gas engines ranging from 400kW to 6MW. With a global footprint, the large engine platforms designed and manufactured by LPSD are used in electric power, marine, oil & gas, rail and Cat machine applications. The role is also responsible for advanced power products and powertrain, which are essential elements in our journey to help our customers achieve their climate-related goals.
You did your undergraduate degree at Penn State University. What drew you to choose UCSB for your graduate studies?
I did quite a bit of research to identify the professors doing the most ground-breaking research in materials science, as well as on the materials departments and universities. This led me to UCSB. I was also attracted to UCSB because it offered a relatively new department that was embracing a collaborative and multi-disciplinary approach. Students were encouraged to work with other divisions and disciplines within the university and had two advisors rather than just one. It was a fresh approach, and the professors that founded the department were renowned in the industry and academic settings. They were known as collaborators, and that was very attractive to me.
What was your research focus at UCSB? Do you have any professors or colleagues that stand out from your time here?
The topic of my thesis was Metastable Phase Selection, Partitioning and Microstructural Evolution in Zirconium Oxide-Metal Oxide Processed from Liquid Precursors. While the thesis title was very focused, my research exposed me broadly to spectroscopic techniques, microscopy, phase equilibrium and materials processing. My research and mentors helped to hone my skills in critical thinking and innovation – skills I've relied on throughout my career.
I was supported by fantastic professors. I can't say enough good things about them! My primary advisor was Dr. Fred Lange, who sadly passed away in 2010. Dr. Carlos Levi co-advised my Ph.D. dissertation. In addition to being outstanding professors and academics, Dr. Levi and Dr. Lange were both very approachable and clearly cared deeply about their students' well-being and success. Dr. Levi still checks in with me and many of his students as they have moved onto careers in the field. Both he and Fred were excellent mentors, accomplished scholars and researchers, and just genuinely wonderful people.
Before joining Caterpillar, I understand you conducted materials and chemical engineering research at the Environmental Molecular Science Laboratory of the Pacific Northwest National Laboratory. How was your transition from research to industry and do you have any advice for others that may be considering a similar move?
Making the transition from research to industry was a big decision, but it went extremely well. I think this is because I carefully reflected on what I'm passionate about, my strengths and what really motivates me. What was missing for me in the National Laboratory was that the type of work is far from implementation. It certainly underpins many innovations, but the timeframe is long. My work had me collaborating with car manufacturers and even Caterpillar at the time. I was excited about how technologies could make their way into equipment or cars. Ultimately, I felt like in industry I could apply my talents in a way that would enable getting innovations to market faster to benefit customers and society in general.
Manufacturing has traditionally been a male-dominated industry with fewer than one third of manufacturing jobs taken by women. What was your experience coming into the manufacturing industry and do you see things changing in the future?
For me personally, it wasn't a difficult transition. Caterpillar's values place a strong emphasis on diversity and an inclusive environment to support our employees and the communities where we live and work. Diversity of thought and experience is valued, so I've never felt like an outsider.
Most industries are embracing diversity, but when you look at mechanical and electrical engineering graduation rates in the U.S., there has not been a significant increase in the percentage of female graduates. This is one reason why it's so important to focus on STEM activities in grade schools and high schools and to foster an interest in science, technology, engineering and math. At Caterpillar, we are working to help create the next generation of innovators, problem-solvers and leaders by educating students about the innovative STEM and skilled trade careers that exist in the industry. It's also critical to have diverse candidates working in industry to be visible role models for the future generation.
Do you have any hobbies or pursuits outside of the office?
I do! First is my family. My husband and I have two sons in college. It has been a joy to watch them grow into young men. Giving back to the community is a passion of mine. I'm on the board of the Multiple Sclerosis Council in Peoria, Illinois, and am a strong supporter of the United Way here at Caterpillar.
As far as hobbies go, I love water sports, especially wake surfing, which is a passion that started during my time at UCSB where I learned to surf. I also enjoy biking with my husband.