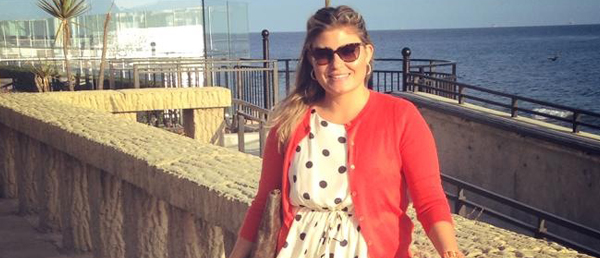 Trudie Reich is Owner and Placement Specialist for Beach Baby Nannies LLC, a household placement agency she established in early 2017 in Santa Barbara.
She assists families in finding the right match in staffing for their domestic needs including nannies, babysitters, newborn specialists, tutors, housekeepers, chefs, household managers, and executive assistants. "I call myself a Household Services Matchmaker," Reich explains. "Because that's really what it is at the end of the day. I match great staff with great families!"
Why did you choose to study at UC Santa Barbara?
I chose UCSB because of two reasons mainly: I grew up on campus so it really felt like home to me. I had a deep connection in many ways to the campus and resources (my dad is Chemistry Professor Norbert Reich). I liked the Psychology/Sociology department and programs. I was a transfer student from SBCC focusing on early childhood education and psychology, and I just felt it was the right school for the direction I wanted to go.
What do you enjoy most about your work? 
I LOVE what I do! Everything from being a busy business woman and juggling being a full-time mom to a crazy 18-month-old toddler, to meeting families desperate for help and in need of support and reassurance, to the last-minute call at the end of the day wanting an amazing sitter for the coming weekend. My work is something I'm passionate about. I bring over 14 years of professional nanny experience in the high-end child care industry to the table as well as being a mom, and I find that both the candidates we place and the families we help, appreciate that I can relate to both sides. What drives me is knowing that I'm bringing people together and making quality relationships for children, for families, for everyone! 
You don't have to have a background in business to own and run a business. Everything I've done I've learned along the way, from mistakes, things that worked, and people I've met. My support system is great! I get excited about every placement, every family, and every opportunity. It's also very time consuming. Finding balance between time with my daughter and being a mom, and running Beach Baby Nannies, I'd trade nothing for it! 
How did your major help you in your career? 
My major and primary study was in Psychology/Early Childhood Education/Sociology. I use my education in my work by thinking about the social relationships I'm matching together, the skills and experience each candidate brings to the table, and I will best match each family's needs. 
How and why do you remain involved at UCSB? 
I often visit my dad on campus with my daughter and take walks on the weekend along the beach, lagoon, and campus. I am trying to get more involved with the Alumni Association as a business owner and graduate. I want to be an example and role model to other UCSB students that you can build a business on your own, be a single mom, and find ways to use your education in your career. I want to be a resource to students who want to tutor and babysit. Students are a great way to showcase our relationship ties to the community and how much we support local schools. 
What is a challenge you experienced and how did you overcome it?
Becoming a single mom while trying to build a business. It's a lot to juggle and manage, finding time for my business and presenting a professional image to clients, then taking care of my toddler and giving her the time she deserves. Sometimes the two mix together, and I bring my daughter to casual business functions and I'll have her in the stroller while I interview a potential nanny. When I really think about what I'm doing and knowing how hard both responsibilities can be, I realize that what I'm doing for myself and my daughter, is pretty amazing. I'm giving my daughter a role model of a hard-working business owner and mom, and she gets to be a part of my business. 
What is one career or personal milestone that you are most proud of?
Building my business from scratch! I had no business experience. I've done everything on my own such as making my own website, filing documents with the Secretary of the State, creating relationships with local businesses, schools, non-profits including the Chamber of Santa Barbara, the Santa Barbara Zoo, and UCSB Alumni. Building a business that takes a lot of work, time, effort, money, motivation, and passion, is incredibly rewarding. You constantly have to strive and keep it moving, but matching people together is my reward at the end of the rainbow. 
What advice do you have for current UCSB students in general or for those hoping to follow the same career path?
Find something you like to do, be passionate about it, and you'll be successful. That's what my dad always told me. If you're not passionate about something, then don't do it. You have to love what you do, you don't always have to like it, but the passion in your quality of work will transmit through your business to clients and business relationships. 
What are some of your most memorable student life experiences at UCSB?
Have to say I've really enjoyed going to the UCSB Women's Basketball games. They're pretty exciting! Seeing the ladies race around the Thunderdome and to be amongst fellow UCSB students cheering, what a great experience! And SO MUCH FUN!
Reasons We're Proud to be Gauchos
No. 14
What makes me personally a Gaucho, is my upbringing on the campus through my dad working here so long. He comes in every Saturday when the campus is usually quiet, and besides working, he takes advantage of the campus and its resources. I have many memories of going to the Orfaela Preschool on the west campus, years spent at UCSB Summer Camp, and long walks to the art museum or UCen. My roots are deep with UCSB. It's home to me. That's why it seemed fitting for me to attend as a student and now to come back as a business owner and alumni member.