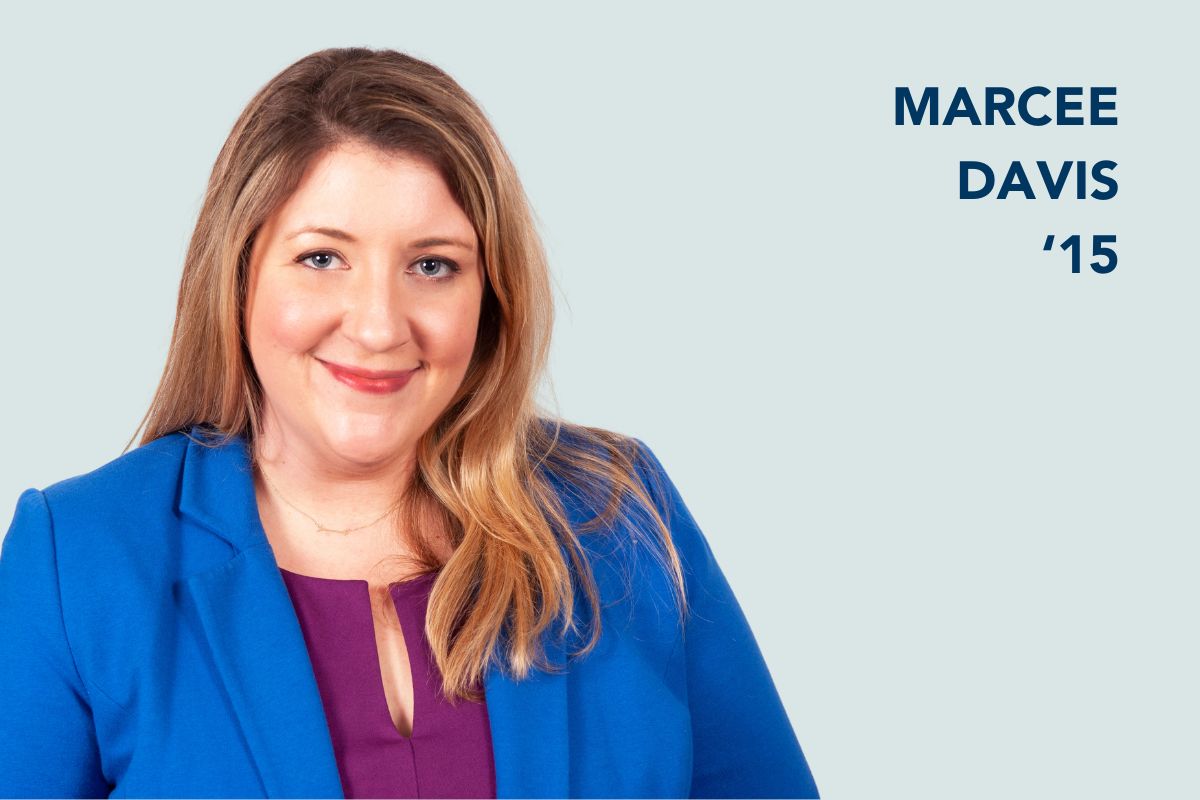 Marcee Davis '15 arrived at UCSB as a non-traditional student: she was a mother, a veteran, and a first-generation college student. On the campus by the sea, she found her home. Marcee and her partner both graduated with Bachelor's degrees and fond memories of their undergraduate experience. Marcee accredits a portion of their success to the readily available resources, like daycare and afterschool programs, that helped her family during their time as students.
After majoring in Film and Media Studies, Marcee obtained a Master's degree in Public Relations from USC. While she spent time working in Congress and starting a nonprofit, Marcee eventually returned to campus in 2020 as a staff member. With a passion for veteran's issues, she is eager to educate non-traditional students on their benefits and rights. Having witnessed financial information discrepancies first-hand, Marcee wants to show students that there is more than one path to higher education.
Tell me about your experience during service in the military
I joined the Navy when I was 17 in 2003. I worked as an aviation electrician and a plane captain, doing a lot of maintenance on aircrafts. I was stationed in Washington State, but got deployed on an aircraft carrier out of Virginia and entered the Persian Gulf in 2004. My second deployment was in 2007 in Afghanistan with an Aviation Squadron. When I got out in 2007, I was a reservist until 2014.
What led you to Film and Media Studies as an undergrad at UCSB?
I took a photography class in high school and thought I'd found what I wanted to do with my life. I joined the Navy thinking I would be a 'photographer's mate,' but when you join the military, they choose what job you go into depending on what is available. During my service, I continued taking photos and even considered becoming a journalist. When my active service ended, I attended Brooks Institute of Photography in Santa Barbara.
However, I really felt a calling to go into higher education instead of a trade school. I took all of my photography credits and enrolled in community college to pursue a Photography of Arts degree. Additionally, I had my son before my second deployment and wanted to be closer to my family in Ojai. So, I chose UC Santa Barbara for film and media as I had also developed an interest in the film industry.
You received a master's degree from USC in strategic public relations and public policy advocacy. What drew you to earning that degree?
When I was at UCSB, I got inspired by a documentary about military sexual assault and the laws surrounding it called, 'The Invisible War.' I attended one of the showings and even had the opportunity to speak with one of the producers. I saw how this Academy Award-nominated film changed policy because it highlighted issues that weren't being properly addressed. After seeing how media can affect communication and policy I was motivated to go to USC School of Journalism for graduate school in Public Relations. My graduate studies were focused on women veterans and access to benefits and care. In sum, I took all of my passions and put it into pursuing a higher degree.
You spent time working for Congress – what did your work involve there?
After I got out of graduate school, I considered working for think tanks or political movements in that space. I ended up in a congressional district office in Southern California which is unique since offices outside of Washington, D.C. are not politically affiliated. You're there to serve the constituents so you're with a lot of different people even when working for a democratically aligned Congress person.
I worked on outreach, so I attended a lot of events to get the pulse of the community. I also acted as the grants coordinator and worked on veterans benefits. What happens frequently in Congress is people come directly to us if they have issues with military benefits at a lower level. Whether it was families trying to get medals for passed loved ones or dealing with VA benefits, I served a big population in a large range of work.
What is the nonprofit organization that you started?
The nationwide movement to create collaboratives for veterans' issues led to the creation of the Santa Barbara County Veterans Collaborative. I was a part of the group that helped launch it and I acted as the organization's board president for two years. It is important to have this representation where all these different service providers connect and talk about issues in the community.
Santa Barbara is unique because we are attached to the Los Angeles regional office but we're not close enough to get services from that region. Thus, nonprofits, as well as county, state, and federal representatives often need a forum to be able to share information – that's where those collaboratives come into play. Santa Barbara didn't have a collaborative that connected north and south county together so this nonprofit was a culmination of years of research and fundraising to change that.
What was your favorite part about being a Gaucho?
I had a very different experience than the normal Gaucho as a non-traditional student. I was a first-generation college student, as well as a veteran and a mom. My partner and I are both veterans, and he ended up at UCSB as well. I took a chance going into the UC system, not knowing what services were provided here. As soon as I was admitted, we got accepted into family student housing as well as received daycare for our preschooler and school and after-care for our other son. I saw first-hand all of the different services available on campus for students, like the Women's Center, the non-traditional student resources, and even the graduate program catered to families.
I found great professors in my department, but what made the difference was the feeling of community in family housing. My partner and I felt very supported by the staff and the administration in that way. We wouldn't have been able to afford to live in Goleta while attending school without the offered childcare and support system. That's why I encourage veterans to take the leap sometimes. You don't know what is out there yet and UCSB began to feel like our home.
Now, you're back at UCSB as a VA certifying official and financial aid advisor. What made you want to return to UCSB? What does your role at UCSB look like?
After my husband graduated from UCSB in 2018, we lived in family student housing for six years while planning our next steps. We ended up leaving for a year, but Santa Barbara had become our home. After my graduate studies, I found myself looking for students like me who don't understand their benefits, financial aid, or the higher education system. As a first generation college student, I've seen the disparity of information between those who had parents attend college and those who did not. So, I wanted to work at UCSB in the veteran space which just happens to be in financial aid. Every UC school has veteran services but they're all in different departments.
I personally made some bad financial choices that resulted in student debt because I didn't know better at the time. I wish I could have avoided that by being educated on the topic which is why I take my role seriously. Benefits and policies change all the time, so it can be confusing for the students and parents who are eligible. I take pride in telling students how they can afford it like the tips and insider information that may not be readily available. There is a lot of misleading information out there so it is my job to make sure folks are educated and can make the best decisions for themselves.
Why do you think offering specialized military and veteran services is important for the student body?
Veterans often have a lot of barriers to get on the path to traditional education. It takes a leap of faith to get here in the first place even though I don't believe it should. It's a hard road for a veteran and I hope veterans can find a great space here at UCSB.
By Ellah Foster '24