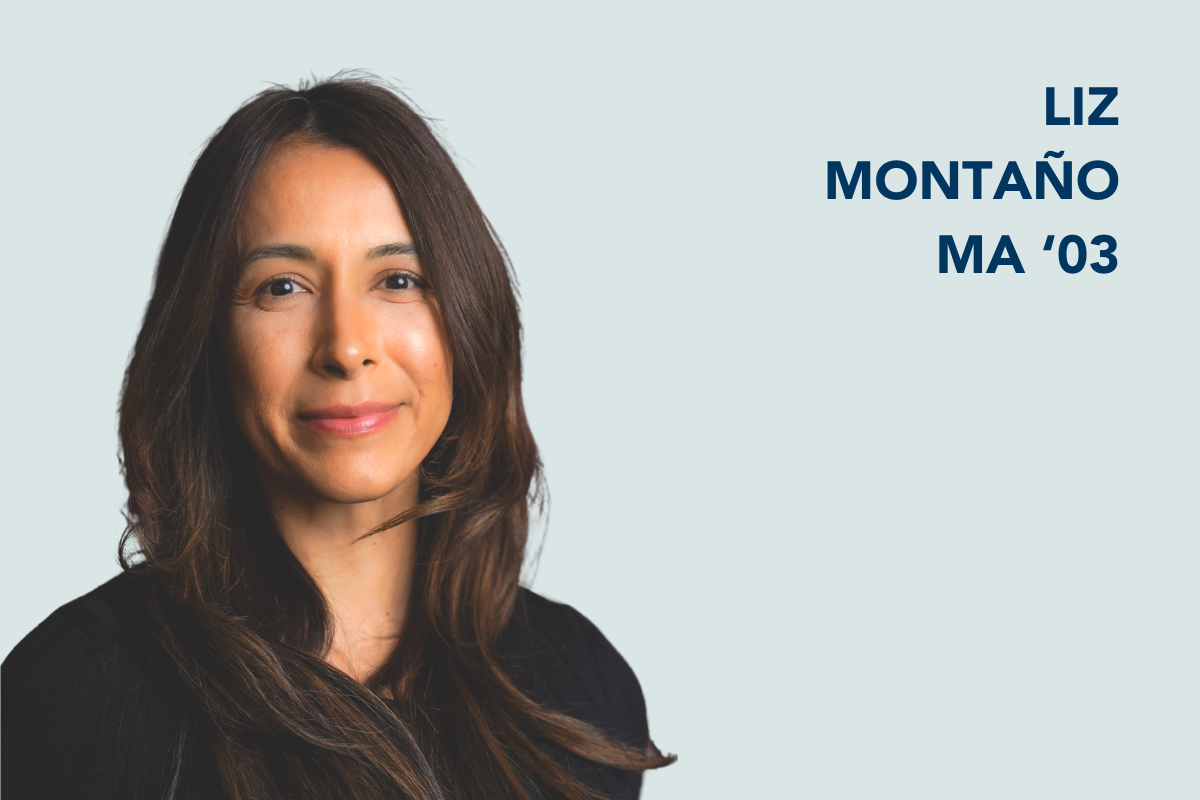 John Lofthus '00, MA '10, Assistant Dean of Development, Graduate Division
A graduate of both the UC Santa Barbara Economics master's program and the MBA program at Harvard Business School, Liz Montaño's expertise in consulting, venture capital, and entrepreneurship has spanned 15 years. Her latest role is at the helm of strategic planning, corporate development, and operations of the National Hockey League's Arizona Coyotes as Chief Operating Officer. (Overseeing the planning and operations of another Arizona team – the Tucson Roadrunners (AHL) – are also part of her many responsibilities.)
Prior to the Coyotes, Montaño's passion for sports and fitness led her to launch and develop a Los Angeles-based fitness brand that grew to five locations and 1,250+ members. She also served as Panavision's Vice President of Finance & Strategy, and worked as a business consultant, supporting both early-stage and Fortune 500 companies. She also worked as an Associate at Syncom Venture Partners, a media and communications venture fund managing over $400 million in capital.
In this Alumni Spotlight, Montaño shares her story about growing up around the UC Santa Barbara campus, hard-earned lessons about working in the professional sports industry, and how her latest hobby keeps her on her toes.
First of all, thank you for taking some time out of your busy schedule to chat with me. I can only imagine how busy you must be with the NHL season in full swing.
My pleasure. The season is definitely a busy time of year, particularly this one given our move to new a brand-new arena in Tempe.
How would you describe your day-to-day schedule as Chief Operating Officer for the Arizona Coyotes?
Each day is a little different, but always so much fun! I'm currently responsible for the team's day-to-day operations. Throughout the year, I work with our departments on ways to build community, brand affinity, and an inclusive, thriving workplace culture. During the season my days are heavily focused on our games: driving revenue (ticketing, premium, corporate, merchandise, food and beverage, etc.), optimizing game day operational efficiency, and creating an incredible Coyote fan experience. The offseason is typically spent analyzing the prior year and strategizing around possible improvements and growth opportunities.
And then there are always special projects. This past season we were told we could no longer play at our current arena and had to find a new one in just a few short months. It was an incredible experience evaluating possible venues, navigating league regulations, negotiating a new lease, and reimagining our partnership agreements. By the time the puck dropped on the new season, we successfully moved an NHL team to the newly opened Mullett Arena, on the campus of Arizona State University. Mullett Arena will be our temporary facility until we can develop a new district in Tempe, AZ (another very special project). With a capacity of about 5000 seats (Mullett Arena), it is one of the most unique and intimate environments to watch professional hockey!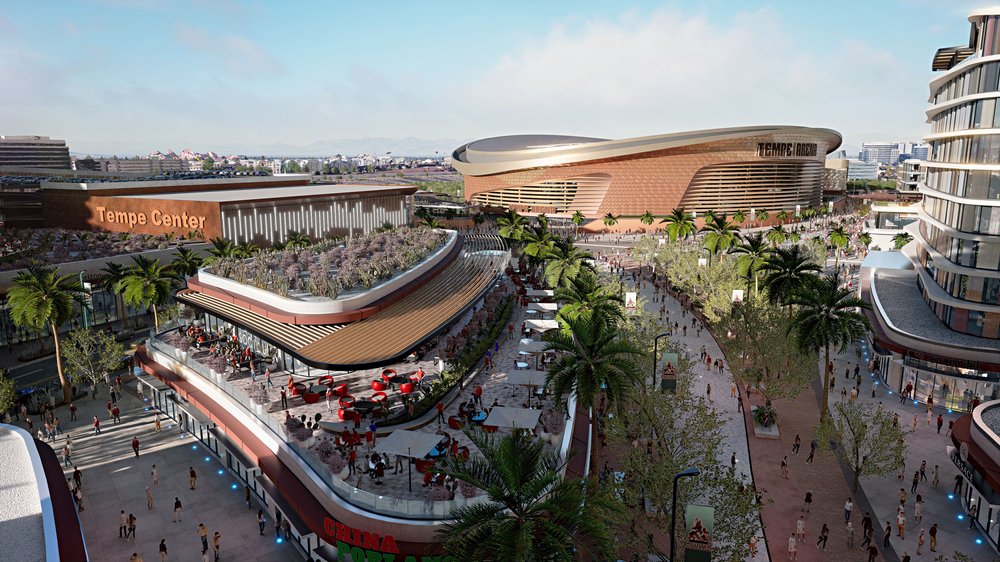 Rendering of the proposed new arena in Tempe.
I understand that you have deep roots at UCSB, having grown up in Goleta and Isla Vista. What brought you back to UCSB to pursue your master's degree in economics?
I grew up on UCSB's campus, beginning at age 5, as my mom worked there for 34 years. I have so many amazing memories with faculty and staff and watching the growth of one of the most beautiful campuses in the country.
I actually started my undergraduate work in Economics at UCSB, prior to transferring in the middle of my junior year. I always felt UCSB had one of the strongest Economics programs, and the 1-year Master's degree was an opportunity to come back and experience what I had missed due to my transfer. The Master's program was such an incredible experience, allowing me to work closely with faculty and a small group of like-minded students. In fact, one of my professors was an outside consultant for a litigation consulting firm in Los Angeles and recommended me for my first job after completing my degree.
What advice would you give to other women looking to enter the professional sports industry?
Get involved early. There are many options to begin a career in sports - sales, marketing, strategy & analytics just to name a few. Experience as much as you can and learn your likes/dislikes, ensuring that you are always learning, developing, and growing along the way.
It's never too late! I interned for a professional sports team during college in 2000 and instantly fell in love. I knew it was my dream job and that I wanted a career in sports. However, I took a few different paths, gaining valuable experience, and ultimately finding my way back over 20 years later.
Don't let underrepresentation stop you from pursuing your passion. The sports industry is still predominantly male, but now more than ever, there are women making incredible strides at all levels and continuing to open doors. Know that you bring a unique perspective that should be valued, not only in sports but by any employer.
Stay creative, and innovative, and always look for ways to make positive change. Consider spending part of your career outside of sports and keep a watchful eye on the dynamics of various industries, both domestic and abroad. There are many successful practices and strategies that can be applied to the business of sports.
I've been incredibly lucky to have had so many opportunities in my career, many of which were made available through my network. I found staying in touch with peers/contacts, communicating passions, and always giving your best in every position (people do remember!), helps open doors. Above all, success comes from believing in yourself and having confidence in your ability to excel at any role.
My favorite example from my career was how I came back to working in the sports industry. Over 10 years ago, while working post-business school at a media and entertainment start-up, I met Xavier Gutierrez. At the time, he mentioned that he was working with someone looking to acquire the Atlanta Hawks. I told him, if that were to ever happen, I would love an opportunity to work for the team. Fast forward to 2021, that someone was Alex Meruelo who acquired the Arizona Coyotes and named Xavier as CEO and President. We spoke soon thereafter, and I found myself moving from my long-time home of Los Angeles, California to Phoenix, Arizona to join the Coyotes organization.
Professional sports are clearly an undeniable passion of yours. I see that you were an intern with the Washington Wizards in 2000. Your career has come full circle with your current role with the Arizona Coyotes. What does the future hold for Liz Montaño?
I plan to continue my career in sports, as I absolutely love what I do. Sports is an amazing platform where I can make an impact in the communities we serve as well as be an inspiration to the younger generation. As my experience grows, I would like to evolve what it means to be a sports executive and industry leader, whether with a team, investment firm (that has ownership in sports entities), a league, or even a governing body.
Do you have any hobbies or pursuits outside of the office?
I love to be active, so I usually CrossFit or get outside for a great hike or a bike ride. I am also blessed to be a new mom and my greatest hobby is spending time with my 5-month-old baby boy, Rhys!
What role does private philanthropy play in graduate education? Were you fortunate enough to receive any fellowship support while you were a graduate student, either at UCSB or at Harvard?
It allows you to focus on your graduate studies and take advantage of the time, space and opportunity at hand as opposed to finances. It also builds a connection with someone you don't know. While at Harvard, I was fortunate enough to receive a few scholarships as well as a fellowship from an HBS alum. I had an immense feeling of gratitude and gratefulness, which inspired me to do my best and strive to get to a point where ultimately I can provide for other deserving scholars in the future.