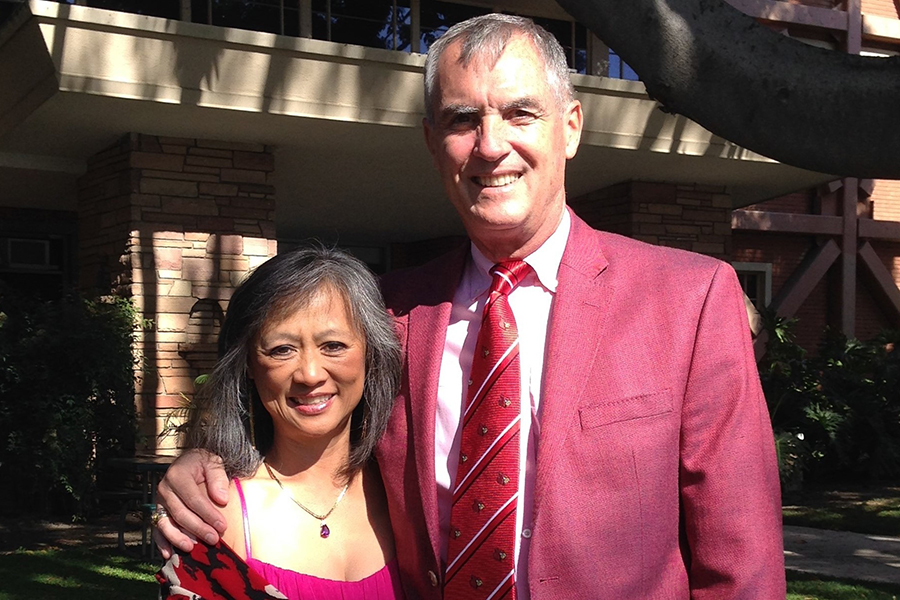 To our UC Santa Barbara community, the Cheadle Family holds a legacy unlike no other.
Vernon Cheadle, a celebrated Botanist, served as UC Santa Barbara's chancellor from 1962-1977. During his tenure, he expanded the campus and paved the way for the university to become a thriving, innovative research university. UCSB's administration building, Cheadle Hall, honors these enormous contributions, as does The Vernon and Mary Center for Biodiversity and Ecological Restoration (CCBER).
Today, his son Bill Cheadle, and wife, Mary Cheadle, continue the family legacy through a generous scholarship fund. Every year, the Cheadle Alumni Award honors a UCSB undergraduate or graduate student who shows great passion for research that furthers the mission of CCBER. CCBER studies include phenology of plants, ecology, environmental management, and many other types of conservation and scientific education.
This year, The Cheadle Alumni Award rewards Gaucho, Jagger Joyner '22 for his exceptional work for UCSBlooms focusing on pollinator visitation and plant varieties at UCSB.
Read our interview with the Cheadle Family and award recipient, Jagger Joyner '22.
Vernon Cheadle was UC Santa Barbara's chancellor from 1962-1977. While growing up and during your own UCSB endeavors, how did your dad influence you?
BILL: Personally, I went to school at UC Irvine but I grew up on the UCSB campus ever since I was 11 years old, going to basketball games, baseball games, track meets, you name it. Living at the university house, we entertained some amazing people including Governor Reagan and Justice Earl Warren.
My dad was very active in the community, as well as the university. It has been an amazing time continuing his legacy as he was a botanist. We love to help out with his main career interest via The Vernon and Mary Cheadle Center for Biodiversity and Ecological Restoration.
How did you and your wife, Mary, meet?
BILL: I was a medical student at UC Irvine. Mary was a nurse at the UCI Medical Center. I met her once when I was rotating on OBGYN, and she didn't seem really interested.
MARY: "No, I was simply too busy!"
BILL: Five months later, as a junior student in surgery, we started going out. After med school, I matched at the University of Louisville for surgery, so we moved out here together as a couple then got married in 1981. Forty years strong in December!
The Cheadle Alumni Award is just one of many remarkable ways you give back to the Gaucho community. Tell us why student support is so meaningful to you.
BILL: Dad was always interested in students and education so not only was he highly involved in teaching and administration, but politically as well. We had all the student officers over for breakfast every month and I still keep up with all the current events.
My dad would always say universities start with great faculty and great faculty attracts great students and great students are what make great faculty.
Joey, as a UCSB graduate and on the Director's Council of CCBER, how do you hope to continue the legacy of the Cheadle family?
JOEY: As I am early on in my career and trying to establish myself, I want to generally follow the footsteps of my family: find something I am passionate about and be as successful as possible in it.
In relation to CCBER, I want to get more and more involved to be a part of the big picture. Student involvement is super important and towards the end of my UCSB era, I suggested my fraternity volunteer at CCBER and just find every way to give back to the community that my parents are so passionate about.
In general, making sure that the right people are involved at CCBER is a priority. I will always support CCBER and the people that surround it.
Tell us how students are involved in research at The Vernon and Mary Cheadle Center for Biodiversity and Ecological Restoration?
BILL: They are involved in all levels from freshman to graduate students and even Ph.D. candidates. There are a number of interns that are brought on every year. In addition, there are classes in which Katja Seltmann and Lisa Stratton teach so students become aware of CCBER and further spread the word. Students are involved both in plant/animal collections as well as the restoration and maintenance of flora all over the campus.
I'm prejudiced but I think USCB is the most beautiful campus on earth and CCBER is a big reason for that.
What is one of your fondest UCSB memories?
BILL: I was a big music fan so I saw all the acid-rock bands that performed at Robertson Gym. Mary and I also had our wedding rehearsal dinner at the university house in 1981.
I would also like to bring up the relationship my family has with Henry and Dilling Yang the current chancellor and his wife. They are amazing people and are so kind to our family. Most likely, Bill's most fond memory of his dad during the last few years of his life was when UCSB got admitted into the AAU, with only 66 universities in this elite organization.
JOEY: The whole experience at UCSB was amazing and in every possible aspect. From jogging along the beach to joining a fraternity to family weekends to alumni weekends… and of course, the soccer games.
Jagger Joyner is the recipient of the 2021-2022 Cheadle Alumni Award. Joyner studies at the College of Creative Studies as a Biology major, expected to graduate in 2022. Read about his research and his environmental impact on our UCSB Campus.
Tell us about your research journey at the Cheadle Center for Biodiversity and Ecological Restoration (CCBER).
It all started with a UCSB grad student, Michelle Lee. She works on a project in the Sierra looking at pollinator abundance at high alkaline lakes, both with and without fish. Here she can study the impact trout species have on pollinator communities.
I got involved at CCBER looking through a microscope identifying these communities for hours of the day. Through that, I started working with Katja Seltmann, the director of CCBER, on different projects UCSBees and UCSBlooms. For UCSBees, I would do pollinator collections around campus. UCSBlooms was first designed by Angela Van Winden '20, but since her graduation, I have taken over to look at the phenology of different plant species on campus.
How did you get into this specific research at UC Santa Barbara?
The main way I got into research was through CCS as that college pushes you to participate in research as soon as possible. In terms of finding a lab, my advice is to email professors because they are more than happy to provide research opportunities. I emailed many professors and they put me in contact with the grad students I work with.
Your work with plant-pollinator interactions and plant phenology started within the CCBER. What questions do these studies aim to answer?
I want to understand the plant-pollinator community on campus and how we are providing for them through landscaping practices. Specifically, with UCSBlooms, we look at ornamental species compared to native species on campus to see how they may support bee populations or pollinator populations in general. With UCSBees, we go around and collect pollinator species and get an idea of what plant species they use as food sources. All of it hopes to inform management on what decisions best support the species on our campus.
Tell us about your project funded by the Coastal Fund.
I received the coastal fund two years ago and the initial project was to analyze nectar implants on campus to see how many variations there were between species at UCSB.
But then COVID happened. I still wanted my project to tie in with UCSBees' and UCSBlooms' mission goals, so I changed the project a bit.
Now we are looking at pollinator visitation and how this varies with the type of plants within an area. I work at Campus Point, inserting potted plants both in native communities and open, isolated areas. With this, I can look at the pollinator visitation depending on the treatment and location of the potted plants.
As the recipient of the Cheadle Alumni Award, how will you use this support to further your ecological research?
As a student researcher, it is very beneficial to get funded for my projects. It pushes me to keep going because, for most, supporting yourself through research can be a big obstacle to face. Most of the time, it is necessary to study, participate in research, and work a part-time job to afford the education you are receiving. So I will use this award to continue my projects and create a better understanding of our phenology on campus.