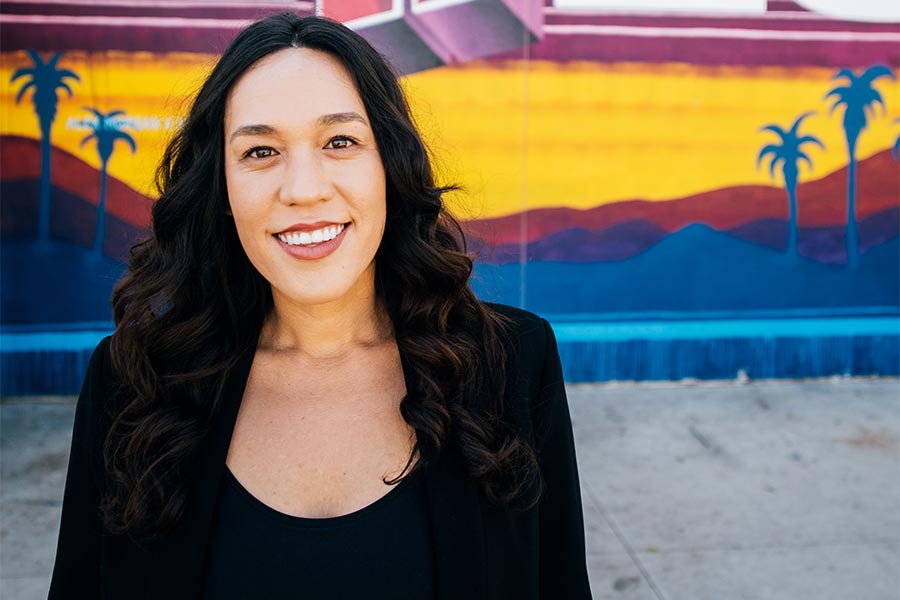 Rochelle Farnum '12 holds a passion for storytelling and is inspired by the transformational power of sports. 
Rochelle graduated from UC Santa Barbara in three years, with a degree in Communication and an Exercise and Sports Studies Certificate. She now works as a Manager of Brand Strategy for LA28, the Organizing Committee for the Los Angeles 2028 Olympic and Paralympic Games. Coming off the LA28 Brand Launch, she was recently named in Sports Business Journals' New Voices Under 30 - Class of 2020. She has taken her degree in Communication and has turned it into a marketing career.
We interviewed Rochelle to connect her experiences in and out of the classroom. She shares what it means to grow up as a Gaucho in the marketing industry.
What drew you to choose UC Santa Barbara for your studies? 
UC Santa Barbara's communication department offered a lucrative education that I believed  would be a competitive asset in pursuing a career in marketing. The first time I ever visited UCSB was during the last Floatopia, where everyone was gathered in  the water, floaties and all. Needless to say, as a high school senior, I was sold within minutes! The energy was unlike anything I had experienced; it was a vibrant campus filled with friendly  people. I love the outdoors, and with UCSB being nestled between the beach and mountains – it was the perfect place to pursue higher education. Being from San Diego, I knew the great weather and beach vibe would make me feel right at home.
When did you first realize your fascination with your chosen discipline?
I started playing sports at age 7, and the older I got, the more it meant to me. Sports were my sanctuary. I come from humble beginnings, and the field is where my family struggles and socio economic differences dissolved. Sports didn't care about the clothes I wore or how much my family made. The field became a vehicle for my personal development, teaching me crucial life lessons. I learned how much I could achieve through hard work, and I discovered a whole new sense of worth, feeling like I belonged for the first time in my life. 
Along with being an athlete, I also considered myself a "yearbook nerd" growing up. I was Editor-in-Chief in high school – and it was there that I fell in love with storytelling. My love of storytelling, combined with the experiences I had on the field led me to Communication. The power of sports has shaped who I am and how I show up. I've seen how sport helps us to be our best selves, because that's my life story. So I pursued Communication, as I felt it was the best way for me to make an impact: sharing the good news about sport, at scale. Wes Moore said it best, "The one thing that makes you feel fully alive is when you're giving and growing. Success and service are intertwined – and the quality of life comes down to your capacity to add value." This is why I'm here and it's my life's work – to give back to the world that's given so much to  me. 
What would you say is one career or personal milestone that you are most proud of achieving? As we know, you are in collaboration for the 2028 Olympic and Paralympic Games in Los Angeles.
Launching the LA28 brand this year is my highlight of 2020, if not my career. LA28 defines our core values to be optimism, co-creation, and celebrating the strength of diversity. For the last two years, I played a central role in bringing to life a visual brand that is a true reflection of our values. 
A traditional, static Olympic and Paralympic logo doesn't fully represent Los Angeles because there is not one way to represent LA. In a city that is a true mashup of languages, cultures and dreams, we committed to represent LA authentically through the voices of our people. With that in mind, we intentionally rooted our design in purpose - behind every 'A' in our logo is a personal story. Each 'A' in the 'LA28' logo is supported by secondary design elements that allow for a dynamic and ever-evolving animation. Every color, font, and design element serve not only a functional purpose, but works together to build upon the infinite possibilities of the LA28  Games. 
To deliver an authentic representation of LA, I led the curation of our 'A' artwork and the collection of voices who collaborated with us on the project -- a diverse group of athletes, artists, entertainers, and community activists. Each creator was hand-selected to share their unique POV -- their real selves, to represent the real, raw LA. With every 'A' telling a story, I look  forward to partnering with more people to tell their unique stories over the next 8 years.  
Mentorship is so beneficial, especially while in an academic setting like UCSB. Why did you decide to go straight into the real world and how did mentors help foster that possibility?
I was highly motivated to enter the real world given I paid for college myself and I understood that breaking into marketing required real-world experience and industry  connections.  
Both of my parents are teachers, and the value and importance of higher education was instilled at a young age. I would have loved to continue my education, but I knew the right route for my situation was to find a job at a top agency/brand. After hearing how others in the field had found success in marketing, I set my eyes on gaining exposure to a high caliber, high-stakes marketing environment as I knew it presented a great  opportunity and opened connections in an industry that is highly relationship driven. 
As a student, I pioneered the first student-led marketing agency for UCSB's Recreational Sports.  It was there that I met many of my mentors and built my professional foundation. Joel Katz '11 changed my life my freshmen year as he hired me to take over reigns of GauchosPlay.com. Paul Lee and Rod Tucknott gave me once in a lifetime opportunity to build something from the ground up with UCSB Rec Sports. Coach Al Ferrer, taught me "the rules" in his ESS classes and  many other life lessons. Mentors are a gift in life, and I'm eternally grateful for how they've  poured into me and the friendships we've developed over the last decade.
What does it mean to you to be a Gaucho?
It is a badge of honor! I love being a Gaucho, and although I'm biased, I truly believe we are the best type of people. Gauchos are a diverse group of young people. We are highly educated and motivated, but also understand the importance of living a well-balanced lifestyle. We were able to pursue higher education in a place that was academically competitive and had nearly perfect weather 365 days a year. With the wealth of recreational opportunities available as a Gaucho, it made it a unique space to develop during a critical life stage.  
Whenever I meet a fellow Gaucho, it's like being part of our own club. We "grew up" together as adults – which is very special. Santa Barbara is a great playground for all college students and because so many students lived within one square radius of each other, it makes it an unparalleled place to build relationships and community.  
UCSB has created a great environment for students. There is academia, athletics, recreational  activities, and a wealth of other opportunities. Being a student is stressful, and I always felt that UCSB was a place that valued developing not only a successful student, but a well-rounded young adult. For me, UCSB was a place that I got to develop as a student, an athlete with the women's rugby team, and an entrepreneur with Rec Sports. It created a space for me to build my life with intention. To explore new opportunities, take risks, and develop a life that I was excited to be living.
At this point in your life, what is the most important advice you can give to someone who hopes to succeed in your career path? Especially with the adaptation most recent graduates have to make with the year 2020.
First off, Congratulations! Please take a moment to recognize your accomplishments. It is very  easy to jump from one thing to another, speaking from experience. The rat race is real, the  golden handcuffs are real, take a beat to enjoy the instrumental life phase you just experienced  and completed. Know that the world is truly your oyster – just go for it! 2020 has been a challenging year. While it can feel tough and less than encouraging, know that the world needs your unique perspectives and educated minds to move us all forward. Every person is uniquely made, you have so much to offer. This is a very exciting part of your life. Trust that you have something to contribute to this world. It's so critical to put yourself out there. I encourage you to ethically network as much as possible, whether with fellow Gauchos or friends. You never know whose connection may have your dream job. If you don't have a mentor yet, find one because it is one of the best things you can do for your future and life. 
Being virtual is weird, but it also allows you to connect with more people from all over the  world. Be prepared and do your research as you never know what conversation or person could change your life path from the computer screen. There is always a life lesson in the situation you're in – if you're struggling, ask yourself "What  is this lesson here to teach me?" 2020 was a rollercoaster, don't waste a crisis – grow from it. 
Click here to learn more about LA28 and check out Rochelle in Sports Business Journals' New Voices Under 30 when it drops on December 15th