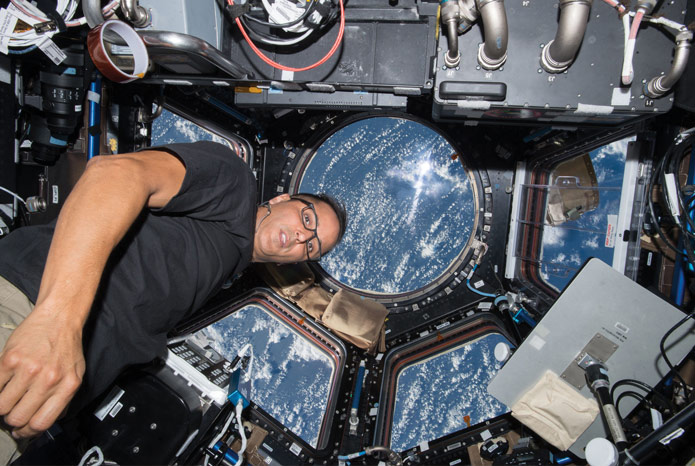 For the first time in UCSB Alumni history, the answers to this Spotlight were provided in space. NASA Astronaut Joseph Acaba kindly took a break from his duties on the International Space Station to share his thoughts with the Gaucho community. 
Acaba has been on the International Space Station, 200 miles in orbit around Earth, since September. He, and two other fellow astronauts, launched from Kazakhstan to the space station where they are conducting research.
Acaba has had an unusual career. Born in California after his parents moved from Puerto Rico, Acaba majored in geology at UC Santa Barbara. He earned a master's in geology from the University of Arizona. Highlights of his career include: • Served in the United States Marine Corps Reserves for six years • Worked as a hydrogeologist on Superfund sites in Los Angeles • Joined the Peace Corps and served in the Dominican Republic promoting environmental education awareness • Managed a marine research center in the Bahamas • Taught science and math in Florida middle and high schools
It was during his years as a teacher that Acaba applied to be a mission specialist with NASA. He was selected for the Astronaut Candidate Class of 2004 and after completed training in 2006, which included shuttle and space station systems, and water and wilderness survival, became eligible for spaceflight. Acaba's first space trip was on space shuttle mission STS-119 in 2009, where he performed two spacewalks. His next space assignment came in 2009 as flight engineer on the International Space Station when he launched a Russian Soyuz rocket. On this third mission, Acaba and his fellow astronauts, are researching the benefits of manufacturing fiber optic filaments in a microgravity environment, slowing or reversing muscle atrophy in astronauts during spaceflight, and exploring the acceleration of bone repair through the use of a synthetic bone material that adheres bone to metal within minutes. He returns to Earth in February.
Why did you choose to study at UC Santa Barbara?
When I graduated from high school, I did not know in what area I wanted to major. I knew I wanted something in the field of science having to do with the natural environment. Location from my family was also something important to consider. With my brother just up the road at Cal Poly San Luis Obispo and UCSB's placement on the coastline, the location was perfect. UCSB had programs in areas like marine biology and geology, my ultimate major, so I knew I had options once I started.
How did your major help you in your career? 
While astronauts today do not do much hands-on geology, the skills you learn as a geologist are of course applicable, and having a degree in geology opened many doors for me. Geologists learn to work independently in the field, while at the same time collaborating with others and working as a team. You learn to observe and note features in your surrounding environment. You learn to work in a laboratory setting. Those skills are important for explorers and those living in a remote environment like the International Space Station.
How is your work in space today going to benefit the future? 
The work we are doing on the International Space Station is not only improving the quality of life on Earth today, but we are also learning new things about living and working in space that will become the foundation of all future space exploration. It is extremely rewarding to know our work is helping to make new discoveries that are applicable for everyday living today and for future generations.

"BUT FOR ALL FIND AND STUDY SOMETHING THAT INSPIRES YOU, something that brings you joy, and something that will make a difference in our world." 
What kind of perspective does being in space give you about life on Earth? 
As a geologist, you learn to view Earth up close and on a more macro scale. Orbiting the Earth at approximately 250 miles up gives a unique perspective you can't get anywhere else. You can see first-hand that Earth is a closed system, a fragile system. You can also very clearly see that we all share this one beautiful piece of the Universe. That, at times, can be lost as we focus only on what is in front of us. We all know that life is precious, but seeing Earth really drives home how we must protect our home and the importance of future exploration as humans look to go farther than we ever have before.
What advice do you have for current UCSB students in general or for those hoping to follow the same career path? 
I would tell current students that it is ok if you don't know what you want to study. For those that do, I congratulate you. But for all, find and study something that inspires you, something that brings you joy, and something that will make a difference in our world. Have big dreams and goals. Make decisions, both small and big, that will help you achieve those dreams. And when opportunity knocks, be ready to seize it. It could open a door to something more than you could ever imagine possible.
Watch on YouTube: Astronaut Moments with NASA astronaut Joe Acaba
Follow Joe Acaba's tweets from the International Space Station