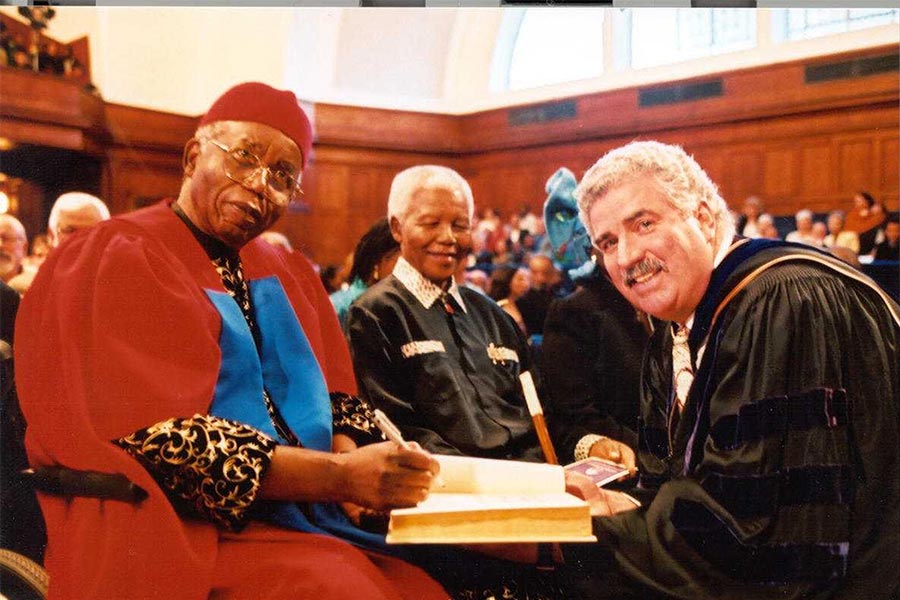 Dr. Jim McNamara earned his master's degree and doctorate in Religious Studies from UCSB. He was a long time Director of the UCSB Family Vacation Center where he served from 1981 through 1988.
Before retiring in 2013, Dr. Jim McNamara `76, `85 served as University of Cape Town's  Executive Director of Development and Alumni (DAD), and taught at the university as a senior lecturer in Asian religions in the Department of Religious Studies. Over the years, he has met with many visionaries including the late South African President Nelson Mandela.
In this Alumni Spotlight Q&A, we caught up with Dr. McNamara to find out about his graduate student days, and what life has been like for him since he left Santa Barbara.
 
What drew you to choose UCSB for your graduate studies?
My undergrad Asian religions professor (at Georgetown University) strongly recommended UCSB's Religious Studies Dept. as an "up and coming star" in the field. 
She was so right.
What was your research focus?
Asian religious traditions more broadly, then focusing in on Hindu pilgrimage to perform the rituals on the Ganges River for deceased ancestors.
When did you first realize your fascination for your chosen discipline? (Why did you choose religious studies?)
I was in an undergrad psychology pre-med program, heading (I thought) towards psychiatry. But the psychology was all "rats in a maze", and I lost interest in that, while discovering at the same time the wonders of Asian religions and philosophies. I was hooked. 
You also served as the Director of the Family Vacation Center  -- what was that experience like? Can you share with us some of your favorite memories from your time with FVC?
The FVC had a tremendous influence on my later career path. It was my first time leading a team, and once I moved into senior administrative roles at UCT, that background proved invaluable in my efforts to lead teams here – in a very different cultural context. On a more personal level, some of my closest friends in the world date back to our FVC days together, so I am grateful for that too. As for "favorite memories", there are many, but one that clearly sticks out in my mind was my first earthquake! We all ran to where the youngest children gathered, made sure they were OK, then all slept out on the big lawn while the buildings were checked out. I do NOT regret not having earthquakes here at the southern tip of Africa.
Describe your work at the University of Cape Town. What made you decide to work there? What was it like?
I accepted an invitation to come to UCT for two years to teach Asian religions; Mandela had been released from prison the year before, things in the country certainly appeared to be heading in the right direction, so we said "wow, what an opportunity". Here we still are, 28 years later. I had soon moved into administrative management roles, and felt that I was better at leading teams than I would have been as a full-time academic. I did continue to do some teaching, but my strengths were really in those other areas.
Congratulations on your retirement! How has it been for you so far? What are some things on your bucket list that you would like to accomplish now that you have retired?
For my work at UCT, especially my final post of executive director of Development and Alumni, I was fortunate to be able to travel the world visiting our alumni chapters. So apart from a bit of travel to visit family and friends in the US, we are hunkering down to give our time and energies to the two animal welfare charities that we support. That, and of course keeping up with the latest vintage releases.
What is it like to live in South Africa? (And what do you miss most about Santa Barbara?)
Believe it or not, Cape Town and its surrounding winelands are even more beautiful than Santa Barbara – very dramatic scenery, and a fantastically diverse population that emerged bruised but victorious from the atrocities of the apartheid era. We are still working on that legacy of oppression that was so cruel to so many. But what would really complete our happy picture would be to move our Santa Barbara friends down here. First meal would be on us….
At UCSB, who among the faculty and your graduate student colleagues had the biggest impact on your graduate education experience here? 
I felt very privileged to study under some world-class professors at UCSB. First amongst those was my PhD advisor, Gerald Larson. I stayed close to his family through the decades, and so we were all hit pretty hard when he passed away suddenly a few months ago.  I learned more from him than I could ever say. Other luminaries were Robert Michaelson, Ninian Smart, Raimundo Panikkar, Walter Capps, and a few others whose brilliance, on the one hand, and generosity of spirit towards their students on the other, were so very impressive, and made me want to succeed in my own endeavours. 
Some fellow grad students and I formed the "Board of Directors" as a wry comment on our lack of prospects for success in the corporate world. The full name was "The Board of Directors of Absolutely Nothing", and comprised David Chidester (who is here at UCT too), Ed Linenthal, and the late and dear Deborah Sills. We kept each other sane with our dinners of laughter together.
At this point in your life, what is the most important advice you can give to someone who hopes to succeed in your chosen discipline/career path?
During my time in SB, I thought that I was headed towards a university teaching career.  So I NEVER turned down an invitation to give some sort of talk to this or that audience. Grab any such opportunities with both hands.
What drives you? (What or who inspire you?)
My sources of inspiration, in addition to the UCSB professors mentioned above, have been here in South Africa. We had one long-time leader of UCT who was a Vernon Cheadle-type figure: superb scholar, courageous leader (in the face of police crackdowns on protesting students on campus), and a wonderful role model. And of course I twice got to greet Nelson Mandela and welcome him to UCT, sitting with him for 15 or 20 minutes talking about the emerging "new South Africa". Always the epitome of generosity, he actually seemed to care what I thought. These memories remain so vivid in my mind even today, and I'll really treasure them in the years ahead.