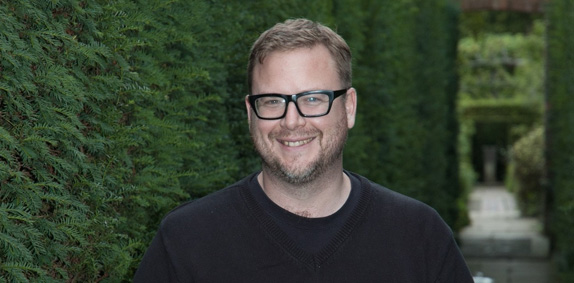 Justin Bengry, who earned his Ph.D. in history from UC Santa Barbara, has been appointed Lecturer (Assistant Professor) in Queer History at Goldsmiths, University of London, the first appointment of its kind. At Goldsmiths, he is establishing the world's first M.A. in Queer History. 
Why did you choose to study at UC Santa Barbara?
UC Santa Barbara was my first choice when I decided to do a Ph.D. because of the fantastic people teaching there. Erika Rappaport, my Ph.D. supervisor, is a leading scholar of British gender and consumerism, and was the closest match for my interests anywhere in North America. Other incredible people in History and Feminist Studies included Ken Moure, Stephan Miescher, Lisa Jacobson, Leila Rupp and Eileen Boris, all of whom were mentors to me. No other university offered me the same intellectual support. This was matched by an incredible generosity and kindness from faculty and students. Not every department or institution is so welcoming, and I remember fondly the years I was fortunate to be part of this community.
Where are you originally from and how did you end up in the UK?
I'm originally from Alberta, Canada, but have been studying British history since I was an undergraduate, when I made my first trip to the UK in 1998. My Ph.D. research into homosexuality and capitalism in Britain brought me to the UK for 2007. It was at this time that I met my partner. I had to return to UCSB to finish my degree, and then undertook my first postdoc in Saskatchewan Canada before returning to the UK. We were married in 2012 and I now live permanently in London.
Describe your job. What do you enjoy most and what are some of your biggest challenges?
This year I was appointed Lecturer in Queer History at Goldsmiths College, University of London. The position is equivalent to Assistant Professor in the United States, and is the first appointment of its kind in the UK. My main responsibility is leading the world's first M.A. in Queer History, set to launch this autumn with our first cohort of students. I'm honored and excited to have this role in such a groundbreaking program. Leading the M.A. is also my biggest professional challenge. In a few months, I've had to learn the intricacies of UK academia and design an entire M.A. almost from scratch. But as we near the first days of classes, it's clearly more than worth the stress. Already I'm gobsmacked by the skills, passions and range of experiences of our incoming cohort. This is easily the greatest part of the job – meeting amazing people doing important work inside and outside the academy. My students and colleagues alike are actively building a world that celebrates diversity, promotes equality, and always seeks to do better. 
Where and what did you study as an undergrad and master's student? 
My undergraduate studies were not typical for a historian. I didn't know what I wanted to study as an 18-year-old first-generation university student. So, I enrolled in international management and German at my hometown institution the University of Lethbridge, a small, primarily regional university in southern Alberta, Canada. I loved studying languages, but found management studies unsatisfying, and eventually turned to ancient history and then to modern British history. In the end, I completed two degrees, in History and German. My M.A. at the University of British Columbia in Vancouver was a more traditional graduate degree in History focusing on gender and cultural history. 
How did your course of study at UCSB help you in your career? 
At UCSB I was supported in completing a dissertation in queer history, an unusual and potentially risky choice, but one that set me apart from most historians and positioned me perfectly for my current job. The book version of my thesis titled "The Pink Pound: Capitalism and Homosexuality in Twentieth-Century Britain" is currently under contract with the University of Chicago Press.
Who are your role models? How important are mentors in your chosen field?
Mentors are critical to early career scholars, particularly those working in non-traditional areas such as histories of gender and sexuality. We need to build communities of intellectual exchange support, and mentors play an enormous role. In the UK, I've benefited enormously from the mentorship of senior queer history scholars who, for more than 10 years, have offered feedback, support, and opportunities that have aided me enormously. 
What advice do you have for current UCSB students?
I advise current UCSB students to plan for the unexpected and to be prepared with contingencies. There are few patterns to be found in who gets jobs in academia. You never know precisely what a department is looking for. There are far too few positions for the many incredibly qualified and amazing young scholars out there.
Meet people, build networks, and find mentors. I've worked hard for a decade, but my successes are just as much the result of opportunities opened to me by generous and supportive mentors, colleagues, and friends.
If you can, go to conferences. Speak. Be seen. Engage. If you are traveling for research, or pleasure, email people in your field to introduce yourself and suggest meeting for coffee. I meet with graduate students and early career scholars when they pass through London. I'm eager to hear what they are working on, and recognize them as future colleagues. I might be able to help them. I might know someone that could help them. You never know who will want to help you. There is no straight and narrow path to where you "think" you want to be. Life is ever-changing so when an opportunity reveals itself, take it!
Any hobbies?
I love to travel. I suspect that many historians do. We are tourists in the past through our work, and for many of us this overlaps into our leisure. We want to see the vast range of lives and experiences that surround us in the present as much as in the past. Living in London provides an amazing launch pad from which to explore the world. This year I went to Southeast Asia for the first time, visiting Singapore and trekking in the jungles of Borneo; I traced the steps of artist Salvador Dali in Catalonia, Spain, followed by my first trip to Africa, to Casablanca and Marrakesh; and visited the eastern borders of Finland. I went back to Canada for the first time in two years to see family and spent time camping in the Rocky Mountains. And after it all I get to come back to London.