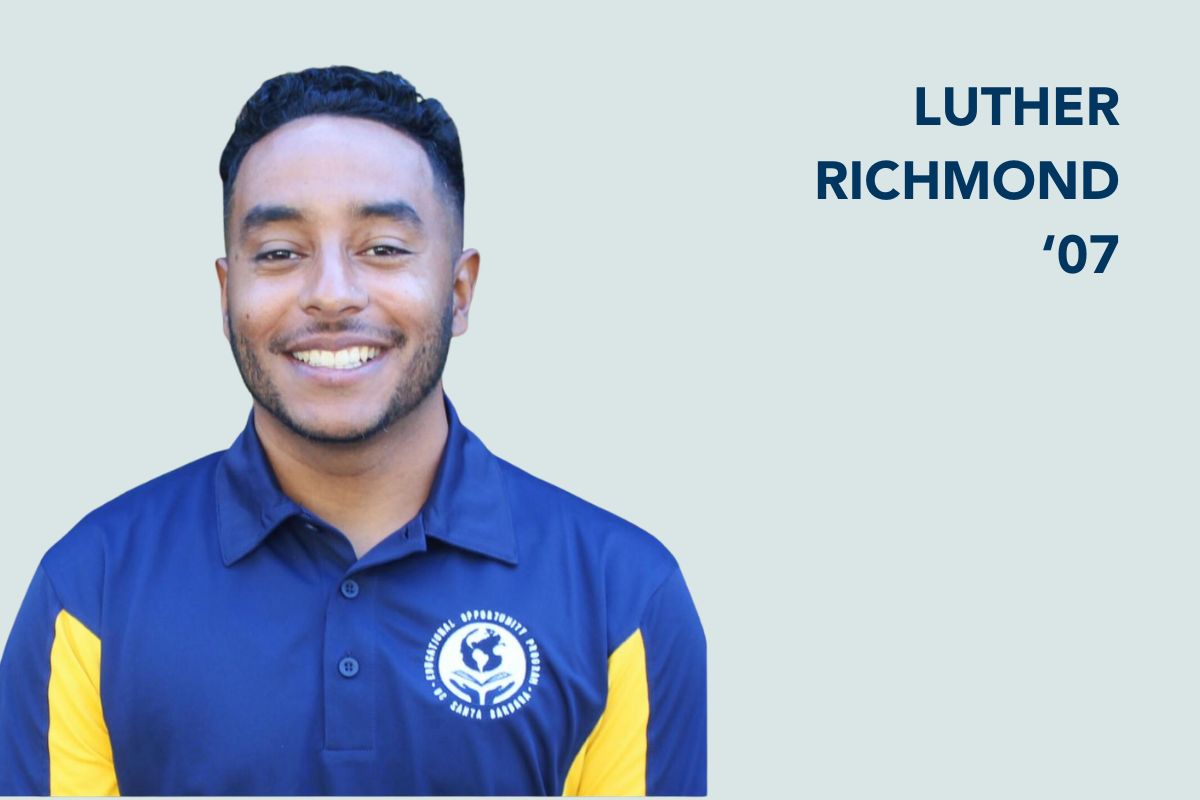 Luther Richmond '07 was fascinated by the research being conducted in the field of Communication as an undergraduate student. He made the most of his time at UCSB by taking a wide variety of classes and accepting multiple internships in order to find his true calling in life. He ultimately discovered his niche in counseling after a positive experience taking part in a campus-based cultural counseling initiative.
Upon returning to the UCSB campus, Luther has helped new Gauchos through one-on-one counseling sessions using a caring, holistic approach. By addressing all factors that may disrupt a student's success, Luther is able to provide the necessary support to assist that individual beyond academic performance. Such rewarding work and relationships have maintained Luther's passion and energy toward his students' success and futures.
What was your most memorable experience as an undergraduate in the Communication department? How about as a staff member?
I studied Communication at UCSB from 2003-2007, which was when the department was internationally emerging as a top program. As a young second year, I remember being fascinated by the discipline as a whole. I hadn't been exposed to the wide breadth of topics within Communication and had no idea such interesting research was being conducted. I enjoyed the support of professors like Dr. Howard Giles and Dr. Cynthia Stohl, who taught Communication & Aging and Organizational Communication, respectively.
What inspired you to pursue your Master's in Counselor Education at San Jose State?
Going into my third year, I accepted an internship in a field I originally was really excited about but it ended up not being what I expected. Thankfully, that same quarter, I accepted a position as a mentor for a campus-based initiative that focused on supporting local K-12 Native American students. I took a sports-based approach to coach these individuals and their families in their journey toward higher education.
As I compared the two experiences, several points became clear to me – what I valued, what motivated me, and what type of work would make me feel rewarded and purposeful. Going into my senior year, I felt more confident that I had the intangibles needed to become a good counselor. I also visited counselors in the Educational Opportunity Program (EOP) on campus who helped guide me through the graduate school application process.
Tell me about the work you do now at UCSB as an EOP Counselor and Coordinator for various centers. What is the most rewarding part?
My position has several areas of focus, which include academic achievement counseling, coordination of the Summer Transitional Enrichment Program (STEP), and coordination of the American Indian & Indigenous Cultural Resource Center (AIICRC).
In my counseling, I help students navigate a variety of issues related to student life. We take a holistic approach to our counseling, which means that in any given appointment, the student and I may touch on academics, finances, time management, relationships and other personal issues. We reframe perspectives and review student-initiated options for resolutions to best address the issues for the individual.
The purpose of STEP is to assist first year, first-generation EOP students with their transition to university life by hosting a week-long residential stay on campus before students' first quarter.
The AIICRC provides a space for students to connect and learn about their heritage and other Indigenous cultures. I provide mentorship, counseling, and cultural connection support to help improve first-generation students' families socio-economic status and build long term goals for the individuals. I love what I do at EOP; all of this work is very rewarding to me in different ways.
What brought you back to UCSB as a staff member?
I love UCSB from the community of students and staff to the location. I'm a third generation local, born and raised on the Eastside and have a large family here in town, so I always imagined living nearby. I had the chance to work in the middle and high school settings but after a few years, I knew that higher education was the right fit.
How does your work involve UCSB alumni?
I connect with alumni during many of our EOP events such as the Celebration of the Black Gaucho Family Weekend, Celebracion de la Familia, Harvest Dinner, and Alumni weekend events. I also stay in touch with many of my former students who visit often and I've enjoyed seeing them develop into professionals, start their own families, and accomplish what they set out to do.
What piece of advice do you have for incoming Gauchos?
I have so much advice for incoming Gauchos, so make an appointment! Generally, I would encourage all students to get familiar with and use campus resources. Find out what's going on and get involved with groups and organizations that you are passionate about! College is about so much more than just getting your degree. The growth you will experience just by being immersed in such a new place will surprise you. Next, spend a good amount of time reflecting on who you are and who you'd like to become. What experiences do you want to have? What do you want to improve on? What do you want to learn more about? College goes by so fast that if you don't reflect intentionally, it can be difficult to get to where you want to go and be who you want to be.
By Ellah Foster '24